Chart 1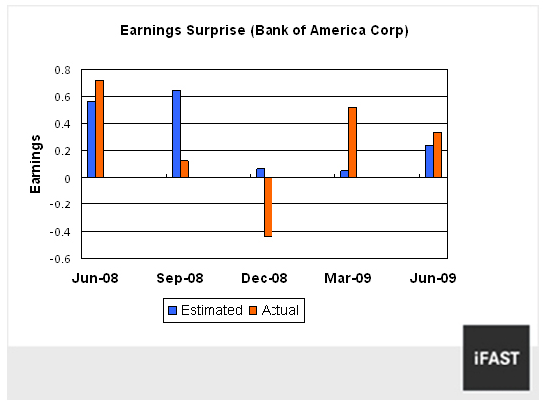 Source: Zacks Investment Research, data in US dollars, as at 17 August 2009, iFAST Compilations
Chart 2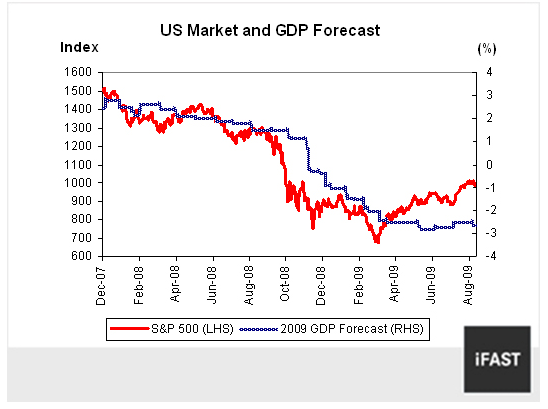 Source: iFAST Compilations and Bloomberg
Many of us are aware that one of the best ways to make money is not to follow the herd. But unfortunately, the herd mentality is very much present in the investment world. At some point in our investing journey, all of us would have fallen prey to this phenomenon.  Even the investment professionals succumb to it.
In actual fact, studies have shown that consensus estimates for major stocks and equity markets are generally lagging the actual market performance and hence, are behind the curve.
Consensus Estimates: For Better or for Worse?
We hear the term "consensus estimates" being mentioned in the media all the time. So what exactly are "consensus estimates"? Simply defined, consensus estimates are combined estimates of the analysts covering a particular company or market.
Generally, analysts give a consensus for a company's earnings per share (EPS) and revenue; these figures are most often made for the quarter, fiscal year and next fiscal year. The same would apply for the consensus estimates for a particular market.
Consensus estimates are more than simply a median forecast by a group of analysts on how a stock or market is likely to perform. In the context of a company, if the actual earnings of the company exceeds the consensus, its share price is likely to move up, while the reverse often holds true.
"Consensus estimates are so powerful that even small deviations can send a stock higher or lower. If a company exceeds its consensus estimates, it is usually rewarded with an increase in stock price. If a company falls short of consensus numbers - or sometimes if it only meets expectations - its share price can take a hit," noted Ben McClure, Director of McClure & Co., an independent research and consulting firm, in an article published on Investopedia.com.
Consensus estimates often fail to forecast accurately the future movement of a stock's future earnings. Let's look at an actual example of the earnings of Bank of America Corp (BAC), the US financial giant, to illustrate how consensus estimates for its earnings often fall behind its actual earnings.
Chart 1 shows us how the analysts' estimates (estimates taken from 20 analysts) measure up against the actual quarterly reported earnings of BAC from June 2008 to June 2009. In four out of the past five quarters shown in the chart, the analysts' estimates have either fallen short of the actual earnings of BAC, or they have been overly-bullish in their estimates.
We notice the same phenomenon occurring for macroeconomic forecasts. Chart 2 shows how the 2009 GDP forecasts for the US measures up against the actual performance of the S&P 500 index from end 2007 to August 2009.
The chart shows that the GDP forecasts are "detached" from how the US market actually performs, and investors who had based their entry and exit strategies based on these forecasts would have missed the key turning points of the market. From the period of March to August 2009, GDP forecasts were actually being revised downwards, while the S&P 500 Index was staging a huge comeback rally!
However, consensus estimates have always been, and will remain a key metric for the investment community – from the investment professionals to the average investor-on-the-street. It's not possible for us to do away with consensus estimates, for better or for worse, they are an indicator of how a particular stock or market is expected to perform in the next quarter or fiscal year.
But as we have seen from the earlier examples, investors who rely heavily on the consensus estimates when making their investment decisions are more often than not, playing a game of "catching up" with how the market is actually performing. Many analysts who find themselves "following the herd" are often too bullish at the peak, and overly-bearish at the market bottom.
Forecasting: Far From Perfect But Still Necessary
In a presentation to the CFA UK conference in July this year, James Montier of SG Global Strategy highlighted in a chart that from 2000 to 2008, analysts have never gotten their forecasts for the actual returns of the US market (S&P 500 Index) spot on. During 2001-2002 (Tech Bubble) and 2007-2008 (US Subprime Crisis), the analysts actually made forecasts that ran counter to how the market actually moved. This shows that consensus forecasts are typically too bullish at the beginning of a crisis, and much too bearish when the market is emerging from a crisis.
But such is the nature of forecasting – it's not an exact science, but if the forecasters get the general direction of the trend right (be it an uptrend or downtrend), they're not half bad! In the same article mentioned earlier, Ben McClure added that "Consensus earnings estimates are far from perfect, but they are watched by many investors and play an important role in measuring the appropriate valuation for a stock."  Or for that matter, how a particular market is expected to perform in the next year and beyond.
Conclusion: A Healthy Dose of Skepticism & Do Your Homework!
One way for investors out there to avoid falling into the "trap" of following the consensus estimates (and hence missing the boat), would quite simply, be to not follow the consensus estimates, or to regard them with a dose of healthy scepticism. Instead, investors should read widely on a stock or market they intend to invest in, and make sure they fully comprehend what they are investing into, and not blindly invest into a particular stock or fund simply because everyone else is doing so, or because it's the hottest stock or fund of the moment.
At iFAST, one of our key objectives is to ensure our investors are aware why we are making a call on the markets we believe offer investors the most value for their investment ringgit.
Our research team has written several articles on our views on the expected earnings outlook, and the target index levels for the Malaysia, Singapore, US, South Korea and Hong Kong markets in 2011. In addition, we'll have a series of fund manager interviews (Getting Ahead of The Curve video series) in September and October, to find out what they are doing to avoid the pitfalls of forecasting and to stay ahead of the curve. Keep a lookout for them!