KEY POINTS:
We have an "overweight" recommendation on equities vis-à-vis bonds going into 2012.

An assessment of the three components of stock market returns indicates that equities are poised to do much better than bonds.

While we favour equities at this juncture, investors should note that fixed income funds still warrant a place in their portfolios.
In our 2012 Investment Outlook, we reiterated our "overweight" recommendation on equities vis-à-vis bonds, on the basis of historically-low bond yields coupled with low equity valuations. In this article, we re-examine the components of equity market returns(using the US stock market as a proxy) to demonstrate why the equity market is poised to deliver superior long-term returns compared to the bond market at this juncture.
REVISITING THE 3 KEY COMPONENTS OF EQUITY MARKET RETURNS
Investment returns from the equity market may be broken down into three components, namely 1) earnings growth, 2) the dividend yield, and 3) an expansion of the valuation multiple. In a simple exercise, a comparison of the expected returns of the US equity market (represented by the S&P 500) against the US 10-year government bond by an assessment of all three components highlights our case for stronger anticipated returns for equities:
1. Earnings Growth
Chart 1: Long Term Earnings Growth Trend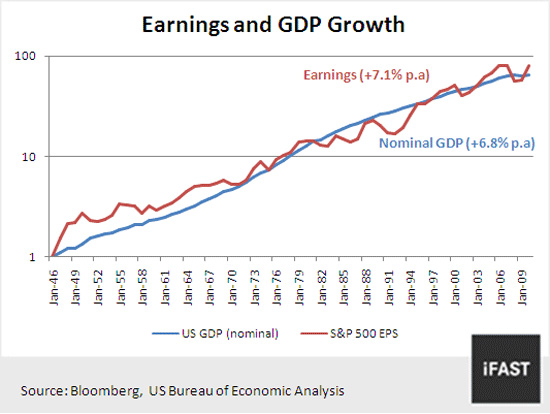 Over the shorter term, corporate earnings may fluctuate significantly, evidenced by S&P 500 earnings declining by as much as -38.5% (in 2008), or posting gains of 45% (in 1954). Nevertheless, earnings for US stocks have grown by an annual compounded rate of 7.1% over the long-term, tracking the growth in nominal GDP fairly closely (see Chart 1). Given our expectations that the US economy is still expected to post positive (albeit modest) growth over the next decade, it would not be unreasonable to correspondingly forecast a positive rate of earnings growth for the US stock market over the next ten years.
How does this compare to the US 10-year government bond? A bond may be seen as a series of fixed cashflows (coupons) which could be considered the "earnings" of the bond. A 10-year government bond paying a $2 coupon in year 1 (2% p.a. on $100 principal) will be paying the same $2 coupon in year 10. Since the cashflows are fixed (hence the term, fixed income), the "earnings" growth rate for a bond is zero.
2. Dividend Yield
In addition to capital appreciation, the dividend yield on the stock market provides an additional source of returns. On aggregate, companies in the S&P 500 pay out dividends each year (the S&P 500 has averaged a 3.9% annual dividend yield since 1927), even though dividends on individual companies may be suspended from time to time. While we have already considered the coupon streams from the 10-year government bond as comparable to stock market earnings, let's compare that same coupon stream against the dividends of the stock market.
Chart 2: Dividend Yield Exceeds The 10-Year Government Bond Yield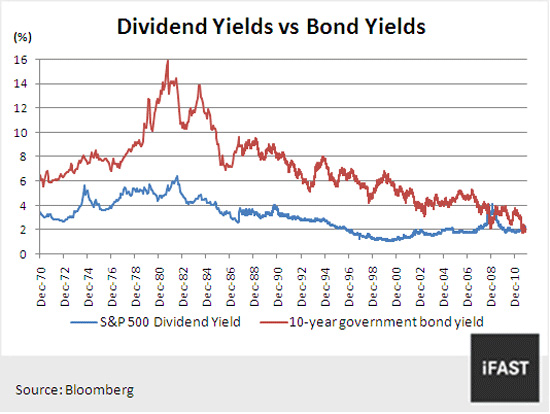 Since stock dividends are a function of a company's profits, dividends are likely to grow alongside the company's earnings, which means that the amount of dividends received from one's investment in the stock market will be expected to increase over time. It is thus not surprising that the 10-year government bond yield has historically been much higher than the dividend yield on the stock market, since stock market dividends have the potential to grow while bond coupons remain unchanged.
At present, bond yields are lower than the dividend yield on the stock market. As of 25 January 2012, the S&P 500's historical dividend yield was 2.02%, higher than the 10-year government bond yield of 1.99%, while the estimated dividend yield for the S&P 500 in 2012 is also higher, at 2.04%. As shown in Chart 2, such a phenomenon was observed only once previously in late 2008 (when the S&P 500 was at a 12-year low). In a sense, a situation like this suggests investors are willing to pay more for a stream of dividends which cannot grow, rather than to pay less for a stream of dividends which have a good chance of increasing into the future. From our perspective, it makes more investment sense to do the opposite.
3. Valuation Multiple
An increase in the valuation multiple (PE ratio) for the stock market is a crucial driver of stock market returns; buying low and selling high refers to buying stocks when PE ratios are low, and selling them when PE ratios are at elevated levels. As of 27 January 2012, US equities traded at 12.2X the consensus estimate of 2012 earnings, a hefty discount from the long-term average of 16.4X (see Chart 3) as well as our in-house estimate of 15X earnings. Should the US equity market revert to a PE ratio of 15X current year earnings, that would imply 23% upside from current levels. 
Chart 3: Valuation Below Historical Average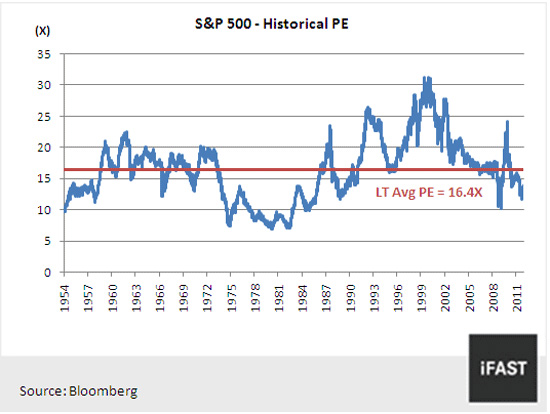 While the PE ratio is not typically used for bond valuation, we can calculate an "implied PE" for the US 10-year government bond for the purpose of comparison using the inverse of the bond yield (if we consider bond coupons as earnings). On that measure, the 10-year US government bond currently trades at over 50X earnings (see Chart 4)! We believe that there is considerably more scope for the stock market to re-rate to a higher multiple of earnings than for the "PE ratio" on the US 10-year government bond to rise further, as this would require the 10-year bond yield to decline even further from current levels. To us, the current depressed valuations for equities coupled with extremely low long-term bond yields indicate that equities are significantly undervalued, both on an absolute basis as well as on a relative basis.
Chart 4: Bond "PE Ratio"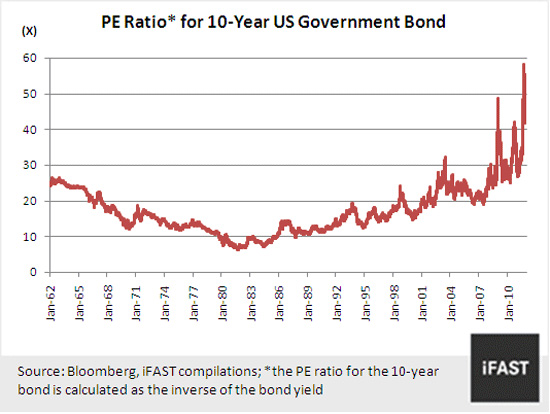 PUTTING THE COMPONENTS TOGETHER
Having discussed the three components of stock market returns, how do our return expectations for stocks stack up against bonds? For the US 10-year government bond, the annualised (on a per-year basis) expected return is represented by the running yield (or yield-to-maturity) on the bond, currently at1.99% (as of 25 January 2012). 
For the US stock market, we can assume a long-term earnings growth rate of 7.1% (in-line with the long-term historical growth rate) as well as adividend yield of 2.04% (the consensus estimated 2012 dividend yield, as of 25 January 2012). Thus, without having to expect a re-rating of the stock market to a higher multiple of earnings, the US market should be able to deliver a 9.3%* annualised return on the basis of earnings growth and reinvested dividends alone, easily poised to outperform the meagre return on the 10-year bond. In addition, with the US market trading at a discount to our estimate of fair PE, we expect an upward re-rating of the valuation multiple to provide additional upside for stock market investors.
*Calculated as:  (1+0.071) x (1+0.0204) – 1 = 9.3%
OVERWEIGHT EQUITIES, BUT BOND FUNDS STILL WARRANT A PLACE IN YOUR PORTFOLIO
In the present environment of low bond yields coupled with low equity valuations, we think the call for an "overweight" position in equities is well-justified at this juncture, but this is purely from a "returns" perspective. Investment involves consideration of both risk and return, and while we have attempted to forecast equity market returns in the above exercise, investors should note that equity market returns are not guaranteed. On the other hand, the US 10-year government bond is guaranteed by the US government, and is thus essentially free of credit risk. Thus, while we have highlighted the superior returns expected from equities vis-à-vis bonds, we continue to recommend that investors hold a diversified portfolio which consists of both equity funds and fixed income funds in a proportion commensurate with their investment objective and risk appetite. While we believe that fixed income is unlikely to outperform equities, we reiterate that for Diversification, Bond Funds Still Warrant a Place in Your Portfolio.
Related Articles:
How Does One Predict Equity Market Returns?
Key Investment Themes And 2012 Outlook
Prepare For A Chinese Rally