Developed sovereign bonds
Government-issued bonds from countries which have high levels of economic stability; widely considered to be free from default risk.

Lowest yielding segment of the bond market; returns can come from coupon yields or capital appreciation if interest rates decline further.

Susceptible to interest rate risk, inflation and currency fluctuations.
WHAT ARE THEY?
"Developed country sovereign bonds" usually refer to government-issued bonds from countries which have high levels of economic stability. While the category has traditionally been used to describe bonds issued by G3 or G7 nations, it may also encompass government bonds of several developed Asian countries like Hong Kong and Singapore. 
Within the bond universe, developed country sovereigns are conferred a special status – they are the only bonds which are perceived to be free from default risk. "Developed" countries are characterised by stable economic growth and prudent fiscal and monetary policy, which leads to stability in the domestic financial market. With low inflation, currencies of such countries are also kept stable, and thus their bonds and currency see huge investor demand. In addition, since the abandonment of Bretton Woods system, reserve currencies like the US dollar and British pound are fiat currencies (not backed by a physical commodity, like gold), which enables governments to create (in theory) unlimited sums of their own currency, substantially minimising the possibility of a default. In a time of crisis, developed country bonds are often beneficiaries of a "flight-to-safety", as investors rush into safer assets. 
Given that developed country sovereigns are widely considered to be free from default risk, their bond yields are commonly used as the risk-free rate for that particular country. In particular, the importance of the USD in a global context means that US Treasury bond yields are constantly scrutinised and used as the basis for the valuation of other riskier bond classes. Nevertheless, the recent Eurozone debt crisis has brought Greece (a developed country) to the brink of default (see "Greece - Light at the End of the Tunnel?" and "Perspective Required - Do You Speak Greek?"), which may leave many investors questioning whether developed sovereign debt is indeed free from default risk. 
WHAT'S MY POTENTIAL RETURN?
Investors in developed country sovereign bonds generally look to coupon yields on bonds as a key source of return. Capital appreciation is also possible, should interest rates move favourably (downwards) resulting in higher bond prices, and investors who expect interest rates to decline will want to position themselves in longer duration bonds to benefit from declining interest rates. Corresponding to their near-impossibility of default (and hence lowered levels of risk), yields of developed country sovereign bonds are also the lowest within the bond universe. At present, the low interest rate environment has also sent government bond yields to extremely low levels (see Table 1) compared to their historical averages, minimising the potential for capital appreciation should yields fall even further.
Table 1: Low Yields On Safer Government Debt

US

0.71%

6.39% (since 1962)

UK

0.98%

5.28% (since 1992)

Japan

0.34%

2.10% (since 1988)

Eurozone

0.74%

4.24% (since 1993)

Source: Bloomberg, iFAST compilations (as of 31 January 2012)
Table 2: US Government Bond Yields

10-Year

1.7971

7-Year

1.2382

5-Year

0.7045

3-Year

0.2925

1-Year

0.1119

6-Month

0.0763

3-Month

0.0508

Source: Bloomberg, iFAST compilations (as of 31 January 2012)
According to the Ryan Labs US Treasury total return index, US government bonds have returned a compounded annualised 8.4% (in USD terms) from end-1979 to end-January 2012. However, looking at historical returns for an indication of future potential returns on developed country bonds is perhaps not the best method. As of 31 January 2012, the US 10-year government bond's yield was a paltry 1.797% (see Table 2) while the 10-year yield has averaged 7.02% (since 1979).
The strong historical returns of US Treasuries may thus be explained by the differences in the interest rate environment. As shown in Chart 1, US benchmark interest rates have been slashed from their highs in the late 1970s to almost zero at present (as of end January 2012), and longer-duration US government bond yields have also followed this trend. Consequently, investors who bought the 10-year US government bond in 1980 enjoyed a yield of more than 10%; today, that yield has been slashed to less than 2%. 
Chart 1: Falling Benchmark Interest Rates Drove Down Yields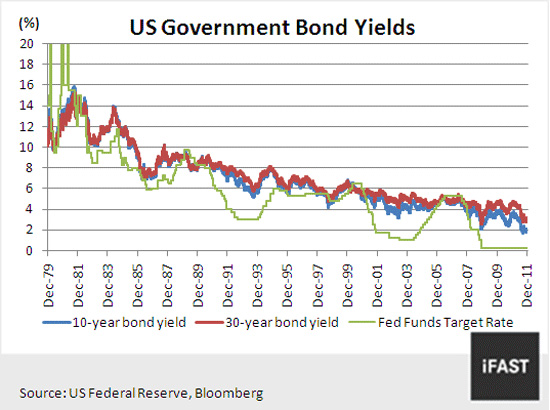 What Are The Key Risks?
While developed country sovereign bonds are largely free from default risk, they are still highly susceptible to interest rate hikes, especially for longer duration bonds. The rate-cutting cycle from 2007-2009 in the US benefitted US Treasuries as falling yields meant rising bond prices. With developed economy benchmark interest rates at or near all-time lows, interest rates are more likely to rise going forward, which could negatively impact these safer government bonds. 
Inflationary expectations are also a key factor to consider. Other than inflation-linked bonds, the bond principal and coupons will be eroded by inflation, and investors will demand higher nominal yields to compensate for this. High inflation is thus a negative for developed country bond holders, while a deflationary outlook is a positive.
A third critical aspect, currency, should also be considered. While developed country currencies are generally expected to be stable, the recent investment landscape has been peppered with bouts of currency volatility, even for major currencies like the USD and the EUR. Given the already-low yields on developed sovereign bonds, a minor depreciation in the currency could easily wipe out bond returns. 
DEVELOPED SOVEREIGN DEBT YIELDS UNATTRACTIVE? STAY TUNED FOR BETTER OPPORTUNITIES IN FIXED INCOME 
Given the historically-low yields on developed sovereign bonds, investors may wish to seek better opportunities elsewhere within the fixed income space. Investing in such bond segments will entail higher risk, but offer much stronger potential returns compared to developed sovereign debt. Stay tuned for subsequent articles in the series where we discuss riskier segments of the bond market like High Yield bonds and Emerging Market debt.
Related Articles:
Income Investing Series: The Basics
Bonds Weekly: A Quiet Week For The Bond Market [20 Feb 2012]