Market Performance in 2016
Global equity markets started off the year with a slide, triggered by a panicked selloff in the China equity market. Moving into 2Q2016, though global equity markets have staged a recovery, the upswing halted with the surprise Brexit event. However, most of these markets managed to regain their footings and reduced their losses towards the end of the quarter. In 2H2016, the global equity markets kicked-off with a strong 3Q2016 performance, led by the Asia ex-Japan equities as market players went on a hunt for high-yielding assets. The financial market then had a schedule filled with sudden turn of events from the US presidential election, Modi's overnight demonetization decision and last but not least, the long-awaited OPEC supply cut deal. Despite the elevated volatilities stemming from market events, global equity markets ended the year strongly, marked by the strong performance from emerging market equities.
Chart 1: 2016 performance of various markets.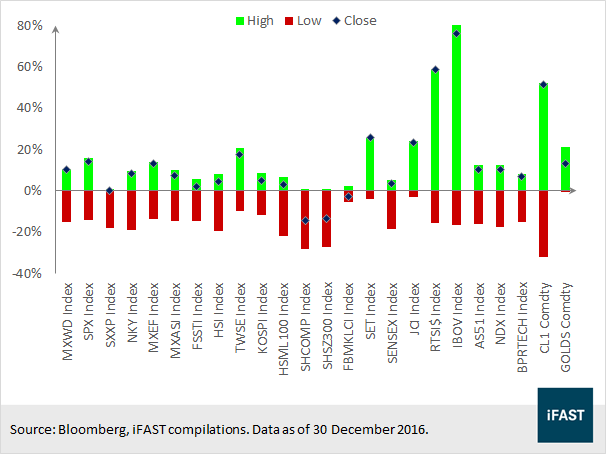 2016 has been a volatile year for most of the equity markets around the world (see Chart 1). For 2016 as a whole, global equities, as represented by the MSCI AC World Index, gained 10.1%. Uncle Sam led the way in the developed market space, delivering 14.2%, followed by Japan's leap of 8.2%. The Europe's Stoxx 600 Index, however, finished the year unchanged at 0.0%.
The best performer amongst markets under our coverage surfaced from the emerging market space. Brazilian and Russian equities delivered massive returns of 76.1% and 58.6% respectively, and the two largest economies in the ASEAN region -- Thailand and Indonesia, clocked handsome returns of 25.6% and 23.1% respectively. On the other hand, China's onshore equity markets bottomed the list, with the Shanghai Composite Index and the CSI 300 Index falling by -15.3% and -14.3% respectively. Back at home, the local bourse FBMKLCI Index closed the year with a -3.0% loss, and turned out to be one of the worst performing markets.
Overall Fund Returns in 2016
As of 30 December 2016, there are 238 equity funds on our platform, with 212 funds having a calendar year return in 2016. Out of the 212 equity funds, 134 (63.2%) of the funds posted positive returns; whereas 78 (36.8%) of the funds ended the year in red. On average, these equity funds registered a 2.3% gain over the year.
[All stated returns are total returns including dividends and in MYR terms unless otherwise stated]
Chart 2: 2016 returns distribution for equity funds.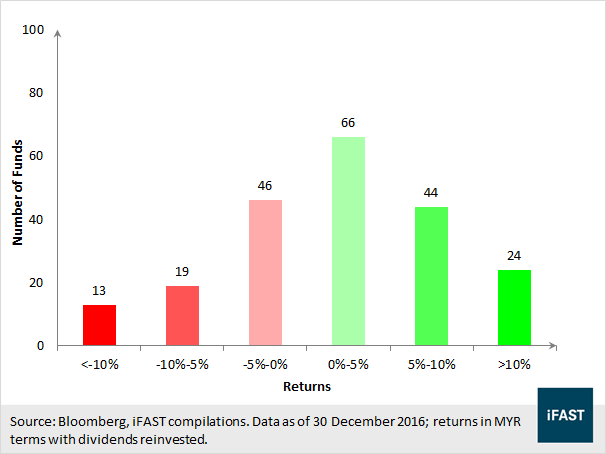 Top Performing Equity Funds
Table 1: Top 10 Performing Equity Funds in 2016.

1
RHB Gold and General Fund

Global-Gold & Minerals

-7.7

58.9

2
Precious Metal Securities

Global-Gold & Minerals

-13.6

41.8

3
Manulife Global Resources Fund

Global-Resources

8.2

30.8

4
RHB Indonesia Equity Growth Fund

Indonesia-General

1.6

19.0

5
CIMB Principal Australian Equity Fund

Australia-General

11.1

18.5

6
Eastspring Investments Indonesia Equity MY Fund

Indonesia-General

-1.9

17.5

7
RHB US Focus Equity Fund

US-Small to Medium Companies

5.2

15.4

8
RHB Resources Fund

Asia excluding Japan-Resources

5.3

14.6

9
AmAsia Pacific REITs-Class B (MYR)

Asia including Japan-Property

-1.1

14.3

10
Eastspring Investments Global Emerging Markets

Emerging Markets-General

3.0

13.5

Source: Bloomberg, iFAST compilations. Data as of 30 December 2016. Returns in MYR terms and dividend reinvested.
A Joyful Year for Commodities
2016 was the year where commodities rejoice after being battered over the past few years. The series of major economic events throughout the year caused not only the fluctuations on commodity prices, but also major movements in companies related to the commodities. Companies in the Materials and Energy sectors have been lowering their debt levels and cutting down costs over the recent years to build a stronger balance sheet in order to weather some of the financial uncertainties coming from a muted global demand. The rebound of commodity prices in 2016 has also brightened the earnings prospect of these companies, albeit coming from a fairly low base. Thus, unit trusts that are particularly exposed to these equity sectors witnessed phenomenal gains that happened in 2016.
As observed from the Table 1, one would notice the huge performance discrepancy between the two gold and minerals commodities funds on our platform. Our attribution analysis findings observed that the outperformance of RHB Gold and General Fund can be accredited to the overweight allocation towards the Materials sector equities in the US as compared to Precious Metal Securities. The former managed to benefit from the better performance of the Materials sector equities in the US (see chart 3). On a side note, both funds have enjoyed currency translation gains from the depreciation of MYR (see Chart 4).
Chart 3: 2016 performance of gold miners index.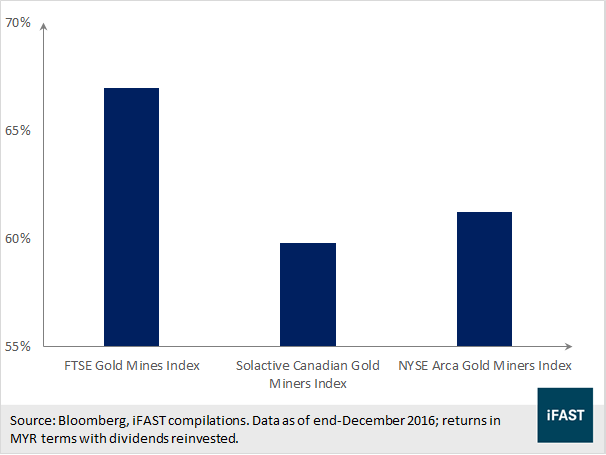 Chart 4: 2016 performance of various major currencies against myr.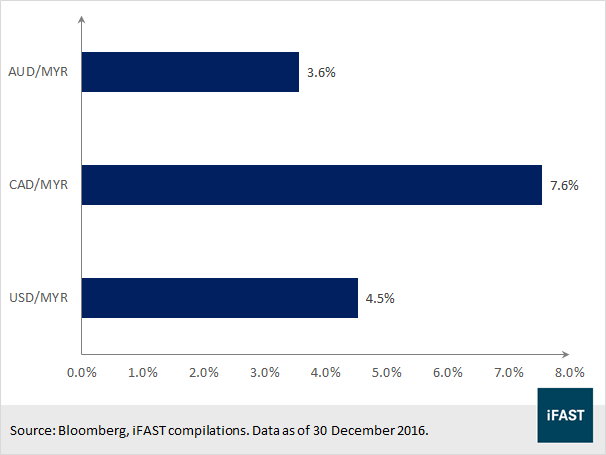 The rebound in commodity prices have also benefited the CIMB-Principal Australian Equity Fund, which feeds into Schroder – Australian Equity Fund that has an allocation of more than 20% towards the Materials sector. The post-Trump election rally of the bank shares have also helped the performance of the fund in 4Q2016, which propped up the fund's overall performance in 2016 (see Chart 5). Currency wise, the AUD/MYR currency pair gained 3.6% over the year.
Chart 5: Post-Trump performance of the big four banks in Australia.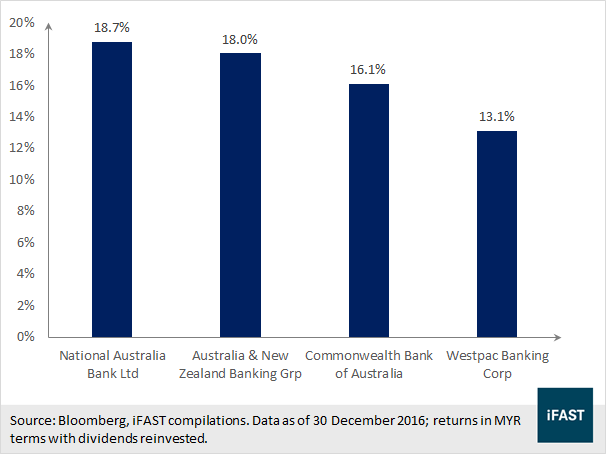 Emerging Markets Staged a Comeback
Notably, apart from the commodity and resources related funds, emerging market funds have posted decent returns as well. Two of the Indonesia funds available on our platform delivered solid double-digit returns for the year of 2016, together with one of our emerging markets fund choice last year.
With most of the central banks in the developed markets keeping an accommodative stance, interest rates were low. That has driven investors to seek for high-yielding assets around the globe. Emerging markets have shown signs of improvement in macroeconomic and export figures (see Chart 6), with earnings revision ratio trending upwards, marking improvements in analysts' sentiments. These have fueled investors' appetite for emerging market equities, which are sitting at attractive valuations compared to their developed market counterparts. Plus, the stabilization in the commodity prices gave a supportive backdrop. All these available catalysts in place have resulted in the emerging markets having a decent comeback in 2016.
Chart 6: Macroeconomic indicators in the emerging markets.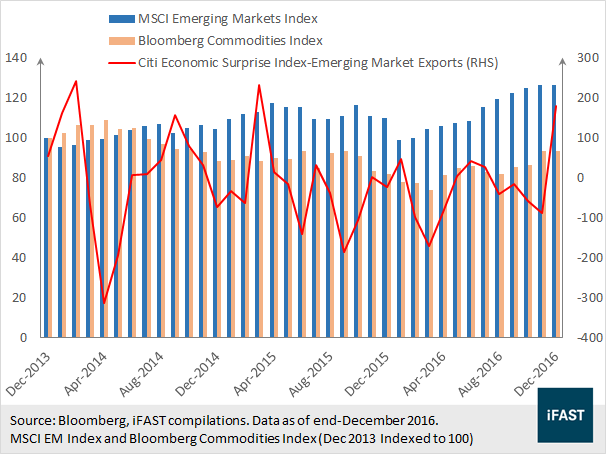 Investors Savored REITs in Search for Yields
Real Estate Investment Trusts (REITs) owns income-producing real estate properties. Hence, these securities are known to provide investors with a certainty of income, and it falls in the radar of investors in search for assets with attractive yields under a depressed interest rate condition. Along with the increasingly volatile investment backdrop, market players have also savored the REITs segment for its purpose as a portfolio diversifier. These have encouraged demand for REITs and in turn elevated the REITs prices over the year. The AmAsia Pacific REITs – MYR Class, which invests in REITs of various sub-sectors like commercial and residential buildings in the Asia Pacific region, has managed to deliver a fine return of 14.3%.
Chart 7: US 30-Yr Treasury yields against Asia REIT Index.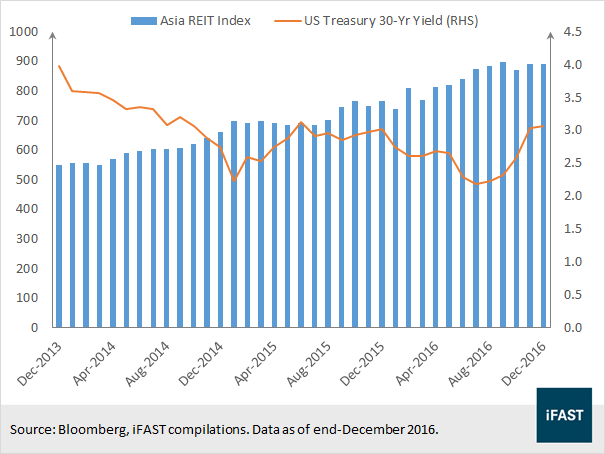 Trump's Election Victory Buoyed US Equities
The US equity markets have been pricing in expectations on Trump's pro-growth fiscal policies, which includes promises to reduce corporate taxes and to increase expenditures on infrastructures which could potentially feed into corporate earnings and inflation. Coincidently, we have upgraded the US market to neutral shortly after Trump's election victory. The upgrade was done to reflect better returns coming from stronger earnings growth in the equity market, supported by positive business confidence and sentiment. Although the US equity markets have definitely cheered to Trump's victory, we think that the soar in equity markets' performance is also partly due to the positive earnings surprises in 3Q2016.
Bottom Performing Equity Funds
Table 3: Bottom 10 Performing Equity Funds in 2016.

203
RHB Malaysia Dividend Fund

Malaysia-General

-5.1

-11.9

204
Affin Hwang World Series - China Growth Fund

China-General

-0.6

-12.0

205
KAF Dana Adib

Malaysia-General

-2.9

-12.3

205
PMB Shariah Growth Fund

Malaysia-General

-5.4

-13.3

207
CIMB-Principal Small Cap Fund

Malaysia-Small to Medium Companies

-2.4

-14.0

208
PMB Shariah Aggressive Fund

Malaysia-General

-2.8

-14.0

209
RHB Equity Trust

Malaysia Focus-General

-6.7

-14.9

210
RHB Dynamic Fund

Malaysia-General

-7.6

-15.4

211
RHB Malaysia DIVA Fund

Malaysia-General

-8.2

-15.7

212
RHB Smart Treasure Fund

Malaysia-General

-6.6

-15.9

Source: Bloomberg, iFAST compilations. Data as of 30 December 2016. Returns in MYR terms and dividend reinvested.
A Gloomy Year for Malaysia Equities
Malaysia as a whole has been clouded with internal and external headwinds throughout the year of 2016. At the beginning of the year, the Malaysian equities were affected by the global meltdown precipitated from the sell-off in China. The FBMKLCI Index was also affected by the negative sentiments arising from the political front with the resurface of 1MDB issues, which includes the US$ 50million defaulted coupon payment by the company. To make things worse, MSCI, a US-based provider of various indexes also announced its decision to reduce weightage on Malaysian stocks during its semi-annual review, triggering a sell-off in large blue chip stocks. Moving towards the final quarter of 2016, the Malaysian market suffered further outflows in both equity and debt markets amid fears of enacting of protectionism policies which could hurt the export-dependent Malaysian economy following Trump's surprise election victory. The Ringgit in particular, fell -10.1 % against the US Dollar between 9 November 2016 – 30 December 2016.
Chart 8: 2016 foreign fund flow into Malaysia equity market.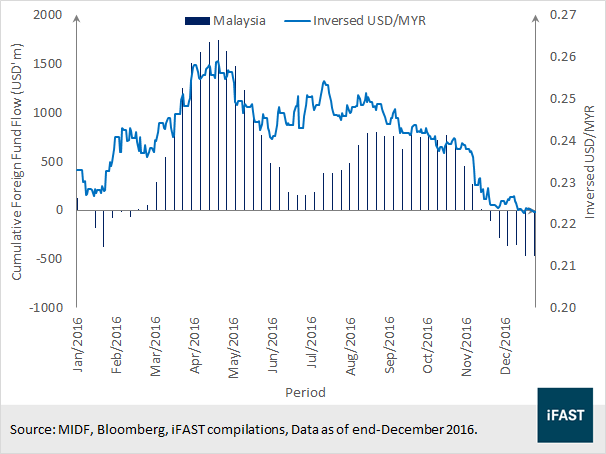 As highlighted in our previous article, the local equity funds that have exposure to the small cap counters were hit badly by the sharp sell-off last year, particularly those funds from RHB Unit Trust Management Bhd and RHB Asset Management Sdn Bhd. We have investigated further on the sector attributions to the performance of the funds under both fund houses and found that Consumer Discretionary and Consumer Staples sectors dragged most of the returns.
Table 4: 2016 performance of equities with top holdings under RHB Asset Management Sdn Bhd and RHB Unit Trust Management Bhd.

Signature International Sdn Bhd

-51.4

IFCA MSC Bhd

-47.7

Oriental Food Industrial Holdings Bhd

-43.4

Tek Seng Holdings Bhd

-42.3

United U-Li Corp Bhd

-32.0

Power Root Bhd

-22.0

PIE Industrial Bhd

-19.3

Tune Protect Group Bhd

-13.4

Source: Bloomberg, iFAST compilations. Data as of 30 December 2016.
Conclusion
2016 was eventful, and the volatilities that followed suit have presented investors with various investment opportunities. Looking ahead, equity markets are expected to perform better on the back of a stronger earnings growth as we saw a turnaround in positive earnings revision towards 2H2016. In our Key Investment Themes and 2017 Outlook, we have decided to go overweight equities vis-à-vis bonds in 2017. The decision is backed by a stronger earnings forecasts in the equity space, diminishing prospects of new aggressive measures by major central banks as well as the current lack of attractive opportunities in the fixed income landscape.
We advocate investors to remain diversified geographically for their portfolios, and opine that one should not entirely leave out developed market equities exposure (such as US, Europe) for the aforementioned purpose. We continue to favour Asia ex-Japan equities and the emerging markets, as we believe that a recovery in the earnings revision cycle and stabilization of commodity prices will be key catalysts for equity valuations to mean-revert higher. While we have decided to go overweight on equities, we maintain that fixed income remains an integral and relevant part of an investor's portfolio, and should be seen as a portfolio stabilizer. We prefer the safer segments of fixed income such as short duration bonds over high yield and emerging market debt due to the risk of rising risk-free rates which have sent yields rising for credit spread related instruments.