Market Performance in 2017
The books have been officially closed on 2017 – both the year and the stock market – and it was a great year for stocks in many years. Asian and emerging markets equities have led the pack, with offshore Chinese equities (China-H) topping off the leader board in 2017. Other North Asian equities like South Korea and Taiwan were also delivering decent gains to investors with technology stocks fueling rallies. Looking towards developed markets, European and Japanese equities were shining as well, as political scene gains clarity against a backdrop of improving macroeconomic conditions. Also, despite being rich in valuation, US equities have managed to deliver double-digit returns as US corporates continue to deliver earnings while market liquidity is preserved by the still-dovish Fed. The worst performing market, also the only outlier ended in red, was Russian equities amid US tightened sanctions on the world's biggest energy exporter back in July 2017.
Chart 1: Performance of global equities over 2017.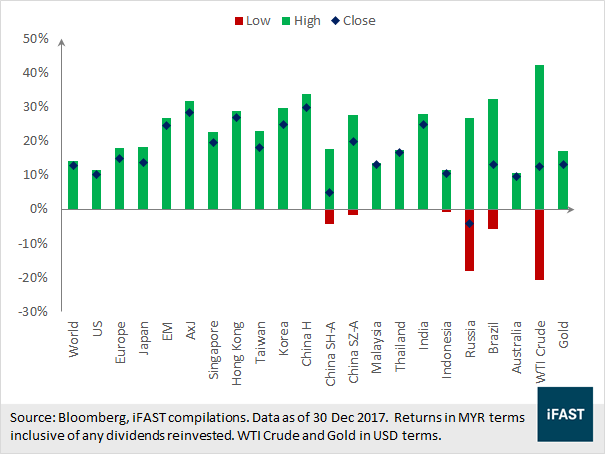 Overall Fund Returns in 2017
As of 31st December 2017, there are 249 equity funds on our platform, with 240 funds having a full year return in 2017. 227 (94.6%) of the equity funds on our platform posted positive returns while a mere 13 (5.4%) of them finished the year in red. On average, these equity funds have delivered an average of 15.0% gain over the year.
[All stated returns are total returns including dividends and in MYR terms unless otherwise stated]
Chart 2: 2017 returns distribution for equity funds.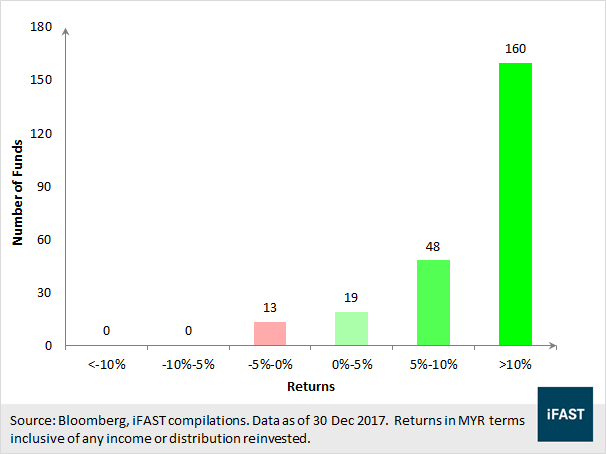 Top Performing Equity Funds
Table 1: Top 10 Performing Equity Funds

1
Manulife Dragon Growth Fund-MYR Hedged Class

Greater China-General

50.6

2
United Japan Discovery Fund-MYR Hedged

Japan-Small to Medium Companies

10.1

46.8

3
Interpac Dynamic Equity Fund

Malaysia-General

-1.2

45.8

4
I

nterpac Dana Safi

Malaysia-General

-6.4

40.1

5
RHB Dynamic Fund

Malaysia-General

11.1

34.7

6
Eastspring Investments Dinasti Equity Fund

Greater China-General

2.3

34.3

7

PMB Shariah Growth Fund

Malaysia-General

6.7

32.8

8
Templeton Asian Smaller Companies Fund - Class A (MYR)

Asia excluding Japan-Small to Medium Companies

7.6

32.8

9
CIMB-Principal Asia Pacific Dynamic Growth-SGD

Asia excluding Japan-General

5.9

32.3

10
CIMB-Principal Asia Pacific Dynamic Growth-USD

Asia excluding Japan-General

5.9

32.1

Source: Bloomberg, iFAST Compilations. Data as of 31 Dec 2017. Returns in MYR terms with any income or distribution reinvested.
Chinese Equities Crowned within Asian Stocks
Following a wobbly third quarter, global equities in 4Q2017 resumed its uptrend, only to meet more volatilities towards the mid of the last quarter. These short-lived volatilities came particularly from mainland China where we saw Chinese policymakers enforcing their deleveraging campaigns post 19th National Congress, which emphasized a focus on the quality of growth and addressing structural risk. Nonetheless, market participants shrugged off worries as the Chinese economy continues to post robust macroeconomic data, which gives investors the confidence that stock prices are likely to remain supported by stronger earnings growth into 2018 (see Figure 3).
Chart 3: Earnings expectations are highly correlated with Chinese stocks' performance.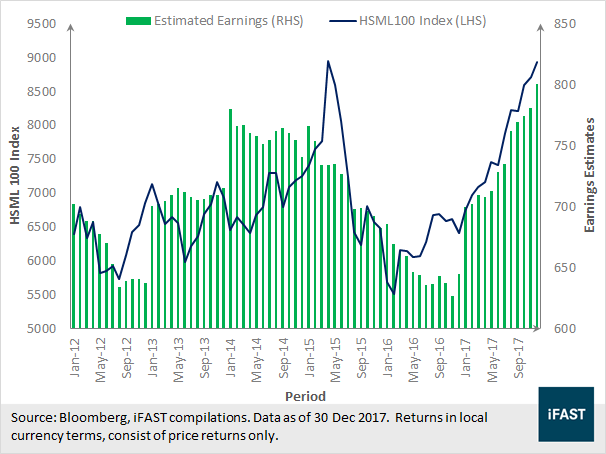 Moving forward, we think that China's economic growth may moderate marginally into 2018. The slowdown potentially comes from lower investment activities, where we expect investments in infrastructure, property and fixed assets to taper as Chinese policymakers are likely to maintain their deleveraging stance throughout 2018. The only exception could be on the manufacturing front, where Chinese policymakers have previously imposed supply-side reform to address oversupply issues. Given increasing global aggregate demand, there is potential to see increase in operating capacities and a pickup in investment activities within manufacturing sector moving forward (see Figure 4). On the external front, we expect exports and import growths to remain supported into 2018, though growth figures may be moderated amid high-base effects. Overall, the macro backdrop is still supportive of corporate earnings and thus we are in view that China is still an attractive investment destination for growth-seeking investors.
Chart 4: Manufacturing activities remain expansionary.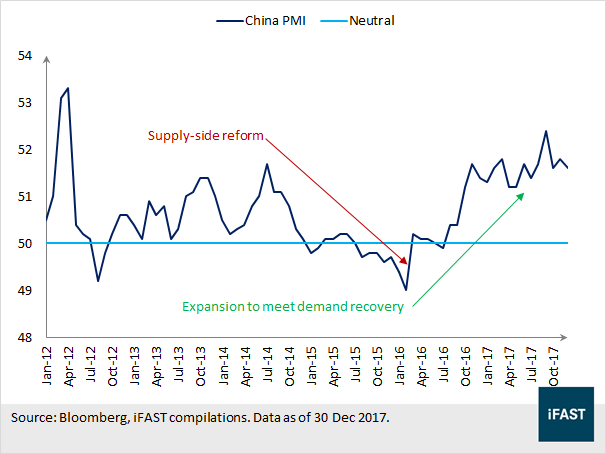 Tech Stocks Fueled Asian Gains
We made a bullish call on Asian equities back in October 2016, with the expectation of recovery in commodity prices and stabilizing Chinese economy would set a decent foundation for Asian equities. That year itself we have also expressed our positive views on Chinese banks. Though the call has played out well so far (and we are still maintaining our view on this), the tech sector was the biggest contributor to Asian equities' return, doing most of the heavy lifting in 2017 (see Figure 5).
Chart 5: Top 5 sectorS' performance vs return of MSCI Asia ex-Japan Index.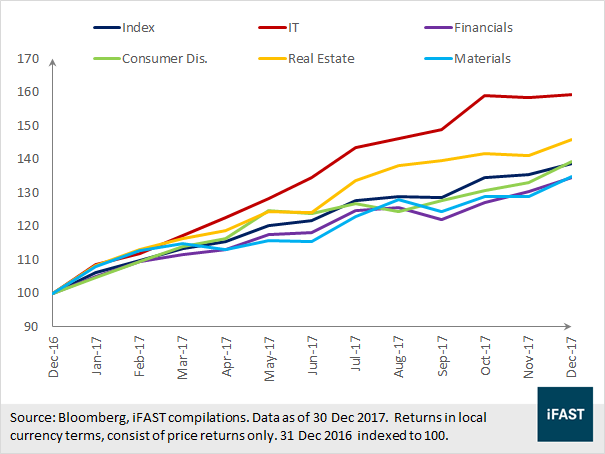 Can tech companies continue to do well in 2018? We don't know for sure, but current data is telling us that is it likely. We think that one of the leading piece of information is coming from ASEAN exports. Towards the end of 2016, ASEAN nations have witnessed the beginning of a turnaround in their exports growth, where the trend continues pretty much into the whole of 2017. While market participants have attributed growth to oil-and-gas (OnG) exports amid low-base effects, the demand for electrical and electronics (E&E) was surging. Bear in mind stronger exports growth doesn't translate directly into strong equity performance, but it does provide a good gauge on the demand for technology-driven products.
Chart 6: : ASEAN exports trend leading Asian tech stocks' performance.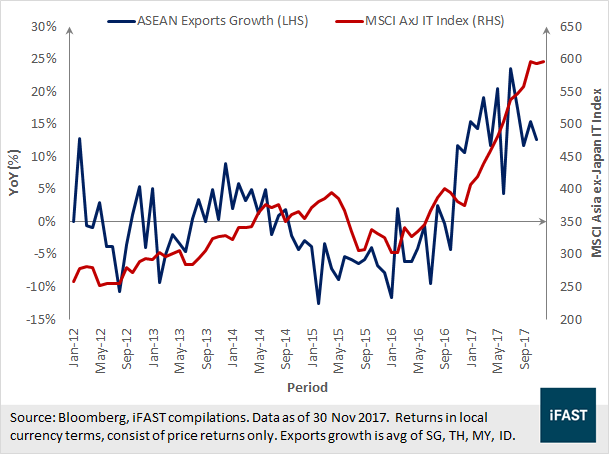 For a more detailed piece of 2018 outlook on ASEAN, click here.
Abenomics Illuminating Japanese Equities
Prime Minister Shinzo Abe seems to be steering Japan's economy into the right direction. Nominal GDP (NGDP) has improved remarkably over the recent years (see Figure 7), and we believe this has helped to bring down excessive debt burdens and high cyclical unemployment (see Figure 8 and Figure 9). The latter has a positive spillover effect towards its domestic economy, which bodes well with the more local-centric, small-to-medium cap segment of the Japanese equity market. Looking towards the large-cap segment, multinational companies have continued to bank on the current global economic recovery and continues to deliver robust earnings, giving a leg to their share prices. The Nikkei 225 Index posted 13.7% return over the year, and Japanese equity funds on our platform clocked more than 20% return (in respective currency classes) on average in 2017.
Chart 7: Japan's revival of NGDP.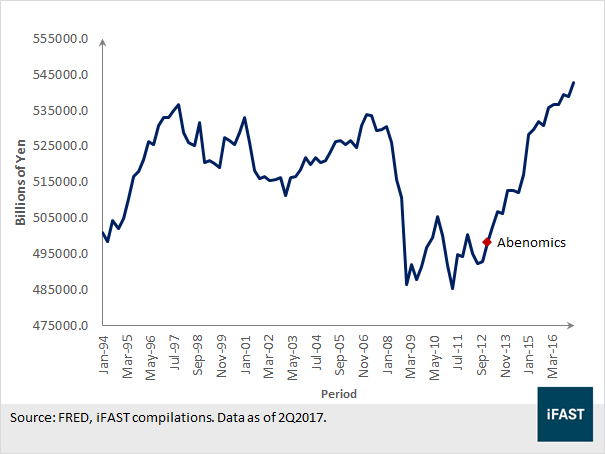 Chart 8: Improving government debt-to-GDP.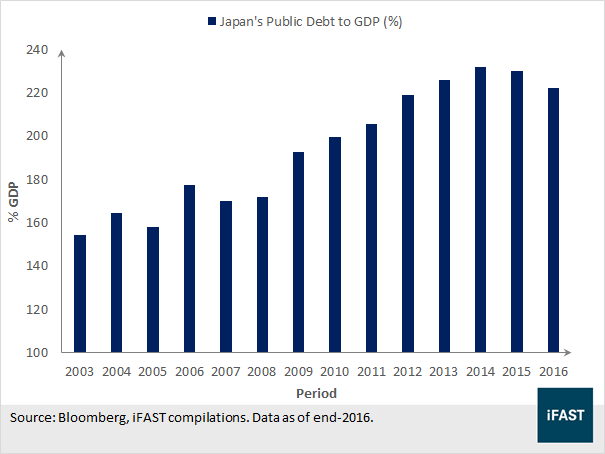 Chart 9: : Japan's unemployment rate is at all-time low.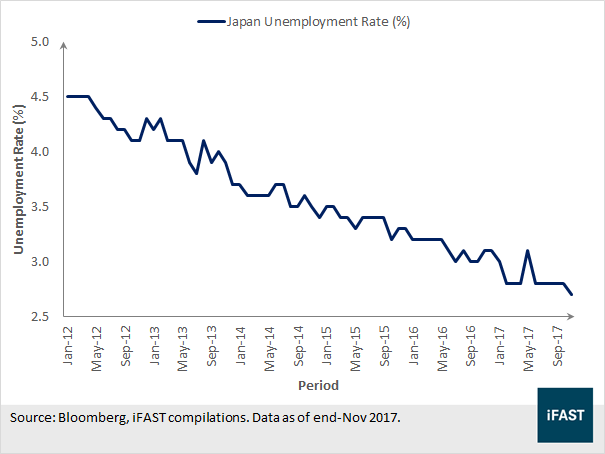 Currently, we are holding onto our view that Japanese equities' valuation is still sitting at a relatively attractive level compared to their developed market peers such as US and Europe. As global economy recovery remains on track, plus a pick-up in economic growth on the domestic front, we believe there is still head room to Japanese equities to tread higher.
Read more on what we think about the Japanese market.
Malaysian Funds Prevail After Lackluster 2016
Malaysian equities finally ended its 3-consecutive years of losing streak. Local equities cheered on a turnaround in corporate earnings, particularly stocks within the small-to-mid cap segment. To give investors a context on the performance of Malaysian equity funds, 30% (27) of the Malaysian equity funds on our platform delivered more than 20% return in 2017. At the same time, more than 70% (66) of the funds posted more than 10% return over the same period. on the contrary, 70% of the funds ended the year in red back in 2016.
So, what contributed to the good performance?
Malaysia's economic backdrop was better in 2017, where we saw healthy recovery of private consumption, stronger fixed capital investments and robust exports growth. These positive data coincided with the scene of global economic recovery, paving the way for local equities to march higher. Although Malaysian equities faced some hiccups into 2H2017, the macroeconomic backdrop remains sound. Therefore, we think that Malaysia remains as one of the attractive investment destinations for growth-seeking investors going into 2018.
Bottom Performing Equity Funds
Table 2: Bottom 10 Performing Equity Funds

231
PMB Shariah Mid-Cap Fund

Malaysia-Small to Medium Companies

0.7

-1.6

232

Pacific Global Agriculture, Infrastructure and Resources Fund

Global-General

-3.8

-1.6

233
RHB Islamic Megatrend Fund - USD - B

ASEAN-General

-2.2

234
RHB Retirement Series - Islamic Equity Fund

Malaysia-General

-2.2

235
Pacific Pearl Fund

Malaysia-Small to Medium Companies

-2.4

-2.4

236
Manulife Global Resources Fund

Global-Resources

1.6

-2.4

237
RHB Islamic Megatrend Fund - MYR

ASEAN-General

-4.4

-2.6

238
Precious Metal Securities

Global-Gold & Minerals

-1.4

-3.3

239
Libra Consumer and Leisure Asia Fund

Asia including Japan-Consumer

-4.0

-4.1

240
P

MB Dana Al-Aiman

Malaysia-General

-1.9

-4.4

Source: Bloomberg, iFAST Compilations. Data as of 31 Dec 2017. Returns in MYR terms with any income or distribution reinvested.
A Mixed Basket of Bottom Performers
From Table 2 above, we could notice that the bottom performers were coming from a mixed basket of categories, ranging from Malaysian equities to sector-specific foreign funds. With regards to foreign-exposed funds, given that their underlying assets mostly denominated in foreign currencies, particularly the Dollar, it is very likely that the strength of the Ringgit has eaten away a significant part of their portfolio returns. For investors who are looking to invest out of Malaysia, this serves as an important reminder to consider the currency aspect prior to making any investments overseas. There are two possible ways to go about this: 1) Invest in assets with decent upside potential to offset the potential currency translation loss; 2) Invest in Ringgit-hedged asset classes to mitigate the currency translation risk.
Conclusion:
The economic stories remain mostly unchanged into 2018. While equities have definitely got richer in value, we believe the current economic environment is still conducive for corporate earnings, which could provide support to share prices in the short-to-medium term. Asia ex-Japan and emerging market equities remain as our favoured region vis-à-vis their developed market counterparts. In terms of asset allocation, we think an overweight stance in equities relative to bonds is still warranted at this juncture.
While equity markets' upbeat performance may continue to buoy investors sentiment, we continue advocate investors to stay diversified geographically for their portfolios, and opine that one should not entirely leave out developed market equities exposure (such as US, Europe) for the aforementioned purpose. On a side note, fixed income segment should stay relevant to an investor's portfolio, and will play its part as a portfolio stabilizer. We prefer the safer segments of fixed income such as short duration bonds which provides us with a shelter against rising risk-free rates. We are shying away from the high-yield space at this moment, given that valuations are rich on top of the downside risk coming from the rising interest rate trend.