A little less than a year ago, Fundsupermart made a bullish call on Asian equities, and projected more than 40% upside over the next two years. Fast forward to today, we believe investors who have ridden along with our bullish call would have garnered decent returns thus far, as the MSCI Asia ex-Japan Index has delivered a handsome 25.0% return year-to-date (total return in MYR terms, as of 31 August 2017). In this article, we look to share with investors some of the on-going economic developments within the Asian region, and how these developments may support the equity markets' performance going forward.
Commodity Prices Are Stabilizing
In our previous article, we mentioned that Asian markets, including some emerging economies were battered heftily over the past few years, no thanks to the downturn in commodity prices, including the collapse of international oil prices. These negative elements have affected the terms of trade for resource-exporting Asian economies, clouded corporate earnings outlook, and steered foreign investors away from these commodity-troubled markets, which have then placed the valuation of these Asian equities at a rather attractive valuation compared to that of their developed market counterparts (see Figure 1).
FIGURE 1: Depressed commodity prices placed Asian equities at an attractive proposition.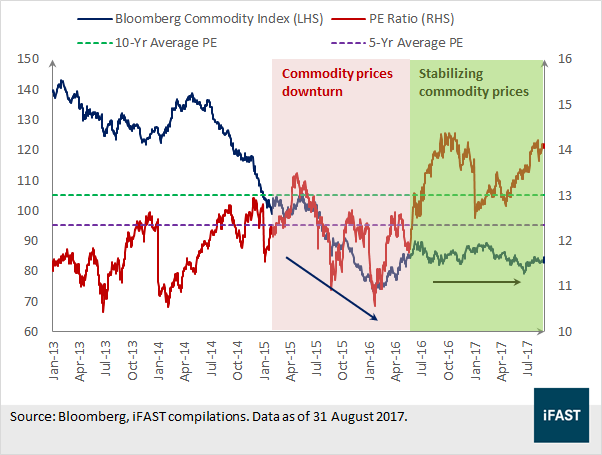 Nevertheless, moving into 1H2016, we have begun to see commodity prices showing signs of recovery. The recovery may be attributable to the destocking moves by commodity exporting countries, such as China and Brazil, as depicted by the declining manufacturing PMI numbers since 2015 (see Figure 2). On top of that, oil prices have also found further support from the supply-cut deal that finally came through in November last year after years of failed negotiations between OPEC countries. We think these factors have contributed positively to curbing excessive supply within the commodity segment, thereby leading to a price recovery for commodities.
FIGURE 2: Commodity manufacturers and producers reduce output in response to low commodity prices.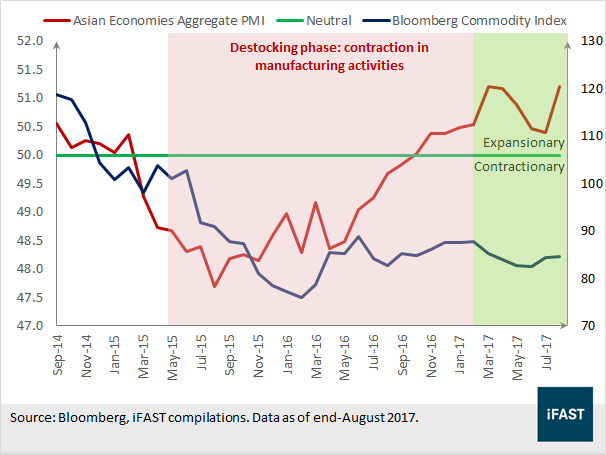 Against a global economic recovery backdrop, demand for commodities has been positive, as commodity prices have remained stable so far in 2017 (see green region in Figure 1) despite the increase in manufacturing and production activities as portrayed by Figure 2 above. We opine that global economies are likely to continue to trek their recovery path in the coming quarters, underpinning demand for commodities. This could possibly allow commodity prices to continue to find the middle ground between supply-demand.
Synchronized Global Growth Lifted Global Trades
FIGURE 3: Synchronized growth between developed economies and emerging economies.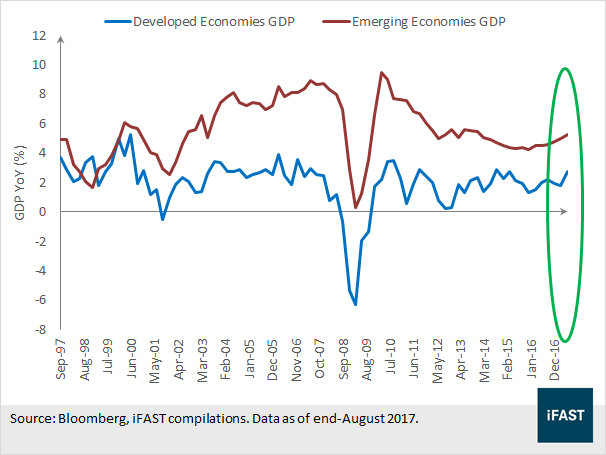 During the time that economies around the world are experiencing synchronized growth, global trade activities are improving on the back of stronger global aggregate demand. Looking into the US economy, low unemployment rate has continued to underscore US domestic consumption. Across the Atlantic Ocean, Europe moved on from its sovereign debt crisis, showing encouraging signs of broad-based recovery among member states. These have lifted expectations and sentiments among businesses and consumers, which translate into more resilient consumer and economic activities. Taking a look back into Asian countries, particularly China, economic transitioning to consumption-led growth continues to take place, depicted by its robust double-digit retail sales figures (see Figure 4). Within emerging economies such as our ASEAN peers, GDP growth over the recent quarters were supported by decent private consumption growth as well.
FIGURE 4: Decent income growth continues to support retail sales and domestic expenditure.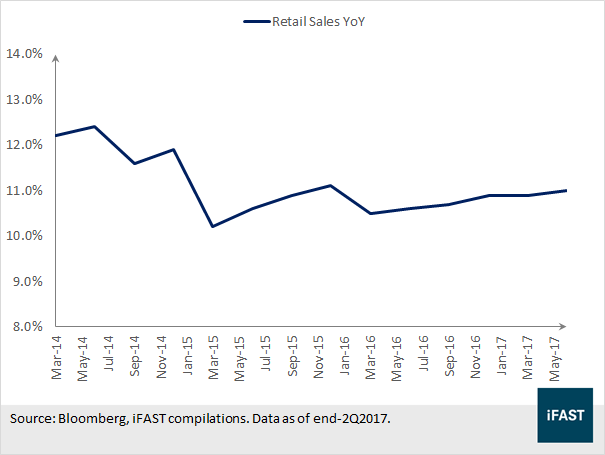 The global economic recovery story remains intact while inflation appears to have peaked following the stabilization of commodity prices, particularly oil. With that, we see inflation as less of a threat to consumption spending at this juncture. Given this environment, demand for goods and services may continue to ameliorate, underscoring trade activities and demand for Asia-manufactured goods going forward.
FIGURE 5: Robust consumption from developed markets may continue to underpin exports for Asian economies.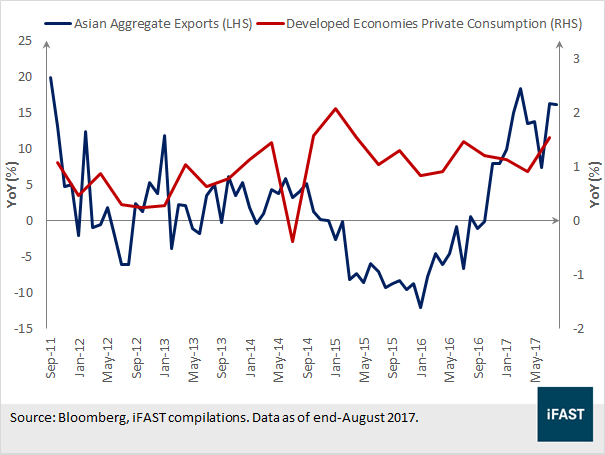 China's Economy Transition Remains Intact
Back then, China's attempt to transform itself to a consumption-driven economy has led to a cool-down in its economic growth, which in turn sparked concerns that China's super-cycle may have come to an end, with some pessimists and news headlines calling hard-landing for the Chinese economy. Apart from that, we have also come across fears of China's debt and issues concerning the stability of the Chinese financial system, together with worries for the property market.
Nevertheless, we believe that the Chinese economy transition has been successful thus far (see Figure 6) and economic growth is currently hovering at more than 6%, which is still within the expectations of the Chinese policymakers. Besides, the Chinese policymakers are still placing efforts in paving a steady growth path for the Chinese economy, allowing the country to weather through the abovementioned negative factors that have been clouding the prospects of the Chinese economy. Various efforts include supply-side reforms (which helped stabilize commodity prices), imposing stricter macroprudential rules on asset side of bank balance sheets, including the structuring and packaging of wealth management products. On liabilities side, interbank rates have been pushed higher recently by lengthening the duration of liquidity injection and raising open market operation rates to deleverage the financial system (see Figure 7).
FIGURE 6: GDP contribution from various tiers of industries.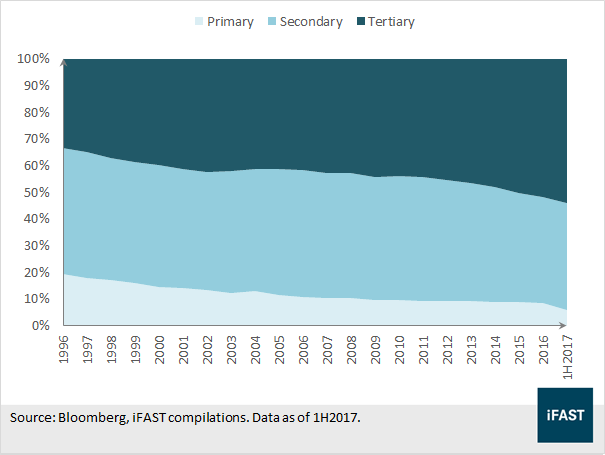 Note: Primary Industry includes raw material and agriculture related sectors. Secondary Industry includes construction and manufacturing related sectors. Tertiary Industry includes the goods and services sector.
FIGURE 7: China's deleveraging efforts may have started to bear fruits.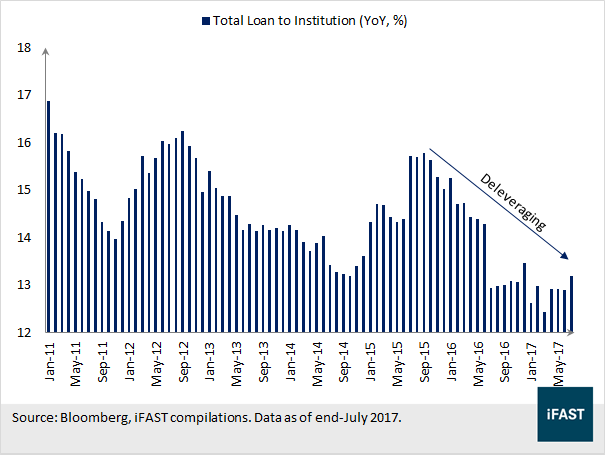 Although we are unlikely to see the Chinese economy achieving its skyrocketing double-digit growth figures again, all these reforms and efforts have by far translated to a stable economic growth trend for China. We consider China's current stability as a positive add-on to the global economic recovery backdrop for Asian equities.
What's on The Risk Radar?
Though investors who have followed our overweight call on Asian equities have been rewarded decently thus far, the journey may not be a smooth-sailing one. Year-to-date, we have accommodated uncertainties stemming from Trump's administration in the US, on top of the heavy political calendar from its European counterpart. Recently, London and Barcelona have suffered Islamic terrorist attacks respectively in June and August. In addition, escalating geopolitical tensions between US and North Korea have also jolted volatilities within Asian equities.
Currently, the populism "hype" seems to be fading off in the Europe, and we see lesser political risk stemming from the region. On America's economic front, we do not foresee a sudden shift in monetary stance towards a hawkish rate path, as the current "lower-for-longer" stance from the Fed is preserving its economic growth momentum. While geopolitical risks may linger around for an indefinite time, we have yet to see any material threats that may weigh upon the progress of global economic recovery. That said, equity markets may turn a blind eye to market noises and continue to trend higher should corporate earnings continue to deliver on the back of encouraging macroeconomy backdrop.
Read also: What Can You Learn From The Recent Market Volatility?
Earnings Revision Trend Remains Encouraging
One of the main points which we have highlighted previously in our bullish call is that we believe earnings for Asian equities were at an inflexion point. While the negative factors mentioned above subside gradually, we are looking at an improving macroeconomic condition for Asian countries happening concurrently with a pickup in growth and consumption for developed economies. These darling ingredients may have cultured decent earnings prospects for Asian corporates, which prompted analysts to revise the earnings estimates upwards since 2H2016 subsequently. Year-to-date, as of 31 August 2017, earnings estimates for MSCI Asia ex-Japan Index were revised upwards by 14.1% and 14.8% respectively, reflecting robust earnings prospect for companies within the Asia ex-Japan region. Moving forward, we opine that corporate earnings may remain supported by positive macroeconomic backdrop, which could potentially drive Asian equities' performance further.
FIGURE 8: Upward revision in earnings year-to-date.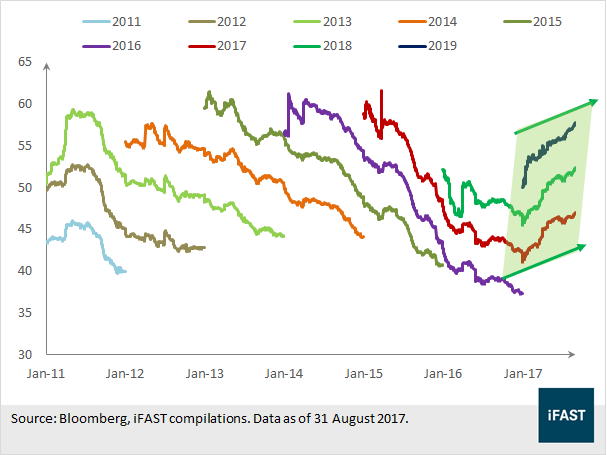 Although the MSCI Asia ex-Japan Index has went up by 25.0% year-to-date, robust earnings growth has kept valuations at a still-attractive level (see Table 1). By end-2019, MSCI Asia ex-Japan Index is expected to deliver 13.4% annualized return, with earnings growth contributing most of the returns.
Table 1: Valuation, earnings growth and dividend yields for MSCI Asia ex-Japan Index.

2017
2018
2019
PE Ratio (X)
16.0
14.7
12.1
11.5
Earnings Growth (%)
-
26.1
11.4
10.5
Dividend Yield (%)
-
2.4
2.5
2.7

Source: Bloomberg, iFAST compilations. Data as of 31 August 2017.
FIGURE 9: Expected total return for Asian equities.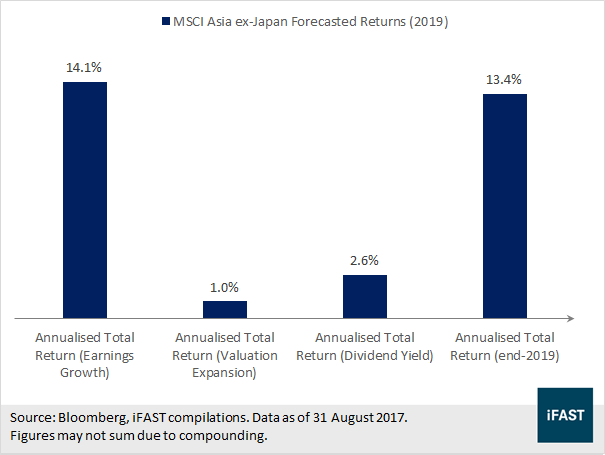 Conclusion
To sum it up, Asian equities have had a decent run since our bullish call back in 4Q2016 last year. Given that the current macroeconomic environment remains healthy and encouraging for earnings growth, we are convinced that there is still headroom for Asian equities to trend higher. While valuations may have inched higher, Asian equities are still sitting at an attractive level, presenting an entry opportunity for value investors who are still seeking to tap into the growth opportunities within the region.