The selloff in global equities market seen over the days this week has seen much coverage and generated much concern. The current pullback in equities has been sparked off by worries around rising interest rates will drag down economic growth. If investors are feeling unsettled by the tumbling equity markets, they can look at bonds where returns are more predictable than equities.
In this idea of the week, we will highlight why buying direct bonds is an appealing investment option for sophisticated investors amid the turbulent environment in equity markets.
Why Bonds?
Bonds are often compared to dividend-paying stocks due to their similar characteristic of generating income for investors. Investors need to be mindful on the difference in the certainty of the income return from these securities.
By investing into bonds, investors are certain that they are able to receive a predictable income stream, also known as coupons from the bond. This certainty of income is hard to come by other types of investments, especially from the equity markets. With dividend-paying stocks, however, the question of payment is not just about the ability to pay, but also about the company's willingness. In other words, companies are not obliged to pay their shareholders dividends.
Besides that, most bonds have a fixed maturity date. During the lifetime of a bond, its price may fluctuate depending on market conditions. However, if bondholders hold the bond until its maturity, with the condition of no default by the issuer, they are able to get back the principal of the bond at par value. Hence, by selecting bonds with a good credit rating, investors can minimize the probability of default, while enjoying the certainty of income from the investment.
What Are The Bonds Available To Me?
Government Bonds
The government bond sector is a broad category that includes sovereign debt, which is issued and backed by a central government. US Treasuries, UK Gilts, German Bunds and Malaysia Government Securities are all examples of sovereign government bonds. They are often regarded as the safest asset class for the particular country, providing shelter when the equities markets are volatile. Hence, it can be one investment option for investors who are not comfortable with the current rapidly rising volatility.
An investor who holds an allocation to government bonds would have experienced smaller losses as compared to their equity investments (refer to Figure 1). One reason why this is the case is that the stock market often falls due to market volatility and uncertainties, which is a blessing for government bonds. Government bonds also tend to benefit from a "flight to quality" when investors grow averse to risk as it is usually the case when equities are falling.
FIGURE 1: Performance Chart for MGS 5-year and KLCI Index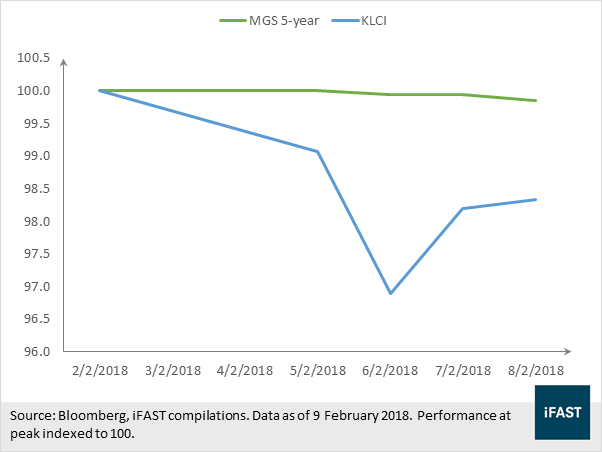 At Fundsupermart, we provide investors access to secondary bond markets. For risk-averse investors, Malaysia Government Securities are good alternatives, since these bonds are issued by the Malaysian government and are broadly considered to be free from credit risk.
Corporate Bonds
Amid raising concerns on the recent market uncertainties, corporate bonds present a compelling investment opportunity. Corporate bonds offer relatively stable cash flows and may be considered a lower risk way of generating a stable income stream than investing into dividend-paying companies.
In addition, the excess yield offered by corporate bonds over bank deposits and government debt will provide an ongoing source of enhanced income for investors, albeit with higher risk. Moreover, with the current synchronised global economic growth, corporates are expected to fare better moving forward, thus enhancing their debt paying ability.
FIGURE 2:Performance Chart for CIMB Bhd Share Price and CIMBMK 5.800% Perpetual Corporate Bond (MYR)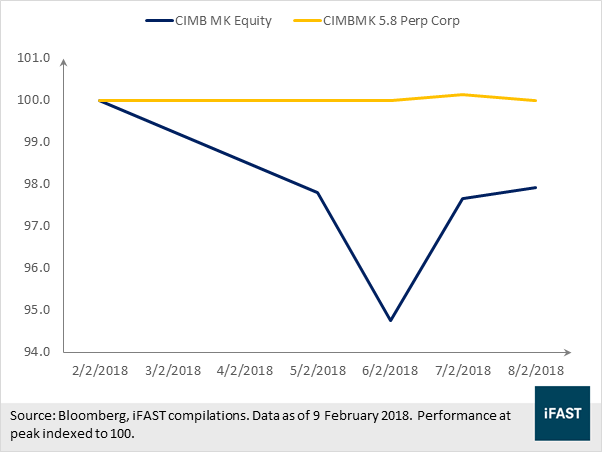 Corporate bonds are traditionally considered lower down the risk spectrum than equities (Figure 2). Nevertheless, when exploring corporate bond issuances, investors need to understand that bond issuance that comes with higher credit rating tends to generate lower yield, and vice versa. It is important for investors to invest in companies with strong or improving corporate fundamentals, a reliable and experience management team with a bondholder focus, whereby an economic growth could translate into revenue and earnings growth.
Sophisticated investors who can stomach greater investment risk, they can consider the wide variety of corporate bonds that are available on our platform.
See: CIMB Group Holdings' 5.8% Perpertual: Decent Yield from "Blue-Chip" Malaysian Bank
Golden Agri-Resources Limited: Strong Recovery
Start Looking At Bonds Now
Bonds, as a whole, tends not to fall as far as stocks when the going gets rough, and bonds frequently benefit from financial market turmoil. As such, if investors could not stomach the escalating market volatility, they can consider investing into some of the abovementioned bonds to somehow protect their capital from the equity market downturn.
If you still have further enquiries, don't be afraid to approach our friendly Client Investment Specialist!
Related Link: FSM Bonds