WEEKLY REVIEW
Global bond yields surged 10 basis points for the week ended 6 July 2017 in a sell-off sparked by concerns over the unwinding of ultra-loose monetary policies by major central banks. The yields of Malaysian government and G7 sovereign bonds rose from a week ago to 3.97% (by 7 basis points) and 0.63% (by 7 basis points) respectively. In the US corporate debt space, yields of US investment grade bonds spiked 10 basis points, while its Asian counterpart (Asian bonds) saw yields rise by 5 basis points from 3.54% to 3.59%. Over in the riskier bond segments, yields in the hard-currency denominated emerging market bond space shot up by 16 basis points to 5.54%, while yields in the US high yield bond space rose 7 basis points to 6.09% over the week.
On average, bond funds were down by -0.14% over the week. Movements in the foreign exchange market continued to skew the performance of bond funds that are exposed to specific currencies. AmConservative posted 0.09% return as emerged as the best performer of the week, while Affin Hwang Select AUD Income Fund - MYR fell by -1.12% over the same period and emerged as the worst performer. The drop in performance may be attributable to the drop in share prices in some of the top equity holdings within the portfolio.
(Basis points figures might differ due to rounding-off)
CHART 1: YTMS ON VARIOUS BOND SEGMENTS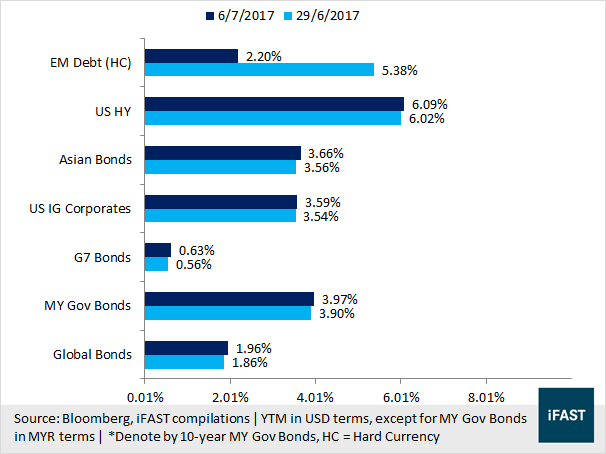 GLOBAL BOND MARKET
As widely expected, the Bank of Thailand (BOT) left its benchmark interest rate unchanged at 1.50% on 5 July 2017, a level that is lowest since May 2009. The central bank had noted that there remains a need for the economy's monetary policy to remain accommodative given that the growth in domestic demand continues to be gradual and "not yet sufficiently broad-based". Private consumption had expanded on the back of improved farm income amid a pickup in the country's exports. Non-farm income, however did not benefit much from the recovery in the country's exports, leading to an improvement in purchasing power that is not broad-based. While the central bank continues to be of the opinion that a relatively accommodative monetary policy is required, it also adopts a view that the economy's growth outlook has generally improved further on the back of better external demand and that while headline inflation has softened, it is projected to rise in the second half of this year. As of 9 July 2017, market expectations are for the economy to grow 3.4% in 2017, up from 3.2% in 2016 and for consumer price inflation to reach 1.4% for 2017, which is within the central bank's 1-4% target range.
In the coming week, the Bank of Korea (BOK) and Bank Negara Malaysia (BNM) are slated to conduct their monetary policy meetings on the 13 July 2017, and expectations are for the banks to maintain their interest rates at 1.25% and 3.00% respectively.
We have been highlighting the risks of further increases in interest rates (and are still cognisant), and suggest investors avoid longer-duration developed sovereign debt which is most susceptible to rising yields, while opting for shorter duration bond funds which are far less interest rate sensitive. Local short duration bonds, such as the AmIncome Plus, are also a better alternative for investors who are seeking shelter from the volatility and uncertainty seen in financial markets in recent times, with yields that are relatively higher than that offered by developed sovereign bonds, providing an anchor of stability to a portfolio. As we have advocated, riskier fixed income segments, such as that of high yield bonds, should be combined with other safer bond segments, to ensure sufficient levels of diversification within one's fixed income allocation.
MALAYSIA BOND MARKET
CHART 2: YIELD CURVE – MGS AND MY CORPORATE BONDS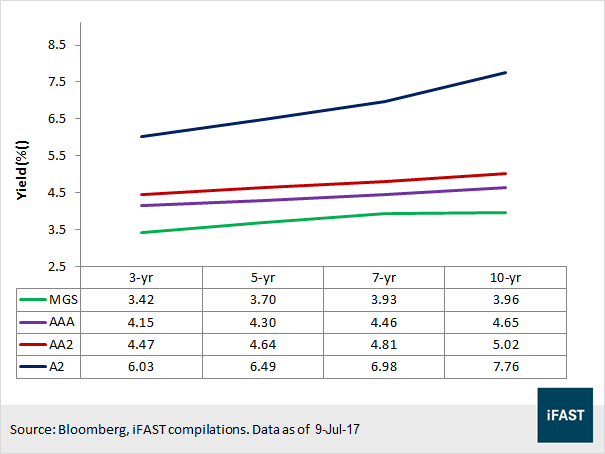 CHART 3: WEEKLY YIELD MOVEMENT – MGS AND MY CORPORATE BONDS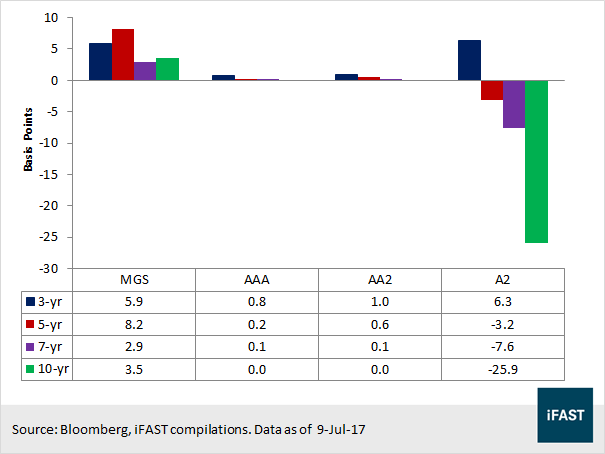 For the week ended 9 July 2017, MGS segment saw broad-based increase in yields, with the 3-year MGS yields climbing up by 5.9 bps, while the 5-year, 7-year and 10-year MGS yields edged up by 8.2 bps, 2.9 bps and 3.5 bps respectively over the week. In the secondary bond market, trading activities were up by 36.5%, with the medium-term bond segment taking up 67.6% of total trading activities.
On the domestic front, RAM Ratings has recently published an article which concerns Malaysia's export outlook. In its article, RAM Ratings expects Malaysia's export growth to remain robust, underpinned by expansionary momentum. At the same time, import growth is also envisaged to stay healthy, supported by the sustained expansion of domestic businesses and ongoing infrastructure projects.
The current cyclical recovery has been providing support for both exports and imports this year, following several years of lacklustre performance. Such a positive outlook on global demand and output is especially prevalent among export-oriented firms, which have so far been consistently more optimistic on the outlook for the next 6 months compared to their domestic-oriented counterparts, as highlighted in the RAM Business Confidence Index for 3Q-4Q 2017.
Notably, exports have benefited from the rebound in demand from China, as shipments of crude materials, mineral fuels, and machinery and transport equipment have spiked up sharply, in line with the pick-up in its recovery. Nevertheless, the part played by mineral fuels in the revitalisation of overall exports to China has been partly boosted by the recovery in oil prices; this is likely to moderate in the near term given the recent price weakness of oil amid concerns of a supply glut.
Fixed Income Funds To Consider:
Bonds – Malaysia:KAF Bond Fund

Bonds – Malaysia:Eastspring Investments Bond Fund

Bonds – Malaysia:RHB Bond Fund

Bonds – Malaysia:AmIncome Plus

Bonds – Malaysia (Islamic):AMB Dana Arif Class A-MYR
Bonds – Malaysia (Islamic):Libra ASnitaBOND Fund

Bonds – Asia excluding Japan:RHB Asian Total Return Fund

Bonds – Emerging Markets:RHB Emerging Markets Bond Fund
Bonds – Malaysia Foreign Exposed :AmDynamic Bond