WEEKLY REVIEW
In a similar fashion to previous week, markets experienced a broad-based fall in yields across all segments; global bond yields fell by -5 basis points to end the week with a yield of 1.94%, while yields of G7 bonds fell by -4 basis points to 0.53%, and the Malaysian government bond segment saw yields falling by merely -1 basis points to 4.10%, for the week ended 9 February 2017. In the US credit space, the US investment grade corporate bond yields fell by -5 basis points to 3.74%. Asian bond yields saw the best performance of the week, recording a decrease of -10 basis points to 3.58% when the week ended. In the riskier segments of global bond markets, yields of the hard-currency denominated emerging market bonds fell significantly by -9 basis points, while the US high yield bond yields fell by -4 basis points, offering yields of 5.60% and 6.14% respectively.
On average, bond funds were up by 0.21% over the week. The best performer of the week was RHB Emerging Markets Bond Fund, which gained 0.91% over the week. On the other hand, AMB Lifestyle Trust Fund Today gained a tepid 0.09% over the same period and emerged as the worst performer.
CHART 1: YTMS ON VARIOUS BOND SEGMENTS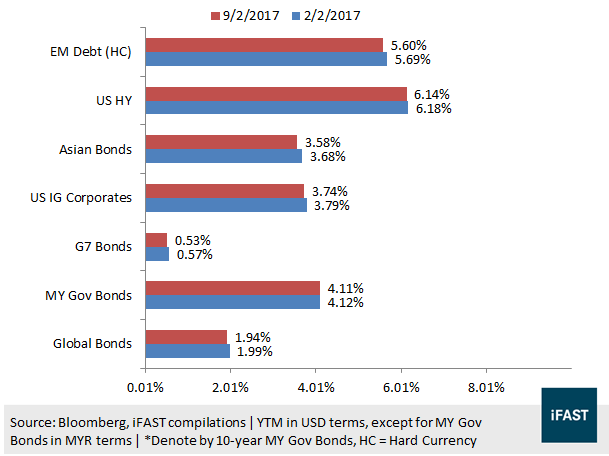 GLOBAL BOND MARKET
The Bank of Thailand (BOT) opted to hold interest rates at 1.50% as policymakers expect the Thai economy to recover at a faster pace (compared to the previous assessment), with inflation expected to continue on its upward trajectory. Headline inflation has come in within BOT's target band, with core inflation reflecting low demand-pull inflationary pressure. The central bank's expectation of a faster expansion in Thailand's economy is due to "a more broad-based recovery in merchandise exports and a faster-than-expected recovery in tourism", with private investments and consumptions recovering at a gradual pace. The BOT maintains that overall financial conditions are still conducive for the economy, despite risks pertaining to the frail global economic recovery and monetary policy directions of major advanced economies. The central bank takes the view that monetary policy should remain accommodative in the near-term to ensure financial stability.
Across the Indian Ocean, the Reserve Bank of India (RBI) similarly kept its interest rate of 6.25% unchanged on Wednesday, contrary to consensus estimates of a 0.25% rate cut. In addition, policymakers expect headline inflation for Q4 2016 to come in below 5.0%, and headline inflation of Q1 2017 to be muted, before picking up momentum in subsequent quarters as growth picks up and negative output gap (the difference between the actual output and the potential output) narrows. The central bank remains "committed to bringing headline inflation closer to 4.0% on a durable basis and calibrated manner" in the medium-term, while adding that its monetary stance has shifted from "accommodative" to "neutral", as it opts to wait for more clarity on the impact of November's demonetization programme and the output gap in the economy.
This week, investors can look forward to one notable update from Bank Indonesia (BI) on its monetary policy, with consensus estimates expecting interest rates to remain unchanged at 4.75%. While there is scope for the central bank to cut rates in 2017 due to stagnant growth rates, the central bank is wary of the Fed's potential rate hikes (resulting in currency volatility) and inflationary pressures, which may prevent BI from cutting interest rates any further in the near-term.
We have been highlighting the risks of further increases in interest rates (and are still cognisant), and suggest investors avoid longer-duration developed sovereign debt which is most susceptible to rising yields, while opting for shorter duration bond funds which are far less interest rate sensitive. Local short duration bonds, such as the AmIncome Plus, are also a better alternative for investors who are seeking shelter from the volatility and uncertainty seen in financial markets in recent times, with yields that are relatively higher than that offered by developed sovereign bonds, providing an anchor of stability to a portfolio. As we have advocated, riskier fixed income segments, such as that of high yield bonds, should be combined with other safer bond segments, to ensure sufficient levels of diversification within one's fixed income allocation.
MALAYSIA BOND MARKET
CHART 2: YIELD CURVE – MGS AND MY CORPORATE BONDS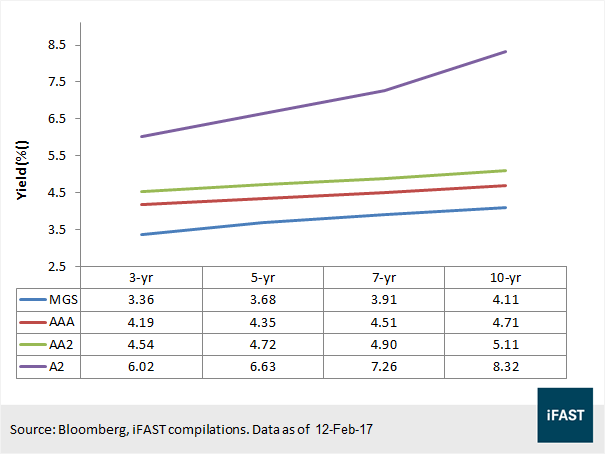 CHART 3: WEEKLY YIELD MOVEMENT – MGS AND MY CORPORATE BONDS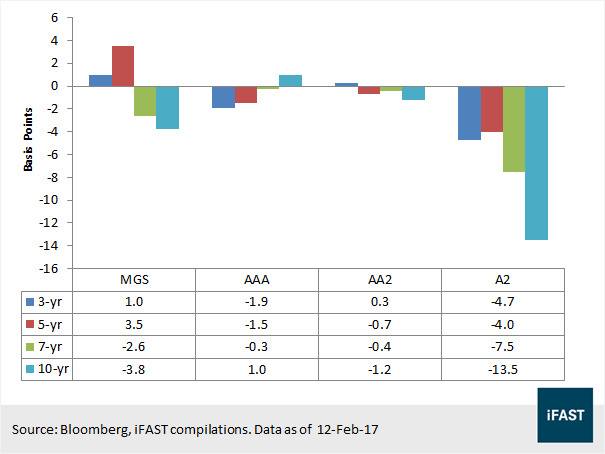 For the week ended 12 February 2017, the shorter duration MGS segments, which are the 3-year and 5-year MGS, continued to witness increase in yields; whereas yields for the longer dated ones (7-year and 10-year MGS) went the opposite direction. In the secondary bond market, trading activities recovered and were up by 83.5% following a holiday-shortened week. Most of the trading activities took place in the Islamic medium-term notes segment, taking up 44.1% of total trading activities.
On the domestic front, RAM Ratings has reaffirmed the AAA/Stable/P1 financial institution ratings of Abu Dhabi Islamic Bank (ADIB or the Bank). The decision was underpinned by the expectation of ready support from the Government of Abu Dhabi and the UAE Federal Government, given the Bank's ownership structure and track record of government support. At the same time, the local credit ratings provider has also reaffirmed the respective preliminary AAA(s) and AA1(s) ratings of the Senior and Subordinated Sukuk to be issued under ADIB Sukuk Company II Ltd's proposed Islamic MTN Programme (Proposed Sukuk). ADIB Sukuk Company II is a trust-owned entity that acts as the Bank's funding conduit. The issue ratings reflect the ADIB's credit strength as it is the obligor of the Proposed Sukuk.
The Bank is majority-owned by members of the Abu Dhabi ruling family (50%) and the Abu Dhabi Investment Council (8%). ADIB had been established under the Emiri Decree as Abu Dhabi's first Islamic bank, and boasts a strong retail franchise. During the global financial crisis, the GoAD and the UAE authorities had clearly demonstrated their support for the Bank in the form of capital injections; we believe that such support will be readily extended again if needed. While ADIB faces further asset-quality pressures on account of the knock-on effects of depressed oil prices, particularly from its contracting exposures, the Bank's satisfactory pre-provision profit and strong GIF coverage ratio of 101.3% (including AED400 million of credit-risk reserves) provide a sufficient buffer against any significant deterioration.
Fixed Income Funds To Consider:
Bonds – Malaysia:KAF Bond Fund

Bonds – Malaysia:Eastspring Investments Bond Fund

Bonds – Malaysia:RHB Bond Fund

Bonds – Malaysia:AmIncome Plus

Bonds – Malaysia (Islamic):AMB Dana Arif Class A-MYR
Bonds – Malaysia (Islamic):Libra ASnitaBOND Fund

Bonds – Asia excluding Japan:RHB Asian Total Return Fund

Bonds – Emerging Markets:RHB Emerging Markets Bond Fund
Bonds – Malaysia Foreign Exposed :AmDynamic Bond