WEEKLY REVIEW
Global bond yields fell -2 basis points for the week ended 8 June 2017 amid increased geopolitical uncertainty leading up to the release of the UK election results, which spurred the demand for safer investment assets. The yields of Malaysia government and G7 sovereign bonds remained unchanged from a week ago, at 3.86% and 0.48% respectively. Meanwhile, the yields of Asian and US investment grade bonds fell -3 basis points and -2 basis points respectively to offer investors a yield of 3.48% and 3.52% respectively when the week ended. Over in the riskier bond segments, yields in the hard-currency denominated emerging market bond space fell -5 basis points to 5.18% while yields in the US high yield bond space rose 5 basis points to 5.93% over the week.
On average, bond funds posted a tepid return of 0.17% over the week. Movements in the foreign exchange market continued to skew the performance of bond funds that are exposed to specific currencies. The strength in the AUD against the MYR on the back of Australia's better-than-expected GDP growth (rallied 0.58% over the week) has boosted the performance of Affin Hwang Select AUD Income Fund – MYR and emerged as the best performer of the week, with positive return of 0.91% over the week. On the other hand, Affin Hwang AIIMAN Global Sukuk Fund - MYR fell by -0.50% over the same period and emerged as the worst performer.
(Basis points figures might differ due to rounding-off)
CHART 1: YTMS ON VARIOUS BOND SEGMENTS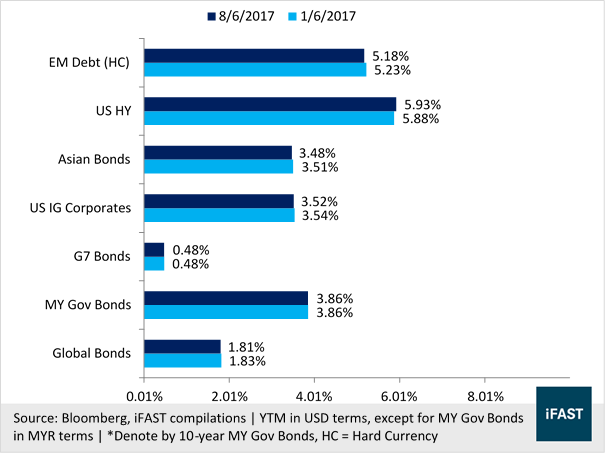 GLOBAL BOND MARKET
As widely expected, the European Central Bank (ECB) left its key rates unchanged last week. The ECB also made no amendments to its asset purchase programme, and confirmed that it will continue its current monthly pace of EUR 60 billion of asset purchases until end-December 2017 "or beyond if necessary", and in any case, until the bank deems the adjustment in the path of inflation towards its inflation target to be a "sustained" one. Since its last monetary policy meeting in April, the ECB has turned more optimistic regarding the growth outlook of the euro area, stating that risks are now "broadly balanced". The bank has noted, however, that headline inflation continues to remain subdued at this juncture and that "a very substantial degree of monetary accommodation is still needed for underlying inflation pressures to build up and support headline inflation in the medium term". While the ECB has ruled out further rate cuts, it has reiterated its willingness to increase the "asset purchase programme in terms of size and/or duration" should the Eurozone's growth outlook or financial conditions turn less favourable.
Last Wednesday, the Reserve Bank of India (RBI) maintained its neutral monetary policy stance and key repo rate at 6.25% as widely expected. The country's inflation has trended below the central bank's target of 4% since November 2016 and came in at 2.99% year-on-year in April 2017, a low in the country's recent history. Growth in the country has moderated, with GDP coming in at 6.1% year-on-year for the quarter ending 31 March 2017, down from 7.0% in the prior quarter. For the latest financial year (ended 31 March 2017), the country grew a smaller 7.1% compared to the prior financial year's growth of 8.0%. Although inflation has been under control for a notable period now, the central bank notes that the current state of the economy still reflects a need for revival of private investment, restoration of banking sector health, and removal infrastructural bottlenecks; all of which would have to be "in place" in order for monetary policy to "play a more effective role". It has also noted that premature easing could result in a reversal of rate cuts not long after the cuts have been implemented, which could hurt the central bank's credibility. It would be unsurprising that the central bank continues to maintain its interest rates in the months ahead.
We have been highlighting the risks of further increases in interest rates (and are still cognisant), and suggest investors avoid longer-duration developed sovereign debt which is most susceptible to rising yields, while opting for shorter duration bond funds which are far less interest rate sensitive. Local short duration bonds, such as the AmIncome Plus, are also a better alternative for investors who are seeking shelter from the volatility and uncertainty seen in financial markets in recent times, with yields that are relatively higher than that offered by developed sovereign bonds, providing an anchor of stability to a portfolio. As we have advocated, riskier fixed income segments, such as that of high yield bonds, should be combined with other safer bond segments, to ensure sufficient levels of diversification within one's fixed income allocation.
MALAYSIA BOND MARKET
CHART 2: YIELD CURVE – MGS AND MY CORPORATE BONDS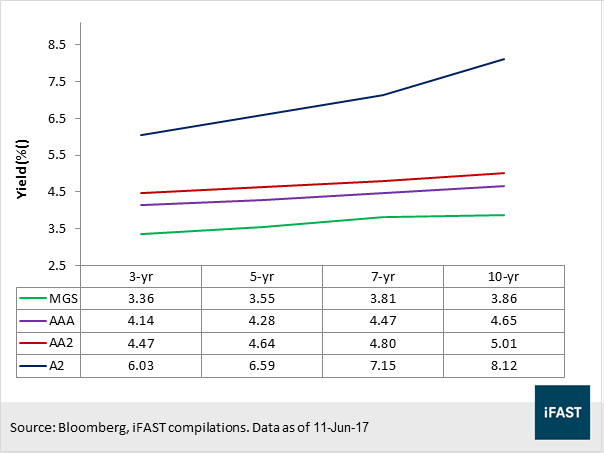 CHART 3: WEEKLY YIELD MOVEMENT – MGS AND MY CORPORATE BONDS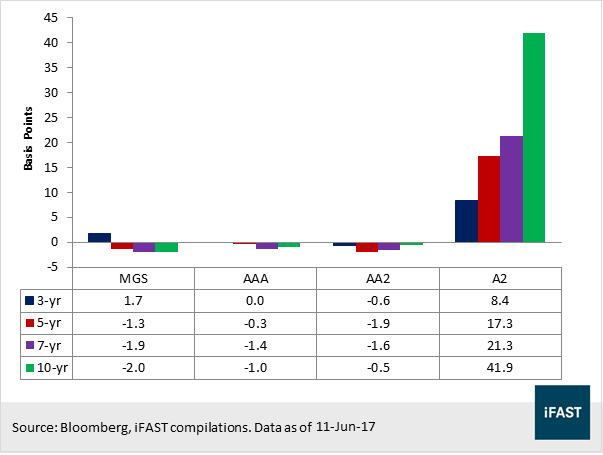 For the week ended 9 June 2017, MGS segment saw mixed result, with the 3-year MGS yield edging up by 1.7 bps, while the 5-year, 7-year and 10-year MGS yields declined by -1.3 bps, -1.9 bps and -2.0 bps respectively over the week. In the secondary bond market, trading activities were down by 40.1%, with the Islamic medium-term notes segment taking up 53.8% of total trading activities.
On the ratings front, RAM Ratings has assigned a preliminary rating of AA3/Stable to Tadau Energy Sdn Bhd's (Tadau or the Company) Proposed Islamic Medium-Term Notes Programme of up to RM250 million in nominal value, the first rated sukuk to be issued by a solar power player in Malaysia. Tadau has two 21-year Power Purchase Agreements (PPAs – PPA1 and PPA2) with Sabah Electricity Sdn Bhd (SESB) to design, construct, own, operate and maintain solar photovoltaic (PV) plants with a total capacity of 50 MWac (the Plants), in Kudat, Sabah. The scheduled commercial operations dates under PPA1 and PPA2, respectively, are 30 June 2017 and 31 March 2018.
The preliminary rating reflects Tadau's sturdy project fundamentals, underscored by its long-term PPAs, which require SESB to accept and purchase all energy generated by the Plants, up to a specified limit. Based on RAM's sensitised cashflow analysis, Tadau's debt-protection metrics are envisaged to be strong, with respective minimum and average finance service coverage ratios (FSCRs, with cash balances, post-distribution and calculated on payment dates) of 1.50 times and 1.84 times throughout the transaction's tenure.
Fixed Income Funds To Consider:
Bonds – Malaysia:KAF Bond Fund

Bonds – Malaysia:Eastspring Investments Bond Fund

Bonds – Malaysia:RHB Bond Fund

Bonds – Malaysia:AmIncome Plus

Bonds – Malaysia (Islamic):AMB Dana Arif Class A-MYR
Bonds – Malaysia (Islamic):Libra ASnitaBOND Fund

Bonds – Asia excluding Japan:RHB Asian Total Return Fund

Bonds – Emerging Markets:RHB Emerging Markets Bond Fund
Bonds – Malaysia Foreign Exposed :AmDynamic Bond