WEEKLY REVIEW
Global bond yields fell by -2 basis points last week, as weakness in oil prices and soft economic data from the US and UK spurred demand for safer investment assets. Yields of G7 sovereign bonds remained unchanged at 0.48%, while yields of Malaysia government bonds edged up by a single basis point to 3.87% over the week. Asian bonds saw their yields fall by -2 basis points to 3.46% on aggregate, while its counterparts in the US credit space, US investment grade corporate bonds, managed to outperform with a decline in yield by -4 basis points to yield 3.48% when the week ended. Over in the riskier segment of global bond markets, the US high yield bond segment saw its yields decline by -4 basis points to 5.89%. Meanwhile, yields of hard-currency denominated emerging market bonds increased by 3 basis points from a prior 5.18% to 5.21%.
On average, bond funds posted a tepid return of 0.08% over the week. Movements in the foreign exchange market continued to skew the performance of bond funds that are exposed to specific currencies. The strength in the AUD against the MYR (rallied 1.31% over the week) has boosted the performance of Affin Hwang Select AUD Income Fund – MYR and emerged as the best performer of the week, with positive return of 1.01% over the week. On the other hand, United Income Plus Fund fell by -0.24% over the same period and emerged as the worst performer.
(Basis points figures might differ due to rounding-off)
CHART 1: YTMS ON VARIOUS BOND SEGMENTS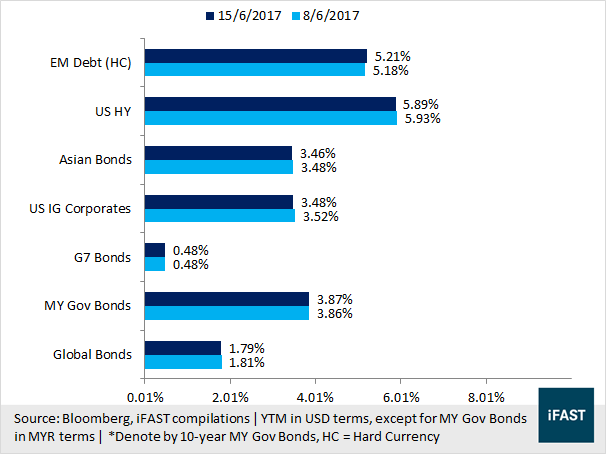 GLOBAL BOND MARKET
At its June meeting last week, the Federal Reserve raised its benchmark interest rate for the third time in seven months by 25 basis points to 1.0 – 1.25%, a decision that was largely in line with market expectations. In its policy statement, the Fed explained that the decision was justified by a continued strengthening of the labour market and moderate improvements in economic activity. While the personal consumption expenditures price index (PCE Index), which is the Fed's preferred inflation gauge, has seen recent declines and is currently below its target of 2%, the Fed has expressed confidence that the weak inflation readings were transitory and should stabilise at the 2% target "over the medium term". The Fed raised its growth outlook for this year from a prior GDP estimate of 2.1% to 2.2%, while the estimates for 2018 and 2019 were left unchanged. An additional rate hike this year remains on the cards, with the Fed's median Fed funds rate forecast at 1.4%, while market participants are also pricing in a 40.2% probability of a rate hike by the end of this year (as of 16 June 2017).
Over in the UK, the Bank of England (BOE) kept its policy rate unchanged at 0.25%. While the outcome was widely expected by market participants, the decision was passed with a narrow majority, with three of eight members voting in favour of a rate hike over concerns of accelerating inflation. Headline inflation in the UK rose to 2.9% year-on-year in May, up from April's 2.7% and is almost a full percentage point above the central bank's target of 2%. However, a recent slowdown in economic momentum and weak household spending were put forth as the main justifications behind the BOE's decision to keep interest rates unchanged. Nonetheless, the bank did note that "consumer confidence has remained relatively resilient", while "employment has continued to rise". On the future path of interest rates, the BOE is likely to closely monitor incoming economic data points to determine its future policy decisions. Meanwhile, the monetary policy committee members have voted unanimously to maintain the BOE's GBP 10 billion stock of corporate bonds, as well as its GBP 435 billion worth of UK government bond holdings.
As expected, the Bank of Japan (BOJ) left its monetary policy stance unchanged at -0.1% in its two-day policy review last week, while maintaining the 10-year government bond yield at around zero under its yield curve control policy. The BOJ also left unchanged a pledge to maintain its asset purchases at around the current target of JPY 80 trillion. In its policy statement, the BOJ took a more upbeat view on Japan's economy, with fixed investment on a "moderate increasing trend" as corporate profits have picked up, while private consumption has also been resilient in light of steady improvements in employment and wages. While inflation has remained disappointingly low, the BOJ is of the view that inflation "is likely to continue on an uptrend and increase toward 2%" in the medium to long-term.
Over in emerging economies, the Bank of Russia slashed its key rate last week by another -25 basis points to 9.00%, in a decision that was widely anticipated. Contributed in part by the strength in the Ruble since the start of the year, consumer price inflation had continued to slow, coming in at 4.1% year-on-year in May, a level that is near the central bank's 4.0% target. The central bank noted that while household consumption is currently on the rise alongside investment and industrial output, it "does not currently present a risk of an increase in inflation given the simultaneous increase in supply of goods and services". At this juncture, the risk of a rise in Russia's inflation has seemingly abated slightly, and favourable inflation levels over the coming quarters would likely continue to create ample room for additional rate cuts, which should further aid the country in its road to economic recovery. While further cuts in 2H 2017 would be unsurprising, it remains likely that the Bank of Russia would continue to maintain a moderately tight monetary policy given its continued cautious tone regarding inflation risks. As of 18 June 2017, Russia's economic growth for the whole of 2017 is expected to turn positive (1.2%), up from the -0.2% contraction in 2016.
This week, the central bank of Taiwan will convene to provide updates on its monetary policy guidance, with market participants expecting no changes to its current interest rate.
We have been highlighting the risks of further increases in interest rates (and are still cognisant), and suggest investors avoid longer-duration developed sovereign debt which is most susceptible to rising yields, while opting for shorter duration bond funds which are far less interest rate sensitive. Local short duration bonds, such as the AmIncome Plus, are also a better alternative for investors who are seeking shelter from the volatility and uncertainty seen in financial markets in recent times, with yields that are relatively higher than that offered by developed sovereign bonds, providing an anchor of stability to a portfolio. As we have advocated, riskier fixed income segments, such as that of high yield bonds, should be combined with other safer bond segments, to ensure sufficient levels of diversification within one's fixed income allocation.
MALAYSIA BOND MARKET
CHART 2: YIELD CURVE – MGS AND MY CORPORATE BONDS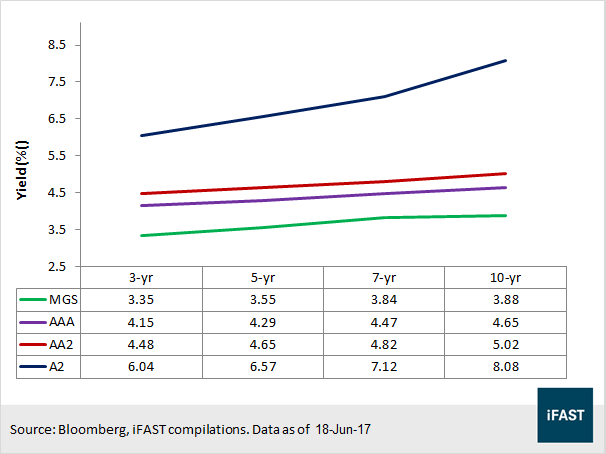 CHART 3: WEEKLY YIELD MOVEMENT – MGS AND MY CORPORATE BONDS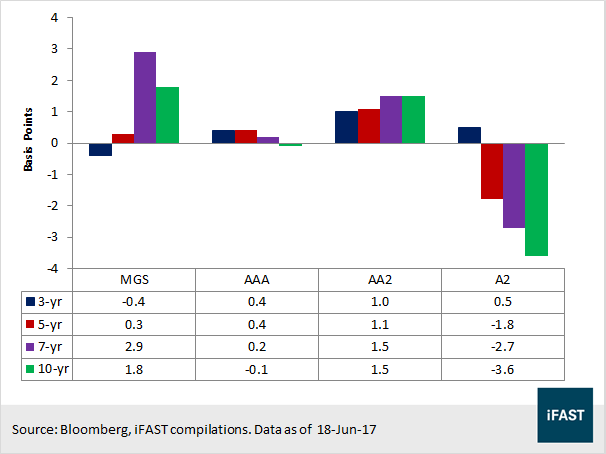 For the week ended 16 June 2017, MGS segment saw mixed result, with the 3-year MGS yield declined by -0.4 bps, while the 5-year, 7-year and 10-year MGS yields edged up by 0.3 bps, 2.9 bps and 1.8 bps respectively over the week. In the secondary bond market, trading activities were up by 29.2%, with the medium-term bond segment taking up 45.6% of total trading activities.
On the ratings front, MARC Ratings has assigned a preliminary short-term rating of MARC-2IS to Bina Darulaman Berhad's (BDB) proposed RM100.0 million Islamic Commercial Papers (ICP) Programme. The outlook for the rating is stable. The rating primarily reflects BDB's moderate business and financial profile, characterised by improving profitability on the back of increased property development activities and a secured road maintenance contract. The rating is moderated by the prevailing challenging prospects for the domestic property sector, particularly in Kedah where the bulk of its projects is concentrated.
Fixed Income Funds To Consider:
Bonds – Malaysia:KAF Bond Fund

Bonds – Malaysia:Eastspring Investments Bond Fund

Bonds – Malaysia:RHB Bond Fund

Bonds – Malaysia:AmIncome Plus

Bonds – Malaysia (Islamic):AMB Dana Arif Class A-MYR
Bonds – Malaysia (Islamic):Libra ASnitaBOND Fund

Bonds – Asia excluding Japan:RHB Asian Total Return Fund

Bonds – Emerging Markets:RHB Emerging Markets Bond Fund
Bonds – Malaysia Foreign Exposed :AmDynamic Bond