WEEKLY REVIEW
Global bond markets saw mixed performances over the week ended 5 January 2017, with global bond yields edging up slightly by 1 basis point to end the week with a yield of 1.89%. Amongst the safer segments of fixed income, the Singapore government bond segment was the worst performer for the week as yields rose by 7 basis points, leaving the segment with a yield of 2.07% when the week ended. Yields of G7 bonds remained relatively unchanged with a slight -1 basis point decline. Over in the US credit space, US investment grade corporate bonds saw yields decline by -12 basis points over the week, while their Asian counterpart also saw yields fall by a similar magnitude of -12 basis points, offering investors a yield of 3.69% when the week ended. Over in the riskier segment of global bond markets, the US high yield debt market was the best performing segment for the week as yields fell -22 basis points to offer investors a yield of 6.26% at the end of the week. Likewise, emerging market bonds also held up very well over the course of the week, with yields declining -20 basis points to yield 5.72%.
On average, bond funds were up by 0.15% over the week. The best performer of the week was Affin Hwang Select AUD Income Fund-MYR which gained 1.77% over the week. The gain was attributed to the appreciation of Aussie against MYR, which strengthened 1.64% over the week. On the other hand, the Maybank Global Bond Fund lost -1.50% over the week and ended up as the worst performer.
CHART 1: YTMS ON VARIOUS BOND SEGMENTS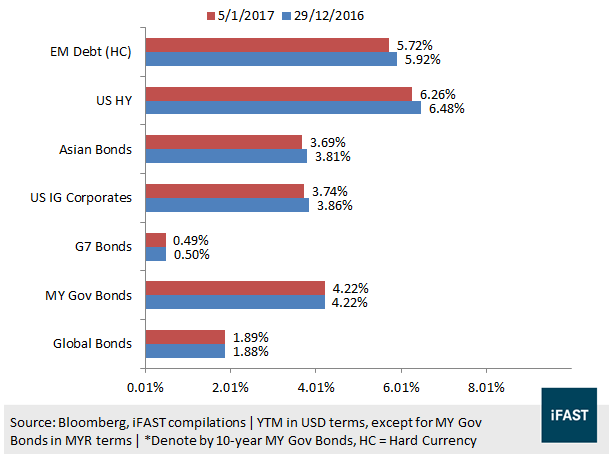 GLOBAL BOND MARKET
Last week, the US Federal Reserve released the minutes of the December policy meeting, at which it raised the benchmark Fed funds rate by 25 basis points. According to the minutes, almost all Fed officials agreed that the prospects for expansionary fiscal stimulus by the incoming Trump administration could boost economic growth in the years ahead, with the committee expecting GDP growth to hit 2.1% in 2017, a slight upward revision from the 2.0% estimate in September. The committee, however, emphasised the "considerable uncertainty" surrounding these policies, and that "it was too early to know what changes in these policies would be implemented and how such changes might alter the economic outlook". While the Fed expects the interest rate to be close to 1.5% by end-2017 based on its dot-plot, implying three possible 25 basis point hikes next year, the heightened uncertainty over Trump's policies has also made it more challenging to communicate to market participants about the likely path of interest rates. Markets are currently pricing in a 12.4% probability of a rate hike in the first Fed meeting in 2017, and a 72.8% probability for a June rate increase (as of 4 January 2017).
This week, Brazil's central bank is scheduled to provide an update on its monetary policy. In its quarterly inflation report, the central bank has slashed its growth forecast from 1.3% to 0.8% for 2017, while maintaining its inflation forecast below the official target at 4.4% and 3.6% for 2017 and 2018 respectively, a signal that policymakers have room to step up on monetary easing to pull the economy out of its current recession. The consensus is estimating a -50 basis point cut in interest rates when the central bank meets this week. The Bank of Korea (BOK) is also set to hold its monetary policy meeting on Friday, with market participants expecting the central bank to make no changes to interest rates. While the BOK has reiterated its willingness to support economic growth by maintaining an accommodative monetary policy, it is under pressure to contain the nation's soaring household debt levels.
We have been highlighting the risks of further increases in interest rates (and are still cognisant), and suggest investors avoid longer-duration developed sovereign debt which is most susceptible to rising yields, while opting for shorter duration bond funds which are far less interest rate sensitive. Local short duration bonds, such as the AmIncome Plus, are also a better alternative for investors who are seeking shelter from the volatility and uncertainty seen in financial markets in recent times, with yields that are relatively higher than that offered by developed sovereign bonds, providing an anchor of stability to a portfolio. As we have advocated, riskier fixed income segments, such as that of high yield bonds, should be combined with other safer bond segments, to ensure sufficient levels of diversification within one's fixed income allocation.
MALAYSIA BOND MARKET
CHART 2: YIELD CURVE – MGS AND MY CORPORATE BONDS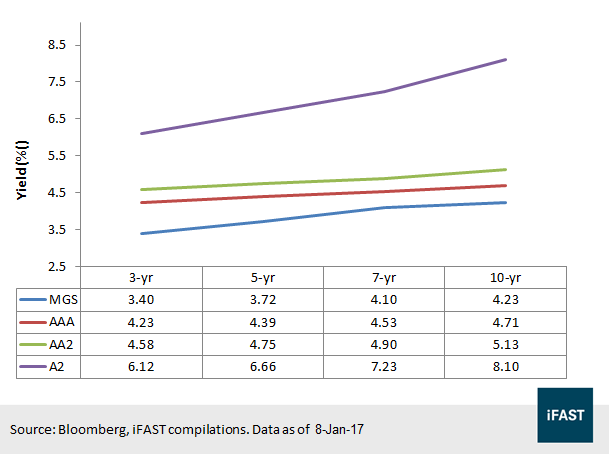 CHART 3: WEEKLY YIELD MOVEMENT – MGS AND MY CORPORATE BONDS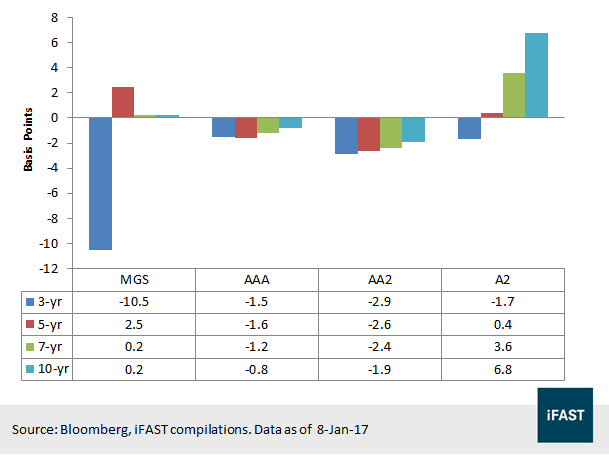 For the week ended 8 January 2017, the 3-year duration is the only segment in MGS that experienced a fall in yields, while 5-year duration gained 2.5 basis points. Both 7-year and 10-year duration saw tepid change of 0.2 basis points gain in yields. In the secondary bond market, most of the trading activities took place in the Islamic medium term notes segment, taking up 60% of total trading activities.
On the domestic front, RAM Ratings has assigned the senior and subordinated notes under AFFIN Bank Berhad's (the Bank) proposed RM6.0 billion MTN Programme with AA3 and A3 ratings respectively. The local credit rating company has also reaffirmed the Bank's AA3/Stable/P1 financial institution ratings as support from Lembaga Tabung Angkatan Tentera, the Bank's ultimate majority shareholder remains strong. Currently, AFFIN Bank Berhad's asset quality remains satisfactory, and its strong capitalization will serve as a buffer under a more challenging operating environment. However, RAM opines that the Bank's weak profit performance as compared to its peers will continue to be a rating constraint.
Fixed Income Funds To Consider:
Bonds – Malaysia:KAF Bond Fund

Bonds – Malaysia:Eastspring Investments Bond Fund

Bonds – Malaysia:RHB Bond Fund

Bonds – Malaysia:AmIncome Plus

Bonds – Malaysia (Islamic):AMB Dana Arif Class A-MYR
Bonds – Malaysia (Islamic):Libra ASnitaBOND Fund

Bonds – Asia excluding Japan:RHB Asian Total Return Fund

Bonds – Emerging Markets:RHB Emerging Markets Bond Fund
Bonds – Malaysia Foreign Exposed :AmDynamic Bond