WEEKLY REVIEW
Global bond yields rose by 4 basis points last week, as a rebound in oil prices bolstered sentiment and reinforced expectations for a pick-up in inflation. G7 sovereign bonds saw its yields increase by 3 basis points while Malaysian Government Securities yields ebbed by -2 basis points over the week, bring yields to 0.55% and 3.9% respectively. Over in the US credit space, yields of US investment grade corporate bonds remained unchanged at 3.67%, while yields of Asian bonds rose by 2 basis points.
The riskier segment of global bond markets continued to outperform, roiled by improvements in global growth prospects. The US high yield market was the best performer last week, as yields fell by -4 basis points, offering investors a yield of 6.01% when the week ended. Meanwhile, hard-currency denominated emerging market bonds saw a slight decline in yields from a prior 5.36% to 5.35%.
On average, bond funds climbed 0.22% over the week. Maybank Global Bond Fund was the best performer, garnered a return of 1.39% over the week. On the other hand, AmanahRaya Unit Trust Fund fell by -0.03% over the same period and emerged as the worst performer.
(Basis points figures might differ due to rounding-off)
CHART 1: YTMS ON VARIOUS BOND SEGMENTS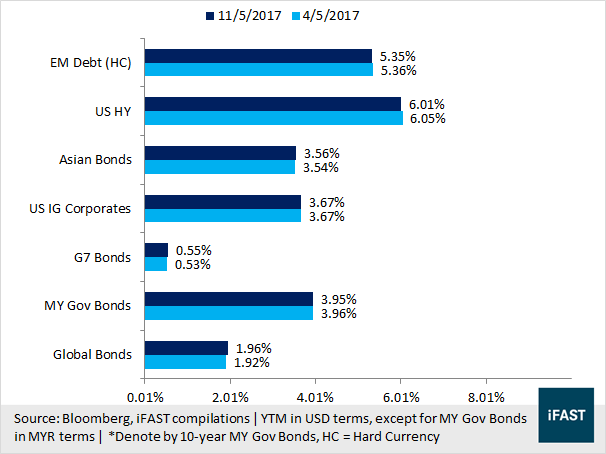 GLOBAL BOND MARKET
Last week in Western Europe, the Bank of England (BOE) kept benchmark policy rates unchanged (at 0.25%). It also opted to retain the current amount of its asset purchases programme. In its statement release, the BOE mentioned that "consumption growth will be slower in the near term than previously anticipated before recovering in the latter part of the forecast period as real income picks up." The central bank acknowledged that the effects of a weaker Sterling has begun to feed through to consumer prices, and that "wage growth has been notably weaker than expected", and expects inflation to rise further in the next 2 quarters above target. Overall, guidance was slightly more hawkish this time around as compared to March's policy update, with the committee stating that "some modest withdrawal of monetary stimulus" may be appropriate. However, it remains to be seen if policy-makers will indeed tighten monetary policy going forward as focus is now on the EU negotiations and the uncertainty hanging over Britain's transition.
In Southeast Asia, Bank Negara Malaysia (BNM) left its overnight policy rate unchanged at 3.00%, a move that was largely in line with market expectations. The BNM asserted in its policy statement that the current "stance of monetary policy is accommodative and supportive of economic activity". Malaysia's economy grew by 4.2% last year, the slowest since 2009, amidst a challenging macroeconomic environment, but has seen signs of a recovery in recent times, with improvements in exports and manufacturing activity. The BNM expects the economy to strengthen further, with growth driven mainly by "domestic demand amid continued wage and employment growth, and the implementation of new and on-going investment projects". The recent improvements in global growth prospects are also likely to support Malaysia's exports, which will in turn contribute positively to economic growth. However, downside risks remain, with threats from trade protectionism, geopolitical developments and commodity prices potentially reigniting financial market volatility.
Bank Indonesia (BI) is the only major central bank scheduled to provide an update on its monetary policy this week. Market participants are expecting no changes to the seven-day reverse repo rate, which currently stands at 4.75%.
We have been highlighting the risks of further increases in interest rates (and are still cognisant), and suggest investors avoid longer-duration developed sovereign debt which is most susceptible to rising yields, while opting for shorter duration bond funds which are far less interest rate sensitive. Local short duration bonds, such as the AmIncome Plus, are also a better alternative for investors who are seeking shelter from the volatility and uncertainty seen in financial markets in recent times, with yields that are relatively higher than that offered by developed sovereign bonds, providing an anchor of stability to a portfolio. As we have advocated, riskier fixed income segments, such as that of high yield bonds, should be combined with other safer bond segments, to ensure sufficient levels of diversification within one's fixed income allocation.
MALAYSIA BOND MARKET
CHART 2: YIELD CURVE – MGS AND MY CORPORATE BONDS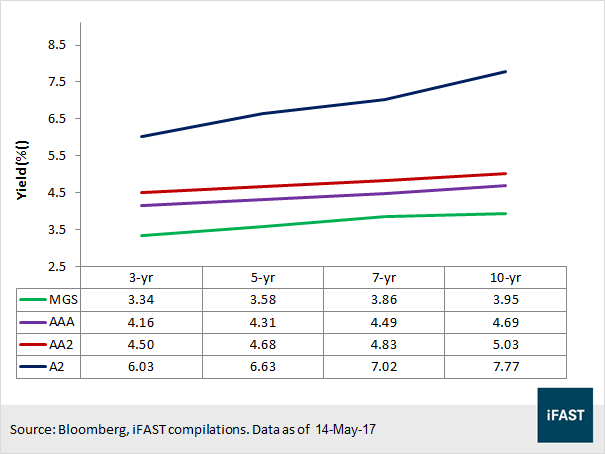 CHART 3: WEEKLY YIELD MOVEMENT – MGS AND MY CORPORATE BONDS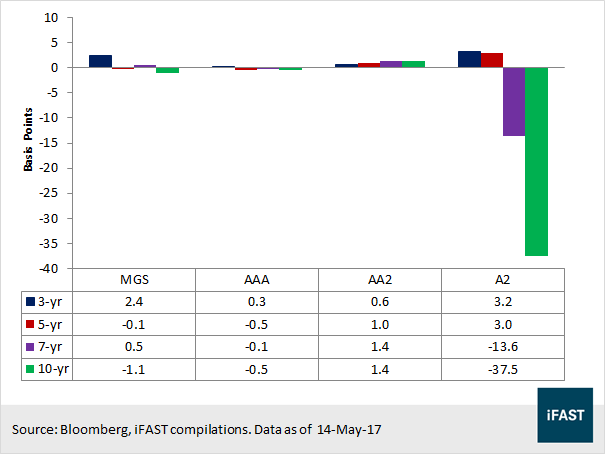 For the week ended 14 May 2017, MGS yields were little changed in light trading on a holiday shortened week. Both 3-year and 7-year segments saw their yields moving up by 2.4 basis points and 0.5 basis points respectively, while 5-year and 10-year segments saw their yields falling -0.1 basis points and -1.1 basis points respectively. The secondary corporate bond markets saw a lower trading volume too, falling -54.8% over the week. The Islamic medium term note segment accounts for 47.2% of total trading activities.
On the domestic front, RAM Ratings views Media Prima Berhad's plan to acquire full ownership of Rev Asia Holdings Sdn Bhd for RM 105 million to have no immediate rating impact. The Head of Consumer and Industrial Ratings mentioned that at this juncture, the earnings contribution from the new unit over the near term are not anticipated to be sufficient to make up for the steady decline in earnings from the company's traditional media platforms in the past few years. Media Prima Berhad's balance sheet is expected to remain very conservative, with a net gearing ratio of about 0.02 times.
RAM Ratings recognise Media Prima Berhad's effort in diversifying its income streams through the acquisition plan. In light of the still-weak consumer sentiment and shift away from traditional platform, its adex for TV and newspapers is projected to slip about 9% y-o-y in 2016. RAM Ratings expect adex to stay muted going forward, although there may be an upside from the 2017 Southeast Asian Games and a possible general election this year.
Fixed Income Funds To Consider:
Bonds – Malaysia:KAF Bond Fund

Bonds – Malaysia:Eastspring Investments Bond Fund

Bonds – Malaysia:RHB Bond Fund

Bonds – Malaysia:AmIncome Plus

Bonds – Malaysia (Islamic):AMB Dana Arif Class A-MYR
Bonds – Malaysia (Islamic):Libra ASnitaBOND Fund

Bonds – Asia excluding Japan:RHB Asian Total Return Fund

Bonds – Emerging Markets:RHB Emerging Markets Bond Fund
Bonds – Malaysia Foreign Exposed :AmDynamic Bond