WEEKLY REVIEW
It was a relatively good week for fixed income markets worldwide, as global bond yields fell from a prior 1.87% to 1.83% (by -4 basis points) over the week. G7 sovereign bonds saw a -4 basis point decline in yields, while on the other hand, Malaysia government bonds gained 1 basis points to end the week with a yield of 3.99%. Over in the US credit markets, US investment grade corporate bonds turned in a good performance over the week, with the segment seeing yields fall from a prior 3.51% to 3.46%. Their Asian counterpart, Asian bonds, also saw yields decline over the week – declining by -8 basis points to offer investors a yield of 3.51% when the week ended 3 August 2017.
In the riskier segment of fixed income markets, the US high yield bond market continued its gains from the previous week, with yields of the segment falling by -3 basis points to end the week with a yield-to-maturity of 5.77%. Yields in the non-investment grade debt market in the US have declined to levels where we view valuations to be rather stretched, and investors should take heed and look to underweight exposure to this segment. Hard-currency denominated emerging market bonds saw yields decline more, as yields fell from a prior 5.34% to 5.27% over the week.
On average, bond funds were up by 0.01% over the week, Affin Hwang Select Bond Fund – MYR clocked a tepid return of 0.59%, appeared as the best performer over the week. AmConservative emerged as worst performer with a retreat of -1.03%.
(Basis points figures might differ due to rounding-off)
CHART 1: YTMS ON VARIOUS BOND SEGMENTS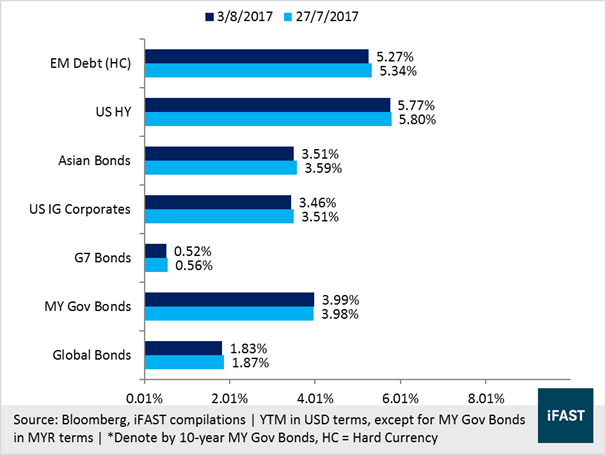 GLOBAL BOND MARKET
Last week in Northwest Europe, the Bank of England (BOE) made no changes to its benchmark policy rate and its currently existing asset purchases programme. The vote by the BOE's Monetary Policy Committee (MPC) to maintain its benchmark rate was 6-2, with the committee maintaining its outlook for inflation and economic activity that is similar to its forecast back in May. Commenting that Sterling's depreciation has fed through to consumer price inflation, the BOE continued that "as the effect of rising import prices on inflation diminishes, domestic inflationary pressures gradually pick up over the forecast period." While policy-makers may have communicated a hawkish stance in recent times, it remains to be seen if monetary policy would be tightened given weaker-than-expected consumer spending and the potential negative effects stemming from the uncertainty surrounding Britain's divorce from the European Union (EU).
CHART 2: UK CPI (YoY%) Since 2013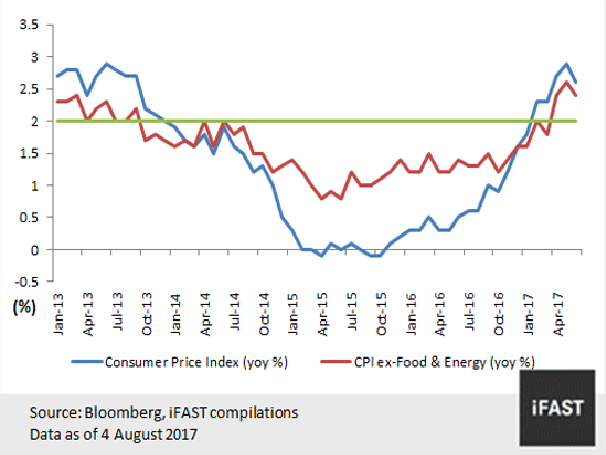 Over in Asia, the Reserve Bank of India (RBI) lowered its benchmark policy rate by -25 basis points to 6.0%, a move which was widely expected by economists and market participants. It was also the first time since October 2016 that the RBI lowered its benchmark policy rate. The RBI commented that the roll-out of GST has been smooth and that the monsoon has been "normal". The central bank also stated that "the upside risks to inflation have either reduced or not materialised", and that it will continue to monitor "movements in inflation to ascertain if recent soft readings are transient or if a more durable disinflation is underway." Recent inflation data in India indicates that food articles and fuel prices cooled at the end of 1H 17 (CPI at lowest registered level), but it remains to be seen if policy-makers may continue their easing stance as the likelihood of another good harvest is rising, which may benefit rural demand and support housing demand and investment moving forward.
We have been highlighting the risks of further increases in interest rates (and are still cognisant), and suggest investors avoid longer-duration developed sovereign debt which is most susceptible to rising yields, while opting for shorter duration bond funds which are far less interest rate sensitive. Local short duration bonds, such as the AmIncome Plus, are also a better alternative for investors who are seeking shelter from the volatility and uncertainty seen in financial markets in recent times, with yields that are relatively higher than that offered by developed sovereign bonds, providing an anchor of stability to a portfolio. As we have advocated, riskier fixed income segments, such as that of high yield bonds, should be combined with other safer bond segments, to ensure sufficient levels of diversification within one's fixed income allocation.
MALAYSIA BOND MARKET
CHART 3: YIELD CURVE – MGS AND MY CORPORATE BONDS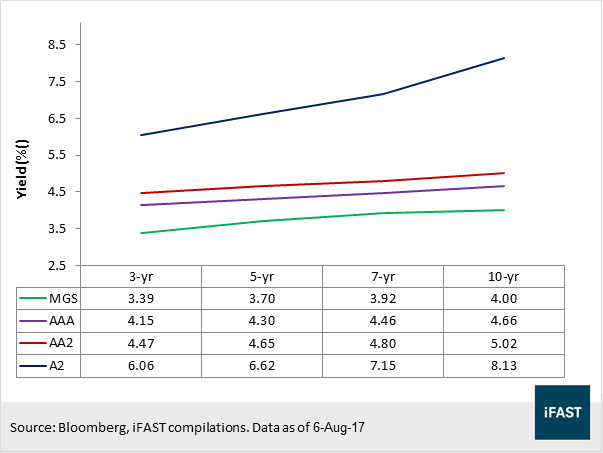 CHART 4: WEEKLY YIELD MOVEMENT – MGS AND MY CORPORATE BONDS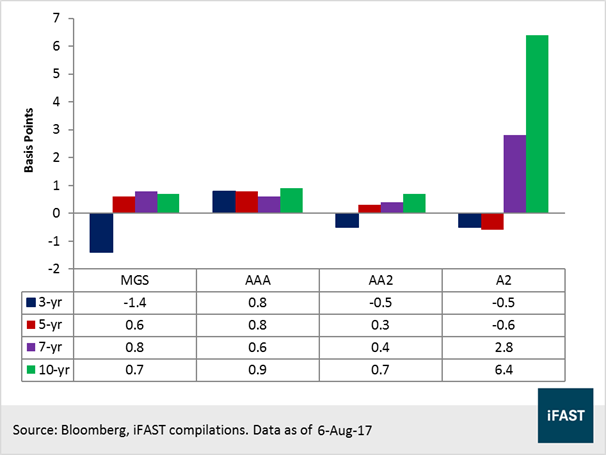 For the week ended 6 August 2017, MGS segment saw broad-based increase in yields, with the 5-year and 7-year and 10-yyear MGS yields climbing by 0.6 bps, 0.8 bps and 0.7 bps respectively while the 3-year MGS yield edged down by -1.4 bps. In the secondary bond market, trading activities were up by 398.3%, with the Islamic medium-term note segment taking up 50.7% of total trading activities.
On domestic front, MARC has recently affirmed the AAA/MARC-1 and AAAIS/MARC-1IS ratings of Cagamas Berhad's Bonds and Sukuk. The rating agency reviews the outlook on all ratings is stable. They are premised on Cagamas' strong credit profile, as shown by its significant capitalisation and liquidity position, both of which are underpinned by a prudent approach to risk.
The ratings also arise from Cagamas' systemic importance in the domestic financial system, arising from its status as the national mortgage corporation and the largest domestic issuer of corporate bonds.
Fixed Income Funds To Consider:
Bonds – Malaysia:KAF Bond Fund

Bonds – Malaysia:Eastspring Investments Bond Fund

Bonds – Malaysia:RHB Bond Fund

Bonds – Malaysia:AmIncome Plus

Bonds – Malaysia (Islamic):AMB Dana Arif Class A-MYR
Bonds – Malaysia (Islamic):Libra ASnitaBOND Fund

Bonds – Asia excluding Japan:RHB Asian Total Return Fund

Bonds – Emerging Markets:RHB Emerging Markets Bond Fund
Bonds – Malaysia Foreign Exposed :AmDynamic Bond