WEEKLY REVIEW
After a week of stronger performance, the performance of global bond markets softened over the week ended 30 November 2017, with the yields of global bonds rising 4 basis points to 1.92% when the week ended. G7 sovereign saw yields rise 3 basis points while yields of Malaysia government bonds dipped -2 basis points to offer investors a yield of 0.59% and 3.89% respectively when the week ended. Meanwhile, over in the Asian credit space, investment grade corporate bonds saw yields rise a greater 8 basis points to 3.74%, while their US counterparts, US investment grade corporate bonds, saw yields decline -2 basis points to 3.70% over the week.
In the riskier bond segments, the yields of hard-currency denominated emerging market and US high yield bonds rose 2 and 4 basis points to 5.44% and 6.09% respectively. Meanwhile, Asian high yield bonds saw yields rise 16 basis points to end the week at 5.58% and were the weakest performers over the week.
On average, bond funds were down by -0.06 over the week. Eastspring Investments Dana Al-Islah emerged as the top performer as the fund gained 0.47%. On the other hand, Affin Hwang Select AUD Income Fund - MYR incurred losses of -1.26% and emerged as the worst performer due to the appreciation of Ringgit against AUD by about 1.77% over the week.
(Basis points figures might differ due to rounding-off)
CHART 1: YTMS ON VARIOUS BOND SEGMENTS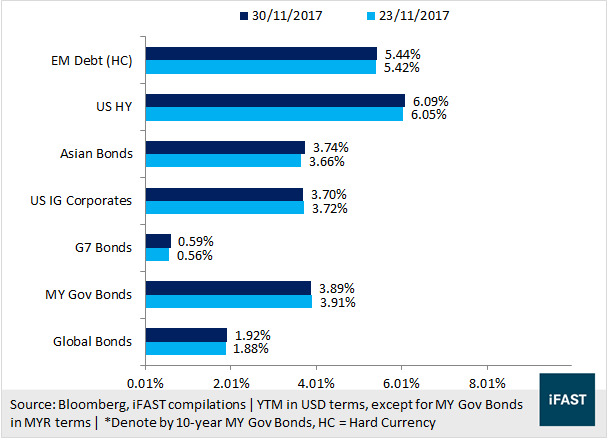 GLOBAL BOND MARKET
Last week, the Bank of Korea (BOK) raised its benchmark interest rate for the first time in more than six years by 25 basis points to 1.50%. The decision was largely in line with market expectations, and highlighted the country's strengthening economy, which expanded by 3.6% year-on-year in 3Q 2017 – the fastest since 1Q 2014. Recent improvements in consumer sentiment and the easing of geopolitical tensions are also expected to lend strength to future economic expansion. That said, the BOK also noted that consumer prices have not been picking up, with November's headline inflation of 1.3% year-on-year the lowest in eleven months, and remains below the central bank's 2.0% target. The BOK is in no hurry to tighten, and continues to maintain an accommodative monetary policy stance, with future rate increases dependent on factors such as economic growth, inflation trends and household debt levels.
In the coming week, India's Reserve Bank of India (RBI) and Brazil's Banco Central Do Brasil (BCB) are slated to provide guidance on their monetary policies. While market expectations are for India's RBI to make no changes to its existing interest rates, expectations are for Brazil's BCB to slash its Selic rate by -50 basis points to 7.00%.
We have been highlighting the risks of further increases in interest rates (and are still cognisant), and suggest investors avoid longer-duration developed sovereign debt which is most susceptible to rising yields, while opting for shorter duration bond funds which are far less interest rate sensitive. Local short duration bonds, such as the AmIncome Plus, are also a better alternative for investors who are seeking shelter from the volatility and uncertainty seen in financial markets in recent times, with yields that are relatively higher than that offered by developed sovereign bonds, providing an anchor of stability to a portfolio. As we have advocated, riskier fixed income segments, such as that of high yield bonds, should be combined with other safer bond segments, to ensure sufficient levels of diversification within one's fixed income allocation.
MALAYSIA BOND MARKET
CHART 2: YIELD CURVE – MGS AND MY CORPORATE BONDS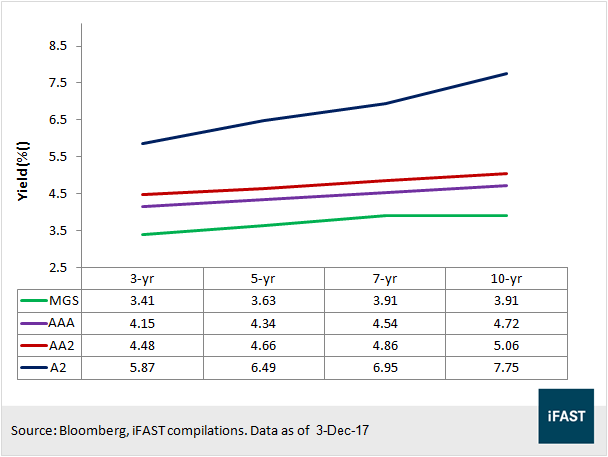 CHART 3: WEEKLY YIELD MOVEMENT – MGS AND MY CORPORATE BONDS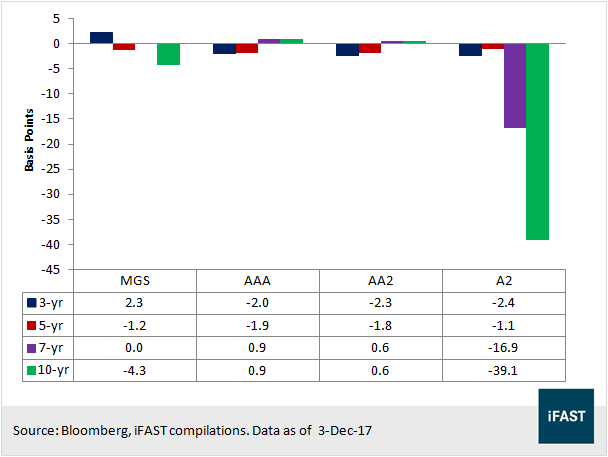 For the week ended 3 December 2017, the MGS segment saw yields tightening across the curve, with only exception to the 3-yr segment where yields ended +2.3 basis points higher over the week. Local govvies have been supported by the stronger Ringgit as the MYR's upward momentum remained strong, appreciating 1.24% against the dollar over the week. In the secondary bond market, trading activities were up by 4.1% with the Islamic medium-term note segment taking up 44.9% of total trading activities.
On domestic front, RAM Ratings has reaffirmed Hong Leong Assurance Berhad's (HLA or the Insurer) AA2/Stable/P1 insurer financial strength (IFS) ratings as well as the AA3/Stable rating of its RM500 million Subordinated Notes Programme (2013/2025). The reaffirmation of the ratings reflects the Insurer's strong new business generation and favourable operating efficiency, which coupled with a better investment climate, supported an improved financial showing in its June 2017 financial year.
Despite a competitive operating environment, HLA has retained its position as Malaysia's 4th largest industry player, holding about 11% of the industry's weighted NB premiums in 1H 2017. While still some distance from larger competitors, HLA's NB growth has surpassed the industry average. The ratings may be upgraded if HLA achieves sustained improvement in its operating metrics and scale of operation without compromising earnings quality, profitability or capitalisation.
Fixed Income Funds To Consider:
Bonds – Malaysia:KAF Bond Fund

Bonds – Malaysia:Eastspring Investments Bond Fund

Bonds – Malaysia:RHB Bond Fund

Bonds – Malaysia:AmIncome Plus

Bonds – Malaysia (Islamic):AMB Dana Arif Class A-MYR
Bonds – Malaysia (Islamic):Libra ASnitaBOND Fund

Bonds – Asia excluding Japan:RHB Asian Total Return Fund

Bonds – Emerging Markets:RHB Emerging Markets Bond Fund
Bonds – Malaysia Foreign Exposed :AmDynamic Bond