WEEKLY REVIEW
Performance in global bond markets were rather mixed going into the start of the last quarter of 2017, with global bond yields rising by 2 basis points over the week ended 5 October 2017. G7 sovereign bonds remained unchanged over the week (yields at 0.58%), but Malaysian government securities saw yields decline by -4 basis points to 3.90%. In the US credit space, yields of the segment fell -2 basis points from a prior 3.57%, while their counterpart in Asia, Asian investment grade bonds, saw yields rise in a similar magnitude, ending the week with a yield of 3.57%.
Over in the riskier segments of global fixed income markets, the US non-investment grade debt market continues to eke out gains over the week, with yields falling by -7 basis points to end the week with a yield of 5.74%. We note that at present levels, the high yield debt market's aggregate yield-to-worst is the lowest since July and September 2014, with spreads relatively tight as well. Valuations are not attractive to a long term investor, and hence, we maintain our cautious view on the segment. On the other hand, the hard-currency denominated emerging market bond market also performed decently over the week, with yields decreasing by -5 basis points to offer investors a yield of 5.21% when the week ended.
On average, the bond funds were up by 0.07% over the week. RHB Emerging Markets Bond Fund emerged as the top performer as the fund gained 0.54%. On the other hand, Affin Hwang Select AUD Income Fund – MYR retreated -0.35% and emerged as the worst performer due to the depreciation of AUD against MYR over the week.
(Basis points figures might differ due to rounding-off)
CHART 1: YTMS ON VARIOUS BOND SEGMENTS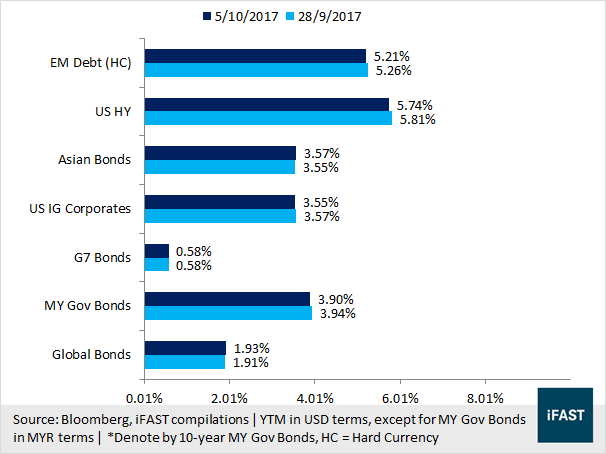 GLOBAL BOND MARKET
Last week in South Asia, the Reserve Bank of India (RBI) left benchmark policy rates (RBI Repurchase Rate, Reverse Repo Rate, Cash Reserve Ratio) unchanged, a move that was widely expected by the consensus. Acknowledging that economic growth in the developed economies remains supported, the RBI also reiterated its commitment to its inflation target of close to 4.0%. The central bank stated that "although the domestic food price outlook remains largely stable, generalised momentum is building in prices of items excluding food, especially emanating from crude oil", and that "the possibility of fiscal slippages may add to this momentum in the future." Inflation projection for 2017 was revised upwards to 4.2% - 4.6%, while GDP through March 2018 has been lowered from a prior 7.3% to 6.7%. We opine that the RBI may ease monetary policy moving forward if inflation developments are disinflationary and come in lower than expected.
This week, the monetary policy meeting calendar remains light, with only Monetary Authority of Singapore (MAS) scheduled to provide an update for their October policy review.
We have been highlighting the risks of further increases in interest rates (and are still cognisant), and suggest investors avoid longer-duration developed sovereign debt which is most susceptible to rising yields, while opting for shorter duration bond funds which are far less interest rate sensitive. Local short duration bonds, such as the AmIncome Plus, are also a better alternative for investors who are seeking shelter from the volatility and uncertainty seen in financial markets in recent times, with yields that are relatively higher than that offered by developed sovereign bonds, providing an anchor of stability to a portfolio. As we have advocated, riskier fixed income segments, such as that of high yield bonds, should be combined with other safer bond segments, to ensure sufficient levels of diversification within one's fixed income allocation.
MALAYSIA BOND MARKET
CHART 2: YIELD CURVE – MGS AND MY CORPORATE BONDS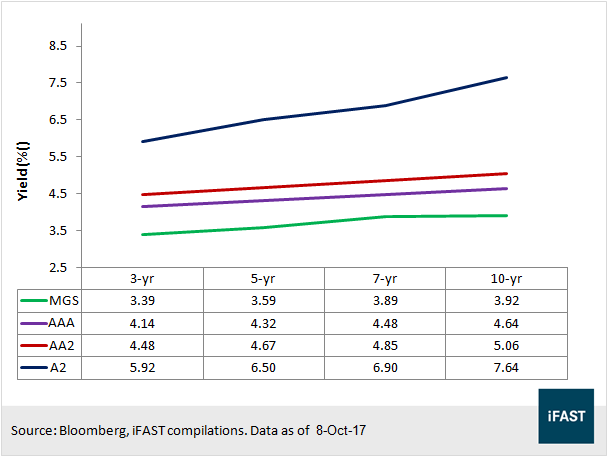 CHART 3: WEEKLY YIELD MOVEMENT – MGS AND MY CORPORATE BONDS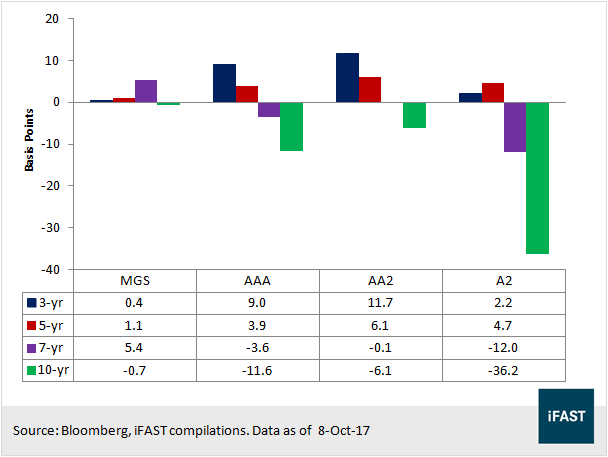 For the week ended 8 October 2017, MGS segment saw an increment in yields across all tenors with the 3-year and 5-year and 7-year MGS yields increasing by 0.4 bps, 1.1 bps and 5.4 bps respectively while the 10-year MGS declined -0.7 bps due to the purchases by bargain hunters. In the secondary bond market, trading activities were down by -61.8% with the Islamic medium-term note segment taking up 77.8% of total trading activities.
On domestic front, Ram Ratings has assigned a BBB1/Stable rating to the securities to be issued under Alliance Bank Malaysia Berhad's (Alliance Bank) proposed Additional Tier-1 Capital Securities Programme of up to RM 1 billion. At the same time, the agency has reaffirmed the Bank's A1/Stable/P1 financial institution rating (FIRs) which reflects the Bank's healthy asset quality, favourable funding and liquidity position, as well as strong capitalisation.
Although the Bank's rating remains constrained by its position as one of the smallest domestic banking groups in Malaysia, Alliance Bank is well positioned in the SME and consumer segments – evidenced by its strong base of low-cost current- and savings-account deposits.
Fixed Income Funds To Consider:
Bonds – Malaysia:KAF Bond Fund

Bonds – Malaysia:Eastspring Investments Bond Fund

Bonds – Malaysia:RHB Bond Fund

Bonds – Malaysia:AmIncome Plus

Bonds – Malaysia (Islamic):AMB Dana Arif Class A-MYR
Bonds – Malaysia (Islamic):Libra ASnitaBOND Fund

Bonds – Asia excluding Japan:RHB Asian Total Return Fund

Bonds – Emerging Markets:RHB Emerging Markets Bond Fund
Bonds – Malaysia Foreign Exposed :AmDynamic Bond