In 2017, Singapore's economy has been lifted by robust trade activity and a resurgent semiconductor demand;

The STI rallied 18.8% year-to-date, with gains led by the cyclical banking and real estate sectors;

Economic growth is likely to be sustained into 2018 amid continued robust semiconductor demand and an increasingly broad-based growth. We estimate the Singapore economy to potentially grow 3.5% for the full-year 2018 compared to consensus estimates of 2.4%;

Through 2017, the earnings estimates of Singapore companies have stabilised and we're forecasting stronger earnings growth of 16.2% (v consensus expectations of 10.1%) for 2018 and 8.5% (v consensus expectations of 7.1%) for 2019;

The forecasted annualised total return for Singapore equities by end-2019 (as of 23 November 2017) is 16.6%, making it relatively attractive when compared to other markets;

We believe a star rating of 4.0 Stars "Very Attractive" remains warranted for the market at this juncture.
In May this year, we forecasted in an article that we expect GDP growth for the full-year 2017 to come in at 3.2%, an estimate which seemed over the top back then, given the government's forecast of a 2-3% GDP growth and consensus estimates of a 2.5% growth at that time. However, since then, consensus estimates have been continuously rerated upwards and today, stands above 3%, while official government forecasts have also been rerated upwards to a 3 – 3.5% range. In this update, we share the reasons as to why we think the STI is poised to hit 4,400 points by end-2019, above consensus estimates of slightly over 4,100 points.
More Than 50% Of The STI Are Banks & Real Estate Companies
A look into the breakdown of the STI by its component stocks would reveal the index to be skewed towards the more cyclical sectors, such as the banking and real estate sector stocks, as shown in the chart below. Consequently, this means that a dollar increase in the share prices of banks and real estate companies would result in a greater upward impact on the overall index's points, as compared to the same dollar increase in less-heavily weighted companies.
CHART 1: Banks & Real Estate Companies Account For More Than Half Of STI.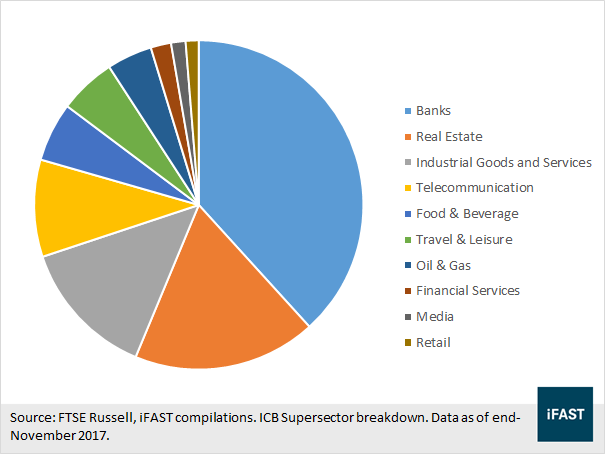 What Our Earnings Forecasts Are Telling Us: Stronger Earnings Growth For Banks & Property Companies
First, we continue to be positive with regards to the earnings of banks over the coming quarters. On the revenue side, both domestic and external loan demand is likely to improve amid better-than-expected domestic economic growth and a continued pick up in the global economy. Rising interest rates, albeit at a measured pace, would nonetheless result in increasing net interest margins which would be favourable for the net interest incomes of Singapore banks. With regards to the banks' expenses, improving domestic and regional economic growth is also likely to translate to the improved profitability of corporations, thus resulting in stronger debt servicing capacities of corporations. Exceptions remain, such as that in the marine and offshore engineering sector in Singapore which would continue to be faced with uncertainties in the oil market. Nonetheless, compared to what we have seen thus far in 2017, we think it remains likely that the bank's overall non-performing loan ratios would improve over the coming quarters. As a whole, we think Singapore banks are posed to see stronger earnings growth over the coming quarters.
Apart from the banking sector, we are also seeing encouraging signs within the property sector. We have witnessed notable participation from property developers in the city's en bloc sales as well as the Government Land Sales (GLS), suggesting improved business sentiment amongst property developers with regards to the outlook of the Singapore property market. This also signals a greater volume of completed home units over the medium term (2021 and beyond). Within the office-property space, the market could bottom out over the coming quarters. Already, there exist signs of improvement, with the prices and rents of office properties in 3Q 2017 ticking upwards for the first time since early 2015. Additionally, as suggested by the pipeline supply of office space, there could be a smaller supply of office properties in 2018 and in 2019 as compared to what we will see for the whole of 2017, while the demand for office properties is poised to benefit from continued economic momentum.
CHART 2: Residential Property Supply Over Next 3 Years Could Be Lower Than In 2017, Although Greater Over Medium Term.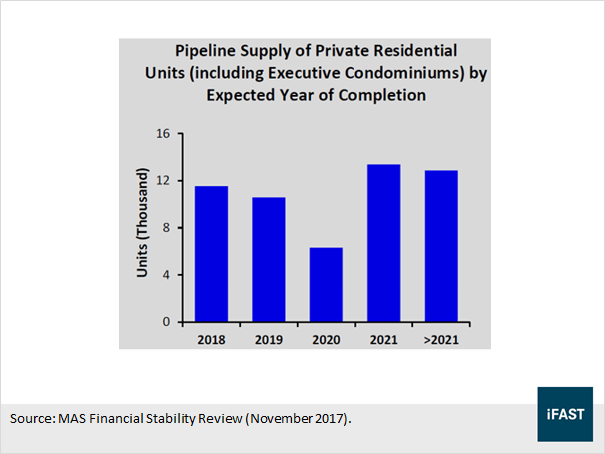 CHART 3: Office Property Supply Over Next 3 Years Could Be Lower Than In 2017.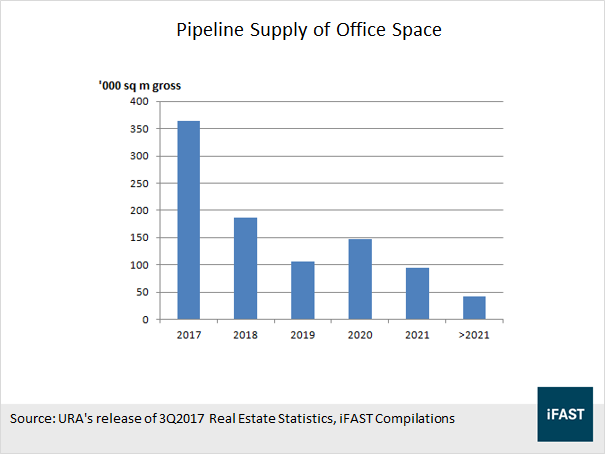 Taking into consideration the potential dynamics of supply and demand in the private residential and office property market over the coming quarters, we think the said property segments are poised to see continued improvement in their supply and demand imbalances, which would contribute to upward price pressures over the coming quarters. While there have yet to be significant signs of an improvement in retail and industrial properties, we think overall, the property market in Singapore possesses an improved outlook over the coming quarters as compared to that this year, and this bodes well for the earnings of real estate companies ahead.
Externally-oriented companies in the industrial goods & services sector are likely to further benefit from the continued pickup in global growth and trade activities. At the same time, we expect the consumer-related sectors such as that from the travel & leisure as well as food & beverage sectors to see supported earnings amid continued improvement in the city's tourist arrivals and consumption appetites. Over in the telecommunications sector, while heavy-weighted Singtel (9.3% weight in the STI as of 28 December 2017) may face intensified competition amid the entry of Singapore's fourth telecommunications company, we believe its earnings remain supported given its exposure to the fast-growing Indonesian telecommunications sector.
In the table below, we summarise the consensus as well as our estimates for the potential earnings growth of the STI and its heavy-weighted sectors (which account for 81% of the STI) over the next two years. The figures shown are as of 14 December 2017.
Table 1: Consensus v iFAST Estimated Earnings Growth For STI & Heavy-Weighted Sectors.

STI
Financials (Banks, other Financials, Real Estate)
Industrial
Telecommunications
Weight in STI (as of end-November 2017)
-
58%
14%
10%
Consensus Estimates
FY 2018
10%
12%
13%
2%
FY 2019
7%
7%
11%
7%
iFAST Estimates
FY 2018
16%
18%
17%
2%
FY 2019
9%
10%
11%
6%
Source: Bloomberg, iFAST compilations. Data as of 14 Dec 2017.
Revising The Earnings Estimates Gives Us A 30% Upside By End-2019
As aforementioned, we expect stronger earnings growth for the heavy-weighted banking and real estate sectors whilst expecting the earnings growth momentum of the remaining less-heavily weighted sectors to be sustained. Consequently, we think that current consensus earnings growth for Singapore corporations of 11% and 7% for 2018 and 2019 respectively are conservative, and that the earnings are poised to grow 16% and 9% in 2018 and 2019 respectively. Thus, we estimate the index to be trading at PE ratios of 13.4X and 12.3X respectively based on their 2018 and 2019 earnings (as of 28 December 2017) compared to its fair PE of 16.0X. As are all bullish calls which stand out from the crowd, it may sound over the top, but given the potential earnings growth rates of the various sectors and our estimated PE ratios for the market, we believe the STI possesses a potential valuation upside of 28% by end-2019 and is poised to reach 4,400 points by then.
Table 2: Revised Earnings Estimates Suggest A 30% Potential Valuation Upside by end-2019.

Consensus Earnings Growth
iFAST Estimates Earnings Growth
iFAST Estimates PE Ratio
iFAST Estimates Valuation Upside (by end-2019)
FY 2018
10%
16%
13.4X
-
FY 2019
7%
7%
12.3X
30%
Source: Bloomberg, iFAST compilations. Data as of 28 Dec 2017.
Given the markets relatively attractive earnings growth, valuation upside and dividend yields, we believe a star rating of 4.0 Stars "Very Attractive" remains warranted for the market despite its 19% year-to-date rally as of 28 December 2017.
Investors looking to gain concentrated exposure to the said market can consider Singapore equity unit trusts on the platform, the Nikko AM Singapore Dividend Equity Fund which we believe to be a consistently strong performer with laudable risk metrics. At the same time, the high-conviction stock picker focuses on dividend stocks and intends to make monthly distributions of between 5-7% per annum of its NAV, thus enabling investors to better benefit from the market's attractive dividend yields!