Thailand equities have clocked 10.2% in Baht terms (+8.5% in MYR terms, as of 26 Feb 2018) since our previous update following the end of the year-long mourning period. In the more recent piece of outlook on ASEAN, we highlighted that the nation will continue to benefit from robust agriculture growth, pick up in private spending and a potential leg-up from government's approved investment budget for 2018. In this article, following the release of the nation's 4Q2017 GDP figures, we would like take investors to a deeper look into the prospects of the kingdom's economy moving forward.
Growth Moderated in 4Q2017
Thailand's economy expanded by 4.0% year-on-year (yoy) last quarter, bringing its 2017 full year growth to 3.9% yoy, accelerating from 2016's 3.3%. In expenditure terms, private consumption growth and exports activities picked up favorably along with private investments; public investments and government spending slowed in 4Q2017 (see Figure 1).
FIGURE 1: Quarterly GDP growth figures and breakdown.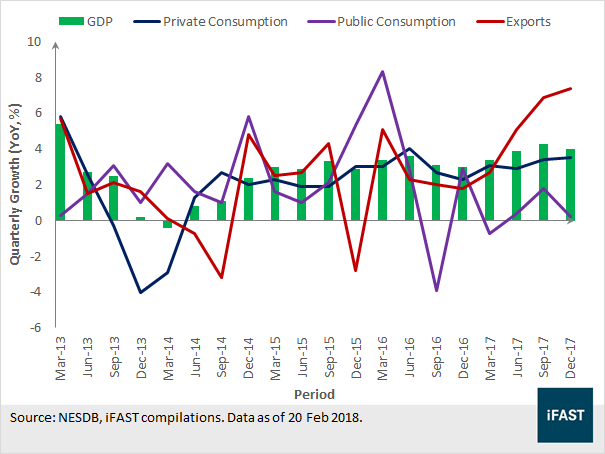 Sector wise, tourism-related sectors and manufacturing sector did most of the heavy-lifting in 4Q2017, while agriculture sector's growth moderated unexpectedly.
FIGURE 2: Sector quarterly growth.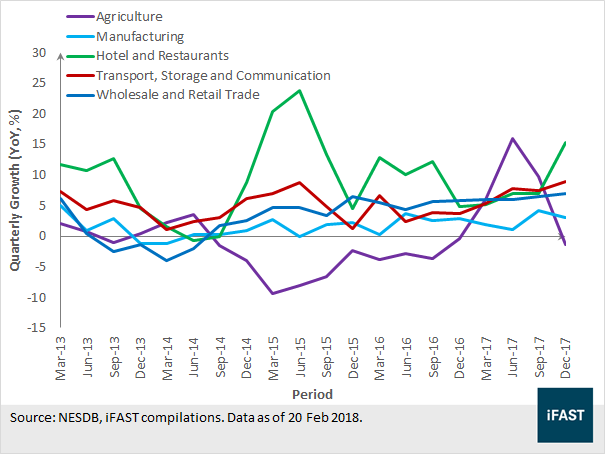 Agriculture Growth to Improve in 2Q2018
The heavy rain and cold temperature in the northeast and southern regions of Thailand in 4Q2017 affected paddy yields and fisheries production, eventually translate to a slowdown in agriculture growth (see Figure 3). Subsequently, farmers' income and production were impacted negatively.
FIGURE 3: Thailand agriculture indices.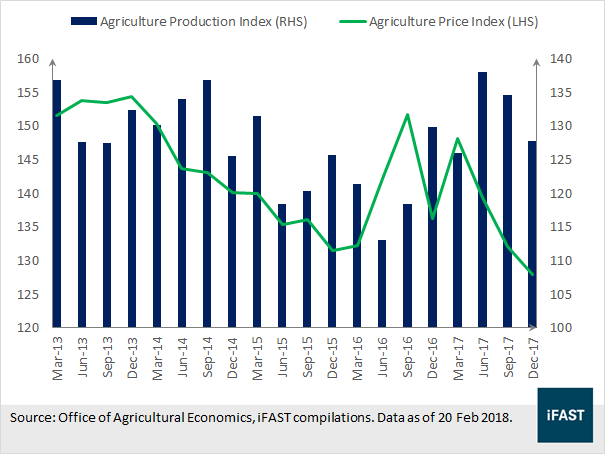 Currently, the downward pressure on agriculture growth could persist for the time being, given the rainy weather that we have experienced last month. Furthermore, with a high-base figure from 1Q2017, we foresee agriculture growth to moderate into 1Q2018. This condition may continue to weigh upon farmers' income in the near-term.
From a medium-term perspective, we think that the agriculture sector will resume its support to the growth of the economy, as the weather condition could improve when dry season (March to May) approaches. The level of water in the major dams are now higher than the average level, thanks to the rainy weather occurred back in 4Q2017 and the beginning of 2018. This could help improve the employment in agricultural sector during the dry season, which underpins farmers' income.
Tourism-related Industries Riding on Global Growth
Thailand remains as one of the favourite vacation destination for foreign tourists. The kingdom saw 19.5% yoy jump in foreign tourists' arrival, led by Chinese, Korea, Russia and India (see Figure 4). With the strong increase in number of tourists and receipts, hotel and restaurants (H&R) sector accelerated by 15.3% yoy. The wholesale and retail trade sector (WRT) also accelerated in tandem with higher tourists' arrival and stronger household consumption.
FIGURE 4: Increase in foreign tourist arrival helped increase occupancy rate.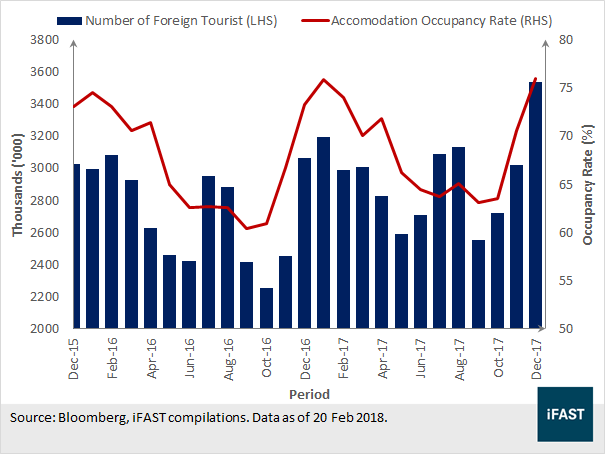 FIGURE 5: Hospitality industry enjoying higher profits from better room rates.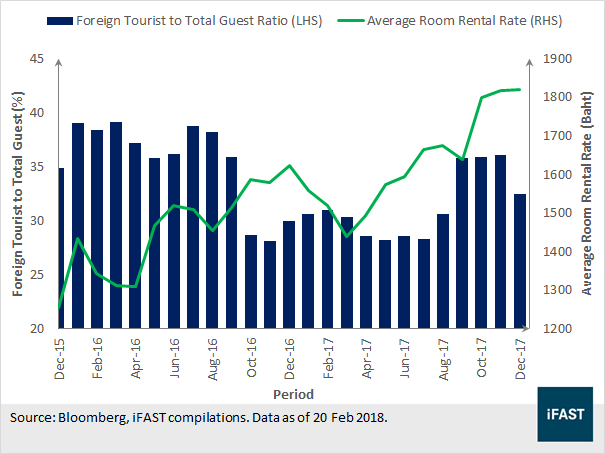 In 2018, the extension of global economic recovery is likely to lend further support for long distance and other regional tourists such as those from emerging economies. For this reason, we maintain a positive view towards tourism-related industries.
Increasing Non-Agricultural Employment, A Boon to Private Consumption
The robust growth of tourism-related sectors and manufacturing sector has managed to cushion the impact from lower farmers' income. Private consumption expenditure continually expanded into 4Q2017 by 3.5% yoy, accelerated from 3.4% figure in the previous quarter. Under a low interest rate environment, the nation witnessed higher expenditures on durable goods and services plus a better loan growth.
FIGURE 6: Improvement in non-agricultural employment brought down unemployment rates.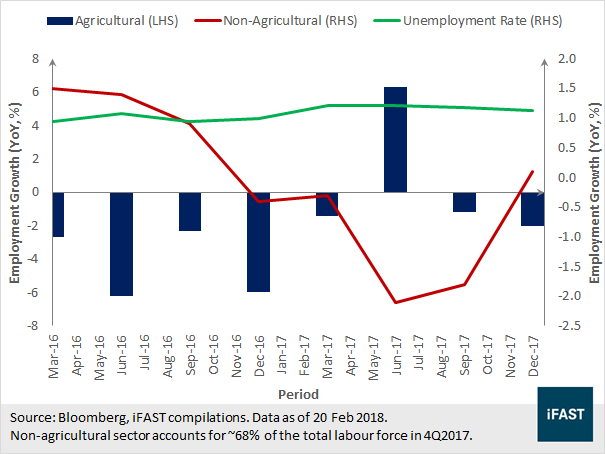 We expect private consumption to sustain its recovery momentum into 2018 with a few good reasons. Firstly, as mentioned above, higher water levels in major dam could help improve agriculture employment during dry season. Secondly, the increase in private investments and machinery imports are encouraging signs of expansion in production capacity and utilisation, which could help absorb more labour force (see Figure 6). Lastly, the acceleration of tourism-related sectors is also giving a boost to various service sectors. All these catalysts are formulating a positive employment condition and household income base for the people (see Figure 7).
FIGURE 7: Thai consumers upbeat on economic prospects.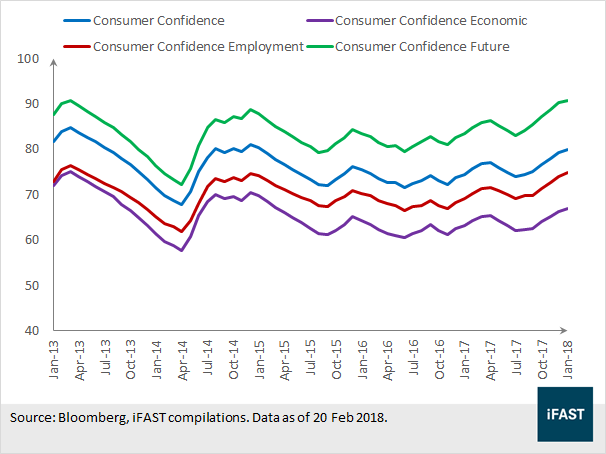 Government Expenditure to Kick-in
The expansion of public investment in 2017 had to rely on increase in disbursement owing to a mere 2.8% increase in capital budget for fiscal year 2017. In addition, the capital budget disbursement was obstructed due to flood in several areas. Together with the change in public procurement regulations which required time for adaptations, public investment contracted by 1.2% in 2017.
However, we believe public investment growth will accelerate in 2018. As mentioned previously, there are 14.7% and 45.7% increase in both annual government and state-owned enterprise capital budgets for fiscal year 2018, which go largely into infrastructure and logistic projects. There are also various infrastructure projects moving forward to construction phase, which could speed up budget disbursement.
Our Thoughts from A Macroeconomic Perspective
With all the above, we opine that Thailand's economy still has headroom for stronger growth. The acceleration of global economic growth will continue to furnish the Kingdom with more foreign tourists and sustain the robust growth of exports for manufactured goods and services. These would in turn stimulate investment activities among non-agricultural sectors, which could support a more broad-based economic expansion. Government consumption via public investments would remain as a driving force for the economy, which could provide a material lift to the growth of the country.
We have outlined Thailand's economy from a macroeconomic perspective. We will go on to discuss the market's valuations, earnings and dividend yield estimates as well as how investors could tap into the investment opportunities in our next write-up, stay tuned!