Since the start of the year, the performance of both the Chinese and Hong Kong equity markets has been outstanding. As at June 30, Hang Sang Index (HSI) and Hang Seng Mainland 100 Index (HSML 100), the representative benchmarks of Hong Kong equities and China H-shares, increased 17.1% and 15.7% respectively. On the other hand, MSCI China, which includes the American Depositary Receipts (ADR), recorded a 24.5% gain, becoming the best-performing index within our coverage.
Economic Slowdown in China in 1H2017
CHART 1: China's GDP growth remained at 6.9% in 2Q.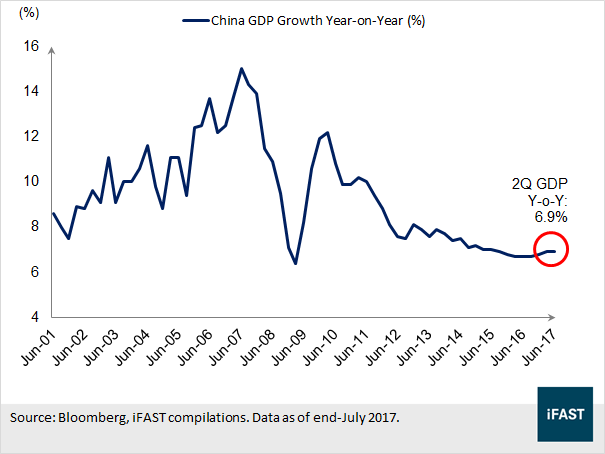 CHART 2: Caixin Manufacturing PMI has dropped after hitting a 17-month high in Dec 2016.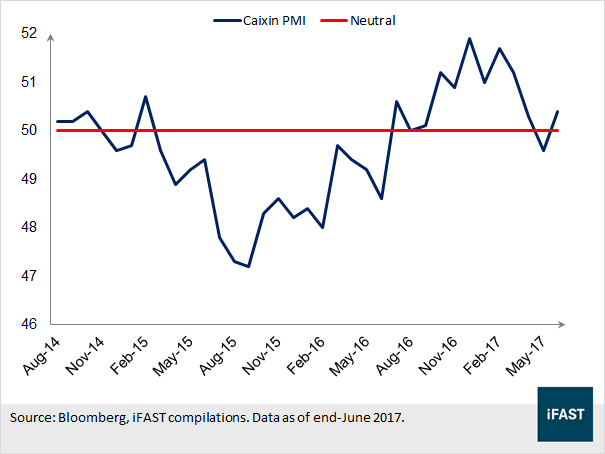 The Chinese economy posted a steady growth in 1H. In 1Q, its GDP growth rate topped market expectations at 6.9% as the fastest growing quarter among the past six increments. The recently announced GDP growth rate of 2Q remained at 6.9% (as shown in Chart 1), which was projected to surpass government's targeted yearly economic growth of 6.5%. Despite the promising GDP data, core economic data remained volatile (especially in the industrial and manufacturing sectors). China's Caixin Manufacturing PMI came in at an unexpected low level of 49.6 in May (as shown in Chart 2), despite constantly declining since the all-time high in four years of 51.9 last December. In April, China's Producer Price Index's month-on-month growth shrank for the first time in ten months, after consistently deteriorating from the reported rate of 7.8% in February. Aside from March and June's data, the growth rate of industrial enterprises above designated size steadied between 6.3-6.5% YTD. Evidently, China's economy has showed a moderate and stable momentum of development in 1H.
Shares Gain on Further Capital Inflow from China to Hong Kong
In terms of the financial market, financial deleveraging has been increased since the end of March, causing domestic liquidity to tighten and pressuring A-shares and onshore bonds' market prices. Due to their high dividend payouts and relatively low valuations, China-affiliated stocks in Hong Kong have attracted an inflow of capital from Mainland China. In 1H, the total inflow of southbound capital aggregated to USD 20 billion, causing Hong Kong equities and H-shares to rally. The growth of the Hang Seng Index (HSI) in 1H was mainly credited to a few heavily weighted stocks, including Tencent Holdings Ltd (700: HK), HSBC Holdings (005: HK), AIA (01299: HK) and Ping An Insurance Group Ltd (2318: HK). Among the constituents, Geely Auto (0175: HK) was the best-performing stock with a total increase of 127%. In terms of H-shares, the growth of the Hang Seng Mainland 100 Index (HSML 100) was mainly driven by Tencent Holdings Ltd (700: HK), real estate, insurance and financial stocks. With an increase of 190%, China Evergrande Group (3333: HK) was the best-performing component stock.
Potential Downside Reflected in Rating Readjustment
CHART 3: HSI P/E Ratio Has Reverted to Its Historical Mean.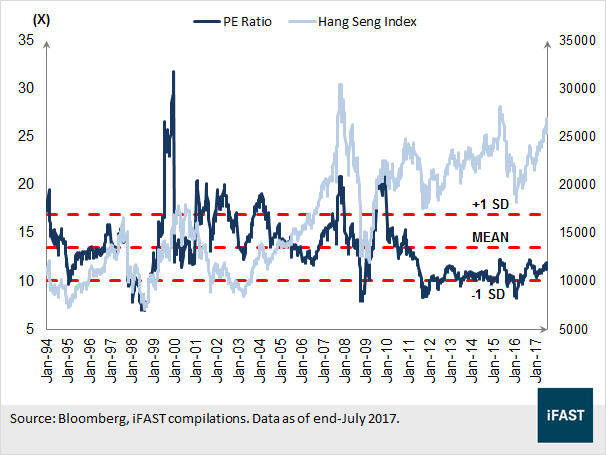 CHART 4: HSML100 P/E Ratio Is Still Below Its Long-Term Average.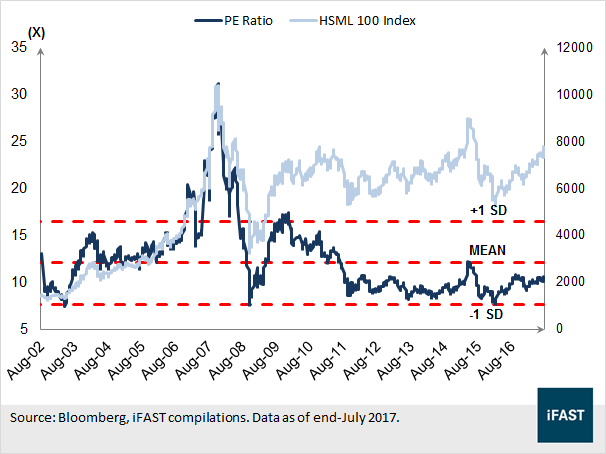 As explained in our previous commentary 2H 2017 Investment Outlook: More Earnings Upgrades Ahead, market performance can be decomposed into valuation multiple expansion and earnings growth. In the context of 1H, valuation multiple expansion was the main contributor in shares gain in both the Chinese and Hong Kong markets. Analysts revised up their 2017 full-year forecasts of corporate earnings for the Hang Seng Index (HSI) and Hang Send Mainland 100 Index (HSML 100) by merely 5.35% and 2.05% respectively. As at June 30, the estimated price-earnings ratio of Hong Kong stocks was 12.2X, essentially in line with its historical average of 13X (as shown in Chart 3). The Hang Seng Mainland 100 Index (HSML 100), consisting mostly of Mainland financial stocks, was only projected at 10X which was well below its historical average (as shown in Chart 4). Furthermore, the MSCI China Index, which mostly consists of Mainland technology stocks, rebounded to its historical average level, and we believe that some sectors have already hit their expansion limits.
As at 30 June 2017, the annualised upside potential of Hong Kong and China H-shares were projected to be 18.9% and 22.7% respectively. The said potential growth was significantly lower than that in October last year when preferences were put on the HK-CN stock markets in the context of re-valuation of emerging market assets. Therefore, we have readjusted China and Hong Kong's ratings to 4.5 stars.
We would like to emphasize that the adjustment of star ratings is a mere reflection of the lower upside potential of both markets following the market rally in 1H. The upside potential of the two markets still remain the largest within over coverage. The HK-CN markets are still worthy of long-term investment. In particular, we firmly believe in the great potential of China H-shares and it remains our favourite single country. Above all, a 4.5-stars rating is still the highest rating among all the markets under our coverage. We recommend investors who seek a high return to consider our Chinese Equities (single country) and Asian equities (ex-Japan) (regional). Both markets provide investors with great upside potential and attractive values.