FIGURE 1: Indian equities were battered recently after a recovery in 2Q18.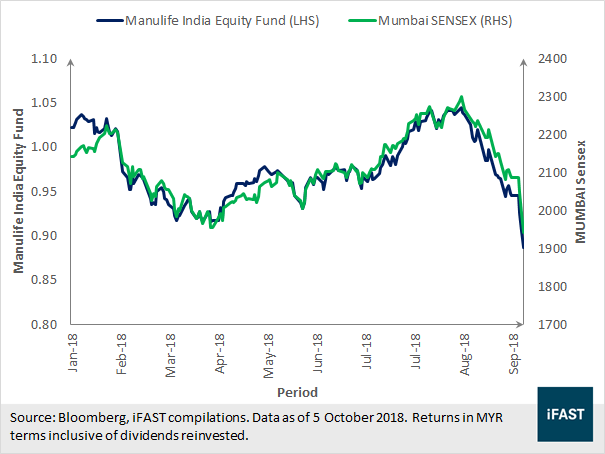 Indian equities have staged a recovery throughout 2Q18 having experienced a sell-off in February this year as market participants realise the impact from trade issues towards India's economy is could be less severe. However, as the currency turmoil unfolds across emerging countries in 3Q18, Indian equities have begun to suffer, and the recent episode of shadow banking defaults only made the situation worse.
FIGURE 2: Spreads may have widened, but still near historical lows.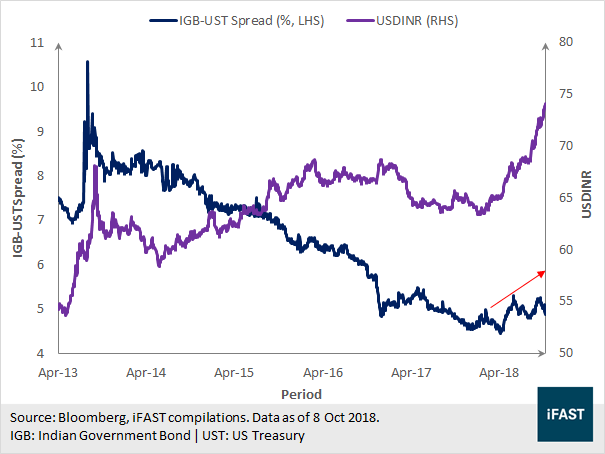 Sentiments and confidence dented by IL&FS default
The fall in Indian equities since the beginning of September is attributable to mainly two factors: one triggered by the currency crisis in Turkey and Argentina, which fueled sell-off in equities and currencies across countries that are currently experiencing twin-deficits; the other one would be the recent default cases from a non-bank lender named Infrastructure Leasing and Financial Services (IL&FS).
We think the impact coming from the domestic issue was the dominant cause of the fall for Indian equities. For those who have followed India closely, you would be able to recall that India's government has already committed US$ 30b worth of capital injection to shore up liquidity among state-owned banks back in 4Q2017. At the beginning of the year, sentiments were dented by a jewelry fraud case linked with Punjab National (4th largest state-owned bank in India). The latest episodes of shadow banking woes only added to the list of worries and instilled fears among investors.
Il&fS episode points to more macroeconomic challenges
Shadow banking debt has grown rapidly in recent years as the growing demand for funds coincides with the period where conventional banks have held back lending to clean up their balance sheets. Therefore, solving current issues requires a relatively complicated balance: curb excessive and risky lending while preserving growth.
FIGURE 3: Non-bank lending are significant to the commercial sector.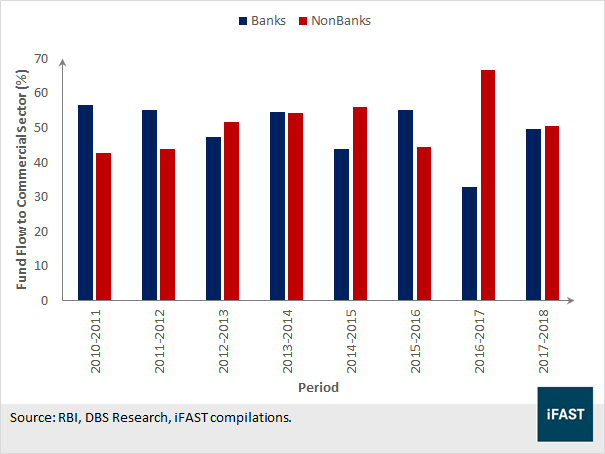 Unlike conventional banks, shadow banks are not typically allowed to hold deposits and have limited access to the extensive network of bank-to-bank funding, which adds to the risk under distressed conditions. Although the government has promised to make liquidity available to IL&FS, the details of how this will be done is still missing. More importantly, the government needs to extend their watch and strengthen guidelines to minimize the possibilities of the incident repeating itself.
The Reserve Bank of India (RBI) is facing tough situations as well. It has already thrown market participants with a surprise halt on its policy rates on last Friday, which sent India's stocks, bonds as well as the currency market southwards. The central bank has revised India's inflation expectation downwards against a backdrop where the Rupee and oil price are both heading towards opposite directions. In our view, we think the RBI has chosen to be accommodative due to the shadow banking chaos in India. It seems like India's current account deficit issue may persist for the time being.
FIGURE 4: Higher oil price usually translates to a higher CA deficit for India.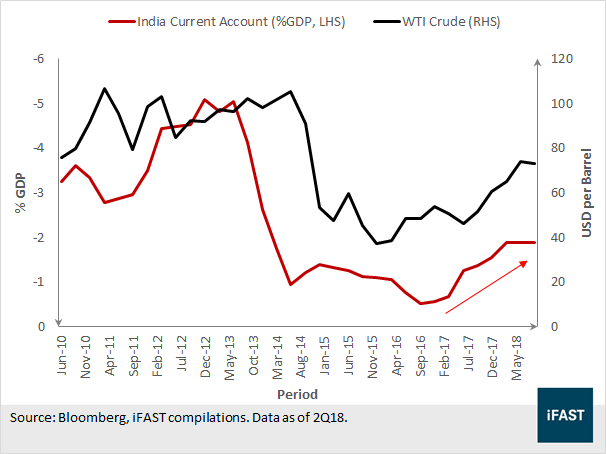 With the current financial instability, we think investment growth and capital spending are likely to decelerate for the rest of the year. Also, since the country might not be able to afford a fiscal slippage with a widening current account deficit, the government is very likely to stay committed to its fiscal deficit target of 3.3%. That means additional fuel prices and duty cuts for the people is unlikely, and this could translate to lower disposable income for the people, thereby placing a cap to private consumption growth. All these elements are essentially putting together a challenging outlook for growth.
Earnings revised downwards, leaving valuations at slight premium despite sell-off
Year-to-date, analysts have slashed earnings estimates by -5.8%. To give a perspective, since the IL&FS incident, earnings estimates were slashed by -3.0%. Most of the downward revisions are attributable to Healthcare, Metals, as well as Real Estate.
As of 5th October 2018, Mumbai SENSEX Index PE ratios stood at 18.4X and 15.3X for 2018 and 2019 respectively. Despite the recent sell-off in Indian stocks, current valuation is still standing at a slight premium compared to our fair PE of 18.0X.
FIGURE 5: Earnings prospect for Indian companies remains bleak.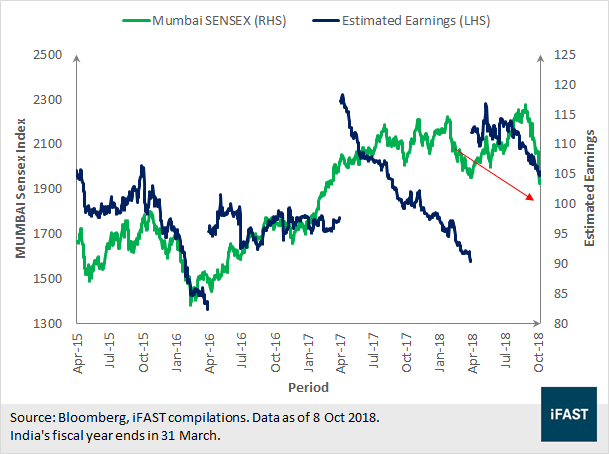 Takeaway
At this juncture, although Indian equities have corrected quite significantly, we don't think it is an opportunistic buy just yet. While policymakers "clean up" bad debts and impose stricter oversight onto the shadow banking sector, it remains an unknown whether the IL&FS issue is just the tip of the iceberg. As investors ourselves, we prefer to remain at the side-line until there is more clarity.
As mentioned above, we do expect a hiccup to India's growth momentum in the short-term. Taking a long-term perspective, however, we think India's economic reform story is still in play. For daring investors who are looking to take this opportunity to gain or add exposures into India (not more than 20% of equity portion for supplementary exposure), we encourage them to have a longer investment horizon as there is still a meaningful amount of uncertainty to account for in the short-term.