A third of the year went on swiftly with our calendars digesting various developments across global markets as well as the volatilities that followed suit. As we head towards May, the investment saying of "Sell in May and Go Away" may start to take over the airwaves. The saying is a well-known trading adage that warns investors to sell their stock holdings in May to avoid a seasonal decline in equities, given that the upcoming six months has historically been the weakest stretch of the year (see Table 1).
Table 1: Average 6-month returns.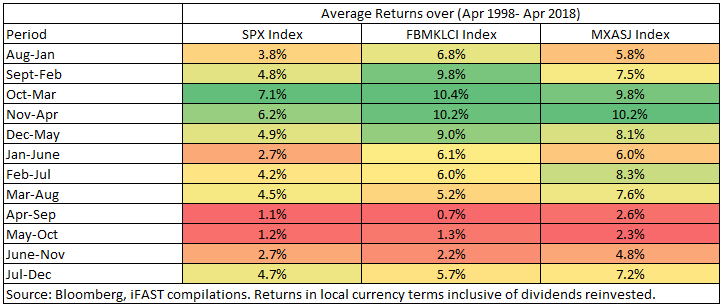 Against the current backdrop where we see an escalation in volatility and climbing risk-free rates, it wouldn't be surprising to see market participants inclining to stay on the sidelines to wait out the subsiding turbulence. For Malaysian investors, the general election taking place in the week ahead also implies more uncertainties on the domestic front.
But should you sell in May this year? Maybe not, and here's why.
Before investors agree and subscribe to the adage, they should note that while May-Oct period appears to deliver the weakest seasonal return, indices have nevertheless delivered positive returns averagely (70% of the time over the past 20 years). Comparing investors who have stayed invested throughout the year against those who sell-off their positions seasonally, the former would have performed better on a cumulative basis, at least from a historical perspective.
What Should Investors Do?
Investors may choose not to ignore the weak seasonal period ahead, but they should be aware that this investment mantra to sell stocks isn't gospel. Being preachers of both fundamental and value investing, we think focusing on cheap valuations, robust earnings growth and still-positive economic momentum is more helpful than attempting to time the market.
At this juncture, we think the limelight of capital growth is still shining onto the Asian and emerging markets region. After being battered heftily by the downturn in commodity prices back in 2013-14 period, these economies have gone through various restructuring and fiscal consolidation efforts and at the same time build up their foreign reserves, allowing them to weather through uncertainties and better absorb external shocks (see Figure 1).
FIGURE 1: Current account balances and external debt to reserve ratio.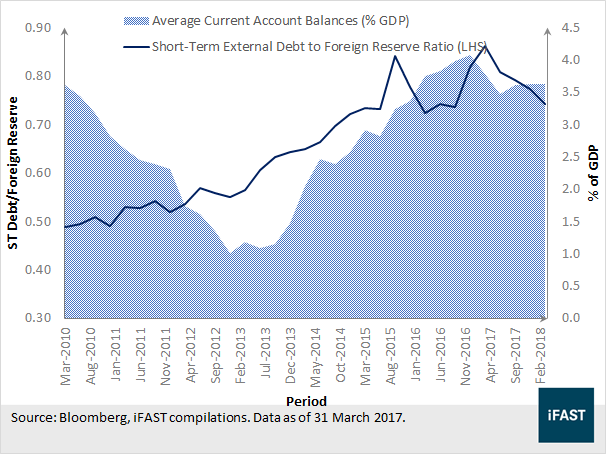 On the monetary front, central banks across the region generally have higher policy rates compared to their developed market counterparts, giving them sufficient monetary ammo to support economic growth when deemed necessary (see Figure 2).
FIGURE 2: Interest rate level across various countries.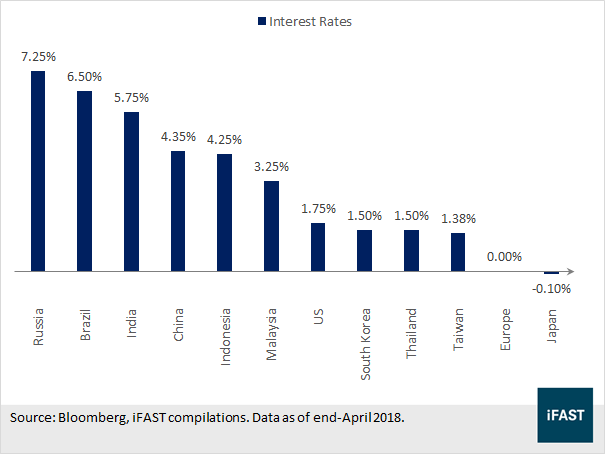 Financial health aside, the aforementioned region is benefitting from a synchronized backdrop of global growth, enjoying healthy recovery in trade activities on the back of stronger global aggregate demand (see Figure 3). Also, being a major exporter of commodities, the rebound in commodity prices is likely to provide a material lift to economic growth across the region.
FIGURE 3: Exports growth to remain robust in 2018.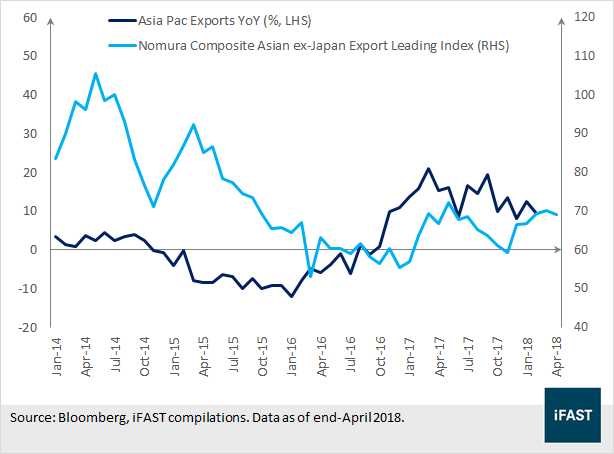 While macroeconomic backdrop appears to be favorable for Asian and emerging markets' corporate earnings, valuations remain fairly attractive relative to their developed market counterparts. That said, investors may use any pullbacks as an opportunity to add to their equity positions during this volatile period.