Europe's Banks - Healthier than before
Since the dark and turbulent days of the Global Financial Crisis (GFC) more than 8 years ago, Europe's banks have underwent a fiery and painful trial of transmutation. Unlike their American counterparts across the Atlantic, European banks were generally slower in their restructuring, with the situation further compounded by the Eurozone sovereign debt crisis in 2011. Recapitalisation was needed as bad assets were shed, loss-making units had to be reassessed and the business restructured as banks conform to the new regulatory regime post-GFC. On top of all these, the European banking sector have been hampered by rounds of litigation costs as well, weighing on overall profitability.
With increased regulatory scrutiny and stringent capital requirements over the past 5 years, Europe's banks as a whole have strengthened their balance sheets. Most systematically important banks have already met or even exceeded the requirements set by regulators and policy-makers. Chart 1 below shows Basel III estimated Common Equity Tier 1 (CET1) ratios of various European banks since 2011. Bank capital to asset ratios also paint the similar picture of banks generally shoring up capital in order to meet regulatory requirements.
[Returns in MYR terms unless otherwise stated]
Chart 1: Estimated CET1 Ratios of Several European Banks Since 2012.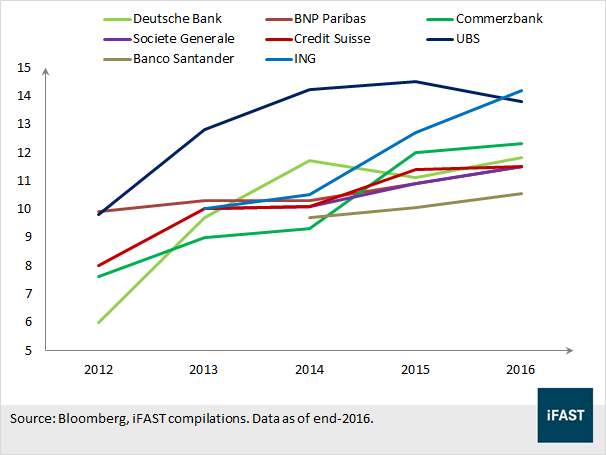 Chart 2: Estimated CET1 Ratios of Several UK Banks Since 2012.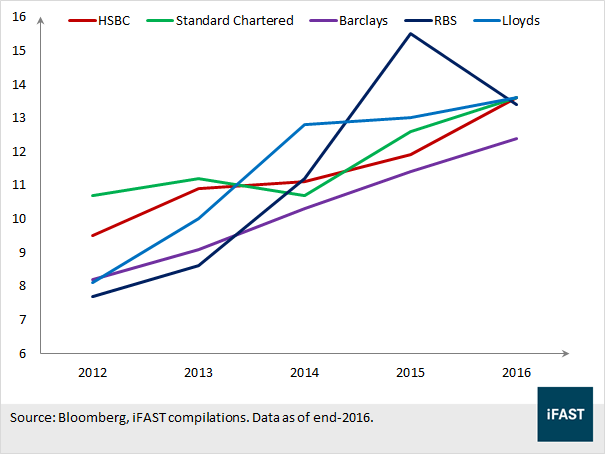 According to 2016 stress tests conducted by regulators like the UK's Financial Policy Committee (FPC) and the European Banking Authority (EBA), resiliency among the European banking sector has risen from the days of the sovereign debt crisis 6 years earlier. Hence, based on what could be assessed at this juncture, fears of solvency could be overblown given that banking crises typically happen when a combination of deteriorating underlying asset quality occurs amidst an increase in counterparty defaults and a reduction of credit lines by short-term creditors. While there have been provisions for the commodity-related portions of their loan books over the past year, losses have been well contained thus far, leading to a general decline in nonperforming loans (NPLs) across 2016.
Rather, Europe's banks are weighed down by profitability concerns, given relatively lethargic growth in the region and the low interest rate environment that weighs on overall earnings margins. However, we believe that the overall environment is changing slowly to the benefit of Europe's banks.
Eurozone's Economic Recovery Is Increasingly Entrenched
Despite the relatively negative sentiment or pessimism emulating from mainstream media since last year, economic data on the other hand, is suggesting that the recovery in the Eurozone is increasingly entrenched. Economic momentum has held up since British citizens voted for the UK to leave the European Union (EU) back in last summer.
Industrial production is still making gains, and both business and consumer sentiment have held up as well. The Euro-region's aggregate PMI data showed that momentum has risen since last year, with both manufacturing and services industries signifying signs of expansion.
Chart 3: Eurozone Composite PMIs Firmly in Expansionary Territory.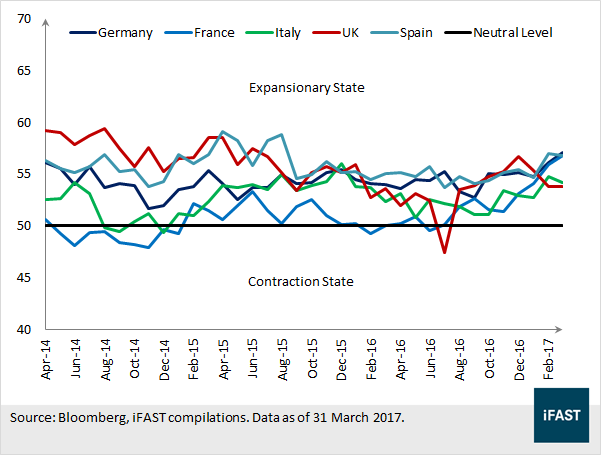 On a single country basis, composite PMIs from countries like France, Germany and Spain are all firmly in expansionary territory (above 50.0 readings). In the UK, the British economy has also held up better-than-expected, with these positives feeding into positive investment sentiment across Europe's markets. This has also supported bank lending in the Euro-region, with both businesses and households seeing pickups in credit, which is contributing to overall credit growth, boding well for economic momentum. The European Central Bank's (ECB) credit surveys indicated that banks have been loosening lending standards since the Sovereign Debt Crisis.
Chart 4: European Banks Easing Credit Standards Since 2H2013.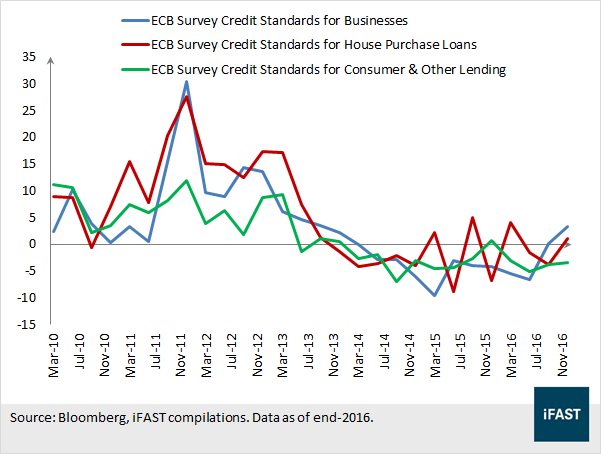 Chart 5: Loan Demand Picking Up Since 2010.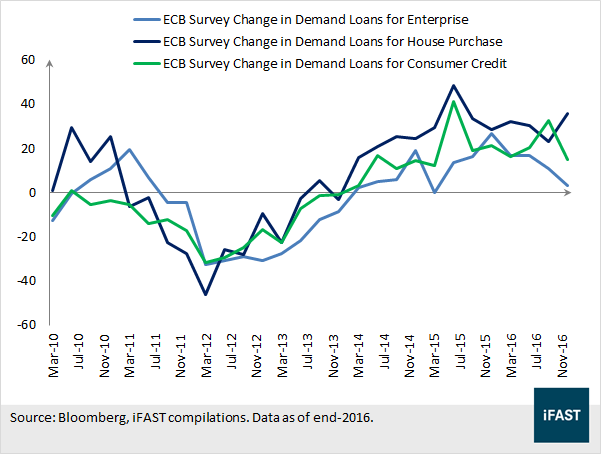 ECB's Monetary Policy
The ECB has maintained an accommodative monetary policy of keeping policy rates low, as well as conducting its asset purchase programmes (APP). From April onwards, the ECB will adjust the amount of its monthly asset purchases down to EUR 60 billion from the current EUR 80 billion. With this adjustment by policy-makers, the yield curve across the Euro-region has steepened (difference between the short end and the longer end of the yield curve increases), boosting the earnings outlook of Europe's insurers and banks as net interest margins are supported. As of 31 March 2017, the 2-10 interest rate spread is back to levels not seen since 2Q 14. Despite relatively low lending rates over the past 5 years, they are expected to gradually increase as inflation picks up as well and credit risks diminish alongside improving economic growth.
Chart 6: Eurozone 2-10 Spread Since 2012.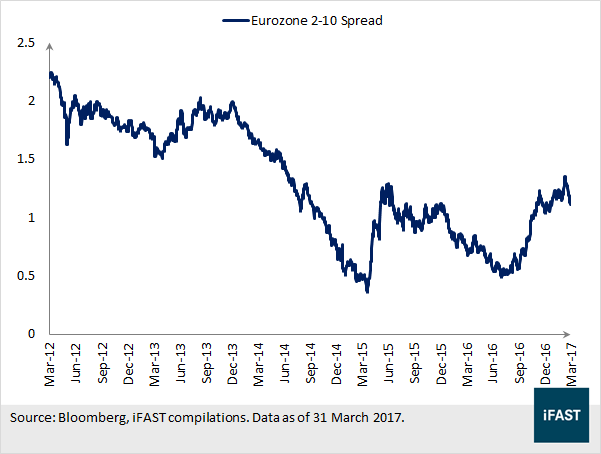 Moreover, European banks will further benefit as real growth picks up as their interest margins not only improve, but overall asset quality also ameliorates. The consensus expects Europe's banks to grow their earnings by 14.2% in 2017 before increasing by 16.1% in 2018.
Chart 7: European Banking Sector's Earnings Estimate on the mend.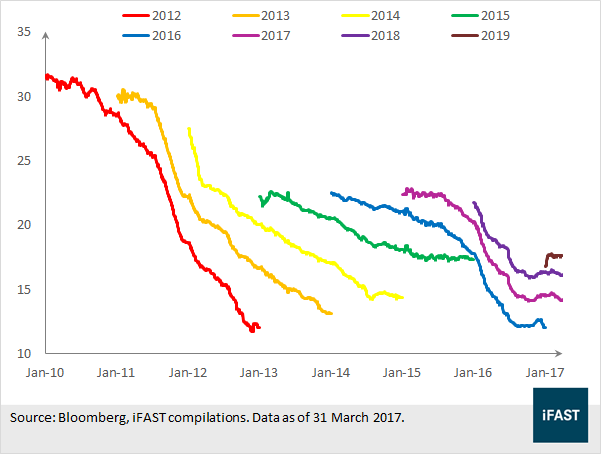 Compelling Valuations
For reasons explained earlier above, Europe's banks trade at valuations that are at relatively depressed levels. Rounds of restructuring and litigation cases have resulted in poor investment sentiment on the entire sector until only die-hard contrarian investors remain the only interested parties. In late-October last year when headline media was singling out Deutsche Bank's issues, we highlighted briefly why the German banking titan, while being systematically important to the global financial system, is not 'the next Lehman Brothers'. Since then, sentiment on the sector have improved and multiples have risen slightly.
On a price-to-book basis, the European banking sector trades at 0.84X book as of 4 April 2017, up from where it was in 1Q 16. This compares favourably to our unadjusted historical average of 1.26X since January 2002, as shown in Chart 8 below. Understandably, a different regulatory regime post-GFC may justify lower fair valuations for the sector as higher capital requirements are needed and trading divisions are reduced or have become less profitable. However, if we assume an approximate 20.0% discount to its historical average, that would mean a fair valuation multiple of 0.97X price-to-book for the sector. Thus, the sector still trades at rather compelling valuations as of current prices!
Chart 8: Price-to-book valuations of Europe's Banks Since 2002.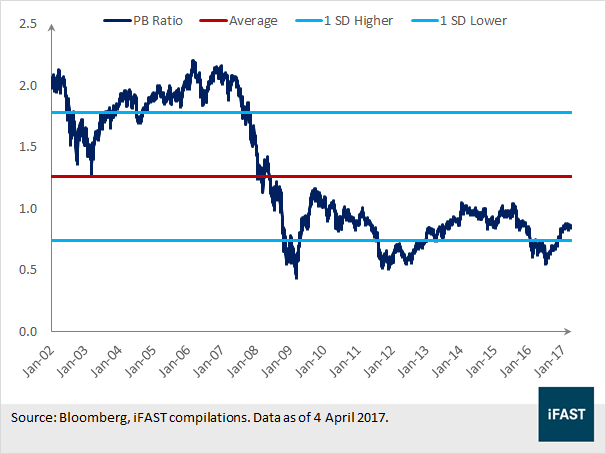 Table 1: Valuations & Capital Ratios of Several European Banks.

Bank

PE Ratio* (X)

PB Ratio (X)

CET1 Ratio

Texas Ratio

HSBC

13.8

0.9
13.6
11.3
Standard Chartered
20.9
0.6
13.6
19.4
Barclays
11.3
0.7
12.4
11.7
Credit Suisse
15.7
0.7
11.5
7.5
BNP Paribas
10.8
0.8
11.5
36.5
ING Group
11.6
1.1
14.2
24.9
Deutsche Bank
15.2
0.4
11.8
13.4
Banco Santander
12.6
0.9
10.6
39.2
Nordea
12.4
1.3
18.4
17.9
UniCredit
13.0
0.5
7.5
80.9

Source: Bloomberg,iFAST compilations, data as of 31 March 2017.
Although valuation multiples have risen gradually since turbulent-early 2016, one can easily see that many European banks are still trading below their book values, as shown in the column in Table 1 above. While some banks are still in restructuring phases (like the Italian banks), we think that some of the worst days of Europe's banks may be over, and based of the various factors highlighted above, glimpses of sunlight is starting to filter through as the overcast clouds across Europe's skies start to disperse.
For investors who wish to tap into the investment opportunities residing within the European banking space, they may look into some of the European equity funds available on our platform!