Last summer, the Brits called it quits to fraternal-union with their counterparts on the European continent. This year, several core members of the European Union (EU) are undergoing executive and legislative elections alongside the supposedly-thorny and prickly Brexit negotiations. The uncertainty stemming from the political sphere is weighing over European asset markets like a bogeyman, and thus far, the feared scenario of a sudden, emotional and dreadful rise of anti-establishment populism has not materialised.
With the Dutch elections and the victory of pro-EU centrist candidate Emanuel Macron over his far-right rival candidate Marine Le Pen, focus is now on the French parliamentary and German federal elections from now until the end of the third quarter of 2017. At this current juncture, political experts and analysts are of the opinion that the risk of an irrational populist takeover has been reduced.
As mentioned in our recent Idea of the Week article, we at Fundsupermart are not subject matter experts on European politics, and we will not pretend to be experts as well. What we do know is that political outcomes are typically inherently unpredictable, making them difficult to model and anticipate in advance, and in consequence, we should not actively try to bet and speculate on certain outcomes or eventualities. European equity markets have rallied as markets breathe a sigh of relief that pro-EU politicians (like France's new President Macron) have presided thus far, with the reduction of political risk premiums driving markets and investment sentiment at the moment.
Chart 1: European Equity Markets Since January 2014.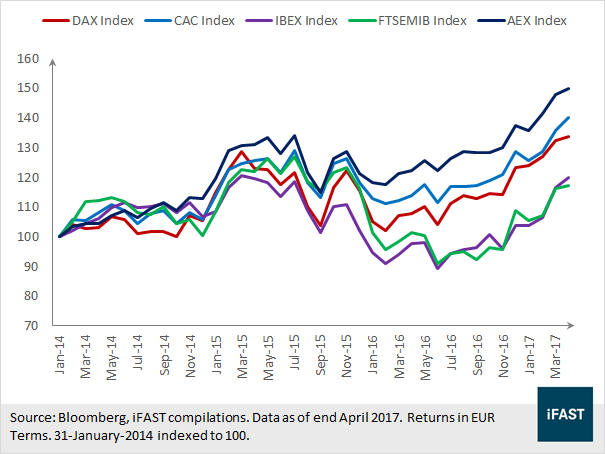 Eurozone's Economic Recovery Is Increasingly Entrenched
Since the sovereign debt crisis in 2010 and 2011, the European economies have made slow but gradual and steady progress, and various hard data points suggest that a recovery in the Eurozone is increasingly entrenched. As we pointed out in our update on the banking sector back in April, economic momentum has remained positive, helped by improving external demand globally. Unemployment has steadily decreased across the Eurozone, with progress also seen in the periphery countries like Spain and Portugal, helping a domestic recovery (albeit slowly) and lending support to consumption. Industrial production has made gains, and both business and consumer sentiment have held up as well.
The European Central Bank (ECB) has also affirmed during their latest policy meeting on 28 April 2017 that "incoming data since our meeting in early March confirm that the cyclical recovery of the euro area economy is becoming increasingly solid and that downside risks have further diminished." However, policy makers maintained sanguine about the outlook for inflation, stating that "underlying inflation pressures continue to remain subdued and have yet to show a convincing upward trend. Moreover, the ongoing volatility in headline inflation underlines the need to look through transient developments in HICP inflation, which have no implication for the medium-term outlook for price stability." The ECB is widely expected to maintain an accommodative monetary stance at this current juncture, allowing a cyclical recovery to continue in Europe.
Leading indicators paint a positive picture, with composite PMI data across the Eurozone on an uptrend since early-2016 and continues to suggest that both manufacturing and services industries show signs of expansion. The aggregate index for the Eurozone has steadily made gains, and as shown in Chart 2 below, the composite PMIs of major European countries like Germany and France are firmly in expansionary territory (above 50.0 readings).
Chart 2: Eurozone Composite PMIs Firmly in Expansionary Territory.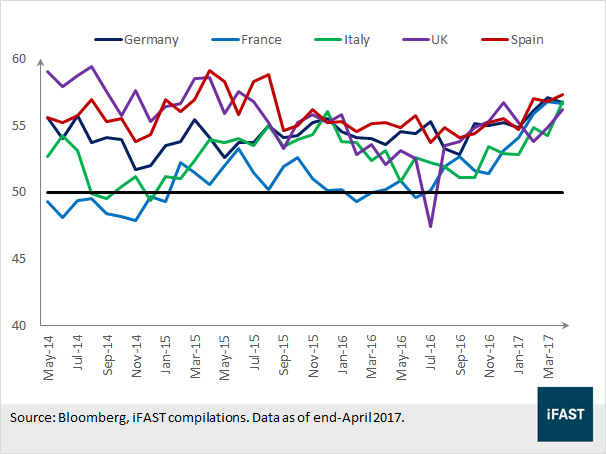 In the UK, the British economy has also held up better-than-expected, with these positives feeding into positive investment sentiment across Europe's markets. UK companies and consumers have taken in their stride the UK's eventual departure from the EU thus far, but there remains a shroud of uncertainty surrounding Britain's commercial fate given the current 2-year irrevocable timeline of an eventual departure.
Valuations Are Once Again Creeping Up
With economic momentum improving across the Eurozone, corporate earnings estimates have been on the mend since 2H 16. Earnings upgrades have not just been seen in cyclical sectors like industrials and travel-related industries but also among European insurers and banking corporations (what a difference 14 months have made!). European equities on aggregate are projected to grow earnings by 12.2% in 2017 and by 9.5% next year (as of 10 May 2017).
However, the sharper rise in the magnitude of equity prices year-to-date have consequently left valuation multiples higher, with the rally also riven by a reduction in political risk premiums across Europe's asset markets. Year-to-date (10 May 2017), the benchmark Stoxx 600 Index has risen 9.7% in EUR price terms (9.5% in SGD terms). Thus, while we acknowledge that economic recovery in Europe is increasingly entrenched, we find ourselves once again looking at relatively stretched valuation multiples in Europe's equity markets. As of the time of writing on 10 May 2017, the Stoxx 600 Index is trading at 16.2X 2017's estimated earnings and at 14.8X 2018's estimated earnings, a premium as compared to its fair PE ratio of 13.5X.
Chart 3: Expected Total Returns For The European Equity Market.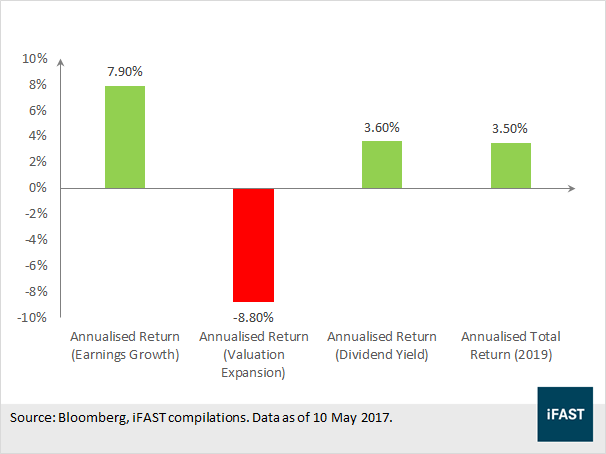 As of 10 May 2017, an investor's potential annualised return for the European equity market by end-2019 is a mere 3.5%, paling in comparison to the previous time we adjusted our star ratings. It is also one of the lowest projected returns among the equity markets under our coverage at this juncture. Overall returns are weighed down by the potential contraction in the valuation multiple component. Should valuation multiples continue to rise without a simultaneous upgrade in earnings estimates, we may take the opportunity to review our star ratings on the European equity market in the near-future. Investors seeking higher equity market returns can consider our preferred region of Asia ex Japan, which at this current moment, still offer compelling value and higher expected upside as compared to the developed markets.
See: 6 Funds You Cannot Miss When It Comes To Investing In Asia