This article follows on from Eurozone – The Catching Up Tortoise (Part 1), having laid out the economic developments within the single currency area and the catalysts for European equities looking. We now present our thoughts on the monetary policy stance of ECB, the risk around our outlook as well as the investment implication.
Accommodative and Flexible ECB
Even with a roaring economy and improving corporate earnings, the European Central Bank (ECB) is not expected to entirely remove the punch bowl (a term that refers to a central bank's action to reduce the stimulus it has given to the economy) in 2018. Starting from January 2018, the central bank has halved the volume of its monthly asset purchases to 30 billion Euros in government and corporate bonds each month at least until September and is widely anticipated to keep interest rates at record low well into 2019.
With its "close to but below 2% inflation rate" target remaining elusive, the ECB isn't comfortable with ending their QE until inflation really takes hold. Therefore, we expect the central bank to keep its ultraloose monetary policy in place through 2018 and this bodes well for the outlook for European equities ahead.
Growth Grinds On, But Perils Persist
The risk around our outlook are in two folds. Firstly, when it comes to Eurozone, volatility can be introduced by political news flow. Currently, we are concerned about the stalemate in Brexit negotiation and the Italian elections in March 2018. With respect to the former, we are no doubt that an agreement will be reached to implement a two-year status-quo transition period, which should minimise the economic consequences from Brexit. However, a complete breakdown in talks shall not be ruled out as a possibility, and severe trade disruptions with the UK could weigh on the region's economic growth.
With respect to the Italian election, we saw the Euroskeptic Five Star Movement, emerged as the biggest winner in the election while the current ruling party, Democratic Party saw its seats in the parliament declined from more than 40% to about 20%. As such, Italy's President will now decide who gets to start the coalition talks and it is expected to take weeks, as no one bloc won the 40% requirement to form a government.
Italian are now facing a prospect, albeit slim, of a populist alliance gaining dominance over the Eurozone's third largest economic, which could potentially post a challenge to French and German plans for European economy integration. Nevertheless, given that the new electoral law in Italy makes it unlikely for the populist party to form a government with an outright majority, we opine that impacts from the Italian election are expected to be limited. Investors should note that heightened volatility is here to stay moving forward as the coalition talks progress.
Secondly, there is the risk that financial condition unexpectedly tightens materially. Amidst a policy normalisation backdrop, it will be crucial to watch for signs of inflation in the coming months. If inflation were to accelerate higher than expected, subsequent movements in bond yields could hurt the equity markets.
Investment implications
Valuation wise, the European equities trades at 14.7X and 13.5X at 2018's and 2019's estimated earnings respectively, as compared to its fair PE ratio of 13.5X, indicating that valuations are still at premium where we deem them to be fair.
As of 28 February 2018, an investor's potential annualised return for the European equity market by end-2020 is at 6.7%. The valuation multiple is a sore point as it projects an annualised contraction of -2.8% over the course of the next 2 years, shrinking the returns that are expected to be driven by earnings growth and dividends.
FIGURE 1: Valuations Are In Premium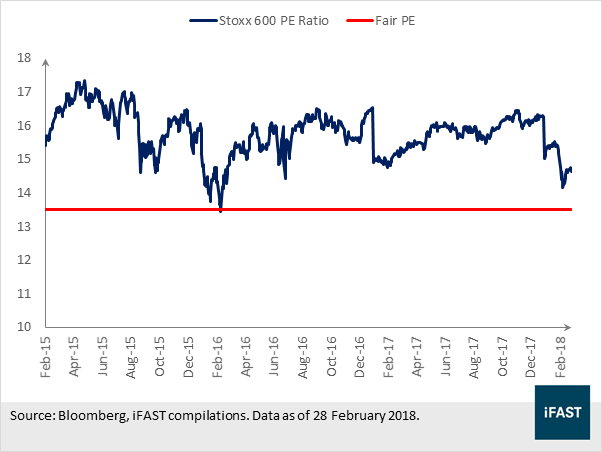 FIGURE 2: Expected Total Return For The European Equity Market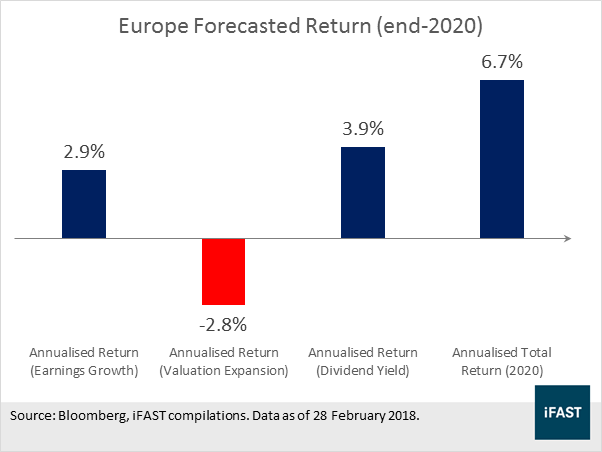 Conclusion
Overall, we maintain constructive on the outlook for European equities. While we are cognisant of the risks, we believed that they are well contained. European companies are looking to be benefited from the strong global economic expansion and a robust recovery in the Eurozone.
Despite the ECB tapering its monthly asset purchases, it remains highly accommodative compared to other major global central banks. Over the coming months, we could see European equities gains that are driven by its economic fundamentals as well as higher earnings growth.
Investors can consider investing into AmSchroder European Equity Alpha or TA European Equity Fund if they wish to tap into the opportunities within the Europe space. With regards to AmSchroders European Equity Alpha, the fund is relatively riskier than the latter due to its concentrated investment strategy with cash and cash equivalent below 10% of the total fund's value over the past months. For investors who are more conservative, they can look into TA European Equity as the fund is structured as a fund of funds that will invest in a broad range of European equity funds, which provide investors with greater resilience.
Useful Links:
Eurozone - The Catching Up Tortoise (Part 1)
AmSchroder European Equity Alpha