Global equities kicked-off November with some recovery. Having experienced a rocky ride this year, investors and market participants are still being cautious, constantly on the lookout for development and potential breakthrough between US and China trade talks. Like us, they are giving the same amount of attention to the slowdown in global economy, waning earnings results and Fed minutes.
Moving towards the end of the month is when markets moved seismically yet again when Trump decides to proceed with its tariffs against China, leaving little breathing room for people that expects better outcome from the G20 meeting held last week. Taking a 30,000 feet view, central banks across the globe are tightening liquidity, and the volatility that comes along with it seemed inevitable to most of us. Against such a backdrop, equity strategies that place emphasis on managing volatility had begun to garner attention of many investors.
AmFunds Management Berhad has launched a global equity fund at 5th September 2018 – AmIntelligent Global Equity Multi Strategy - Developed Markets ("the fund" or "IGEMS"). Before the launch of the fund, we had a session with the fund management and strategy team. In this month's fund choice, we look to share some of the interesting takeaways from the meeting, and how investors could tap into the exciting investment opportunities within the global shariah equity landscape.
First smart beta fund in malaysia
For context, smart beta strategy combines the benefits of passive investing and the advantages of active investing strategies. The goal of the strategy is to generate alpha, lower risk by diversification at a cost that is cheaper than traditional active management, but marginally higher than pure index investing. AmFunds Management Berhad's strategy team has spent about 5 years performing research work and optimization on the investment rules.
Investment Universe – incorporating ESG elements and Shariah principles
As mentioned earlier, the fund focuses on global Shariah-compliant equities. The investment universe of the fund is formed based on the securities in the MSCI World Islamic Index ("index" or "the index"). The fund management team engages with Amanie Advisors Sdn Bhd as its Shariah advisor. Incorporating Shariah principles would avoid investing in companies that have excessive levels of debt or companies that carry out socially detrimental activities.
Table 1: Three pillars of ESG analysis.

Climate Change
Human Capital
Corporate Governance
Natural Resources
Product Liability
Corporate Behaviour
Pollution and Waste
Stakeholder Opposition
Environmental Opportunities
Social Opportunities

Source: AmFunds Management Berhad, iFAST compilations.
The list of securities will then undergo environmental, social and governance (ESG) screening, which done by the index provider MSCI. There is a total of 10 themes taken into consideration (see above). ESG investing has been gaining huge traction among investment managers and market participants over the recent years, as ESG analysis is able to provide insights into the long-term prospects of companies which allows mispricing opportunity to be identified. As of last year April, the United Nations Principles of Responsible Investing has attracted support from more than 1,800 signatories representing over USD $68 trillion in assets under management. These signatories commit to six voluntary principles, the first of which is the incorporation of ESG issues into investment analysis and decision-making (see Figure 1).
FIGURE 1: ESG investing has been gaining huge traction.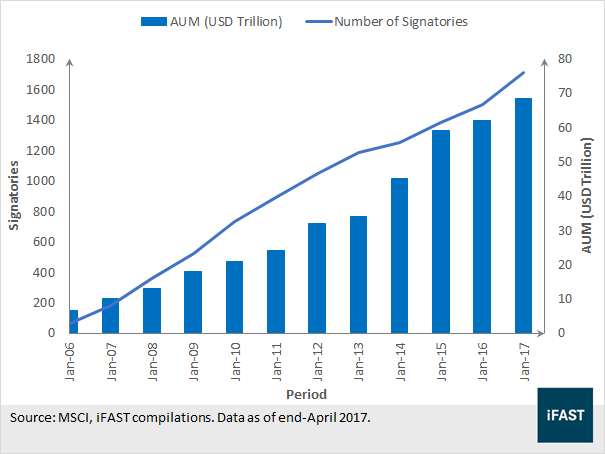 Portfolio Construction – a combination of defensive stocks and risk-adjusted allocation
Having formed the investment universe, the portfolio construction takes place by going through a rules-based investment strategy. The portfolio is made up of two sub-portfolios: the defensive stocks portfolio and weighted stocks portfolio. The former will include stocks from defensive sectors (e.g. utilities, telecommunication, healthcare etc.) within the investment universe; the latter consists of all the stocks within the investment universe with their respective weights assigned by volatility in inverse order (e.g. higher volatility, lower weight). Both sub-portfolios are then combined at equal weighting to form the fund. The fund is rebalanced on a monthly basis and targets equity exposure of 95%.
FIGURE 2: IGEM's portfolio construction process.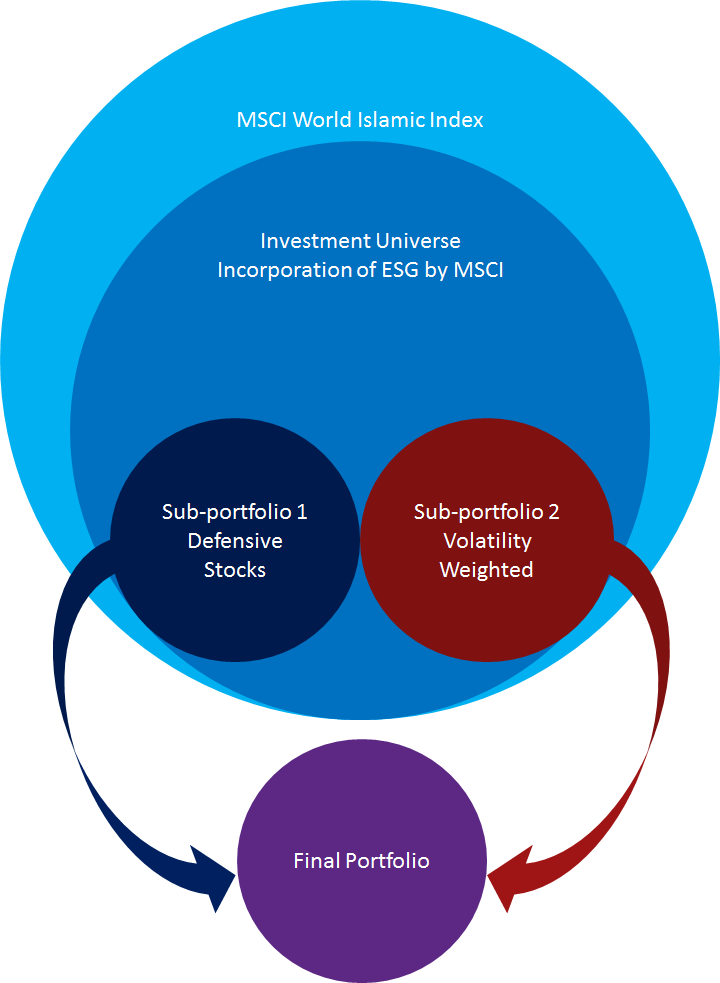 Defensive Measures
At times of adverse economic conditions or anticipated significant market weakness, the fund manager may choose to may choose to raise cash up to 30% of the fund's NAV to safeguard the investments of the fund. During normal times, the fund is largely passively managed.
Takeaway
Although valuations for developed markets may appear rich at this juncture, investors should consider allocating part of their portfolio to developed markets for diversification purposes as well as to capture investment returns from key regions which form a significant proportion of the global economy. The launch of IGEMS has provided investors a new option when it comes to adding global equity exposures to their investment portfolios, and have created a new avenue for investors who are keen to seek access to smart beta investment strategy.
One important thing to note, however, is that the management fee of the fund is 1.80%, which is higher than what we would expect from a smart beta fund. The fee is akin to the other actively-managed equity funds on our platform.
The base currency of the fund is US dollar. For investors who are interested to invest, you may choose from two currency classes: the MYR class and USD class.