Glancing through the major news headlines and one can find that China-related equity markets have been bumped by uncertainties. Market sentiments have shown worries that China's economy appears to be slowing given with its mounting trade tensions with US, along with Beijing's continued deleveraging efforts as well as real estate regulations.
The Red Dragon Can Offer More. Source: South China Morning Post.
In this month's Fund Choice, we introduce you the latest kid on the block, CIMB-Principal China Direct Opportunities Fund, the first fund that provide Malaysia investors direct access to the China's A-share market to further diversify their investment portfolios and also potentially enhance overall investment returns.
China – The Red Dragon Can Offer More
To give investors a better context, China equity markets consists of different share classes. There are A-share, B-share and H-share and etc. China A-shares are shares of mainland China-based companies that are purchased and traded on the Shanghai Stock Exchange and the Shenzhen Stock Exchange in local currency, which are restricted only to local Chinese. Here we explain why China equities deserve your attention in few points below:
Fiscal Stimulus – More to Come
Over the past few months, market sentiment has been negatively impacted by China being at the crossroads of both trade tensions and a continued deleveraging campaign from Beijing. Investors are worried that the world's second largest economy will start showing a slowing pace in the near future. With that, China authorities have unveiled a package of stimulus policies, ranging from a tax cut to special bonds for infrastructure investment to boost domestic demand thus preserving its economic growth momentum.
With regards to China's tax reform, it has cut its Value-Added Tax (VAT) for manufacturing sector from 17% to 16% while the tax rate for transportation, construction and telecommunication sectors were reduced from 11% to 10% since May 2018. In addition, the government has proposed to revamp its personal income tax with expected implementation by October 2018.
Given the Chinese economy is now a consumer-driven economy, we are of the opinion that the upcoming tax reform is likely to boost China's domestic consumption thus increase the contribution of consumption to GDP for long-term economic growth.
MSCI Index Inclusion – A Blessing for Longer-term
With the inclusion of 222 China A-shares into MSCI benchmark indices, it is believed that it will unleash a surge of foreign inflows into China's equity markets. While some foreign investors are still spooked by memories of China's 2015 stock market crash and concerns about US-China trade tensions, a deeper fear of missing out is widely expected to boost overseas investments in mainland stocks.
While we expect this move to have only a small initial price impact on the market, we opine that its long-term implications may be considerable. In our view, the MSCI index inclusion will attract different kind of investor base into A-share market, accelerating the institutionalization of the market. Investors with longer-term views and a more fundamental analytical framework could create a new round of changes in investment methods within China's equity market. Over time, we believe that changing investor base could influence company behavior and investor psychology to make the overall market more attractive.
Valuations - Good Bargain
FIGURE 1: Long-term Valuation of Shanghai Shenzhen Small Cap Index (CSI 500)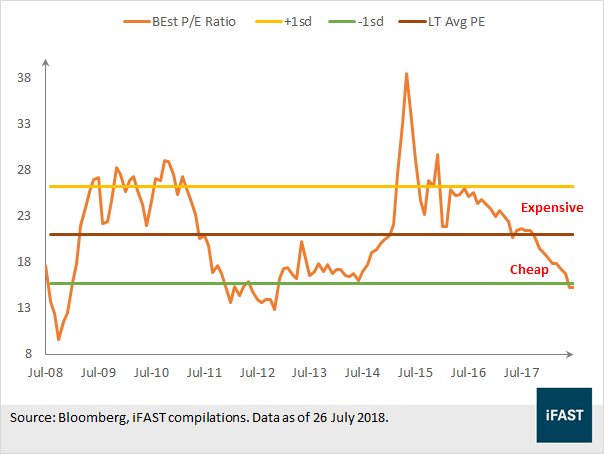 FIGURE 2: History Tells Us What May Happen Next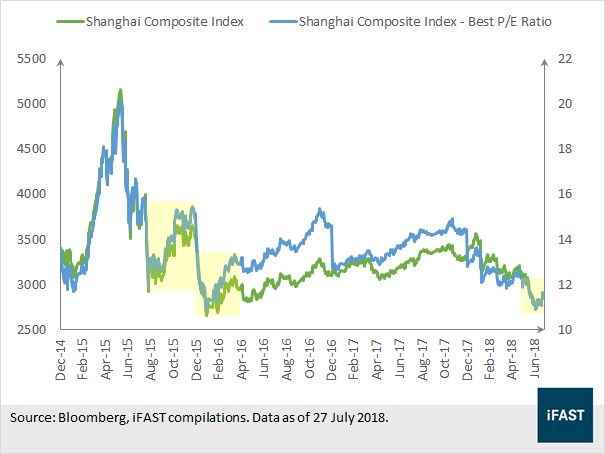 As the Chinese equity market emerged as one of the bottom performing markets under our coverage, the decline has pushed the market valuation to very attractive level compared to its long-term average PE ratio. As of 27 July 2017, the Shanghai Composite Index is trading at PE ratios of 11.9X and 10.3X based on estimated earnings for 2018 and 2019 respectively, way below to its estimated fair PE ratio of 15.0X. At the same time, we saw the valuation of China A-share small cap index is even more attractive after the market correction since late-May (refer to Figure 1). We therefore believe that current valuation of China equities remains attractive and worthy of investors' attention.
CIMB-Principal China Direct Opportunities Fund
1. First China A-share Fund in Malaysia
CIMB-Principal China Direct Opportunities Fund is an equity growth fund that aims to provide capital appreciation over the medium to long-term by focusing mainly in small and/or mid-capitalisation within China A-shares market. By subscribing the fund, it will provide Malaysia investors direct access to the China A-share markets, which is previously accessible to only Chinese citizens.
In addition, the fund was launched under CIMB-Principal Asset Management's Renminbi Qualified Foreign Institutional Investor (RQFII) license which gives the fund manager more flexibility in terms of eligible investment instrument range, fund allocation restriction as well as liquidity.
2. Fund's Strategy
The fund will invest at least 70% of its NAV in equities that are listed on the Shanghai Stock Exchange or the Shenzhen Stock Exchange ("China A-Shares") directly via RQFII quota. Under general market conditions, the fund will seek opportunities within the China A-Shares universe by focusing mainly in small-capitalization or mid-capitalization companies which will exhibit good growth potential when compared against its peers or the overall market.
The fund also utilizes its in-house developed proprietary multi-factor model as a tool for stock selection and portfolio construction. The multiple factors embedded within the model will act as the criteria in the stock selection and portfolio construction by taking into account the elements that will affect the fund performance, ranging from fundamental, sentimental to technical aspect.
3. A-share Market – More Diversified
The sector distribution of the China A-share market is fairly diversified and less concentrated than the H-share market (those shares who are listed on the Hong Kong Stock Exchange, HSML 100). By referring to Figure 3, one can easily observe that the H-share market is dominated by a few sectors, namely financials, IT and energy which possess concentration risks within the old China economy. Whereas, the sectors in A-shares market are more evenly distributed.
In other words, the China A-shares is more reflective of the current China's new economy, where IT, health care and consumer sector are just some of the major contributors to the China's economy growth.
FIGURE 3: The A-share market is the more diversified Chinese equity market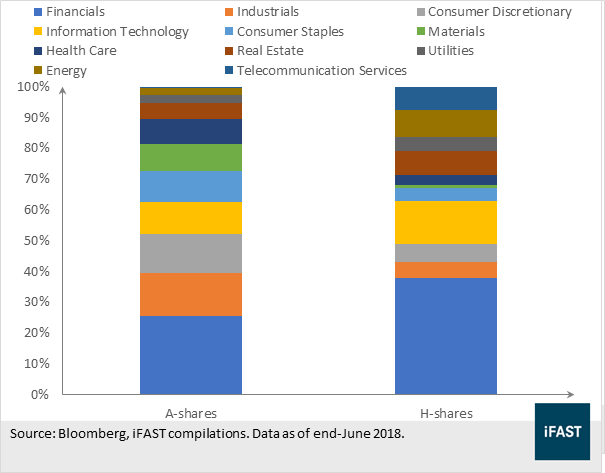 Takeaway
As China, the second largest economy in the world, gradually opens up to foreign capital, it is clear to us that foreign investors can no longer ignore it. An active fundamental approach is well-suited to navigating China's A-share market thus potentially offer compelling investment solutions. We believe the China's A-share market could provide benefits to an investor's portfolio, form a return and diversification perspective, even if risks and challenges remain. And with its inclusion in the MSCI Index in May 2018, now might be a good time to take a closer look at the opportunities the China A-share market offers to investors.
With that, investors that wish to have exposure to China's A-share market, particularly the small to mid-cap space, they can do so by investing in the CIMB-Principal China Direct Opportunities Fund which provide the exposure to small and medium companies which may have potential to be global players. We advocate interest investors to include this fund in the supplementary part of their portfolios, with a maximum allocation of not more than 10% of their overall portfolio.
Take a look at: CIMB-Principal China Direct Opportunities Fund