A month ago, we have put up an article on emerging markets (EM). The downtrend started back in early February when markets are looking at a more hawkish Fed amid stronger US economic data, Then, trade tensions added more elements of uncertainties to the market mixture. Looking closer to-date, US has imposed second wave of tariffs on US$ 200b worth of goods at a lower-than-expected rate of 10%, giving investors a breather temporarily.
Understandably, with all the aforementioned issues lingering around, investors still find it uneasy to gain exposure into EM at this juncture despite knowing that valuations are cheap and fundamentals remain mostly intact. In this article, we look to address on some of the EM concerns and how investors could tap into these growth opportunities via Eastspring Investments Global Emerging Markets Fund.
In 2018, numbers are not summing up to 1997 just yet
The depreciation of emerging currencies, particularly Indonesia Rupiah, has rekindled some distant memories for those who have lived through the 1997 Asian Financial Crisis (AFC). With the lack of stringent financial supervision in place and foreign debt-to-GDP ratios soaring greatly in a brief period of time, the collapse in Thailand's foreign debt has triggered a region wide sell-off across capital markets within the Asian region.
Standing at where we are today, no wonder investors spook and fear of getting burnt. We have been telling investors that these EM are in a lot better shape compared to where they were previously. Thus, we will now scope into some of the health numbers of these EM.
FIGURE 1: Current foreign reserve levels are still looking healthy.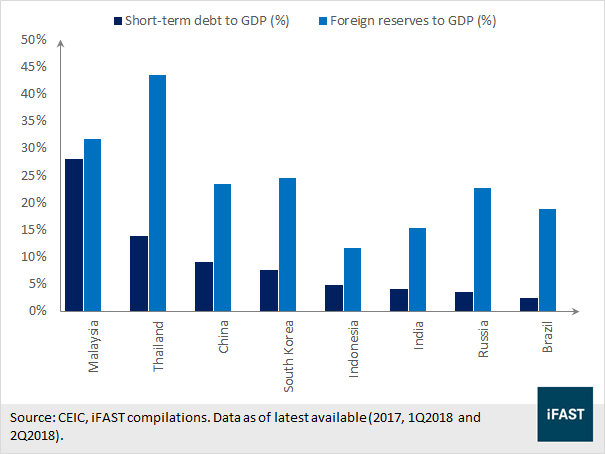 FIGURE 2: Current ST external debt levels are still far off from where they were back in 1997.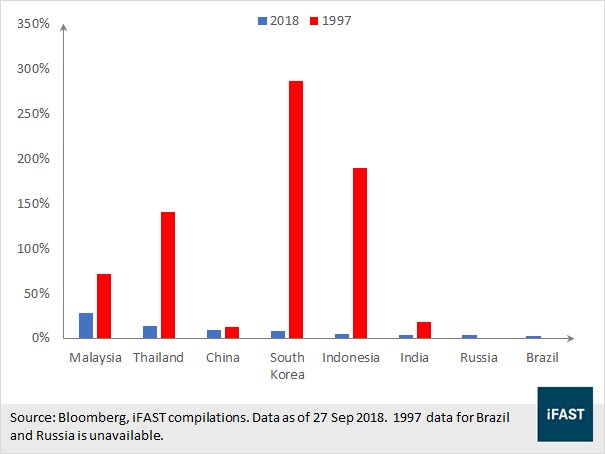 Looking at Figure 1 and Figure 2 above, many of these emerging countries under our coverage have sufficient reserves to service their short-term debts. Although Malaysia stood out among the rest of the countries, it has less than 10% of its external debt are denominated in foreign currency, while the amount is generally higher in other countries (e.g. about 68% of Indonesia's external debt is denominated in USD).
Given that most of the external debts that are denominated in USD, a healthy amount of FX reserves reduces the vulnerability to the cost of debt rising via increases in interest rates or the value of the foreign currency.
Another area to look at while assessing a country's health would be account balances. In Figure 3, we could see that countries with twin deficits (Indonesia, India) or those with sizeable fiscal deficits (Brazil) have witnessed a greater magnitude of depreciation compared to those have better balances (Thailand, Malaysia). As for Russia, the impending new sanctions from Trump's administration have contributed to the Ruble's depreciation.
FIGURE 3: Twin deficit statuses have probably induced currency weakness.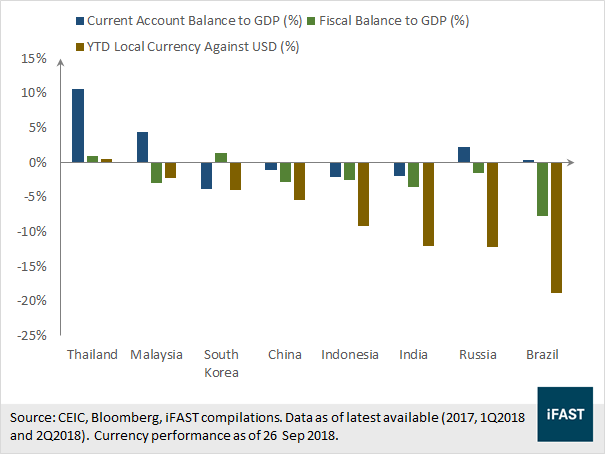 FIGURE 4: Again, current account deficits (% GDP) are looking a lot healthier compared to pre-1997 levels.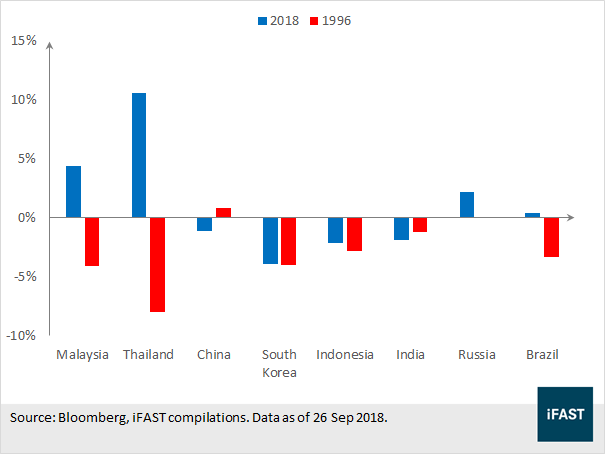 Under distressed economic condition, countries that have a large and increasing budget and/or current account deficit (see Figure 4) will have a greater need to borrow or print money to fund the deficits. These actions are expected to lead to weakness in the domestic currency together with increased risks of uncontrolled inflation, which could lead to inflationary depressions.
While economic growth seems to taper off across EM, we think they are unlikely to fall into a recession zone anytime soon. Within Asia and ASEAN, many of the countries are sourcing growth primarily from private spending. Domestic inflation levels look to be supportive of consumption across these countries, hovering close to or not below their respective central bank's inflation target range (except Brazil).
FIGURE 5: Inflation conditions are still conducive for domestic spending for emerging economies.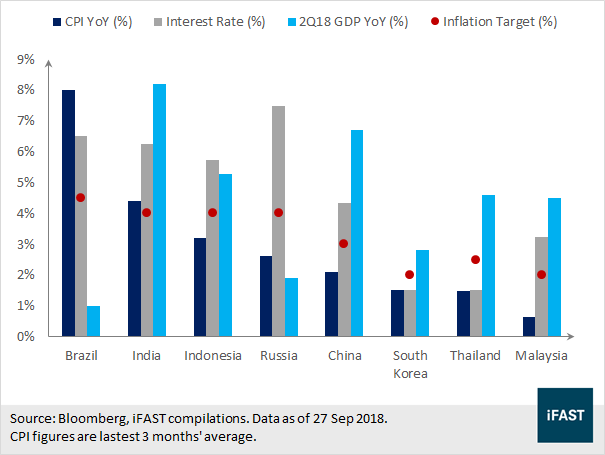 Russia and Brazil have recently recovered from a recession due to a plunge in oil price back in 2014. As oil price appears to be stabilizing above US$60 dollars per barrel, this may provide some growth buffer for the two countries in times ahead.
Why Eastspring Investments Global Emerging Markets Fund?
Resilient Performance
This fund has made it to our list of recommended funds for more than 3 years now. From performance perspective, the fund has posted decent performance track record. Figure 5 below shows the fund's relative performance against its peers and benchmark over the past few years, where positive figures indicates outperformance, vice versa.
FIGURE 6: Relative performance against peers and benchmark.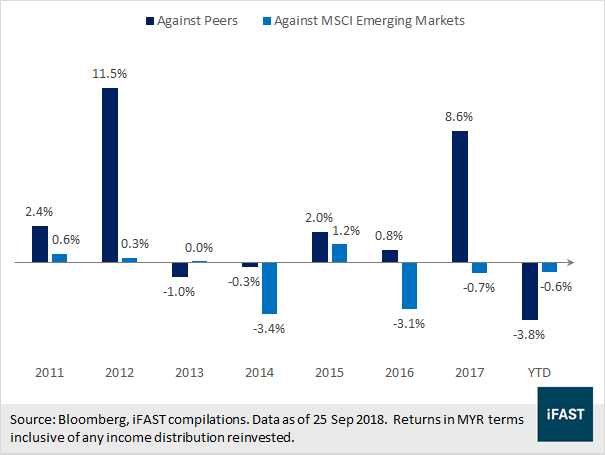 Disciplined Investment Strategy
The fund is essentially a feeder fund that feeds into Schroder International Selection Fund Emerging Markets, with the objective of maximizing capital growth through investment in equity securities of emerging market companies. The lead fund manager is Robert Davy, which has been managing the fund for more than 15 years since April 2003. The fund has more than 40 research analysts and portfolio managers supporting it, with research coverage spanning across Latin America, Emerging Europe, Middle East and Africa as well as Asia.
The fund's country allocation is driven by Schroder's proprietary quantitative model, which is rebalanced on a monthly basis and reviewed periodically to ensure relevancy. The final decisions are made by five key portfolio managers. Although they cannot take an opposite view to the model's recommendation, they could be one move away (neutral instead of overweight, or underweight instead of neutral).
Similarly, the fund's stock analysis process also relies on in-house financial models to help screen investment ideas, empowering research tools and generate earnings forecasts. Environmental, Social and Governance (ESG) factors assessment is also integrated to the research work. On top of all fundamental ground works, the team also draws resources from its Data Insights Unit, which helps incorporate alternative data sources and sophisticated data science techniques to help confirm investment theses.
Conclusion
While EM stocks' recent performance are portraying that investors may be turning pessimistic and fearful about these countries' economic condition, we think things are not looking as bleak. For investors who are looking to tap into the growth opportunities residing within EM, they could invest into this month's fund choice - Eastspring Investments Global Emerging Markets Fund.
See also: What happens when you ride the bear in emerging markets?