At Fundsupermart, we have constantly advised that bonds should always have a place in one's portfolio, providing the benefit of asset class diversification as well as acting as an embankment against volatility in the financial markets.
While there is vast array of bond funds available in our platform, we seize this opportunity through this month's Fund Choice, to touch on Eastspring Investments Global Target Income Fund, which offers investors with the exposure into the global fixed income markets.
Global Economic Recovery to Continue
For the first time since global financial crisis (GFC) in 2007, we are seeing synchronised growth in economic activity from most of the major developed market economies. This, coupled with recoveries in certain emerging markets, has underpinned a solid pick-up in corporate revenues and earnings across regions.
In Asia, we expect the economic backdrop to remain constructive moving forward in 2018, which would lend support to corporate credit fundamentals. Export growth for most Asian economies should also remain solid in 2018, albeit with some moderation from 2017 levels due to higher base effect. Growth cycle should broaden to include recovery in domestic demand as increase employment opportunities support consumption.
Central Banks are Accommodative
In the US, we opine that Powell-led Federal Reserve to indicate continuation of the current monetary policy. As such, it is widely expected there will be another two additional rate hikes in this year, even if the progress on the central bank's inflation mandate remains slow. Nevertheless, we forecast that unwinding of quantitative easing is likely to continue in a very gradual and prudent manner, to avoid choking the current economic growth.
Turning the limelight across Asia, Bank of Korea is the first central bank in the region to begin policy rate normalisation followed by a 5bps rate hike from PBOC. As further actions are presumably to be data dependent, we think this is unlikely to be an aggressive rate hike cycle, as we believe inflation prints will remain largely benign this year.
Clearer Skies for Asian Corporate Credit
For 2018, we expect Asian corporate credit fundamentals to remain broadly positive. The banking sector across Asia is likely to see improved profitability if interest rates start rising, while asset quality concerns are beginning to ease across Singapore, Hong Kong and India. Besides that, deleveraging efforts in China is believed to be the credit positive factor for Asian corporates. Investment grade (IG) corporate sector in Asia has shown improvements in leverage and debt servicing ratios over the years.
FIGURE 1: Improvement in Debt Servicing Ratio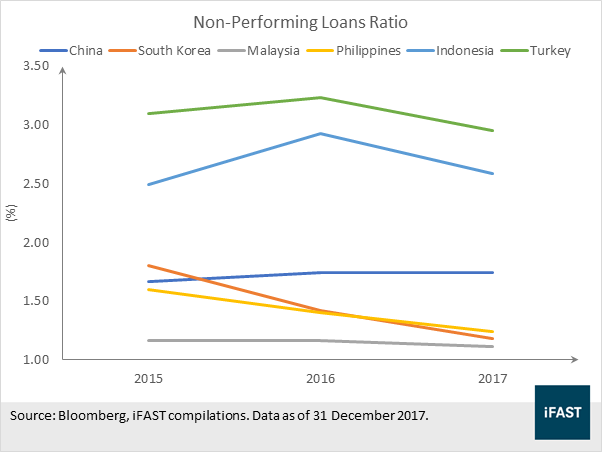 Why Eastspring Investments Global Target Income Fund
About The Fund
Eastspring Investments Global Target Income Fund is a fixed income fund which endeavours to provide regular income for investors by investing in bonds such as rated bonds, non-rated bonds and/or bonds rated below investment grade globally including Malaysia.
The Fund's Strategy
In terms of strategy, the fund manager seeks to invest in bonds depending on the country's economic and bond market outlook. The fund adopts a maturity bucketing approach and maintains a portfolio of fixed income securities with staggered maturities. With that, this will allow a portion of the portfolio to mature at regular intervals and become available for reinvestment or to meet liquidity needs. This approach will also help to build a more stable income and reduce the impact from subscription or redemption flow.
Besides that, the fund applies both the top-down and bottom-up investment management approach in deriving its duration, credit and currency allocation strategies. From a top-down perspective, economic and market analysis are carried out to determine the outlook for interest rate market, as well as credit and currency trends. This is necessary combined together with a bottom-up credit selection process, which is based on research and analysis of credit issuers, to identify value opportunities and to avoid potential default events.
Fund Manager's Outlook
The fund manager expects interest rate hike to continue within US space, albeit in a gradual approach on the back of the strength of underlying economic growth, counterbalanced by still-benign, but accelerating inflation. This is likely to create a more volatile global bond markets, although the market has well-aware on the US central bank's rate hike expectations (and is pricing another two hikes for 2018, similar to the Fed's guidance). Beyond 2018, market prices have not yet caught up with the Fed's dot plot, which warrants a more defensive approach to duration positioning.
In terms of sector allocation, the manager is currently overweight the subordinated bonds of well-capitalised global financial institutions which provide a high level of current income. Years of increasing financial regulation and balance sheet scrutiny as well as deleveraging means the sector is in much better shape today.
Given the cautious approach with regards to duration positioning, the manager is cautious on lower-yielding long-dated debt, which is more susceptible to potential rate increases.
Better Position in A Rising Interest Rate Environment
On the expectation that base rates will continue to rise (albeit in a gradual manner), the fund is positioned in the credit segment with a focus on short duration bonds. Secondly, the portfolio also has a sizable allocation to higher-yielding bonds for higher coupon carry, thus enabling the portfolio to achieve a high level of ongoing coupon income without taking on too much interest rate risk.
The manager also adopts a maturity bucketing approach which results in a portion of the portfolio maturing at regular intervals – this provides the necessary liquidity to meet potential redemptions or to capitalise on higher yields (if interest rates rise) via reinvestment.
FIGURE 2:Credit Rating Breakdown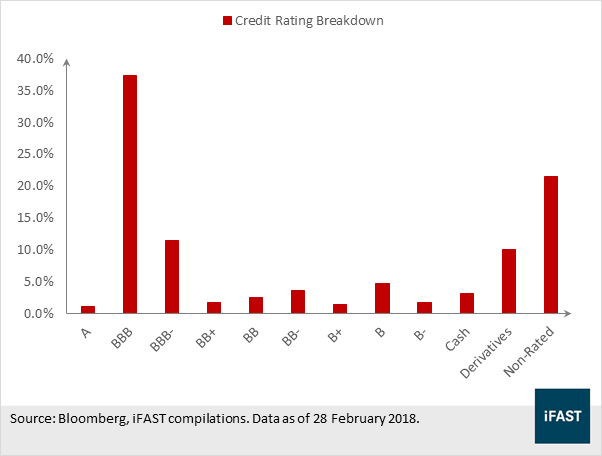 Table 1: YTM and Portfolio Duration

YTM (%)

Average Portfolio Duration (Years)

3.60

Source: Eastspring Investment Berhad, iFAST Compilations. Data as of 28 February 2018.
Minimum Foreign Currency Exposure
The fund adopts a "risk mitigation" approach towards currencies which the manager will seek to hedge non-MYR exposure back to the Ringgit to minimise volatility due to currency fluctuations. As currency fluctuation is not expected to be a key driver of fund returns, the fund is ultimately managed to optimize returns while reducing risk from the Ringgit perspective.
Outstanding Historical Performance
In terms of performance, the fund recorded satisfactory return over 3-month to 1-year period, outmatching its only peer listed on our platform.
Table 1: Funds Performance

1 month

3 months

6 months
YTD
1 Year
3 Year*
Eastspring Investments Global Target Income Fund
-1.2%
4.6%
1.1%
8.6%
N/A
Maybank Global Bond Fund
-0.4%

-6.0%

-6.6%
-1.8%
-7.4%
2.5%

Source: Bloomberg, iFAST Compilations. Data as of 21 March 2018.
The Bottom Line
Rising yields are generally negative for global bond funds. However, there can be exceptions to the rule, and investors who expect interest rates to continue rising may take a look on selected global bond funds where are better position in a rising interest rate environment.
To those investors who share our view, Eastspring Investments Global Target Income Fund would be an ideal candidate where it is primarily exposed to credit, and has a sizable allocation to higher-yielding bonds which have shorter maturities and tend to be less interest rate sensitive where the performance of its holdings is generally more sensitive to credit fundamental changes and economic growth.
Given that we are still optimistic on the global economic outlook, we believe that this should have positive implications for corporate profitability and thus translates into better performance of the fund.