Malaysia's equity market as represented by FBMKLCI index posted the strongest 1Q performance in the past 9 years, with about 6% gain. On year-to-date basis (24th of May 2017), FBMKLCI has delivered 9.7% of return while the small cap index (FBMSC) spiked 20.9%.
As Malaysian economy continues to show sign of improvements, we continue to see the potential of small cap equity and we would like to highlight one potential local fund that is skewed towards the Malaysia small cap segment – KAF Tactical Fund.
FIGURE 1: Malaysia's stock market return.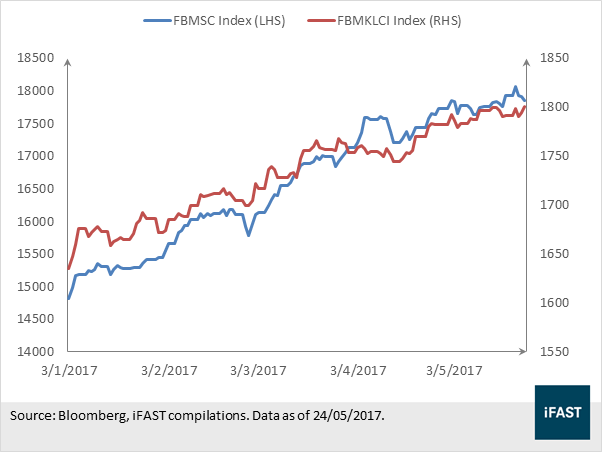 We Still Favour Malaysian Equities
In the previous article, we have discussed about the observation of Malaysia's ameliorating external trades and expanding manufacturing activity in the first quarter of 2017. These factors have resulted in an unexpectedly strong growth in our first quarter GDP growth of 5.6% y-o-y, beating consensus estimate for 4.8% expansion. It was the third consecutive quarter of growth for our local economy.
We have mentioned that strengthening external trades, expanding manufacturing activity and accommodative monetary policy would pave way for the local equity market to trend higher. Given the strong rally in Malaysian equities, especially the small cap segment, we can imagine some investors wondering if it is too late to catch the bandwagon. However, if we look back to 2013, FBMKLCI index surged by 10.5% and our local small cap segment posted an impressive return of 36.7%. Although history might not repeat itself, we believe that the fundamental of our local economy and overall sentiment currently is in better state compared to 2013 (see Table 1) which also suggest that the rally in Malaysian equities may continue.
Table 1: Malaysia's economic data.

Malaysia GDP Growth
4.3%
5.6%
Malaysia Exports Growth (Jan-March)
3.6%, (7.8%), (3.2%)
13.6%, 26.6%, 24.1%
MIER Business Condition Index
92.6
112.7
Industrial Production Growth
0.9%
4.6%
Malaysia PMI Index
N/A
50.7

Source: Bloomberg, iFAST compilations. Data as of 30 May 2017.

Malaysia is still a bright spot for investors, especially the small cap segment. There are a number of local small cap funds that we have previously highlighted before, but to give investors more choice and diversity in this space, we would like to feature another rising star in the local small cap segment – KAF Tactical Fund as our fund choice for June.
Who is kaf?
KAF Investment Funds Berhad ("KIFB"), formerly known as Alliance Investment Management Berhad is a licensed fund management company under the Capital Markets and Services Act 2007. Following the acquisition by KAF Seagroatt and Campbell Berhad of 70% of the Company, it became a subsidiary of KAF Seagroatt & Campbell Berhad and subsequently renamed as KAF Investment Funds Berhad (KIFB) to reflect the change in ownership.
Currently, there are 9 collective investment schemes from KIFB listed on our platform which cover a range of conventional and Shariah-compliant products types that cater to investors with different risk profile.
KAF TACTICAL FUND
KAF Tactical Fund is a growth oriented fund that adopts a top down investment approach. The fund is classified as Malaysia general equity fund, which means it can invest into any size of stocks listed on Bursa Malaysia. However, after communicating with the fund manager, we understand that the fund manager favours the small cap segments, and the fund currently has an exposure of about 73% in the small cap stocks.
Top-down view for asset allocation decision is the key strategy adopted by the fund manager who seeks to understand the implications of the global economic condition and market development on different businesses. Furthermore, the fund manager believes that company visits are important when it comes to analysing the performance and financial condition of a single company. Hence, the investment team will frequently travel to visit the company that under their radar.
In addition, technical analysis also plays a crucial role in the investment process whereby the investment team will rely on technical analysis to determine the right timing for purchase and sale.
Why KAF Tactical Fund?
New Fund Manager
"What make the performance of a fund different from its past?" It is the key personnel – Fund Manager. Hence, we pay close attention to the change in investment team for every fund house as it is one of the crucial factors that may affect the future performance of a fund.
As for KAF Tactical Fund, a young and highly motivated new fund manager, Mr. Tan Gan Leong took over the fund in Jan 2016. Mr. Tan graduated with a Bachelor of Business, majoring in Economics & Marketing from Monash University, Australia. Prior becoming a fund manager, Mr. Tan was an investment analyst, covering listed companies on the Malaysian and Hong Kong markets.
After interviewing Mr. Tan, we get to know that he adopts an investment philosophy that is akin to the legendary investor, Warren Buffet – understanding the business/ sector thoroughly before investing. This is due to his previous experience in starting up and managing his own business, which makes him realise that business cycle and sectoral trends contribute a large part to business profitability. Therefore, this leads to his belief in the top-down investing approach as opposed to many other managers who adopt a more bottom up approach.
Superior Performance After New Fund Manager Took Over
One year right after Mr. Tan started managing the fund, KAF Tactical Fund was ranked by Lipper as first out of 125 Malaysia funds, being the best performing fund for the one year category between 30th Dec 2015 to 30th Dec 2016.
Moreover, from Figure 2, we can see that the performance of KAF Tactical Fund has outperformed both FBMKLCI index and FBMSC index by a considerable margin since the new fund manager took over.
Since the allocation for KAF Tactical Fund tilts towards the small cap segment, we think it would be more appropriate to compare the fund's performance with the small-mid cap funds listed on our platform. This fund has posted an impressive return after the shift in the management team, where we can notice the fund outperformed all the small-mid cap funds in term of year-to-date, 3-months, 6-months and 1 year return (see Table 2).
FIGURE 2: Fund's performance in comparison with index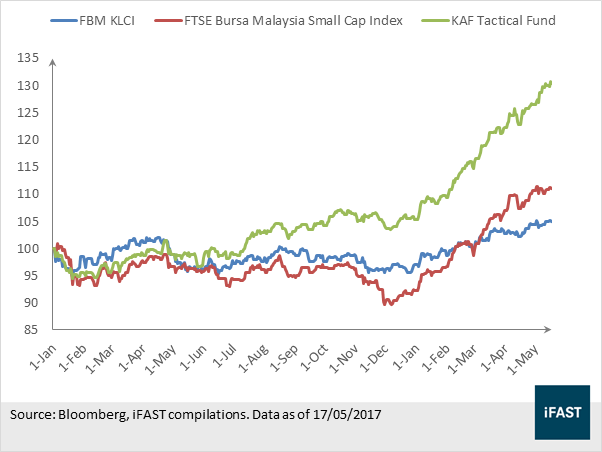 Table 2: Fund's performance in comparison with peers.

KAF Tactical Fund
23.8
13.7
22.8
5.3
Eastspring Investments Small-Cap Fund
17.8
10.6
16.9
0.3
Kenanga Growth Fund
18.6
10.5
17.5
0.0
TA Small Cap Fund
15.5
5.8
13.4
4.8
CIMB-Principal Small Cap Fund
22.0
11.8
18.7
-14.3

Source: Bloomberg, iFAST compilations. Data as of 15 May 2017.
*30 Dec 2015 - 30 Dec 2016
Agility is an advantage of being small
For a fund that is invested into the small cap segment, fund size is one of the key factors to the overall fund performance and this is one of the reasons why when small cap funds get too big, the fund managers would rather close the funds to new subscription.
We believe that with the current fund size of RM 30.21 million, as of 31 March 2017, KAF Tactical Fund is in a comfortable position. Compared to bigger funds, KAF Tactical would be more nimble as the fund manager can build or liquidate meaningful positions (within the fund's portfolio) across more companies without affecting the target company's share prices by much.
Compared to smaller competitors, we suspect KAF Tactical Fund would less likely run into liquidity problem when facing redemptions. Investors should note that for small funds, when a major client redeems his investments, the fund manager may have to liquidate stocks holdings to meet redemptions. When the invested stocks are illiquid, the liquidation of stocks may cause downward pressure on stock prices which would then likely depress NAV of the fund. For KAF Tactical Fund, we are happy to note that aside from having a healthy size, the fund keeps about 10-15% of the NAV in cash & cash equivalent assets to cater the liquidity needs for redemption.
Fund Manager Eats His Own Cooking
"Is my fund manager interest properly aligned with my interest?" This is one of major concern for most of the mutual funds' investors. As a norm, most of the fund managers will receive only fixed remuneration if there is no extra performance fee. Hence, investors might worry that there is no incentive for fund managers outperform their peers.
However, a fund that charges performance fee does not guarantee that the fund manager will perform because a fund manager who intends to generate more returns which might end up taking more unnecessary risks that beyond investors' tolerance.
As a result, it is important to look for "a chef that eats his own cooking" – a fund manager who invests his own money into his fund. During our meeting with the fund manager, we understand that the fund manager invested significant portion of his own money into KAF Tactical Fund, and the company internal staffs have invested alongside with the fund manager with total investments amounting to a meaningful portion of the fund's total assets. This is comforting to us and suggests a strong alignment between fund manager and investors' interest.
Key Takeaway
With the strong rebound in the local economic condition supported by the bundle of decent macroeconomic data, Malaysia's equity market is likely to continue its uptrend in the following quarters of the year. Hence, for investors with greater risk appetite, they can consider investing into KAF Tactical Fund as supplementary part of their portfolios, with not more than 10% allocation of their overall portfolios.