Local investors have been finding it hard to keep up with the news flow coming from the government officials of Malaysia, particularly from Prime Minister Tun Dr. Mahathir himself and Finance Minister YB Lim Guan Eng. Like many of us, foreign investors and market participants are attempting to project the possible impacts of these developments on Malaysia's economic stability and growth prospects.
Taking a 30,000 feet view, just when investors thought the noises stemming from trade wars and geopolitical tensions have finally begun to settle down, US President Donald Trump surprised market participants yet again by stating that he was not satisfied with the on-going progress of the trade negotiations with China. Also, the summit meeting with North Korean leader Kim Jong-un scheduled earlier was called off as well. Looking across the Atlantic Ocean, the political unrest from Italy in the Eurozone has rattled global equities as we close the books for the month of May.
The abovementioned factors appeared to be a series of complicated strands for investors to digest, resulting a volatile domestic equity market. While uncertainties are lurking and volatilities persist, we think there are attractive opportunities lying within the domestic small-to-mid cap space. In this article, we will share our insights with investors and how one could tap into these growth opportunities via KAF Tactical Fund.
More downside risks for the Ringgit
FIGURE 1: Ringgit strength vs small-cap performance.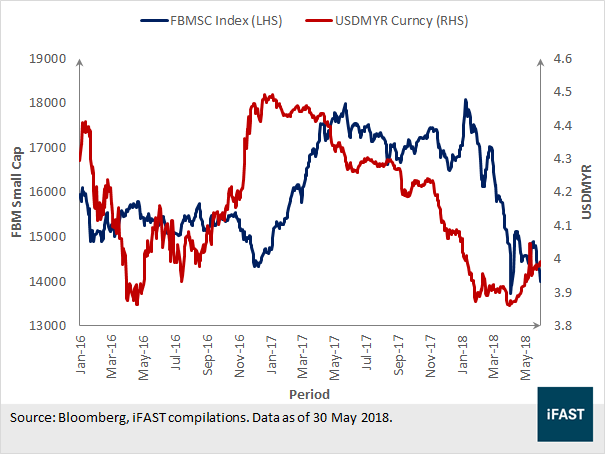 Ringgit was one of the best performing currencies in Asia last year. Moving into 2018, a favorable global growth backdrop, higher oil prices and a pick-up in consumer spending have given Malaysia's economy a stronger footing. These factors have contributed to the strength of the Ringgit.
For exporters who derive most of their revenues overseas, a sustained strength in Ringgit means compressed profit margins. These developments have dimmed the earnings prospects of small-to-mid cap companies where businesses reside within the exports and manufacturing segments, eventually led to a price correction in this space (see Figure 1).
While Ringgit is still fairly strong compared to where it was a year ago, we think that there is a lack of catalyst for it to go below the 3.8 level, given that much of the positive macroeconomic stories and tailwinds have been priced in to date. In recent times, worries on possible downgrade in sovereign ratings plus the 1MDB saga are fueling foreign sell-off within the local equity and bond space, exerting downward pressure to the local currency.
The policy uncertainties stemming from the ruling of the new government are likely to stay around for the time being. This is likely to take Malaysia's asset out from the foreign investors' to-buy list temporarily until more clarities emerge, which helps to explain part of the recent fall in FBMKLCI Index and MGS. Also, bear in mind that we are in the midst of an interest rate hike cycle in the US, where market participants are still pricing 3 more rate hikes to take place in 2018. These are all painting a weak Ringgit picture, which could be a plus for the small-to-mid cap segment.
Sturdy external and internal demand to benefit small-to-mid cap segment
The Malaysian government has recently announced to zero-rate GST as one of the initiatives increase the spending power to the people. Although credit rating agencies have held a negative view on this move, the on the ground sentiments of the people are better.
Back in 2015, consumers' pockets were under huge strain from the introduction of GST plus removal of various subsidies on consumer staple goods. For an economy that relies on consumer spending for close to half of its economic growth, Malaysia's economy weakened inevitably throughout 2015 and 2016. It is not until 4Q2016 where we start to see signs of recovery for the economy as consumers acclimatize with GST (see Figure 2).
FIGURE 2: Better consumer sentiment points to stronger growth.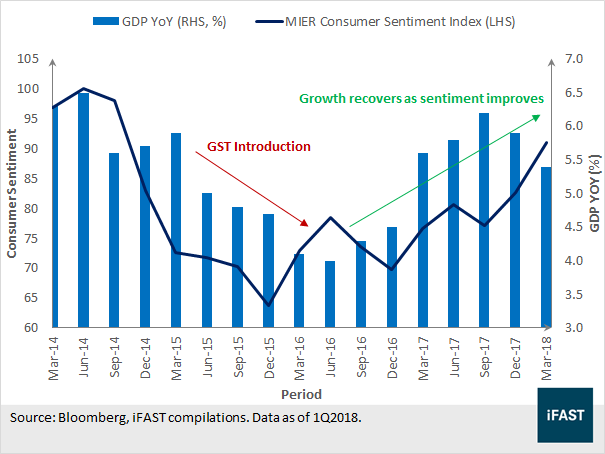 The government's move to zero-rate GST is likely to lend strong support to consumer spending. Within the small-to-mid cap segment, consumer-related businesses such as manufacturers, retailers and services providers are poised to benefit from better consumers' confidence.
On the external trade front, exports growth remains resilient. This falls in line with the continued improvement of the US, Europe and Japan economies. Exports to trading partners within the Asian region have expanded favourably as well. Barring the fact that previous strength in Ringgit may have eaten into the bottom line, top line growth is expected to remain strong moving forward.
Zero-rated GST a plus for businesses
Consumers are not the only beneficiaries from the initiative mentioned above. Companies which previously experienced tightened working capital condition will now enjoy better liquidity. Small-to-mid cap companies, which generally have less access to favorable credit line, stand to benefit most from zero-rated GST compared to that of large-cap companies.
A lower working capital requirement means less pull on liquidity and a healthier balance sheet. Companies with greater excess of working capital can potentially redeploy these cash into investments and capture attractive growth opportunities.
Why KAF Tactical Fund?
High conviction for earnings growth yield decent returns
The fund manager derives the portfolio allocation from the state of the macroeconomy and combines a bottom-up stock picking strategy to identify stocks that could potentially benefit from the identified macroeconomic trends. As such, the fund manager will switch the asset allocation in accordance to the market developments and global economic condition.
Since the new fund manager, Mr Tan Gan Leong took over the fund back in January 2016, KAF Tactical Fund has delivered commendable performance against its peers (see Figure 3). Aside from identifying macroeconomic trends and fundamentally-sound companies, the fund manager also places emphasis to invest only in companies with robust and sustainable earnings.
FIGURE 3: Performance comparison against peers.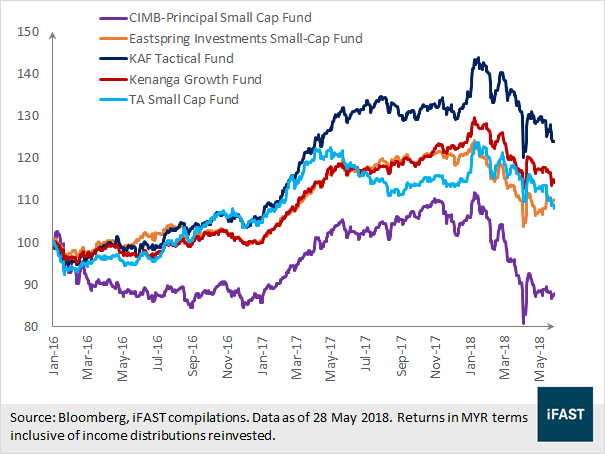 Table 1: Performance comparison.

3-mth (%)
6-mth (%)
1-Yr (%)
2-Yr* (%)
CIMB-Principal Small Cap Fund
-0.3
-18.3
-17.6
-14.6
0.4
Eastspring Investments Small-Cap Fund
3.0
-8.2
-8.9
-5.9
4.6
KAF Tactical Fund
-3.5
-12.7
-6.5
-4.8
13.3
Kenanga Growth Fund
-2.6
-10.8
-6.7
-2.7
8.6
TA Small Cap Fund
-4.1
-11.8
-5.0
-9.0
6.4

Source: Bloomberg, iFAST compilations. Data as of 28 May 2018. Returns in MYR terms inclusive of income distributions reinvested. *Annualised
High conviction for earnings growth yield decent returns
In our recent engagement with the fund manager, the fund has taken a hit the recent amid its exposure towards BN-linked stocks. The fund has then disposed most of the positions from their portfolio due to the fact that most of the contracts or previous working arrangements will likely come into question going forward. Instead of "catching a falling knife", the fund manager is of the view that share prices are likely to overhang in the meantime and would prefer to wait for more clarity on the earnings prospects of these companies.
When asked about Ringgit's prospect, the fund manager is of the view that Ringgit's weakness is likely to persist for the time being as foreign investors reassess Malaysia's political and economic landscape. However, the fund manager maintains a positive view on Malaysia's economy and opines that valuations are starting looking attractive again within the small-to-mid cap space.
Conclusion
To sum it up, there are a few tailwinds for Malaysia's small-to-mid cap segment: a higher downside risks in Ringgit, lower working capital requirement together with robust external demand and stronger private consumption. The current correction within the small-to-mid cap segment translates to an attractive buy for investors who are on the hunt for growth opportunities.
For investors who wish to ride along with our upbeat view on Malaysia's small-to-mid cap segment, they can invest into KAF Tactical Fund as supplementary part of their portfolios, with not more than 10% allocation of their overall portfolios.