After being one of the top performing equity markets in 2017 with double digit return of more than 25%, the Asia ex Japan equities have been facing a bumpy ride since the beginning of this year amid growing worries from the escalating trade spat to increasing geopolitical uncertainty. As of 24th August 2018, MSCI Asia ex Japan Index has registered a YTD loss of -7.0% in MYR term while the average YTD returns for the Asia funds that are listed on our platform was -5.3%, ranging from +1.5% to -13.0%. Despite the bumpy path, the Asia ex Japan equities are offering lucrative upside potential. Hence, in this month's fund choice, we are hand-picking Maybank AsiaPac ex-Japan Equity-I Fund for investors to tap into the investment opportunity in the Asia ex Japan space.
Economic Growth is Slowing but not Collapsing
The recent weakness in Asian Equity was a result of the economic growth moderation, particularly in the world second largest economy, China. Although China's 2Q GDP figure was in line with the market expectations, it has cooled from the 6.8% y-o-y growth registered in the previous quarter due to the on-going debt curbs as well as the US-China trade tussle (see figure 1).
FIGURE 1: China's GDP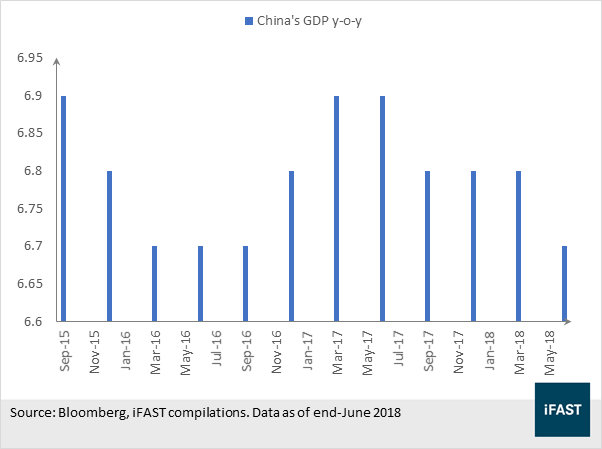 Besides that, there are also several economic indicators that are pointing to a weakening economic growth for China in months ahead such as the decelerating industrial profit growth, disappointing industrial production growth and the weaker than expected fixed asset investment as well as retail sales.
Although there are plenty of headlines mentioning the possibility of a hard landing for Chinese economy given the weak economic data that released recently, we believe that the Chinese economy is just slowing down instead of collapsing.
FIGURE 2: China Economic Data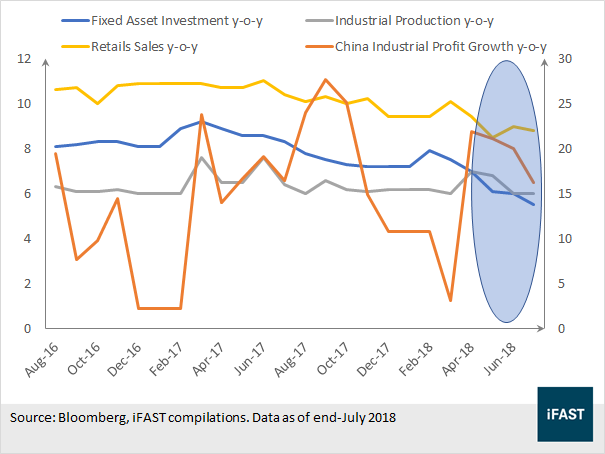 Beyond China, the economic growth was accelerating in countries like South Korea and Taiwan where both countries have benefited from an improved contribution from the external sector to overall growth. Particularly for South Korea, the increasing Chinese tourists' arrivals as well as the rising shipments of semiconductors were the main drivers of the economic growth in Q2 2018.
FIGURE 3: Korea and Taiwan's GDP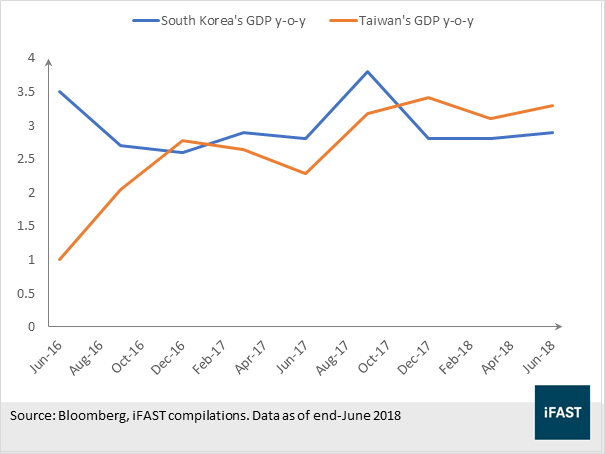 From the current standpoint, we understand that there are still numerous uncertainties for the Asian equities particularly the unresolved trade war issue as well as the tightening monetary policy. However, given that most of these concerns are stemming from policy wrongfooting which could be reversed if such implementations resulted unfavourable outcomes. Hence, it spares policymakers with some room for rectification.
Undemanding Valuation with Appealing Upside
The expected return for an equity market is a function of dividend, valuation as well as earnings growth. Hence, despite the downward revision in earnings growth for Asian equities, the expected returns are trending upward since beginning of this year due to the recent sharp correction, indicating an improving attractiveness in Asian equities.
FIGURE 4: Expected Returns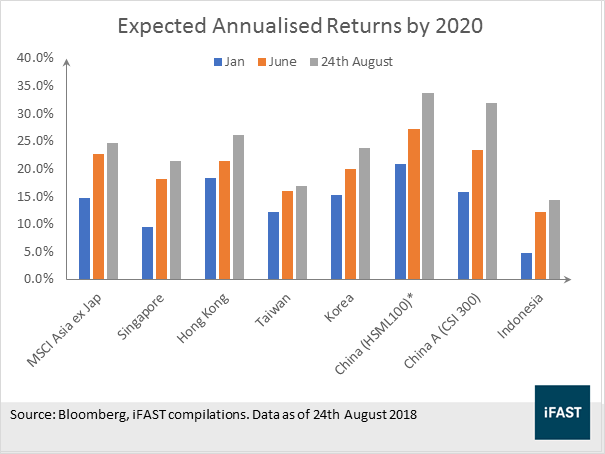 No doubt, investors might question that the low valuation in Asian equities might not help in generating higher returns given the current volatile environment with unsettled US-China trade conflicts, tightening global liquidity and also the strengthening dollars. However, investors should aware that market timing is never an easy task. Hence, looking at the current undemanding valuation for Asian equities coupled with the attractive upside potential, we believe that it is a decent investment opportunity from risk reward point of view.
Maybank AsiaPac Ex-Japan Equity-I Fund
Maybank AsiaPac Ex-Japan Equity-I Fund is a growth-oriented fund which aims to achieve capital growth over the long term by investing into shariah compliant equities in Asia Pacific ex-Japan region. We have on-boarded this fund in late-April this year with the intention to expand the array of Asia equity funds for our investors, particularly within the Shariah-compliant space.
Fund Manager's Favourite
The top 2 sectors with an overweight position are Information Technology and Energy sector. For the IT sector, the fund manager prefers the Chinese technology counters like Alibaba given the large and rapidly growing internet user base in China. As of end July 2018, the fund was investing about 31% into the Information Technology sector.
Besides that, the fund manager possesses a bullish view on oil price with an overweight position in the Energy sector (+4.5% vs MSCI AC Asia Pacific Islamic ex-Japan Index). Although they do expect some volatility in oil price over the short-term basis, they believe the underlying trend for oil price remains reasonably robust given the risks to supply.
Consistent Performance
In terms of performance, the fund delivered a rather respectable performance this year with a YTD return of -0.2% as compared to the average YTD returns of close to -3.0% for the Asia ex Japan Islamic funds.
On top of that, over the 2 and 3-year period, the fund registered a comparable performance against one of our conventional recommended funds for Asia ex Japan category – CIMB-Principal Asia Pacific Dynamic Income Fund, and outperformed the rest of the Asia equity shariah-compliant funds.
In terms of risk, the fund marked a rather average volatility as compared to its peers (see table 2). Hence, given its consistent performance coupled with the low volatility, it translated into a higher sharp ratio for the fund.
Table 1: Performance Comparison

Table 2: Risk Adjusted Return

Conclusion
All in all, as we have maintained our preference for the Asian equities as compared to their developed counterparts, we believe the current attractive valuation for Asian equities will again translate into the outperformance for the continent. As such, for investors who wish to sail along with us, they can invest into Maybank Asiapac Ex-Japan Equity-i Fund.