Table 1: Returns for respective markets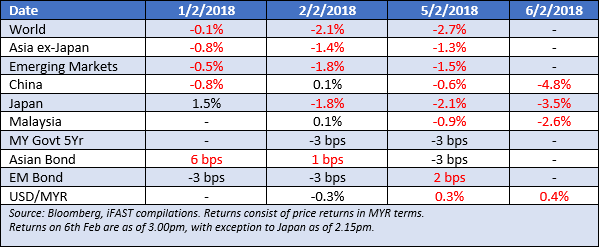 Over the last 3 days, the global equity market experienced a frantic sell-off, with the S&P 500 index falling more than -6.0%, Nikkei 225 index dropping -5.9% and the MSCI Asia ex Japan index plunging -3.5%. On the fixed income front, Malaysia government bond posted rather stable performance, with the 5-year MGS yield declining -6 basis points over the last 2 trading days.
One of the possible reasons that triggered the sell-off that started since last week was the stronger-than-expected job data coming from the US front, which led to fears that US Fed might hike rates faster than expected. In fact, this was reflected in the probability of FED rate hike in March which improved from 69% in early January to 83% as of 6th February 2018.
On top of that, another possible reason that contributed to the dip were the various earnings releases from the US Tech Giants which somewhat missed the market expectations. With various news headline painting a strong picture for the tech sector and global economic growth into 2018, market participants were taken aback by corporate earnings missing consensus estimates. In other words, expectations were too high and now equities are reflecting those disappointments.
In fact, we have highlighted the risk of high earnings expectation previously, where missing estimates will indefinitely translate to some disappointments and market volatilities, and is probably happening now. At this point of time, we do not think that it is the beginning of the end as we still positive on the global equity outlook given the synchronized global growth and the recovering corporates earnings.
As we are still pending the funds' returns for our holdings, we have estimated the impact on our portfolio by using the respective indices returns over the last 3 days (see table 2).
Table 2: Estimated impact on portfolios

Portfolio Action
Given the performance of the indices, we are aware that our Chinese and Japanese equities exposures would likely be the largest detractors. On the other hand, our holdings in Malaysian bonds have helped to cushion the falls brought by equities. Our portfolio team is actively monitoring the underlying funds of the portfolios performance and looking at possible actions that we could take to take advantage of market weakness.
In a nutshell, we continue to advocate a portfolio approach. Although a portfolio approach does not make investment immune to downfalls in equities market, it makes market falls like previous week more bearable. We will actively evaluate options on adjustments to each portfolio to maximize its risk-adjusted returns and ensure our portfolios are able to weather the current market conditions.