In accordance to the decent performance from global equities, particularly from Asia ex-Japan region, we have adjusted our asset allocation by dialing down our equities' overweight position given the expectations of lower returns from equities moving forward. Despite the portfolio adjustment, we remain bullish on the outlook of the aforementioned region, and opines that the region may continue to present growth opportunities for investors.
In this article, we look to share more economic insights on the Asia ex-Japan region with regards to our 2H2017 outlook, and how investors could ride along with our bullish call on the region with some of the top performing funds which have exposure to the Asia ex-Japan region.
What's Interesting About Asia ex-Japan?
In our 2H2017 outlook, we have mentioned that the room for further rerating in valuation multiples are increasingly limited. Having that said, earnings are expected to be the key determinant of the market performance in the coming months. Economies within the Asian region, particularly our North Asian counterparts, have witnessed strong positive earnings revision year-to-date. Should corporate earnings continue to deliver in the coming quarters, we opine that it should be able to provide support to Asian equities' performance going forward.
While earnings are expected to be the dominant support to equities' performance, it is equally important for investor to take note on the Asian economies' landscape, as a decent macroeconomic picture may produce positive cascade effect towards corporate earnings. Here are some of the recent macroeconomic developments:
Within manufacturing sector, Asia's production and manufacturing sectors continue to show signs of expansion, as the Purchasing Managers Indices (PMI) continue to trend above 50. This piece of data portrays that manufacturers are still expecting global aggregate demand to remain robust on the back of global economic recovery.
FIGURE 1: Manufacturing activities remain robust across Asia.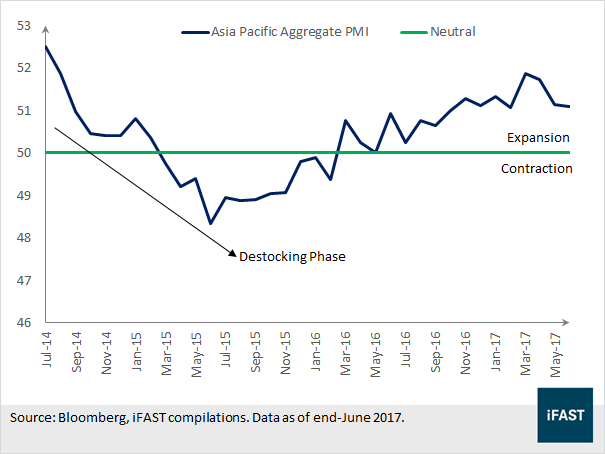 The recent moderation in exports growth numbers may be attributable to the diminishing low-base effect from oil and gas exports. Moving forward, we expect Asian exports growth to hold up well on the back of global economic recovery, and this will remain as a positive driver for Asian economies which derive a meaningful part of their growth from export and trade activities with the rest of the world.
FIGURE 2: Exports growth moderated on aggregate, but remained expansionary.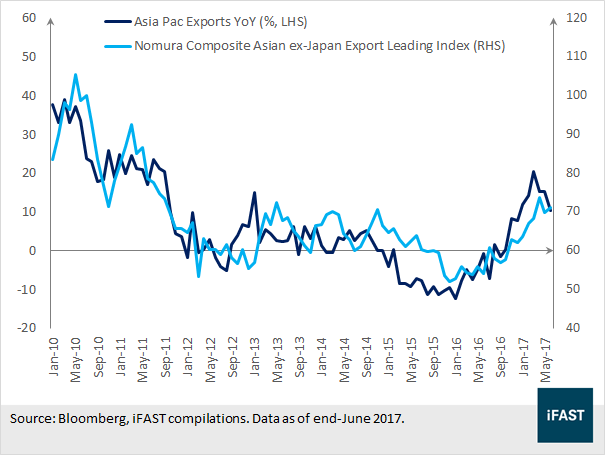 Asian countries are in a much better position today: 1) On the political front, investors are less worried about Asian countries, and most of the political noises and instability concerns are stemming from their developed market counterparts; 2) Foreign reserve levels are generally standing at a healthy level against external debts, while current account balances are in good shape. This translates to a stronger ability to weather external uncertainties.
FIGURE 3: Asian countries have healthier level of reserves to weather uncertainties.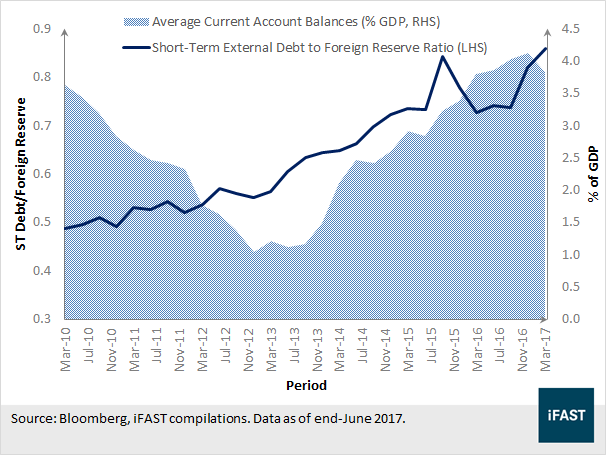 All in all, the macroeconomic picture within Asian economies remains intact at this juncture, and should play a part as a positive backdrop for the equity markets within the region.
Set Sail Along with Us Via These Asian Funds!
CIMB-Principal Asian Equity Fund
Incepted since March 2006, this fund aims to achieve capital growth via investing in equity securities of companies domiciled in or derive most of their revenues in the Asia ex-Japan region. Similar to its house peer on our recommended fund list, this fund has also appointed CIMB-Principal Singapore as the Sub-Manager of the fund, and the sub-manager will be in charge on the asset allocation in accordance to the outlook of different geographical markets as well as domestic interest rate trends.
Unlike CIMB-Principal Asia Pacific Dynamic Income Fund which offers investors a combination of income and capital appreciation investment strategy, CIMB-Principal Asian Equity Fund primarily invests in companies that offers growth opportunities, with little focus to dividend yields and income. This fund may be suitable for investors who are willing to take on more risk for capital growth opportunities.
Eastspring Investments Asia Pacific Equity MY Fund
For Asia ex-Japan savvy investors, they can also consider Eastspring Investments Asia Pacific Equity MY Fund. Like CIMB-Principal Asian Equity Fund, this fund seeks to invest in companies that offers potentially higher capital growth than the market average. The fund's stock selection process is similar to that of its other in-house equity funds, which are driven by a combination of strong fundamental research and proprietary valuation approach. Eastspring Investments believes that a disciplined and research driven investment style can generate attractive returns for investors over the long run.
In the recent periods, the fund has outperformed our recommended funds (see Table 1), and we attribute the outperformance to its higher allocation towards Chinese equities, which have performed decently following the stable transitioning of the Chinese economy towards consumption-led growth.
Asia Pacific Equity Income
In our previous fund choice, we took the opportunity to highlight Asia Pacific Equity Income fund to investors as an additional option to gain exposure towards Asian equities. The fund, which feeds into Blackrock Global Fund-Asia Pacific Equity Income Fund has a flexible approach to rotate between different dividend styles, and recently it has rotated towards more value-oriented dividend style, which focuses on growth stocks that are able to generate reasonable level of yields.
At this juncture, Black Rock, the target fund manager still believes that reflation will remain the key theme for Asia and that growth will outshine rising rates and trade risks. Given the recovery of Asian corporate earnings together with the continuing recovery of nominal GDP growth in China, Asian economies' growth may follow in tandem, and these elements have placed Asian in a much more attractive position.
Table 1: Funds' performance comparison

1-mth (%)

3-mth (%)
6-mth (%)
YTD (%)
1-Yr (%)
2-Yr* (%)
3-Yr* (%)
3-Yr Volatility (%)
Sharpe Ratio
Affin Hwang Select Asia (Ex Japan) Opportunity Fund
4.0
5.7
13.9
18.5
22.8
14.7
10.0
8.9
0.75
Asia Pacific Equity Income
6.1
6.4
11.4
18.9
21.0
14.0
9.9
14.3
0.46
CIMB Islamic Asia Pacific Equity Fund - MYR
6.8
11.7
16.5
20.6
22.1
12.9
13.2
9.4
1.06
CIMB-Principal Asia Pacific Dynamic Income Fund - MYR
4.4
11.0
17.8
21.9
26.0
15.0
15.2
10.8
1.10
CIMB-Principal Asian Equity Fund
5.6
11.3
17.7
22.4
28.1
13.7
14.6
11.2
1.01
Eastspring Investments Asia Pacific Equity MY Fund
5.4
7.5
14.0
20.0
32.6
14.5
10.5
13.5
0.54

Source: Bloomberg, iFAST compilations. Data as of 31 July 2017. Returns in MYR terms with dividends reinvested. *annualised return **3-year | Risk free rate: 3.3%
CONCLUSION
In conclusion, we continue to hold a positive view on Asian equities, as the corporate earnings figures continue to exhibit encouraging trend, fortified by decent macroeconomic data. We believe Asian equities still offer growth-seeking investors attractive growth opportunities, as compared to their developed market counterparts. For investors who share the same view as us on Asian equities, you may consider tapping into the investment opportunities via the abovementioned Asian equity funds.
Investors who have ride along with our bullish call on Asian equities previously may have enjoyed handsome gains thus far. While we remain upbeat on Asian equities, we once again advocate investors to be mindful of their equity portfolio exposure, particularly their supplementary portfolio allocation (<10%), and adhere to their investment objectives and risk profile.