2017 was a turning point for the Ringgit, where it rebounded from a 19-month low on the back of weakening US Dollar and surging crude oil prices. With prospects of better economic growth, the currency has continued on recovery path with a 4.3% appreciation against the US dollar in 1Q 2018.
In our view, improving economic fundamentals in Malaysia have progressively overtaken US dollar weak performance in prompting the current Ringgit uptrend but its upside is still facing resistance.
In this article, we would like to share our insights on both Ringgit and US dollar in coming months.
Ringgit – Reversal of Fortune in 2017 to Continue but Firmer Ahead
Stable Crude Oil Price Supports Ringgit
In our view, the recovery in commodity prices is expected to continue into Q2 2018. Demand for oil has improved as global growth picked up pace, and supply is expected to be tight with OPEC and its allies outside the oil cartel having agreed to maintain oil production cuts until the end of 2018. World oil inventory is widely expected to decrease slowly. As such, this bodes well for the outlook of Brent crude oil prices moving forward.
Given that Malaysia is a key exporter of energy products, the rising Brent crude oil prices is a positive for the Ringgit as this translates into a lift towards Malaysia's current account surplus and helps narrow its fiscal deficit. Given Ringgit's strong correlation to prices of Brent crude oil, a price stabilisation of the latter at above USD 70 per barrel would argue for potentially firmer Ringgit value moving forward (see Figure 1).
FIGURE 1: Consolidate Brent Crude Oil Prices Makes Ringgit Firmer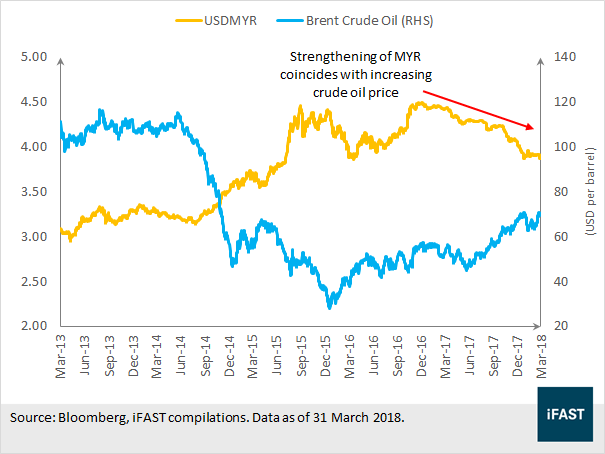 Paring Risk Premia – Encouraging Sign for MGS
FIGURE 2: Return of Foreign Bond Investors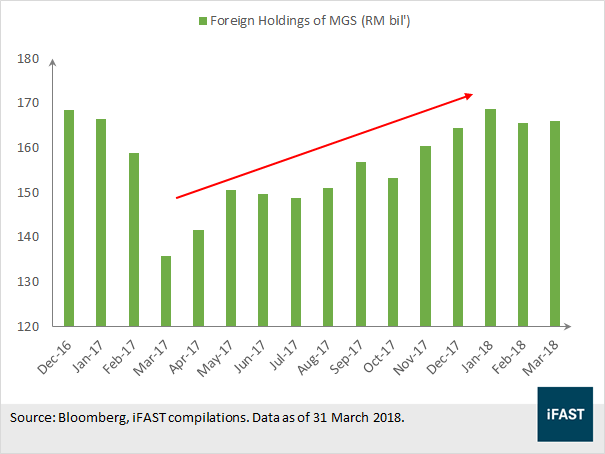 According to Securities Commission's 2017 Annual Report, foreign investors have gradually return to the local bond market since 2Q 17. Consequently, foreign ownership of domestic bonds increased to RM 166 billion by end March 2018 from RM 136 billion in March 2017 (refer to Figure 2).
As foreign investors are bumping up their holdings of Malaysian bonds, we believed that this has reflected investors' long-term positive outlook on Malaysia. Besides that, foreign inflows were also buoyed by the stronger Ringgit outlook and firmer crude oil prices in the coming months.
With the passing of the 14th general election (GE-14), a further paring of the political risk premia is likely to sustain foreign bond investor's appetite in Malaysia. When that happens, it is generally a positive sign for Ringgit's future valuation (see Figure 3 and Figure 4).
FIGURE 3: Bond Investor Return As Risk Premia Recedes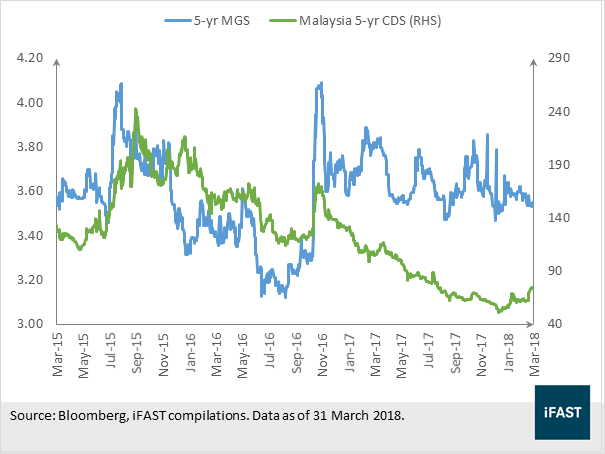 FIGURE 4: Increasing Foreign Holdings A Blessing for Ringgit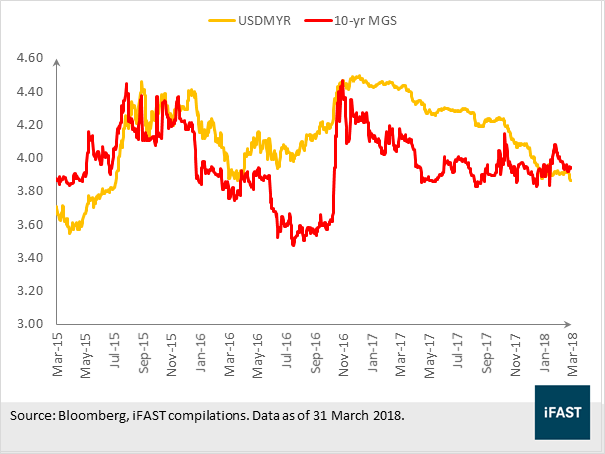 US Dollar – We Don't See A Recovery In US Dollar
FIGURE 5: US Dollar Continue to Fall in 2018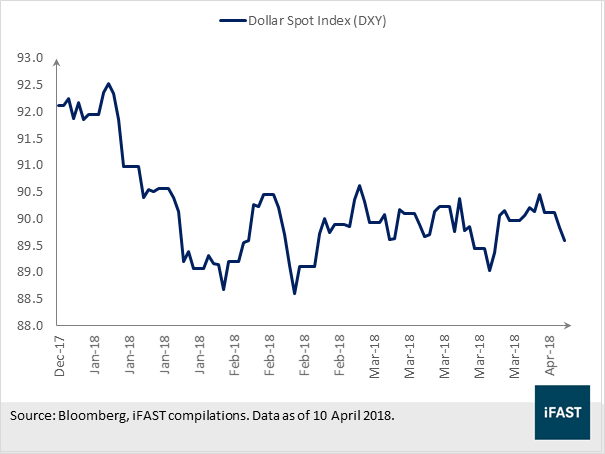 An additional factor that could technically lift the value of our home currency is by no means a weaker US dollar. By looking at Figure 5, one can observe that US dollar continues to be weak against most of its trading partners' currency in 1Q18.
The US dollar index (DXY), which measures US dollar against a basket of six currencies, nosedived to a 3-year low of 88 level end January, from 92.5 at the start of the year on concerns about US government shutdown as well as Trump and Mnuchin's weak dollar tone. In February and March, even a selloff in the equities market and Fed rate hike failed to give dollar a lift.
In terms of market sentiment, there are growing concerns about the escalating trade protectionism in White House without putting effort to finance a mounting US federal deficit from a major tax cut, which have been correlated with a weakening US dollar. Even world central banks seem to be losing faith in the mighty greenback, with their USD share of allocated FX reserves now sitting at a 4-year low (see Figure 6).
While we are not penning a weaker dollar narrative at this juncture, we do not see a lasting recovery for US dollar on the horizon. Escalating global trade tensions, triggered by Trump's decision to impose import tariffs on steel and aluminium, pose the risk of undermining the willingness of US's trade partners and investors' appetite to hold USD or USD assets moving forward.
FIGURE 6: US Dollar Share of Global Currency Reserves Declined to 4-Year Low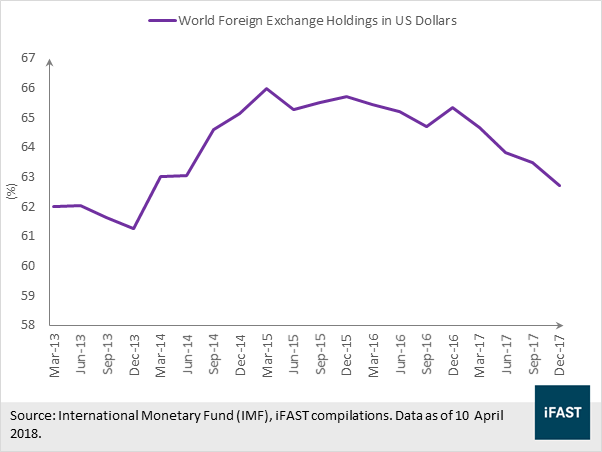 The Bottom Line
While the Ringgit should continue to strengthen on a benevolent US Federal Reserve (Fed) outlook (read our latest insights on Fed rate hike in March 2018), firmer crude oil prices as well as sustained foreign investor risk appetite into Malaysia bond space, we believe that the Ringgit is likely to stabilise (RM3.85 - 3.90 against USD) at the current level in the near term given that we are of the view that the market has sufficiently priced in the positive factors earlier this year.
At this juncture, we would like to remind investors to be mindful when investing into funds with foreign exposure and refrain from chasing foreign exchange (FX) return. Should the US dollar continue to stay in dust and the Ringgit remains on track in its recovery path in the coming months, local investors may incur FX losses. This implies that MYR hedges are still relevant for investors, particularly in regards to the fixed income portion of one's portfolio. The hedge will help to mitigate adverse effects from currency fluctuations vis-à-vis the MYR when volatility and uncertainty arise.
In addition, investors should focus on the fundamental of the market to identify investment opportunity that will give decent potential returns from their investments. As we remain our view for an overweight equities-bonds allocation for the year ahead, we have maintained our preference for Asia ex-Japan and EM equity markets due to their attractive valuation and earnings growth relative to their developed market peers.