Overview
Recently, Manulife Asset Management Sdn Bhd ("Manulife MY") launched a balanced fund, Manulife Asia Pacific Income and Growth Fund. The fund is a feeder fund which invests into Manulife Advanced Fund SPC – Asia Pacific Income and Growth Segregated Portfolio, managed by Manulife Asset Management (Hong Kong) Limited ("Manulife HK"). The target fund invests in the Asia ex-Japan ("AxJ") region, with the objective to provide investors with income and capital appreciation over the medium to longer-term by investing primarily in equity and fixed income related securities. The fund's base currency is in US dollar, with two currency classes available to investors: MYR Class and MYR-hedged class.
FIGURE 1: Fund structure.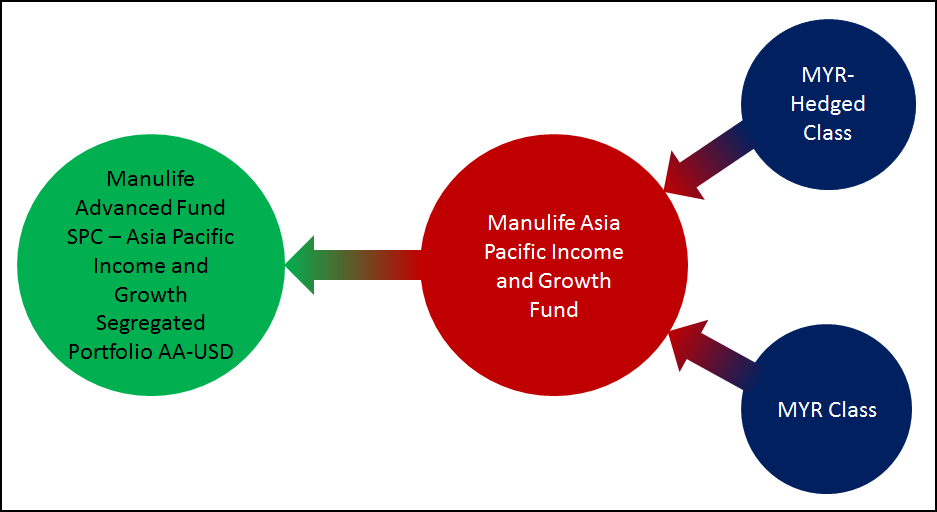 Investment Strategy
On the feeder fund level, the fund is mandated to invest at least 95% of the fund's net asset value (NAV) into the target fund, while maintaining 2%-5% in money market instruments or fixed income securities with maturity period of less than a year for liquidity purposes. The investment strategy of the fund will be resultant from the strategies that are employed at the target fund level.
The target fund, as mentioned above, is being managed by a team of portfolio managers ("PM") from Manulife HK. The fund targets an inter-asset allocation of 60% into equity securities and 40% into fixed income securities. The inter-asset allocation may vary between 25% to 75% depending on top-down investment views while considering of bottom-up fundamental analysis. Given the fund's objective, the fundamental analysis of individual securities will also be scoping on their ability to generate sustainable income.
In geographical terms, the target fund invests the equity portion into companies that are domiciled in the AxJ region. For fixed income portion, however, the target fund may invest up to 10% of its NAV on issuers outside of the AxJ region provided that the portfolio management team is positive that these fixed income securities would help the fund to achieve its investment objectives.
Looking into risk management, at the target fund level, the target fund may hold up to 30% in cash or short-term money market instruments under normal market conditions; the cash level may go up to 40% in times of extreme market volatility or severe market conditions.
Portfolio Team's Outlook
For 2018, PM expects US interest rates to increase, but the pace should be modest. As such, the performance of high-yielding Asian stocks should remain supported against a backdrop of low interest rate environment in Asia. From a macroeconomic perspective, PM opines that the economic data within the region remains robust and would be supportive of earnings growth.
The PM sees good value in Hong Kong-listed Chinese companies. Companies with strong balance sheets are preferred, as this allows them to weather near-term challenges and still be able to maintain generous dividend payment policies. The PM shares the same view as us towards Chinese banks given the sector's low valuations and high yield offerings.
Within Hong Kong, the PM is positive on the telco sector, particularly within the fixed line broadband segment, due to expectations of robust high-speed broadband penetration. In contrast, the PM is shying away from the property segment amid increased competition and high valuation levels.
Looking towards east, the PM has turned positive on South Korean autos due to depressed valuations and bottoming out of the earnings profile. The PM is holding a cautious view towards Australia due to high valuations and downside risks to the currency. The PM is of the view that any further retracement in commodity prices coupled with a narrowing interest rate differential with the US could put pressure on the currency this year.
The PM favours many insurance stocks in the region and has positioned the portfolio into several companies in Australia and Taiwan. The PM is positive that these positions can offer attractive dividend yields and will also benefit from the rising interest rate environment.
Historical Performance
Since the feeder fund has a relative short historical performance, we have looked into the target fund's historical performance instead. The table below shows the target fund's performance compared to that of its peers.
Table 1: Funds' return comparison table.

3-mth (%)
6-mth (%)
1-Yr (%)
2-Yr* (%)
3-Yr* (%)
3-Yr Sharpe Ratio#
RHB Asian Income Fund
-2.16
-0.76
-0.37
2.96
8.79
7.45
0.70
RHB Multi Asset Regular Income Fund
-2.36
-4.33
-5.16
-5.86
2.90
3.92
0.11
Pheim Emerging Companies Balanced Fund
-1.44
0.28
4.22
5.27
7.36
4.86
0.24
Affin Hwang Select Asia Pacific (ex-Japan) Balanced Fund-MYR
-0.68
0.24
5.01
8.36
12.7
8.41
0.93
Manulife Advanced Fund SPC – Asia Pacific Income and Growth Segregated Portfolio
-2.53
-2.33
-2.70
0.65
10.61
7.73
0.62

Source: Bloomberg, iFAST compilations. Data as of 21 Feb 2018. Returns in MYR terms inclusive of any dividends reinvested. *Annualised #Risk-free rate: 3.3%
According to the data portrayed above, one would observe that the target fund delivered comparable performance against its peers on our platform. Despite slight underperforming its peers over the recent periods, the target fund has clocked 10.6% and 7.7% annualised return over the past 2 and 3 years respectively.
Its recent underperformance is likely attributable its high allocation to equities (>65%, as of latest annual report) compared to that of its peers such as RHB Asian Income Fund and Affin Hwang Select Asia Pacific (ex-Japan) Balanced Fund (~50%, as of latest annual report). The high equity allocation is reflective of the PM's favourable view towards the encouraging macroeconomic backdrop of the region. Pheim Emerging Companies Balanced Fund has more than 30% allocation towards Malaysia, which helped its portfolio to cushion some of the forex losses from the weak Dollar in recent times. However, this comes at the expense of lower exposure towards other parts of the region.
Conclusion
All in all, we believe that Manulife Asia Pacific Income and Growth Fund offers a good medium for moderate investors to gain exposure into the Asia ex-Japan. It's investment strategies allow investors to not only tap into the exciting growth opportunities residing within the region, but also capture yields from dividend and coupon paying securities. For investors who are seeking shelter against the strength of the Ringgit, they could opt for the MYR-hedged currency class.