Strong Performance Since Previous Upgrade!
Since the previous time we adjusted our star ratings on Europe, the continent's aggregate equity market has seen relatively strong performance, with the benchmark Stoxx 600 Index registering a 9.3% total return in EUR terms (as of 30 June 2017). In MYR terms, the index posted a 13.2% total return since then, with gains partially boosted by the appreciation of the common market's currency against the Malaysian Ringgit over the period.
CHART 1: Various European Equity Indexes Since December 2016.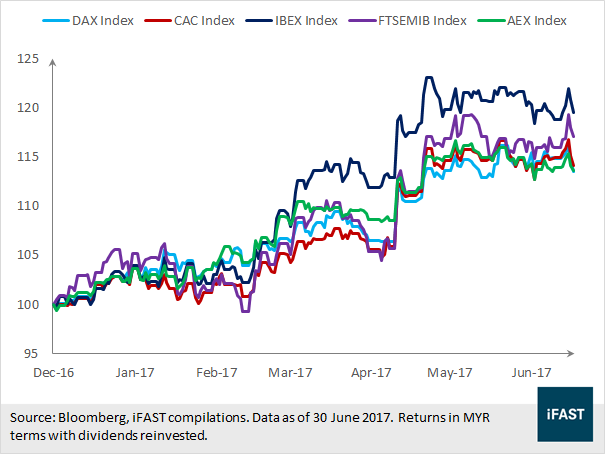 Europe's asset markets have been helped by a reduction in uncertainty stemming from the European Union's (EU) heavy political calendar this year. As explained earlier, with the victories of pro-EU centrist politicians in both Holland and France, the pendulum has swung back from 2016's irrational and unexpected events that has seen the rise of populist politics. Despite several high-key political events still up on the table (including Germany's Federal Elections in 3Q 17, the prickly Brexit negotiations between the UK and the EU, and Italy's General Elections in 2018), there is a general consensus belief that political risks in the Eurozone region have subsided, driving the reduction in political risk premiums and supporting investor confidence year-to-date. This is reflected in the EUR's appreciation against many currencies.
CHART 2: European Economic Policy Uncertainty Index Since January 2011.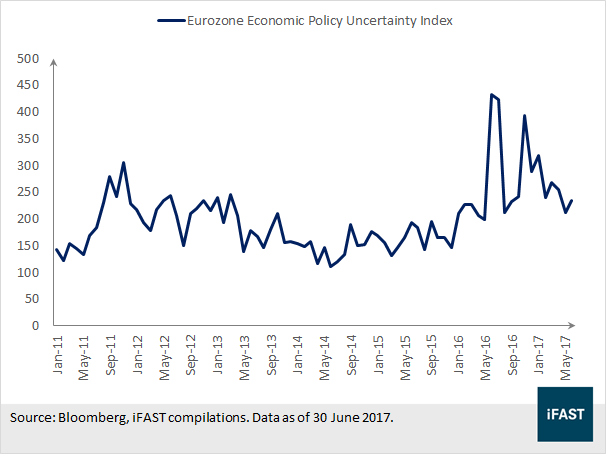 Chart 2 above shows the European Economic Policy Uncertainty Composite Index, which measures for the frequency of media references to policy uncertainty in their respective native languages from ten newspapers from the 5 largest European Union (EU) economies (UK, France, Germany, Italy, Spain), which includes newspapers like Financial Times, Le Monde, Handelsblatt, Le Figaro, Le Repubblica and El Mundo. Essentially, the index highlights the drastic fall in uncertainty felt among Europeans across the core members of the EU, which has helped to boost business and consumer confidence.
Economic Momentum Increasingly Entrenched
We continue to see an economic recovery in the Euro-region become increasingly entrenched. Unlike what we see in the US, the business cycle in Europe is in earlier stages than its transatlantic counterpart, which implies that there is more room for output expansion and capacity growth, which translates to higher potential for growth as corporate investment and domestic consumption picks up. It also means that there is higher potential for corporate profitability to increase and for margins to expand.
CHART 3: Composite PMIs Of Major European Countries Since May 2014.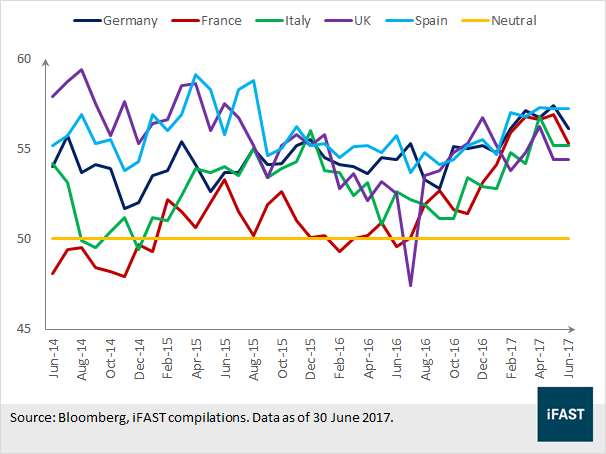 The readings of composite Purchasing Managers Indexes (PMIs) of major European countries, which are barometers of business confidence, have trended upwards year-to-date and remain firmly in expansionary territory, boding well for the outlook of corporate investment. Similarly, consumer confidence have held up well despite the various political uncertainties thus far, supporting the prospects of ameliorating domestic consumption across Europe.
CHART 4: Eurozone Sentiment Indicators Holding Up Well.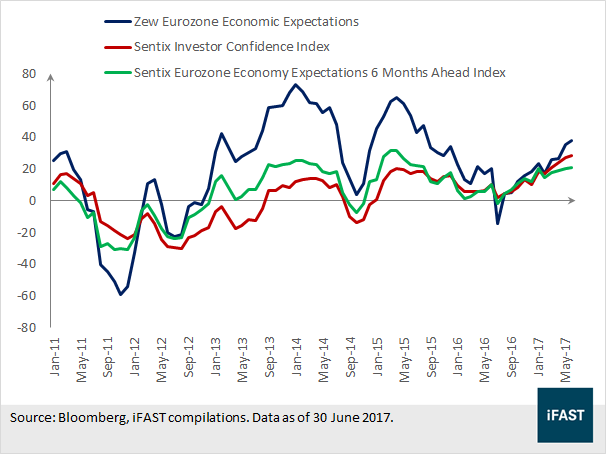 Additionally, the European Central Bank (ECB) is still maintaining its accommodative monetary policy stance, with its current stimulus of monthly asset purchases still in place as the central bank has begun to acknowledge an improvement in macroeconomic conditions across the Eurozone region. The ECB has also consistently highlighted the need for 'fiscal strategies', whether in the form of infrastructure spending or measured tax cuts, or a combination of both. Should fiscal stimulus be rolled out and implemented successfully alongside the current accommodative monetary backdrop, we could see a further pickup in growth rates across the continent, helping to raise overall income and wealth levels that would accelerate economic momentum.
Banks In The Periphery Continue To Consolidate…
Last week in Italy, an EUR 17 billion rescue was orchestrated by the government to revive Banco Popolare di Vicenza and Veneto Banca via Milan-based lender Intesa Sanpaolo. Both banks are primarily domestic lenders, providing banking services to small and medium enterprises in the Veneto region in Italy. The Italian Prime Minister Paolo Gentiloni stated that the two banks would be split into 'good and bad banks', and that intervention was needed because depositors and savers were at risk – referring to the senior creditors of the banks which are mainly retail 'mom and pop' investors in Italy. European banks saw a brief rally in their equity prices following the Italian government's announcement, as markets greeted this development positively. This latest news also comes on the back of a winding down of another troubled bank over in Spain (Banco Popular Espanol), and as the banking industry in the European periphery continues to restructure and consolidate.
Valuations Have Crept Up Once Again
While equity prices of European equity markets across the board have climbed higher, earnings estimates have been slow to catch up. On aggregate, revisions in estimates for 2017's earnings across the year thus far have been almost negligible (as of 30 June 2017). The same can also be said of the index's 2018 and 2019 estimated earnings.
CHART 5: STOXX 600 Index Corporate Earnings Estimates Trend Since 2012.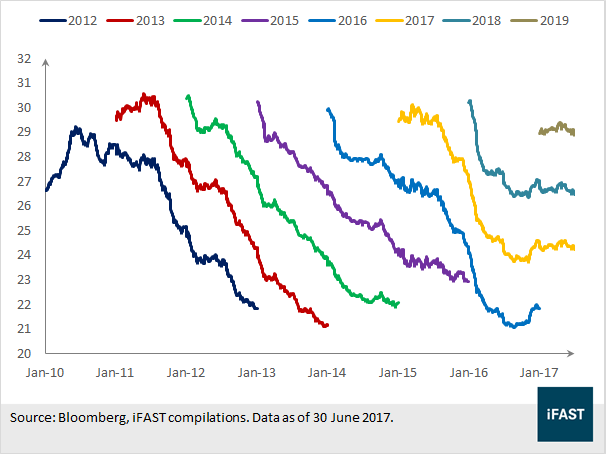 Until earnings estimates catch up (we expect earnings to improve), we find ourselves once again looking at relatively stretched valuation multiples in Europe's equity markets. As of the time of writing on 30 June 2017, the Stoxx 600 Index is trading at 15.6X 2017's estimated earnings and at 14.3X 2018's estimated earnings, a premium as compared to its fair PE ratio of 13.5X. The market trades at 1.8X price-to-book, as compared to its historical average of 1.6X.
CHART 6: Valuations of Europe's Equity Market Since 2012.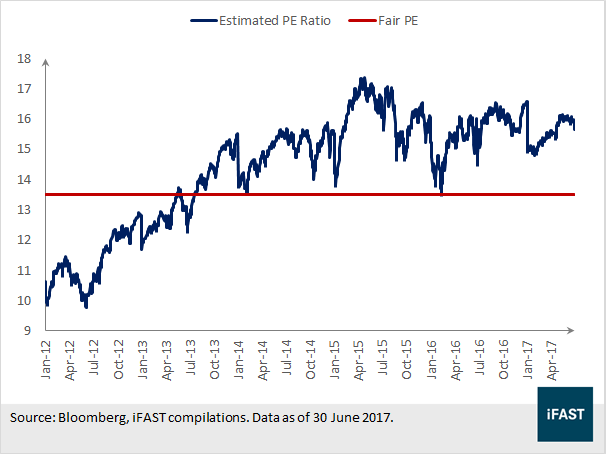 As of 30 June 2017, an investor's potential annualised return for the European equity market by end-2019 is a mere 5.0%, paling in comparison to the previous time we adjusted our star ratings. It is also one of the lowest projected returns among the equity markets under our coverage at this juncture. Overall returns are weighed down by the potential contraction in the valuation multiple component. Hence, we are adjusting Europe's star ratings from 3.0 Stars "Attractive" to 2.5 Stars "Neutral", and advocate investors to underweight European equity exposure in their portfolio.
Investors seeking higher equity market returns can consider our preferred region of Asia ex Japan, which at this current moment, still offer compelling value and higher expected upside as compared to the Western developed markets.
CHART 7: Valuations of Europe's Equity Market Since 2012.