Equity markets have tumbled, and we are now closer to where we were back in February in terms of volatility numbers. Global equities headed south after a slid in US equities, with Asian and emerging markets (EM) hit hardest. Most of the currencies were down against the greenback.
FIGURE 1: Volatility level is heading towards previous high in February.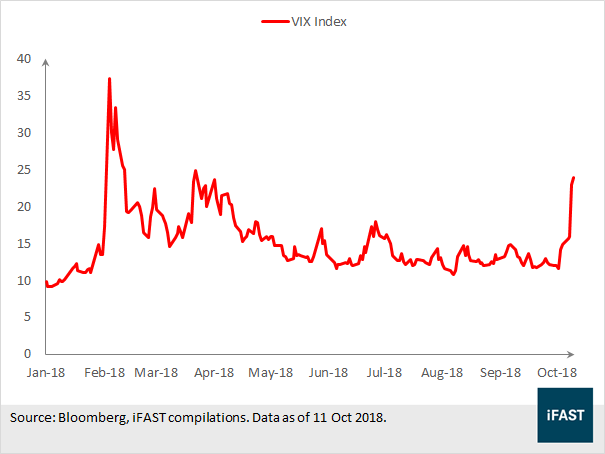 FIGURE 2: Global equities were mostly down month-to-date.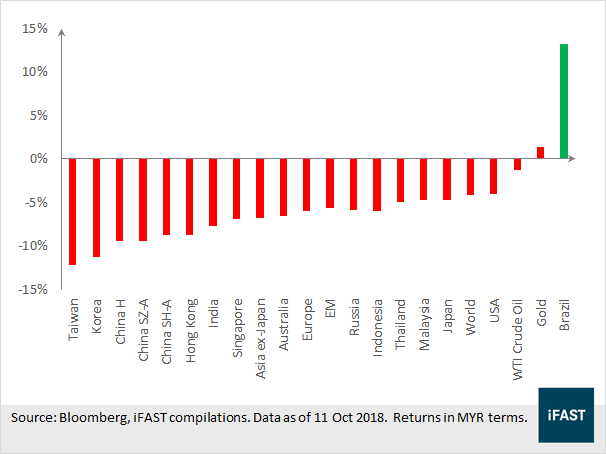 What caused the sell-off?
On the external front, we think the recent surge in US Treasuries (UST) is a part to blame. The US economy has posted strong jobs data yet again last week. This gives the Fed an impetus for another hike towards the end of the year. As a result, UST yields have ticked higher towards last Friday, which started a sell-off within US equities.
The uptick in UST coincided with the weakness in US Tech stocks. The sector has been trading on extremely rich valuations, and recently stock prices have tanked when earnings growth started to show signs of moderation. The recent downgrade on global growth outlook by IMF may have also contributed to the recent sell-off.
While the global growth engine is still chugging along on a slower pace, the economic backdrop is made up of rising energy prices, increasing opportunity cost of holding cash and a gradual withdrawal of liquidity from central banks. Coupled with the amount of uncertainties that investors need to consider from US-Sino trade war, political events into 2019 and the lingering EM contagion, it is only surprising if the market did not react to the slightest turn of events on the global economic front.
Looking closer to home, Malaysian investors are caught in the midst of foreign tides and domestic quakes yet again (remember what happened in June?). The government has announced several measures that could affect bottom-line of numerous companies, encouraging stiffer competitions within the telco sector, and its plan to scale back its equity in listed Government-linked Companies (GLC).
At this juncture, we think foreign investors are not looking back into Malaysia just yet, given that policy variability is still on the table and the lack of clarity on government's direction pending Budget 2019, which is expected to be announced on 2 November. As government decides to scale back its equity holdings without further details on its move, local investors are left with fear of ending up in a "sinking ship". As a result, many telco companies, including those with significant number of outstanding shares held by government entities, were battered heftily. The sell-off in US stocks overnight only exacerbated the pain.
What to do?
The current environment is definitely a tough one to navigate. Being investors ourselves, looking at losses across portfolios is indeed agonising and painful. However, the truth is that we can never achieve our investment objective if we were to dispose all our valuable assets whenever we experience a sell-down on the basis of fear.
Although we may have different investment horizons, we are all invested in inherently long-term instruments. Expectations and market adjustments can be terrifying at times where emotions escalate, but fundamentals and values tend to outlive those fears in the long run.
FIGURE 3: Recent sell-off has left some markets in bargAin.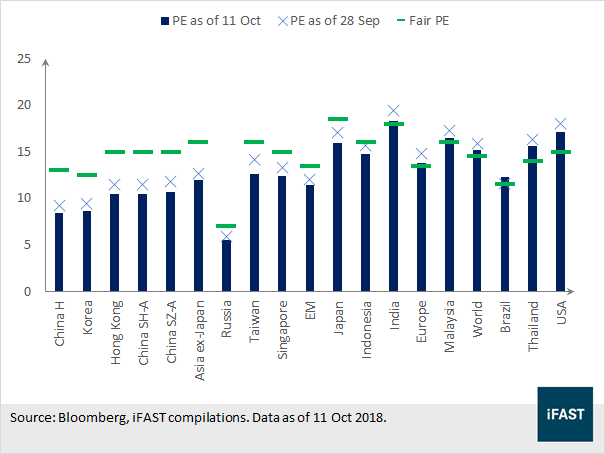 We continue to advocate investors to have a proper mix of equities and fixed income in their portfolios in accordance to their risk profiles. For those who have been invested, we encourage you to stay invested unless you are in the view that fundamentals have deteriorated, and valuations are not justifiable. By staying invested, we believe it allows investors to ride out volatile market periods with the potential to recoup losses and continue to make gains.
For investors who have been on the hunt for Asian and emerging market equities, we think that this may be a good opportunity to gain some exposure at a cheap entry cost. We recommend you to have not more than 20% of your equity budget for supplementary exposures.
See also: What happens when you ride the bear in emerging markets?