During the International Social Security Conference 2016, Bank Negara revealed that about 92% of Malaysians are worried over their financial status and are unprepared for their retirement. In other words, there are only a minority of 8% looking forward to their retirement life with sufficient financial resources to make it the best chapter of their life. To avoid the risk of shortfall, we advocate investors to start investing in their early years in order to reap the benefits of the power of compounding in their investments as well as cultivating a disciplined saving habits.
Complementary to the mandatory employee retirement savings (namely the Employee Provident Fund, EPF), the Private Retirement Schemes (PRS), introduced back in September 2012 is a voluntary savings and investment scheme which is designed to help Malaysians to save more for their retirements. In order to encourage more Malaysians to start saving for their retirement via PRS, an individual who makes contribution to his or her PRS funds will be enjoying a tax relief of up to RM 3000 per year (for the years of assessment 2012 to 2021). In light of the Malaysia Budget 2018 this week, we also expect that this personal tax relief is likely to be extended to a longer-term in order to encourage more Malaysians to save more for their old age.
In this article, we would like to share our thoughts on how does PRS benefit investors for their retirement planning.
How Is PRS Better Off Compared To Cash Investment For Retirement Saving?
Investors will be better off by investing into PRS as compared to cash investment as he will be enjoying the advantage of tax savings, zero sales charge. To give investors a better context, we assume that there are two investors at their age of 30 with an annual income of RM 72,000 where Investor A has decided to invest through PRS while Investor B will start his retirement investment with cash. We made a few assumptions where both of them will invest RM 3000 every year in a particular fund which generates 7% return annually. We also assume both investors are within the RM 70,001 - RM 100,000 annual taxable income with a 21% tax bracket. As such, Investor A are entitled to gain tax savings of RM 630 from his PRS contributions of RM 3000 and he is to reinvest the RM 630 PRS tax relief into his investment.
With that, we calculated its accumulated value when they are at the mandatory retirement age of 55 as a worker in the private sector. At their age of 55, both Investor A and B have invested RM 78,000 throughout the investment horizon. Investor A and B have saved about RM 269,000 and RM 220,000 respectively.
We found that Investor A who had invested through PRS will be better off than Investor B who did cash investment by about RM 49,000 (22.2% better off) in their PRS nest at their retirement age of 55. The difference in both investors' investment nest was attributable to the RM 16,300 tax relief where the tax relief itself is able to generate another RM 29,000 provided the if tax reliefs are reinvested.
FIGURE 1: How Much You Manage To Save When You Retire.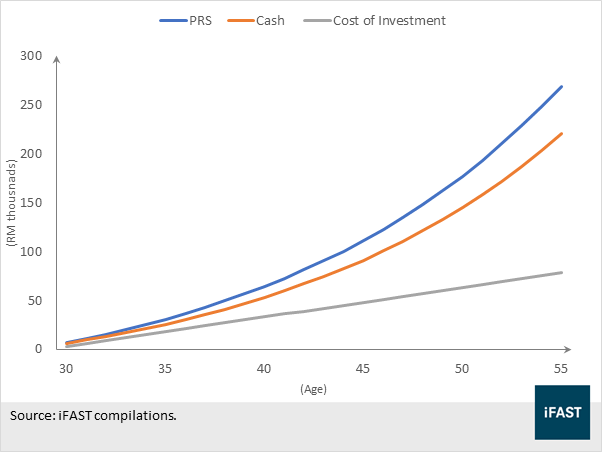 What This Means For Investors?
For investors scratching their head whether to invest through Private Retirement Scheme or invest with cash, the chart above illustrates a persuasive evidence. One who invested through PRS will be enjoying the perk of tax savings (where it has to be reinvested) and zero sales charge over the years. The effects of sales charge and tax savings will then further feed into the growth of the retirement savings which is the ultimate reasons why PRS can be better off compared to cash investment when it comes to retirement planning.
Two Sides of A Coin
Similar to EPF, contributions to any PRS fund will be maintained in two separate sub accounts (70% of contributions to Sub-account A and 30% of contributions to Sub-account B). According to the PRS mandate, full withdrawal from Sub-account A is not allowed before investors reach their retirement age. Nonetheless, investors may withdraw their contribution from Sub-account B once a year, subject to a tax penalty of 8% based on the withdrawal amount.
Investors need to beware that the tax penalty will act as a lock-in feature to discourage investors from making pre-retirement withdrawal and it is to promote savings. This might fit for investors who need discipline to cultivate their saving habits as they might withdraw their contributions or stop contributing to the PRS funds when they suffer a loss in the market or being extravagant. On the flip side, investors who favour flexibility and cash liquidity would find that this lock-in feature in PRS is limiting their financial freedom in managing their investment or retirement fund.
Takeaway
Building adequate and sustainable savings for our nest egg requires staying on course to make regular contributions for our retirement while we are constantly looking to reap the benefits of saving and investing. With a retirement scheme such as the PRS, investors receive the best of both worlds where he or she is to gain annual tax relief whilst saving more for his retirement.
Take a look on the Private Retirement Scheme (PRS) Promotion 2017 available in our platform now!