Having posted a 3-year low growth figure (5.7%) back in Q12017/18 previously, India surprised the market with its recent Q3-FY18 GDP results, clocking 7.2% year-on-year (yoy) growth. Consensus was expecting a growth rate of 7.0%. In 2017, India saw a disconnection between its growth figures and equities return, as the nation's stock performance topped the board but lagged in earnings and economic growth.
FIGURE 1: India's GDP growth went back to its historical average.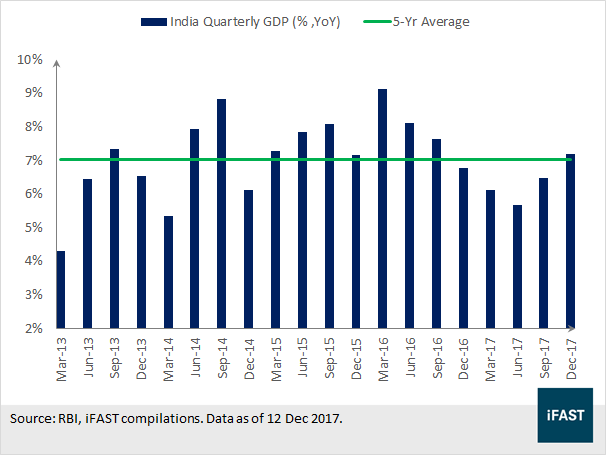 With economic growth going back towards level above 7.0%, market participants and investors are now wondering if the worst is over for India's economy. In this article, we look to share our views on India, and whether Indian stocks still present a decent growth opportunity for investors.
Equities Tanked Amid Global Rout and Internal Headwinds
Year-to-date (as of 14 March 2017), the SENSEX Index delivered a tepid gain of 0.2% in Rupee terms, while Malaysian investors suffered a loss of -5.3% from Ringgit's strength. Manulife India Equity Fund suffered a loss of -8.3% over the same period (see Figure 2).
FIGURE 2: Performance chart since Jan 2017.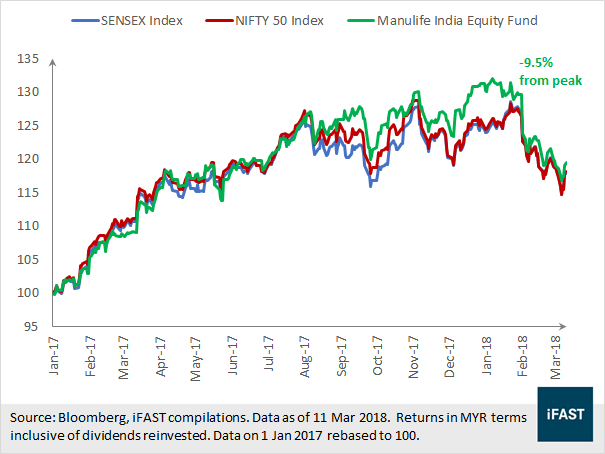 The worries around US inflation and rising bond yields have triggered a pullback in shares at the beginning of February, sending ripples across global equities including India. The incident coincided with the return of long-term capital gain tax (LCGT) following India's Budget announcement, which worsened investors' already-weak sentiment. Inevitably, these negative factors translated to weak market performance, where we saw foreign investors withdrew about US$ 700mil worth of funds from Indian equities over last month.
FIGURE 3: Foreign investors shifted assets away from India in recent weeks.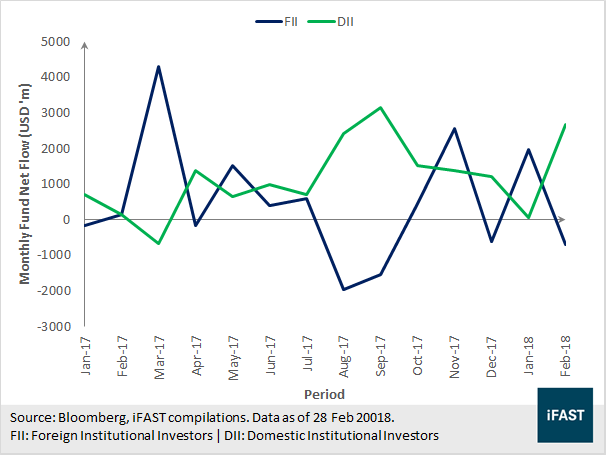 Taking asset returns' perspective, equity investors were previously enjoying a tax advantage against other available asset classes in India such as realty, gold, debt funds etc. The introduction of LCGT brings equity back to a level playing field. However, its tax rate is currently lower than the other asset classes (see Table 1) and together with the grandfathering provision, the negative impact on Indian equities should be modest in our view. Since we are of the view that the fundamentals of global economy are lending support towards India's economic growth, that leaves the poor-performance equation with the internal factors revolving around India's economy.
Table 1: Capital gain tax in India.

Asset Class

Duration
(short-term)

Duration
(long-term)

Short-term
Capital Gain Tax

Long-term Capital Gain Tax

Stocks/Shares
<12 months
>12 months
15%
10%
Equity oriented mutual funds
<12 months
>12 months
15%
10%
Debt oriented mutual funds
<36 months
>36 months
Slab rate
20% with indexation
Bonds
<12 months
>12 months
Slab rate
10% without indexation
Real estate
<36 months
>36 months
Slab rate
20% with indexation
Gold
<36 months
>36 months
Slab rate
20% with indexation

Source: Asia Briefing Ltd, iFAST compilations. Data as of 15 Mar 2018.
Slab rate: Income tax bracket rate | Indexation: Adjusted for inflation

We are cautious on india's macroeconomic outlook in near term
FIGURE 4: Investment activities rebounded on low-base effect.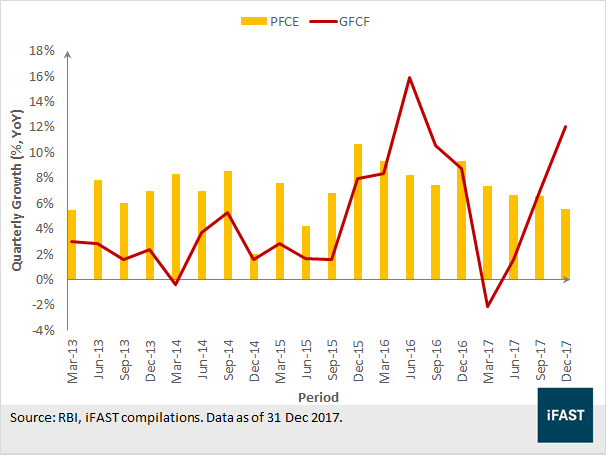 In our previous update back in September 2017, we noted that the government and policymakers are struggling to revive private investments. As seen from Figure 4, investment growth has picked up favorably while private consumption continues to slump over the quarter. Looking into sectors' growth, we noted that improved construction and manufacturing activities were fueling investment growth (see Figure 5). The deceleration of private consumption growth came in-line with our view that consumers and businesses would take time to get accustomed to the inception of Goods and Services Tax (GST) last year.
Is the growth of private investments sustainable at this rate? We doubt so, as corporate balance-sheets issues are still lurking around, and the recent banking sector woes and election activities throughout 2018 could further hinder investment growth recovery. Within consumption space, if history is any guide, we foresee that the slow-paced recovery of private consumption growth is likely to place a cap to India's GDP growth over the next 2 to 3 quarters.
FIGURE 5: Manufacturing and construction activities picked up.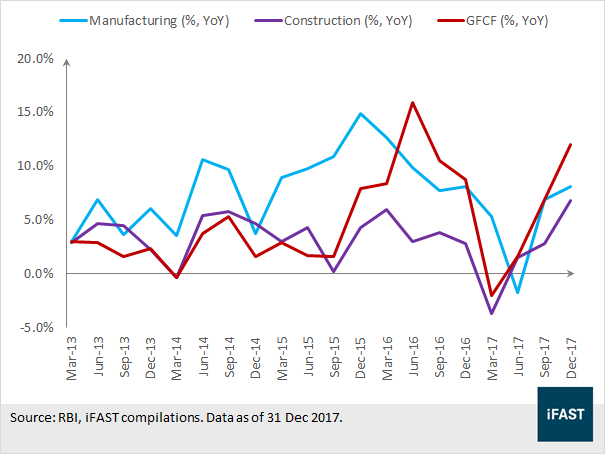 Earnings Expectation Yet to Realise
FIGURE 6: Earnings revision trending downwards over the past 5 years.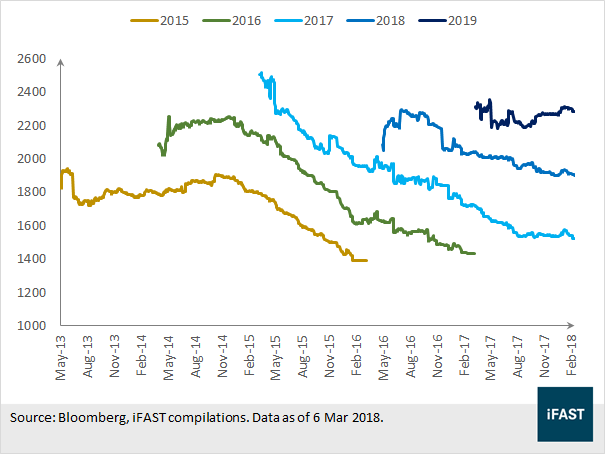 Indian equities' earnings revisions have been on a downward trend over the past 5 years. We think these are attributable to the disturbance originating from the implementation of structural reforms.
Looking into sectors, analysts were generally upbeat on Consumer Durable, Metal, Oil and Gas together with the FMCG sectors. Understandably, Oil and Gas counters now enjoy a better earnings prospect against a backdrop of higher oil price. Similarly, Consumer Durable and FMCG companies now have better earnings visibility, as demand for quality goods and services are trending higher in rural areas of India. On the other hand, Consumer Discretionary and Auto now have dimmer prospects given that consumers are cautious against the high tax rate on these luxury goods post-GST implementation.
FIGURE 7: Indexed sector earnings in the next fiscal year.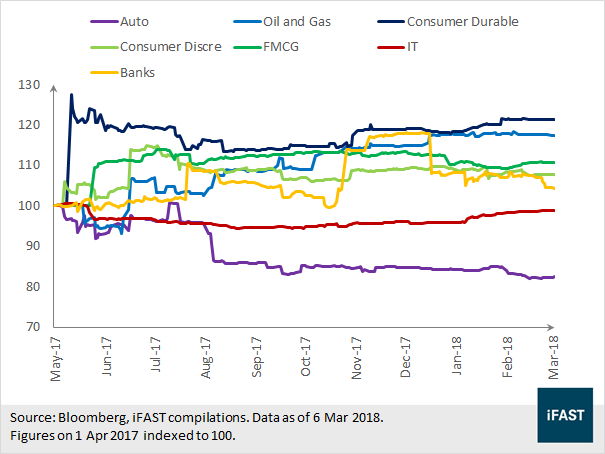 The Banking sector has several tough hurdles to clear. Poor balance sheet health, increasing non-performing loans and inadequate capital are challenges that already exists. The government's vow to inject fund to boost banking system stability last year was an encouraging sign to market participants; but the recent state-bank fraud has undoubtedly dealt another blow to the already-fragile banking framework and investors' confidence. The restructuring efforts from policymakers that follow suit are likely to add strains and downward earnings pressure to Indian banks.
Likewise, India's IT sector is feeling the pinch from the H1B visa program reforms from Trump's administration. These visas were used by high-skilled workers in the US, including many India nationals in the IT sector. The new legislation on visa and immigration will raise operational costs of Indian firms' onshore costs. Together with a weak-dollar environment, these translates to an increase pressure on margins. Consequently, analysts are being cautious on the earnings prospect for technology companies.
Premium Valuation
FIGURE 8: Indian equities are rich in valuation.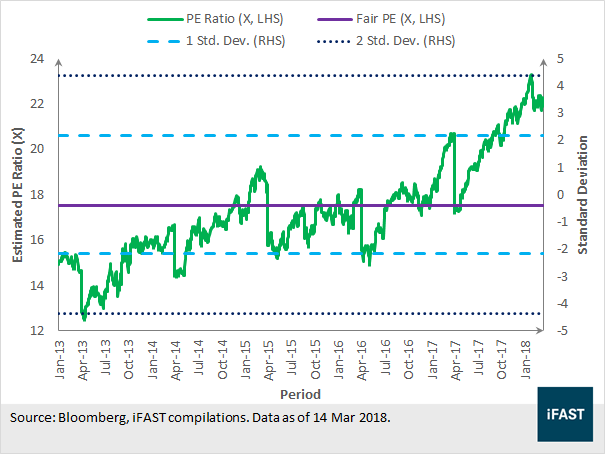 The uncertainties stemming from various structural reforms did not bode well with the earnings prospects of Indian companies, as these reforms are usually accompanied by short-term shocks to the economic system. As a result, Indian firms have posted laggard earnings results thus far. Nevertheless, the expectations of better economic prospects in the future and the continued equity inflows over the past 3 years have supported the expansion of valuation multiples for Indian equities (see Figure 8).
Takeaway
Although we believe the reforms in India will continue to take place, at this juncture, it seems like there is a lack of fresh catalyst to propel India in time to come. The Moody's sovereign rating upgrade that happened back in December last year could be the peak of its structural growth story.
Going forward, our base case is that the pain of reforms will ease gradually on India's front. Though forging a stronger foundation for the Indian economy is vital, more importantly, market participants and equity investors are awaiting these benefits to flow into the bottom line of Indian corporates and businesses. This also explains Indian equities' high valuation, because market participants are already looking a year or two ahead.
With high equities valuation and lack of earnings visibility, we think that growth-seeking investors may want to turn their heads toward other parts of the Asian and emerging markets region, where valuation levels are more compelling with robust earnings growth. For investors who are looking to invest in India, we advocate them to have longer investment horizon.