One Belt, One Road (OBOR), which represents a strategic initiative by President Xi Jinping, is set to mark the beginning of a new geopolitical area. The project aims to increase trade flow between China and the world as well as spurring regional growth spanning 65 countries. The vision of Belt and Road has become so broad that it has been flattered as China's growth driver in the coming decades. In this article, we will discuss about the OBOR and its potential benefits to Malaysia economic growth.
What are the key drivers of One Belt, One Road?
I. Offset domestic over capacity issues
As the world's second-largest economy after United States, China is now facing a slower economy at home, where Beijing's leadership is sourcing for new channels to sustain its economy growth at the moment when developing neighbours are undergoing rapidly rising demand. Domestically, the project offers an infrastructure plan that could eventually facilitate and justify development for trade activities and urbanisation. It also allows China to export its well-developed constructing and engineering capabilities.
II. Widen export markets
The project could have striven China's international trade terms where it's main objectives is to stimulate the domestic economy via exports from industries with major overcapacity such as steel, cement and aluminium. Infrastructure projects will come in a way of build-transfer-operate schemes where large State-owned enterprises will be the pioneer, but smaller companies will follow. It connects neighbouring countries and enhance its connectivity as well as trade between regions across Asia, Europe and Africa, spurring demand for China's goods and services in long term.
III. Alternative trade route
China seeks to unfold an alternative trade route where 80% of China's oil import from the Middle East goes through Straits of Malacca which is prone to piracy. It also improves the trading profit margin where shippers can reduce transit times between China and Europe by about 50% moving freight via railroads instead of containerliners. Rails only incur 25% the cost vs. airfreight (see Figure 1). OBOR's modernize rail network provides shippers options beyond air and sea.
Figure 1: China-Netherlands Notebook-Shipment Costs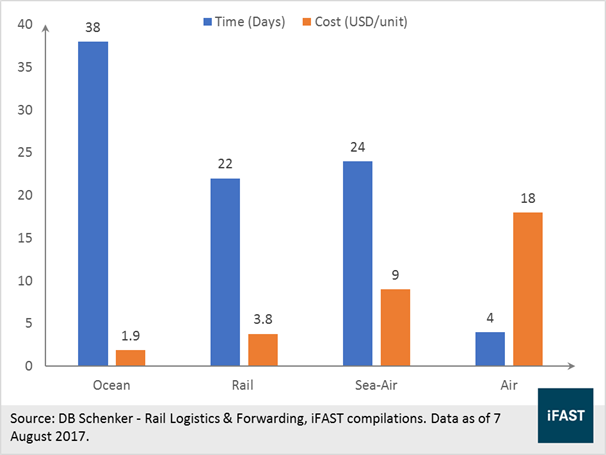 IV. Larger leadership role
The withdrawal from a long-planned Trans-Pacific Partnership after Trump's presidency creates economic and political vacuum that China is eager to fill, giving more leeway to expands its influence in a geopolitical marketplace. Infrastructure spending largely based on loan and financial aid from china will encourage a wider international use of Renminbi/Chinese Yuan. The subvert of TPP would let China to replace United States in driving the rules of global trade.
What's Malaysia stake in China's dream?
Emerging as the largest trading partner with China in ASEAN region, our home country was the beneficiary of more than USD 200 billion worth of movement of goods (see Figure 2).
Figure 2: China's Major Trading Partners in ASEAN Region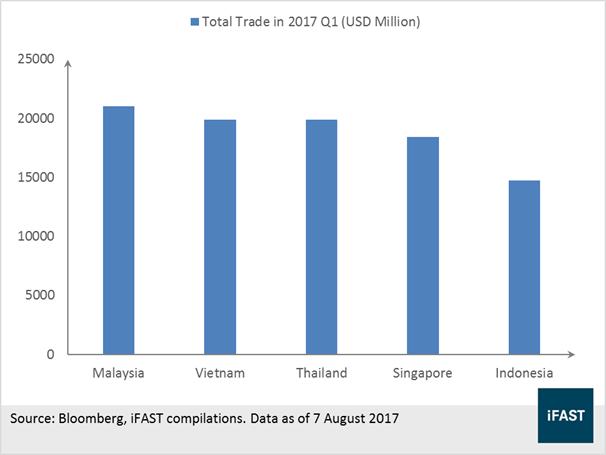 In the context of OBOR, a number of key areas and projects have been highlighted by both Malaysia and China including infrastructure, transportation, energy, property and even education. Among the mega projects under the initiative is the Malaysia-China Kuantan Industrial Park, Melaka Gateway, East Coast Rail Link (ECRL) and Xiamen University Malaysia. Apart from this, OBOR also brought an incidental impact where China is coming into Malaysia energy scene after acquiring Malaysia's second largest power producer through a multi-billion USD deal between General Nuclear Power Corp. and 1Malaysia Development Berhad.
Malaysia, prospering with Belt and Road
OBOR's benefits are clear. In short run, infrastructure investments enable Malaysia's rich resources to be tapped upon. These initiatives aim to promote Chinese capital and technology investment into these transport routes, ports and other infrastructure in order to improve the circulation of resources thus give a boost to economy growth. In long term, it promises a promising outlook: affordable connectivity that will lead to economic cooperation and innovation.
I.Mega Infrastructure Construction
So far, China's OBOR initiatives has become the powerhouse of Malaysia's infrastructure development such as the rail transit projects. The CRRC-led consortium in LRT3 project worth RM1.56 billion is pumping the construction sector with stronger momentum and we could expect the effect could be amplified when three more packages for the LRT3 projects worth about RM2.5 billion exclusively for Malaysian companies kick in by end of August.
Another game changer in the infrastructure story would be East Coast Rail Link (ECRL) project funded by China Exim Bank amounting to RM55 billion. The ECRL infrastructure development is one of the examples of Malaysia welcoming the OBOR initiative as it is part of the Silk Road Economic Belt's rail network from Singapore to Kunming. Major towns designated as main stations for the project will eventually be a catalyst for economic equality between the east and west coast as it will open up local business to more opportunities for trade, stimulate investment, spur economic activities and create ample jobs.
II.Robust economic activities
Aside from mega infrastructure projects, a "Port Alliance" has been established between Malaysia and China overlaying 6 Malaysian and 11 Chinese ports, wishing to build a stronger foundation for local business where they can be more resilient and increase their capacity to sustain in an ever-growing market. This alliance aims to promote technology and knowledge transfer from the bigger ports to the domestic ports industry on port technology and container processing. From the sources and information, we obtained, that Malaysia's total trade for 2015 stood at RM1.47 trillion, with RM1.32 trillion or approximately 90%, seaborne and channelled through Malaysia ports. Through the initiatives, transportation and movement of goods would be relatively cheaper and more efficient which enable local entrepreneurs to reap greater economic benefits. With Belt and Road initiatives, Malaysia's outlook remains positive forecasting a higher real GDP growth in the coming years (refer Figure 3).
Figure 3:Malaysia Real GDP Growth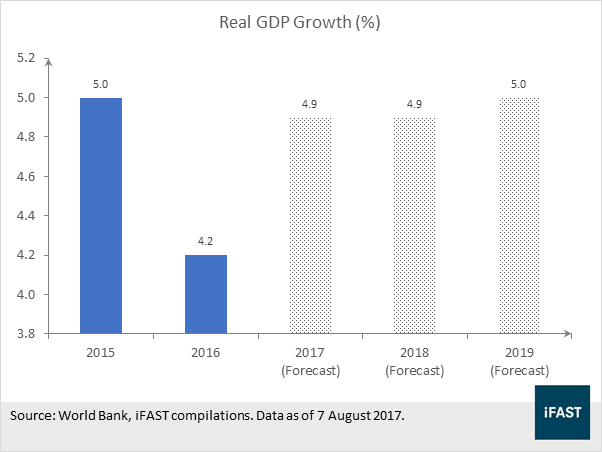 III.Malaysian Equities are well-supported by consistent foreign fund inflow
With OBOR, we expect a strong bilateral trade between China and Malaysia attributed to a long-term partnership that is prospective. Continuous efforts by China to internationalise Chinese Yuan through its Belt and Road Initiatives would also support its efforts to assure that infrastructure projects in Malaysia remain well-supported. In fact, foreign investors are more confident taking Malaysia as a base within ASEAN region as it is seen as a strategic gateway to the region where Beijing positioned our home country as the OBOR enabler due to the strategic geographical location along two main prongs: "Silk Road Economic Belt" (the belt) and "21st Century Maritime Silk Road" (the road).
OBOR is also expected to reward small and medium enterprises (SMEs) through associated infrastructure development such as taken part in the supply chain. Sectors like infrastructure, construction and consumer who did well in 2017 1H are likely to be supported by OBOR while greater integration within the ASEAN Economic Community (AEC).
Under the umbrella of Belt and Road Initiatives, Malaysia will continue to see liquidity despite concerns of tightening of the Fed balance sheet and China's deleveraging effect. In fact, on year to date basis, the local equity market saw more than RM 10 billion of foreign fund inflow. The inflow of funds from foreign investors will provide the market with ample liquidity.
Figure 4: Net Fund Flow into Malaysian Equity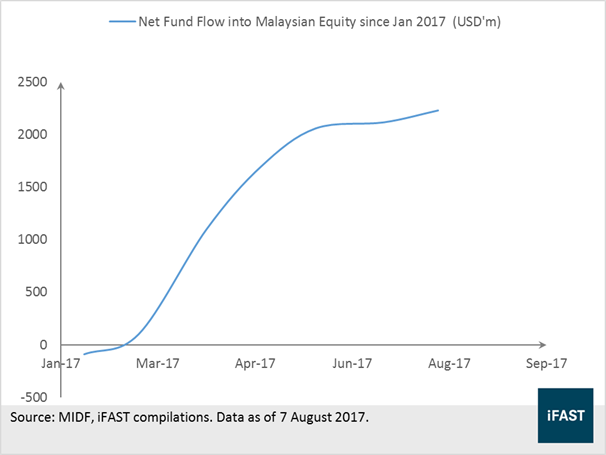 Takeaway
As of 9th August 2017, the domestic equity market, represented by FBMKLCI index was trading at P/E of 16.4x, slightly above our fair P/E of 16x. Under the umbrella of the China's One Belt, One Road saga, we expect that there is still upside potential for the equity market to climb higher. Hence, for investors who shared the same view and wished to gain exposure into the local equity market, they can look into Kenanga Growth Fund or Eastspring Investments Equity Income Fund as the Fund managers are preferring selective themes like beneficiaries of rising foreign direct investment, construction, domestic consumption, infrastructure related and exporters. Investors who are looking to tap into these economy growth opportunities, they can consider InterPac Dana Safi and KAF Vision Fund where the Fund managers are favouring the industrial product sector.