Ever since our call on Ringgit at the beginning of this year, it has strengthened against USD for about 7.2% (see figure 1), emerging as one of the top performing currencies in Asia in 2017 thus far. Despite the strong rebound this year, Ringgit still remains as the most undervalued currency in ASEAN (see figure 2) and is still trading below its 10-year historical average level (see figure 3). However, an undervalued currency might stay undervalued for prolonged periods of time, as such, the undervaluation of Ringgit is not a justification to call for a strengthening Ringgit moving forward. In this article, we would like to discuss the Ringgit's prospects in 2018 and to study if the aforementioned factors are still valid to drive the Ringgit higher in 2018.
Figure 1: USDMYR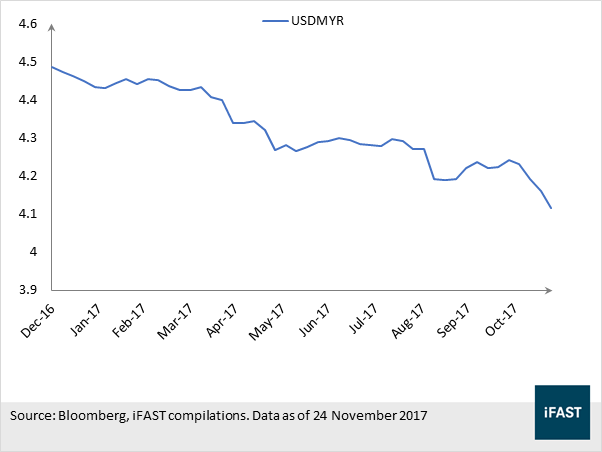 Figure 2: Valuation of various currencies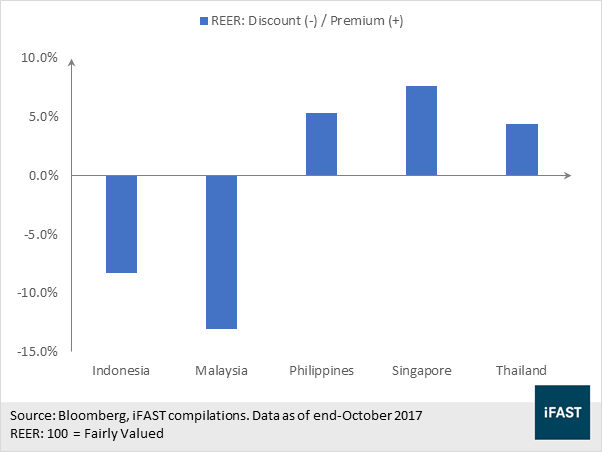 Figure 3: REER for Ringgit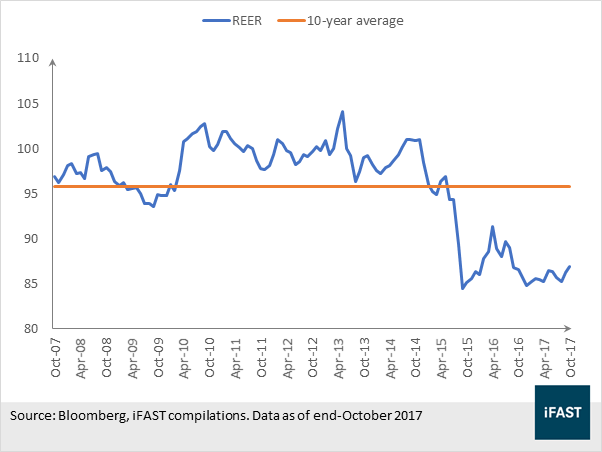 Improving Fundamentals
Two weeks ago, Malaysia posted an above-expectation GDP growth of 6.2% for 3Q2017. Our local economy grew at the fastest rate for more than 3 years underpinned by ameliorating private consumption and robust external demand. On our view, we believe that the improving economic fundamentals for Malaysia together with the attractive valuation of the Ringgit would make the local assets (bond and equity) more attractive to foreign investors. Reason being, despite the potential returns arising from an expansion in the valuation multiple or any dividend and coupon payment, investors would be able enjoy a higher upside potential (translation gain) by investing into Malaysia's assets should the Ringgit continue to strengthen from the current level given the attractive valuation for the local currency.
In fact, on YTD basis, foreign investors have bought about RM 9.1 billion worth of equity in the local market while we think that the recent disposal by the foreign investors is as a result of the uncertainty regarding the local election. Hence, we opine that foreign funds are likely to flow back to the local equity market once there is a clear indication regarding the local election.
Global Recovery Led to Higher Exports
This year, Malaysia exports grew by double digit growth rate for 10 consecutive months supported by strong external demand for local E&E products and the higher crude oil price. Thanks to the introduction of FEA rules during late 2016 by our central bank, the surge in local exports translated into higher demand for Ringgit as the local exporters are required to translate 75% of their exports proceed into Ringgit. This has coincided with and could be the key driver behind the improving FX liquidity (higher USD-MYR monthly sport turnover) as seen in Figure 4 below.
Figure 4: FX Spot Market Turnover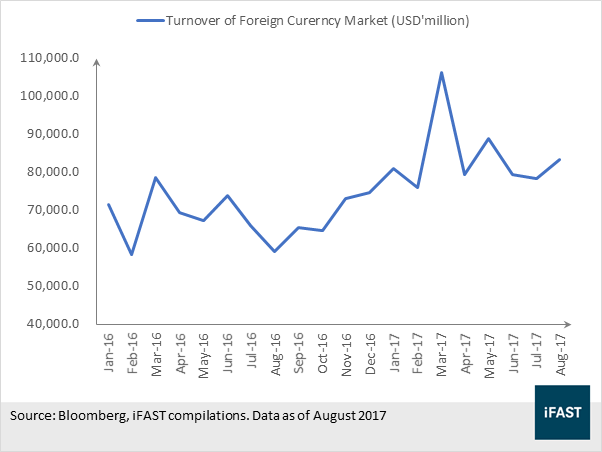 As we opined that the aggregate demand across the globe is likely to remain robust next year, the Ringgit is likely to be benefited underpinned by the still strong external demand for local exports in year ahead.
BNM'S Hawkish Stance
Despite the current deceleration, the core inflation rate in Malaysia has picked up gradually over the past 10 months (see figure 4). In fact, the pickup in core inflation would be a good reflection of the growing private consumption in Malaysia (grew by more than 6.5% for 3 consecutive quarters). Hence, given the improving local economic activity and the pickup in core inflation, we believe that it would increase the possibility of rate hike in 2018.
As such, we are of the opinion that Ringgit might not duplicate its trend in 2016 (-4.5% against USD) as if one can recall, US Federal Reserve has started to tighten their monetary policy since late 2015 while Malaysia central bank cut the benchmark interest rate (OPR) by 0.25% in mid-2016. As such, we believe this was one of the factors that contributed to the poor performance of Ringgit last year. Moving into 2018, the rather hawkish central bank's policy is likely to provide a boost to the strength of the Ringgit.
Figure 5: Malaysia Headline Inflation and Core Inflation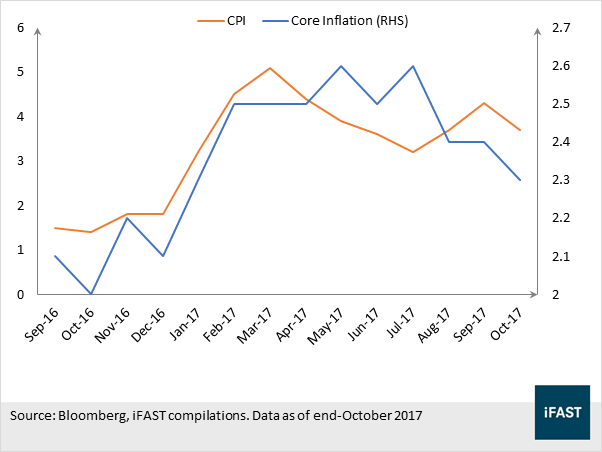 Improving sentiment
Most importantly, we believe that the onshore sentiment for Ringgit has improved as reflected by the decreasing demand for foreign deposits (figure 6). In other word, it means that the public is now having a higher-level of confidence in the Ringgit. In fact, this would be a result of the rising foreign exchange reserves (above USD 100billion) held by the central bank which indicates that the local central bank is currently having a stronger ability to weather external uncertainties (see figure 7).
Figure 6: Demand for Foreign Deposit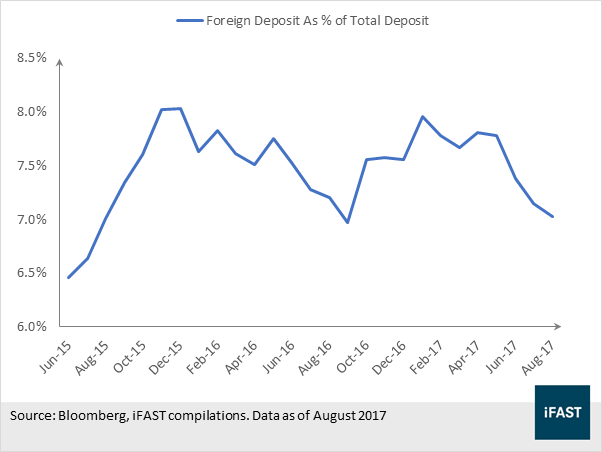 Figure 7: Foreign Reserve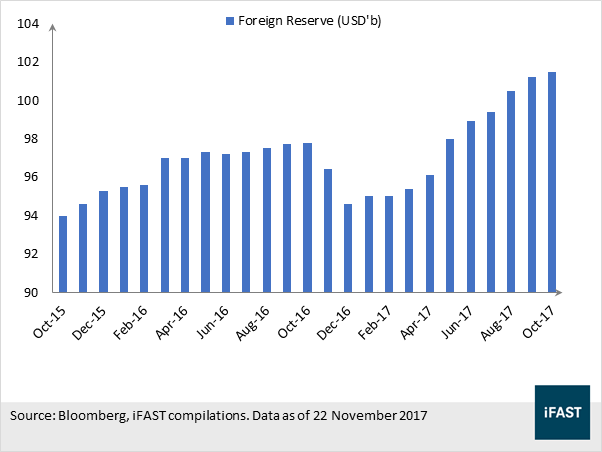 Takeaway
All in all, we believe that a fund with an unhedged foreign currency exposure is a double edge sword. As we have mentioned before, for investors who have invested into the unhedged foreign funds over the past 2 to 3 years, they might have earned very handsome return. However, with the current market condition and the several factors that are pointing to increasing positives for the Ringgit, investors who want to have exposure to foreign bond funds could consider the Affin Hwang Select Bond Fund - MYR or Eastspring Investments Global Target Income Fund; both fund managers implement appropriate hedging strategy with most of its foreign currency exposure hedged back to the MYR.
For the equity exposure, investors can consider Asia ex Japan or Greater China funds, which we believe could deliver handsome return to investors over the next couple of years given its current attractive valuations. As such, investors can look into CIMB-Principal Asia Pacific Dynamic Income Fund, AmCummulative Growth Fund or CIMB Principal Greater China Equity Fund.