Last year, Asian REITs ended the year on a joyful note as investors around the globe were on the hunt for yields under a low interest rate environment. Moving into 2017, however, concerns are pouring in for REITs investors as the US economy continues to deliver positive data that are fueling the possibilities of a faster than expected rate hike. In this Idea of the Week, we will look into two areas investors should look out for when investing in Asian REITs.
Sensitivity to Interest Rate Changes
REITs generally do not fare well under an environment of rising risk-free rates. As US Treasury rate rises, yields differential between the US Treasury Rates and REITs yield will be compressed (recall what happened during to the bond and REITs market 2 months ago), and causing REITs to appear relatively less attractive than before, as investors will now seek for a higher yield to offset the risk undertaken in the REITs segment. Hence, the current on-going steam in the US economy together with Trump's policies' movement should be on the radar of those who are looking to invest in the REITs segment.
CHART 1: Yields across various segment.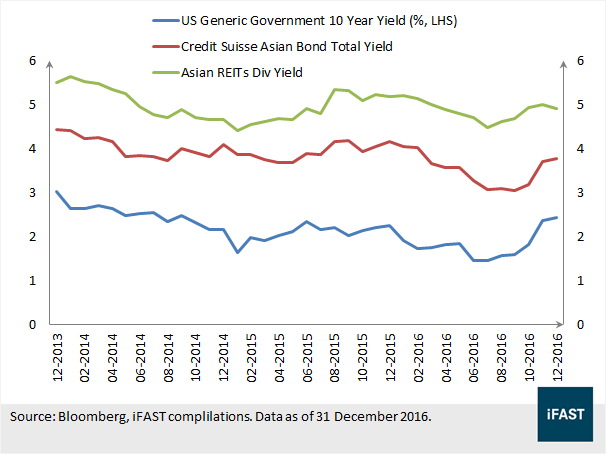 Be Wary of the Ringgit's Strength
Malaysian investors have enjoyed decent returns if they have invested offshore (including the Asia Pacific REITs) over the past 3 years, thanks to the Ringgit that have depreciated heftily by about -42% over the past 3 years. In our previous Malaysia outlook article, we opined that there is limited downside for the Ringgit, as stablizing oil prices and Bank Negara Malaysia (BNM)'s new FX policy should remain supportive to the Ringgit moving forward. Hence, for investors who are still considering investing in the REITs market, the strengthening of the Ringgit is another important factor to look out for. As of 31 December 2016, the real effective exchange rate (REER) for the ringgit stood at 84.87, indicating that the Ringgit is undervalued by 16.13% in accordance to the REER provided by Bank of International Settlements.
CHART 2: Ringgit's Strength a Potential Downside.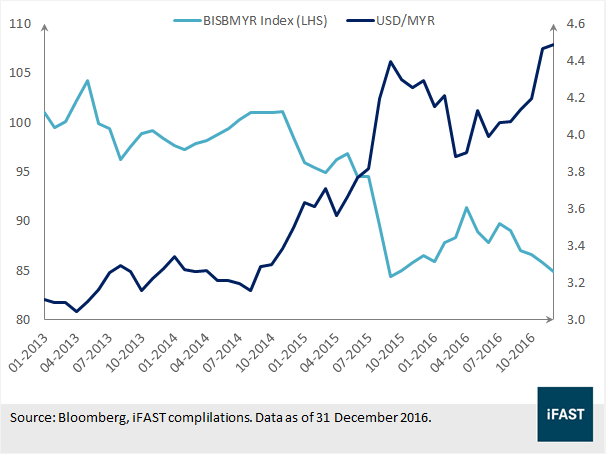 Table 1: 3-Year Annualised Returns.

S&P Pan Asia ex-Japan REIT Index

8.4%

20.3%

Source: Bloomberg,iFAST compilations, data as of end-January 2017.
So, where to look at?
With the above-mentioned downside risks to the Asian REITs market, we suggest investors to opt for shorter duration bond funds which are far less interest rate sensitive, if portfolio stabilizer is what they seek. Local short duration bonds, such as the AmIncome Plus, are also a better alternative for investors who are seeking shelter from the volatility and uncertainty seen in financial markets in recent times, with yields that are relatively higher than that offered by developed sovereign bonds, providing an anchor of stability to a portfolio.
In regards to our overweight call in equity, we find that the Asia ex-Japan equities sit at a relatively attractive valuation as compared to their developed market counterparts. Aside from their attractive valuation, economic fundamentals have also show signs of improvement in the region. With valuations as of 3 February 2017, we project Asia ex-Japan equities to deliver 25.3% annualized return by end-2018. For investors who wish to ride along with our bullish call on the Asia ex-Japan equities, here are the 6 funds you cannot miss when it comes to investing in Asia .