Is Malaysia Still A Good Buy?
Malaysia equity market has suffered negative returns for the past three years, mainly due to numerous headwinds such as the 1MDB issue, a crash in commodity prices and the Chinese stock market turbulence during 2015/16, together with the two black swan events in 2016 – Brexit and Trump's presidential victory. However, after 3 years of underperformance against most of its regional peers, Malaysia equity market rebounded moderately in 2017, posting 9.45% year-to-date return as of 12th of May 2017. In this article, we will discuss about the on-going development in Malaysia economy and determine if the rebound in the local equity market is sustainable.
Strengthening External Trades
Following the recent released external trade data, both Malaysia exports and imports have recorded 3 consecutive months of double digit growth in 2017. In the first quarter of this year, our local exports were partially lifted by the weakening Ringgit, which has depreciated by about 6% against the US Dollar during the first quarter, on a year-on-year basis. On top of that, the expansion in the electrical and electronics sector (E&E) has lifted our local export. In fact, as the global technology is growing rapidly, moving forward, we are expecting to see further improvement for the E&E sector and it should continue to be the driver for the local exports.
Chart 1: Malaysia's external trades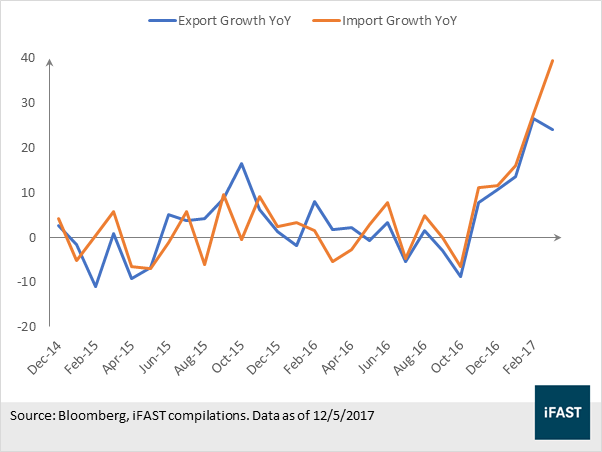 Similarly, Malaysia's import grew strongly in the first quarter of 2017. While the strong local imports might raise concern among investors, regarding the possible negative impact on Malaysia economy, investors need to take note that the main drivers for the surge in local imports for the past 3 months came from the increased demand for intermediate goods and capital goods, which are considered to be value-added components. Some of the intermediate goods might include materials or parts and accessories that are required by the manufacturers to produce most of the E&E related products, which will then be exported to external trade partners. Therefore, an increase in the imports of intermediate goods can be looked at as a good leading indicator for the future performance of Malaysia's exports. Besides that, as there are numerous infrastructure projects awarded last year, the increasing imports of capital goods are primarily to cater the needs of heavy machinery and transport equipment required by the developers. Hence, the increase in imports of capital goods can be seen as a good indicative that is expected to add value to the local economy.
Chart 2: Breakdown for Malaysia's import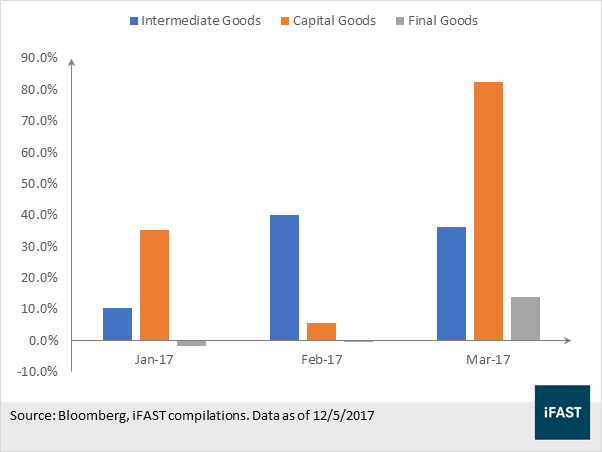 Accelerating Manufacturing Activity
Apart from the improving external trade, Malaysia's manufacturing sector also marked a positive turnaround in April, with the Malaysia's Purchasing Manager Index (PMI) surging above the 50-level demarcating expansion from contraction for the first time since March 2015. The April's survey showed that the growth in the local manufacturing sector is underpinned by the strengthening exports and increasing new exports orders. On top of that, Malaysian business condition index (BCI) – a survey to assess the short-term outlook for Malaysia manufacturing sector, which is a leading indicator of economic activity, rose sharply in 1Q17, reflecting that manufacturers are turning positive on the business outlook in the short-term. According to Malaysia Institute of Economic Research (MIER), Malaysia's BCI accelerated to 112.7 points in the first quarter of 2017, up from previous quarter's 81.2 points amid stronger sales in the manufacturing sector and expanding production level. As a result, both PMI and BCI are suggesting that Malaysia's manufacturing activity is likely to expand going forward.
Chart 3: Malaysia's PMI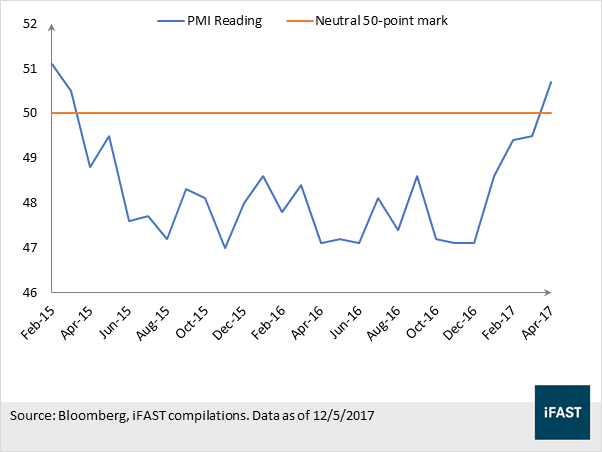 Chart 4: Malaysia business condition index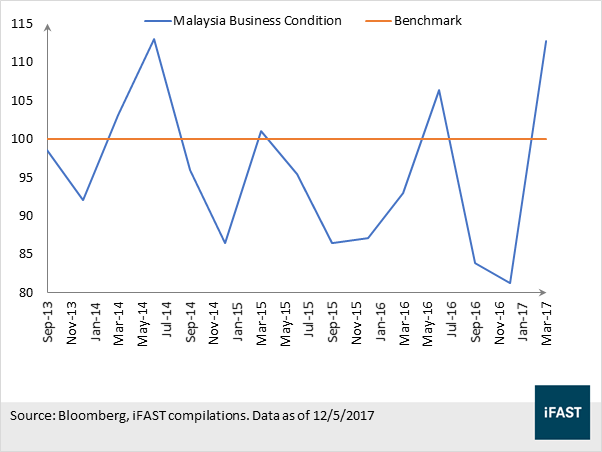 Monetary Policy Expected to Stay Accommodative despite High Inflation
Last month, investors might have come across the news title saying that Bank Negara Malaysia (BNM) is likely to increase OPR amid the 8-year high inflation in April. The surge in local inflation was primarily due to the elevated petrol price, with the low base effect accentuating the surge. Although Malaysia's real interest rate has dipped into negative territory due to the spike in inflation rate, we believe that it is unlikely to trigger the BNM to hike OPR, as the inflationary pressure was largely cost-push rather than demand-pull. On top of that, an OPR hike this year could weigh on the recovery of the local economic growth. Therefore, we expect BNM to keep OPR unchanged this year. However, the possibility of a rate cut by the central bank, as a measure to provide support to the local economy, should not be totally ruled out as the currency fluctuation of the Ringgit moderated.
Chart 5: Malaysia's inflation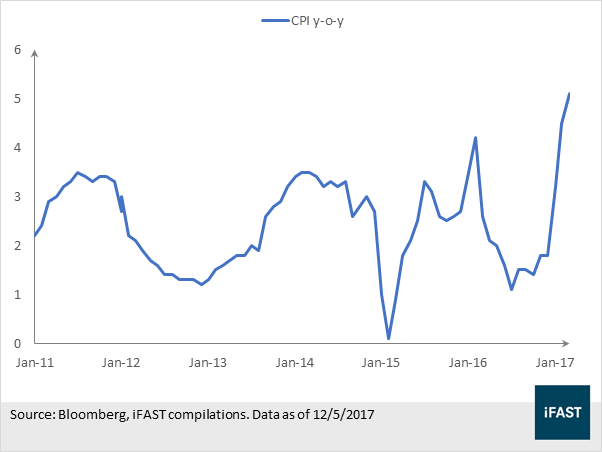 FBMKLCI Index's Sectors Review
From table 1, most of the FBMKLCI sectors posted positive returns for the first four months of 2017 (except Healthcare and Utilities). The financials sector rallied the most as of end 12th of May 2017, making 4.88% return contribution to the index. We believe that the rebound in Financials is likely to be sustainable, backed by healthy loan growth and improving earnings growth amid lower provision as well as better cost control. Oppositely, the healthcare sector, with its only constituent, IHH Berhad emerged as one of the worse performing sectors, dragged -0.48% return from the index. It was partially due to the poor quarterly result for 4Q2016. However, the losses were due to one-off items such as foreign exchange loss and investment cost, hence the prospect of the company remained healthy with an upward earnings revision of 8.33%, given that the launching of Malaysian Health Data Warehouse (MyHDW) is expected to benefit the local private healthcare operators through cost reduction. Contrarily, Telecommunications saw the largest downward earnings revision of -5.74% as margin pressure will remain as an issue for the telecommunications sector due to intense competition. However, on aggregate, analysts are turning positive on the corporate earnings (0.27% upward revision), hence, we believe that the rally for the local equity market would be sustainable as it is supported by improving corporate earnings.
Table 1: Sectors' performance and earnings revision
YTD Return*
(2017-YTD) Earnings Revision
Financials
15.50%
0.35%
Discretionary
19.80%
3.24%
Staple
6.91%
1.96%
Energy
2.06%
2.96%
Health Care
-2.83%
8.33%
Industrials
4.43%
-1.08%
Telecommunications
10.25%
-5.74%
Materials
5.27%
6.75%
Utilities
-5.66%
-1.15%
Source: Blomberg, iFAST compilations. Returns in MYR term with any dividends reinvested. Data as of 12/05/2017.
*Returns are calculated based on the average performance of FBMKLCI constituents with respect to sectors.
Takeaway
As of 12th of May 2017, the local equity market, as represented by FBMKLCI index was trading at P/E of 16.7x, slightly above our fair P/E of 16.0x. However, with strengthening external trades, expanding manufacturing activity and accommodative monetary policy despite high inflation rate, we believe that there is still room for the local equity market to trend higher. Hence, for investors who want to gain exposure into the local equity market, they can look into Kenanga Growth Fund whereas for investors with greater risk appetite, they can look into the local small cap funds like Kaf Vision Fund, Kaf Tactical Fund, Interpac Dynamic Equity and Interpac Dana Safi.