2017 has been great for equity investors, with global equities rallying across the first half of the year. Moving into 3Q2017, market volatilities spiked amid geopolitical tensions between US and North Korea, putting investors' patience and discipline at test, given how much profit that one may have enjoyed from the decent run thus far. While investors continue to witness some of the indices across the globe such as the S&P 500 Index achieving all-time high, the next question that is likely to pop into one's head would be: "Is this the peak?"
In this Idea of the Week, we would like to share with investors why buying at peak may not matter after all if you have a long investment horizon.
You May Have Doubled Your Money 10 Years After GFC
Given that S&P 500 Index has achieved multiple all-time highs this year, we took a further look back into its returns dated since the Global Financial Crisis (GFC) in 2008. An interesting fact is that investors who have invested at the peak of 2007 till now have just doubled their money.
FIGURE 1: Performance of S&P 500.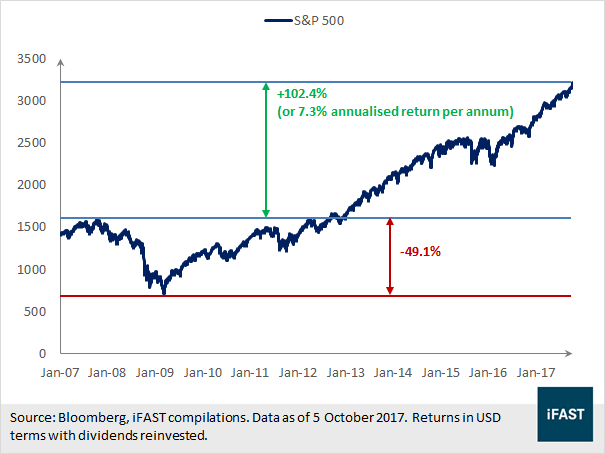 Equity investors went through a tough ride during the Great Financial Crisis in 2008. Investors that have bought at the peak of 2007 watched close to half of their holdings wiped off from the market in less than 2 years. During the downturn, many pessimists have expressed the doom and gloom ahead for equities, which may have cause some of the investors to pull out of from the equities back then. Nonetheless, standing at where we are today, investors who have stayed put through the crisis and the current recovery may have made more than 100% from the peak of 2007.
To give local investors a better context, we have also taken a look into some of our local equity funds that have more than 10 years of historical track record, together with the local equity market indices.
Table 1: Recommended local equity funds' performance.
Fall from Peak (%)
Cumulative Return (%)
Annualised Return (%)
Affin Hwang AIIMAN Growth Fund
-21.9
132.7
8.8
Eastspring Investments Equity Income Fund
-30.7
128.7
8.6
KAF Vision Fund
-39.2
158.0
9.9
Kenanga Growth Fund
-20.6
281.7
14.3
FBM 100 Index
-35.6
84.9
6.3
FBM Small Cap Index
-46.3
82.7
6.6
Bloomberg, iFAST compilations. Data as of 5 October 2017. Returns in MYR terms inclusive of any income or dividends reinvested.

FIGURE 2: Performance chart for local equity funds and indices.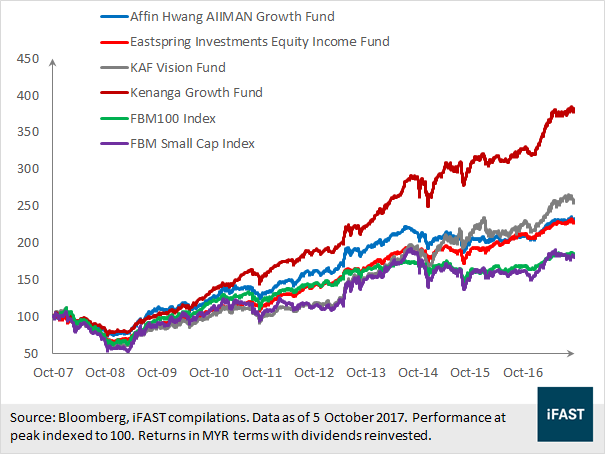 What This Means for Investors?
For investors wondering whether it's time to sell as voices of caution get louder day by day, the data above portrays a convincing counter-argument. Equities have a tendency to go up, as corporates and businesses continue to place efforts to boost profits year by year. Profits will then further feed into corporate earnings growth, which is the ultimate driver for equity markets' performance. At this juncture, we remain overweight on equities vis-à-vis bonds, given that the macroeconomic condition continues to paint an encouraging backdrop for global equities.
As investors, we also understand the pain of suffering losses in periods of market downturn. However, as long-term investors, staying invested has allowed us to ride out volatile market periods, potentially recouping all our losses and reaping bigger gains since. In other words, even if investing today translates to buying at the peak of the current bull market, investors may expect reasonable returns if their investment horizon is long enough.
For investors who plan to kick-start their investment today, here's a hassle-free investment solution for you.