On our previous update on India we talked about the surprise sovereign credit rating upgrade from Moody's, which gave a boost of confidence to investors and further affirmation on the nation's on-going reformation and economic transition progress. Other than that, we also believe the rating upgrade will contribute positively to Modi's party, where election is set to begin in three weeks' time.
FIGURE 1: Indian equity's performance over the past year.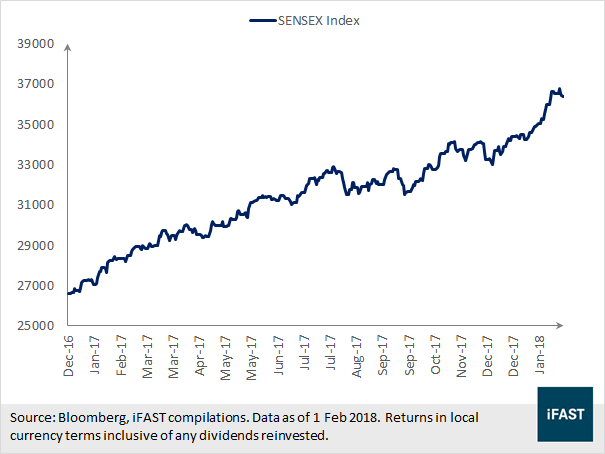 Last Thursday, Finance Minister Arun Jaitley rolled out the nation's budget. In this write-up we will share with investors some of the key highlights from the announcement.
Farmers Given Much-Needed Support
The government has finally decided to raise the minimum support price for all crops, plus a 20billion Rupee budget to be deployed over the upcoming fiscal year to upgrade and enhance agriculture infrastructures. On top of that, the government will liberalise exports restrictions and plan to roll out a comprehensive policy to tackle logistics issues to unlock export values for agriculture commodities.
With the above, we foresee farmers enjoying higher disposable income, which could lead to stronger private spending on India's consumer front. India has more than 40% of its workforce involved in the agriculture sector, and the country relies more than 50% on domestic spending as a primary growth driver.
Healthcare Stocks Poised to be Biggest Winner
The brightest spotlight for the budget could be the healthcare sector. India's government has introduced a new National Health Protection Scheme, aiming to insure up to 500 million people spanning across secondary and tertiary care institutions. The scheme will aid more rural people to afford higher standards of healthcare services, which in turn benefits companies that are equipped with these facilities.
Return of Capital Gain Tax a Bane to Investors
Currently, gains from stocks held for less than 12 months are taxed at 15%. The newly introduced capital gain tax would impose a 10% tax on any profits exceeding Rs. 100,000 (approx. USD 1,600). All gains till 31 January 2018 will be exempted from the new tax regime.
Will this deter investors from investing in Indian equities, particularly foreign institutions? From a longer-term perspective we think that it is unlikely to completely shut-off investors, as the macroeconomic backdrop for India remains constructive. However, market participants and portfolio managers might have to reevaluate their existing holdings by taking into account of the new tax regime, and the subsequent portfolio repositioning may induce some market volatilities going forward.
Increased Fiscal Deficit to Fund Budget
The fiscal deficit target was revised upwards to 3.5% from the previous 3.2% to accommodate more spending for the government. In addition to the above, the government continues to implement measures to improve the livelihood of India's rural, low-income groups. Commitments were made on infrastructure spending on roads and railways, building more affordable housing and healthcare facilities for the people. These urbanisation efforts will continue to provide job opportunities for the people and feed into the earnings of the construction and real estate companies.
Our Thoughts
Market participants have reacted negatively on the newly introduced budget, with both SENSEX Index and Nifty 50 Index sliding down -0.6% and -0.5% respectively on the day itself, as concerns revolve around the increased fiscal deficit target plus the new capital gain tax regime which could place a cap to equities return. With all the existing initiatives (GST, demonetization) in place, our view is that the government is projecting a higher tax revenue in the upcoming fiscal year, leaving more room for fiscal spending. Also, the more recent affirmation by Moody's has perhaps given additional confidence to the government.
All in all, the new budget remains centric to the essentials of the economy: infrastructure spending, liberalization on policies and reforms and increasing the livelihood of its people. With that, we continue to hold a favorable stance towards India, and its improving local economy backdrop are likely to provide some additional headroom for the local equity market to trend higher.
For investors who seek further details on India's budget, here's a list compiled by our colleagues in India.