A supportive global environment, coupled with sound domestic fundamentals, has enabled the Indonesian economy to begin 2017 on a strong footing. Real GDP growth has been robust and strengthening, while inflation has continued to be relatively low. In this article, we will be highlighting Indonesia's current economic development and its future prospects.
1. Quarterly GDP growth is lower than expected but private consumption holds steady
The resource-rich Indonesia economy grew 5.0% year-on-year in 2Q 2017 (see Figure 1). This was viewed as a disappointing figure as the figure was slightly slower than the consensus and unchanged from the first quarter's pace. President Jokowi is serving his last 2 years of his presidency term and he has yet to realise his promise to drive the growth rate to 7% during his 5-year term, which ends in 2019 (This year, he has set a target of 5.2%).
Indonesia's private consumption, which make up more than half of the country's gross domestic product (GDP), marched slightly faster in 2Q 2017 compared to the first quarter. At the same time, a rising investment has offset a notable drop in government spending and a disappointing performance from the external sector. Even with underwhelming GDP growth figures, Indonesia's growth prospects remain bright. It is expected to see growth accelerating in the next half of the year as the government is committed to their ambitious infrastructure program and reform agenda should revive business environment and private investment as well. Moreover, upbeat consumer confidence and a healthy global backdrop also bode well for the country's growth.
FIGURE 1: Contributions to GDP Growth.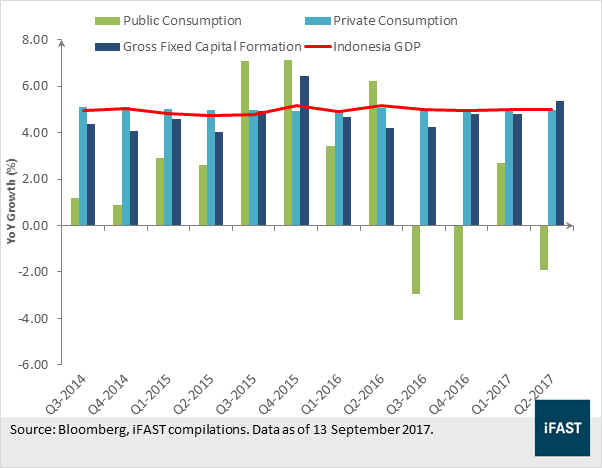 2. Solid Private Consumption and Investment Growth Continue to Underpin the Indonesia Economy
Private consumption, which makes up more than half of Indonesia's gross domestic product, grew 4.95% year-on-year in Q2, almost the same pace as in Q1 2017. Despite inflationary pressures arising from administrative price hike in electricity tariffs (due to energy subsidies cuts), private consumption growth remained strong, supported by a stable Rupiah and lower interest rate environment.
Leading indicators for consumption point towards strength in consumption, holding strong at 121.9 August (refer to Figure 2). While retail sales declined -3.3% yoy in July compared to a 6.3% yoy growth in June, hurt by weak food and beverage sales, home furnishing and electronics, we believe it is seasonal. Previously, strong sales take place ahead of the holidays at the end of the Muslim fasting month, followed by weaker consumption and this year, fasting month ended in late June, resulting in weaker sales in July. Going into August, the survey is forecasting a rebound to 5.3% yoy gain in retails sales.
FIGURE 2: Recovery in Retail Sales amid Higher Consumer Confidence.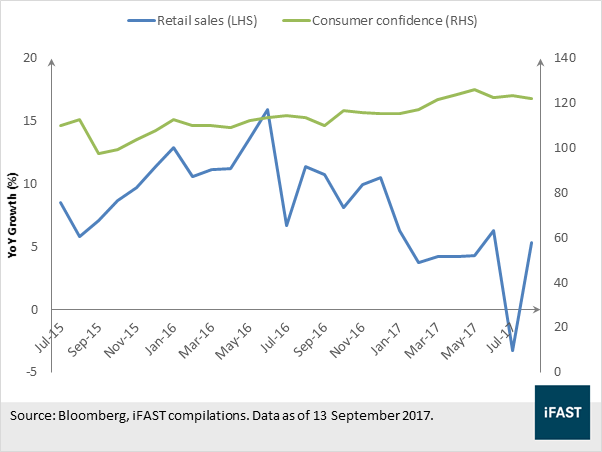 The latest gross fixed capital formation data reflects that investment activities in the Indonesia economy remain robust with a 5.4% year on year growth from 1Q 2017, supported by a higher investment in buildings and structures. Other leading indicators such as overall cement consumption and commercial vehicle sales also point to a continued strengthening of investment (see Figure 3).
FIGURE 3: Stronger Vehicle Sales and Cement Consumption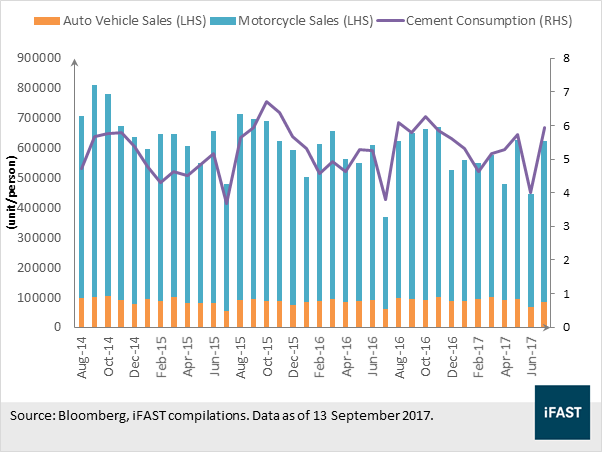 3. Inflation Remains Low, But Not a Concern
The monthly headline inflation for 1H of this year averaged 3.9% year-on-year, higher than the average of 3.2% recorded in 2H 2016. Inflationary effects from upward adjustment in administrative prices including electricity prices in January, March and May, were partly offset by a slack growth in food prices (see Figure 4). In August 2017, prices of food such as fish and vegetables, fell from a month earlier. Bank Indonesia took advantage of contained inflation to cut its short-term interest rate by 25 basis points to 4.25% to boost recovery.
Moving forward, we expect the Indonesia economy to sustain its recovery. Amid a low inflation and interest rate backdrop, private consumption is anticipated to be solid in the coming months and continue to play a vital role to drive the largest Southeast Asia's largest economy. The outlook for exports, similar to other countries in the region, remains positive due to the recovery in global economy. Meanwhile, Indonesian government has revised its state budget to 2.67% of its GDP in end of July in order to make more funds available for infrastructure development, improvement of prisons as well as preparations for the 2018 Asian Games that are hosted by Indonesia. With that, we foresee the revised budget deficit should continue to support the Indonesian economy moving forward.
FIGURE 4: Effects of Administered Price being Offset by Sluggish Food Price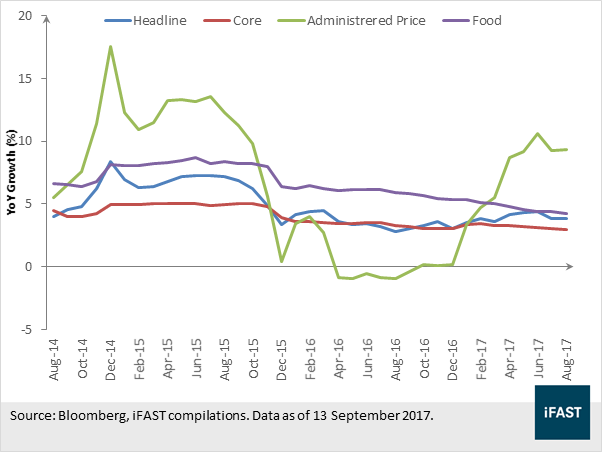 4. Bank Indonesia Cuts Key Rate Again to Fire Up Growth
Shortly after a surprising rate cut of 25 basis points in August, the Indonesian central bank once again wrong-footed most analyst by lowering its 7-day reverse repurchase rate again by 25 basis points from 4.50% to 4.25%. The rate cut is clearly aimed to lift the economic growth rate as the bank has now cut the benchmark rate by 200 basis points since the start of 2016. It was motivated by an improving inflation outlook and expectations of only one more rate hike in US by end of 2017 in the face of subdued inflation. At this point, risks are now tilted towards external pressures as major central banks around the world begin to tighten their monetary policy.
The rate cut may spur consumer spending and help to boost sentiment for property and automotive sectors as the bank forecasts the inflation will be at average of 4% this year. The central bank also plans to ease other monetary policy measures to help economic growth, such as mortgage down payment and bank liquidity rules. Indonesian Rupiah is still trading below its fair value as of end of July 2017, indicating that the currency is attractive from valuation perspective (see Figure 5).
FIGURE 5: Near 10-year Average Still Below Fair Value.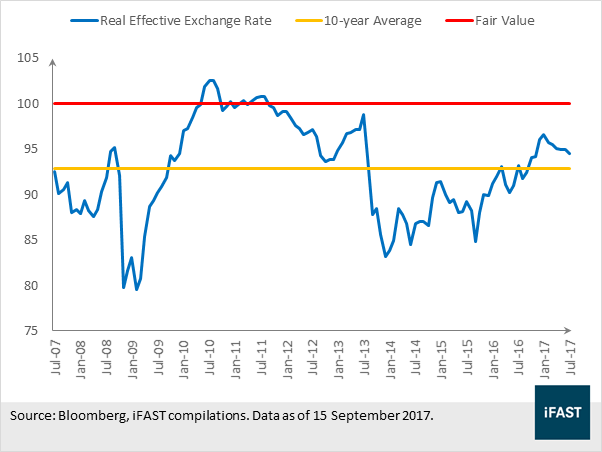 5. Indonesia Equities Market Outperformed among its Regional Counterparts and Still Provides Compelling Valuation
FIGURE 6: Indonesia, The Top Performer in ASEAN Region.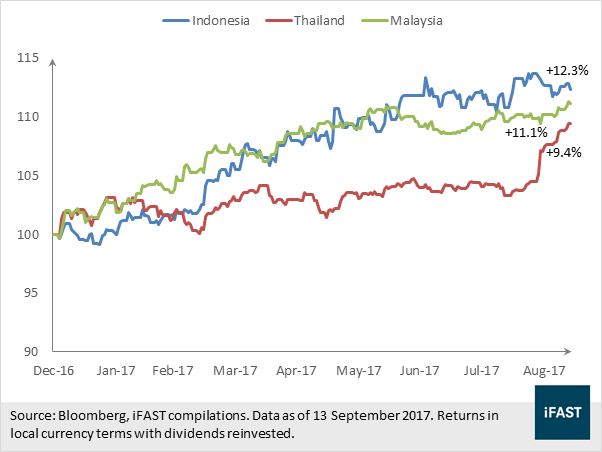 The benchmark Jakarta Composite Index (JCI) has posted a 12.3% gain since the beginning of year 2017 (see Figure 6) outperforming its regional counterparts. Looking at the domestic front, the index has performed well on earnings pickup and Indonesian government's infrastructure spending backdrop. A strong year for JCI index was attributable to the relatively stable Rupiah coupled with firm commodity prices. On top of that, easing external shocks with a less hawkish US Fed in the face of subdued inflation further supported the uptick of JCI index.
As of 13 September 2017, JCI index was trading at a PE ratio of 16.7X, slightly above on its fair PE value of 16.0X. The rally has stretched valuations in the largest Southeast Asia's largest economy. The gains have come even after a slowdown in its economy growth and sales activities. Nonetheless, the index remains attractive with the valuations on 2018 and 2019 at 14.6X and 13.5X respectively, implying a discount in terms of valuation.
Table 1: Valuation, Earnings growth and dividend yields for JCI Index.

2017
2018
2019
Fair
PE Ratio (X)
16.7
14.6
13.5
16.0
Earnings Growth (%)
16.1
14.4
8.1
-
Dividend Yields (%)
2.1
2.4
2.5
-

Source: Bloomberg, iFAST compilations. Data as of 13 September 2017.
Moving into remaining quarter of 2017, earnings revision for Indonesian equities has been sideway (see Figure 7). Nevertheless, the weaker numbers should be largely temporary as commodity capex cycle and the recent cut in borrowing rates should slowly trickle down to the wider economy later in the year. As such, we expect the corporate earnings to be revised upwards in the following months.
FIGURE 7: Muted Corporate Earnings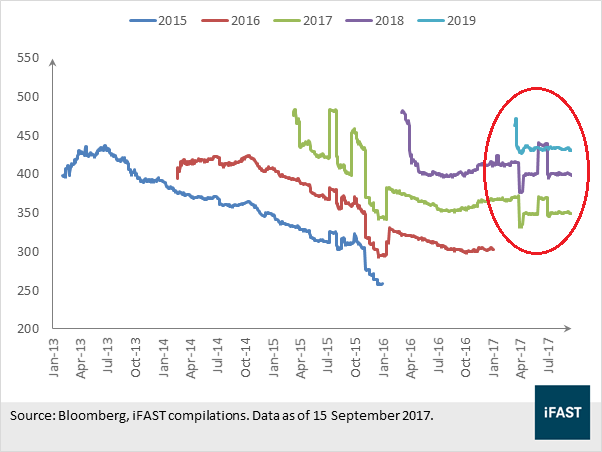 Takeaway
To sum up, Indonesia's economy prospects and stable political outlook paint a cautiously optimistic picture, with the Bank Indonesia seeing the retail sales to remain robust and inflation rate is likely to pick up by end of this year. Data from the central bank also showed Indonesian households are more confident and optimistic about the near future, pointing towards a steadier economy growth moving forward.
For investors who are keen to tap into the economic growth opportunities within Indonesia, they may invest into ASEAN funds that are available in our platform.