Indonesia released its 4Q17 GDP growth figure earlier this week, with the data showing that the Indonesian economy expanded 5.2% year-on-year in Q4, beating consensus estimates of 5.1%. In full-year of 2017, the economy grew 5.07% year-on-year. This was viewed as a positive figure as it indicates that Indonesia's GDP growth is continuing to accelerate (refer to Figure 1).
In fact, the 5.07% growth figure is the nation's strongest full-year GDP growth figure since 2013. In addition, the 5.2% year-on-year growth figure in 4Q17 is the best quarterly GDP growth figure since June 2016. The positive economy figures came in as a surprise as stronger domestic demand offset moderating exports.
FIGURE 1: Contributions to Indonesia GDP Growth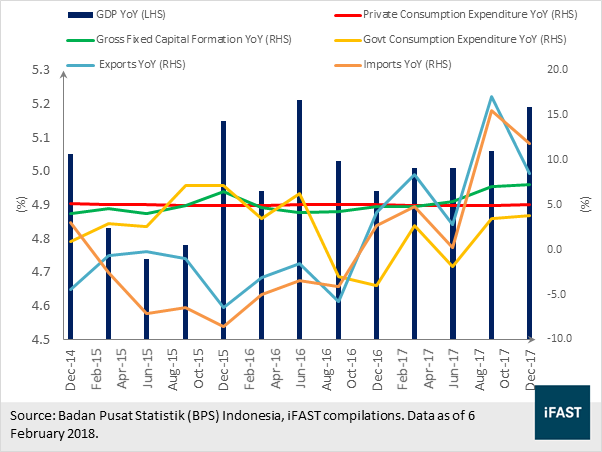 FIGURE 2: Component Breakdown of Indonesian Economic Growth (Q4 2017, y-o-y)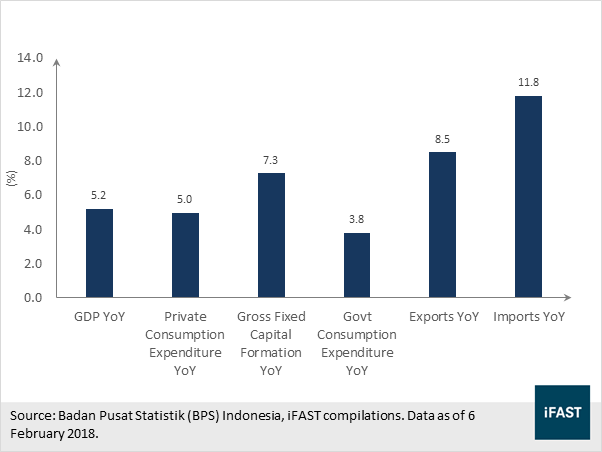 Domestic Consumption Was A Blessing To Indonesian Economy
Indonesia's private consumption, which makes up about 56% of Indonesia's economic growth, increased 5.0% year-on-year in last quarter, slightly higher than the 4.9% in Q3. As it is now stabilising at the 5.0% level, we foresee that the private consumption to pickup its pace with the upcoming regional elections and the Asian Games in mid-August.
The key to unlock significantly accelerating economic growth is a recovery in private consumption. According to Bank Indonesia, it is particularly the lower middle-class segment that is reluctant to spend their money. With that, we are on the view that the robust recovery in consumer confidence will continue to drive Indonesia's private consumption moving forward. As such, we are optimistic on the Indonesian economy growth will meet in government's target of 5.4% in 2018.
Improvement In Government Spending & Investment Point To More Sustainable Recovery Ahead
Another positive matter is that Indonesia's government spending accelerated at 3.8% year-on-year in the fourth quarter of 2017. The Indonesian government has particularly trying to boost spending on infrastructure development across the Archipelago as this would cause the multiplier effect and encourage structural economic and social growth. Moreover, the availability of infrastructure tends to improve the connectivity of urban and rural areas, which would eventually attract more private investment.
According to Badan Pusat Statistik (BPS) Indonesia, investment growth in Indonesia (gross fixed capital formation, GFCF) reached 7.3% year-on-year, hitting its 4-year high since 2013.
This acceleration may very well be related to the improving ranking of Indonesia in the World Bank's Ease of Doing Business, where the emerald of the equator's economy jumped from 91st to 72nd last year. In addition, the Indonesian government are committed to improve the investment climate through deregulation. To add on, heavy equipment sales by United Tractors, the biggest heavy equipment distributor in Indonesian, increased by 63% in 9M17 year-on-year (refer to Figure 3 and Figure 4).
Going forward, infrastructure projects and robust investment growth are expected to continue supporting economic growth in 2018.
FIGURE 3: United Tractors' Revenue Breakdown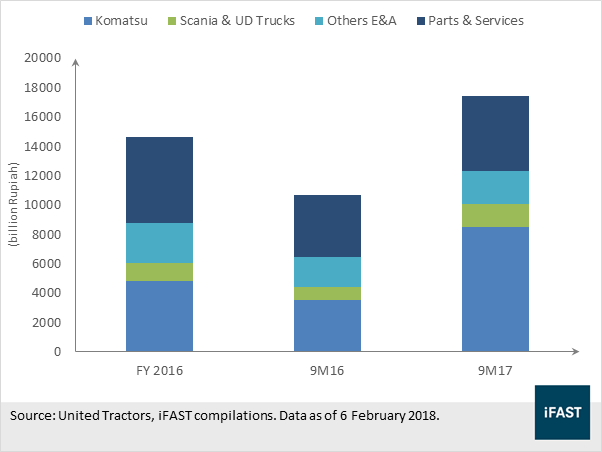 FIGURE 4: Komatsu Sales Volume Edged Up 73%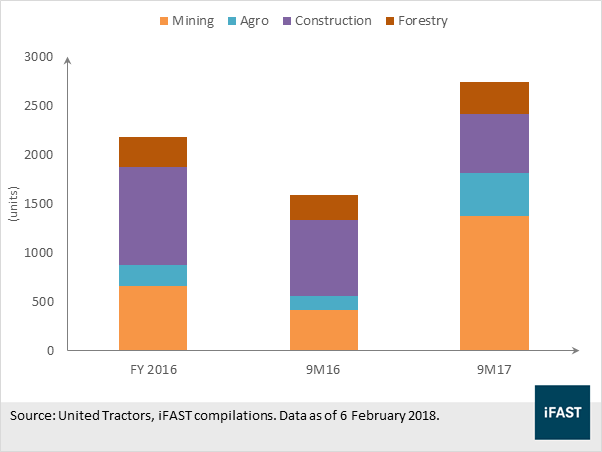 Exports Moderated in Q4, But Remains Healthy
On external front, both exports and imports moderated in Q4 compared to the previous quarter, with the latter expanding at a faster rate. Exports expanded 8.5% in Q4, slower than imports, which grew 11.8% year-on-year. Indonesia's export performance has improved on the back of rising commodity prices and improving global demand.
Going forward, we expect export to further improve, thanks to higher demand from China, Japan and Eurozone, rebound in commodity prices and implicit commitment of Bank Indonesia to keep Rupiah from depreciating further.
On Equities Market
The Indonesian equity market, as represented by the JCI index, performed decently in 2017. It registered an 8.0% gain for the full year (20.0% in local currency terms). Solid macroeconomic fundamentals, marked by low inflation and a stable exchange rate have translated into a JCI robust upswing. In fact, the JCI has regularly hit all-time highs throughout 2017.
Moving into year 2018, analysts are generally optimistic on the earnings prospects of Indonesian companies (refer to Figure 5). Year to date, earnings estimates of the JCI Index for 2018 and 2019 have been revised upwards 2.5% and 2.3% respectively as of 6 February 2018.
FIGURE 5: Positive Trajectory of Earnings Growth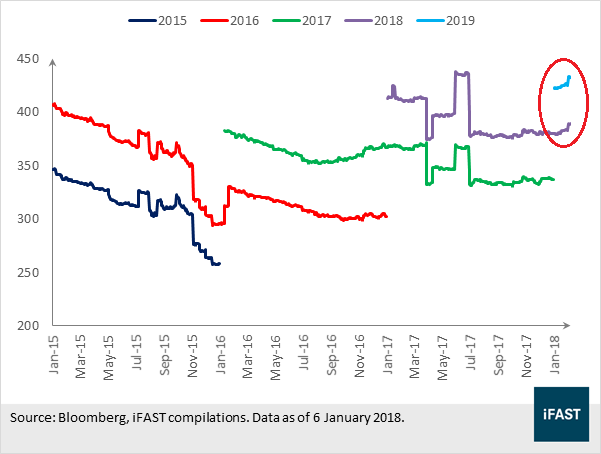 Equity Valuations Can Still Be Supported
Valuation wise, the Indonesian equity market is now trading at a PE ratio of 17.3X, slightly higher than our fair PE estimate of 16.0X. We believe slight premium valuations in Indonesia is reasonable. This is largely underpinned by a positive outlook on the global economic landscape, the moderate pace of interest rate hikes and a supportive risk appetite for emerging markets.
To sum up, we foresee Indonesian GDP growth is set to rise at a steady pace moving forward, on the back of lagged impact of lower interest rates and inflation, easing credit and a recovery in commodity prices. Investment growth could provide upside surprises to the Indonesian economy. as such, we are positive on Indonesian equities and maintain our 3.0 "Attractive" rating for Indonesia.
See: FSM Fund Choice: CIMB-Principal ASEAN Total Return Fund