Last week, Indonesia released its quarterly GDP growth figure. 3Q18 GDP numbers came in at 5.17% year-on-year, slightly above Bloomberg consensus' expectation of 5.15%, and were lower than previous quarter's 5.27% figure. The largest economy in Southeast Asia was in the spotlight of the recent episode of EM contagion, where we witnessed a widespread currency weakness on countries with twin-deficits, which then affected equities performance. In this article, we would like to furnish investors with some of the macroeconomic developments on Indonesia, as well as its outlook for the year ahead.
FIGURE 1: Indonesian equities and Rupiah are having a tough ride this year.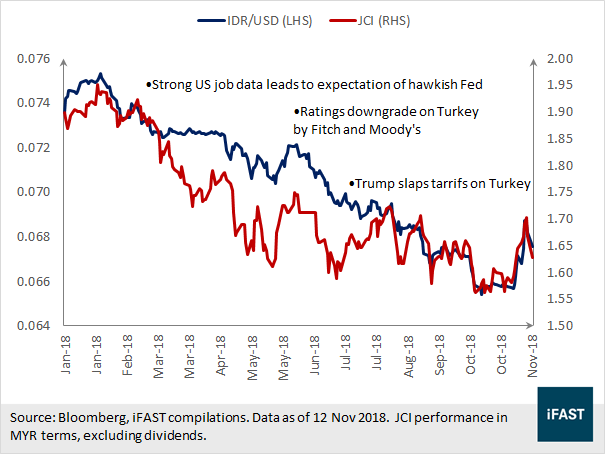 Government spending to boost domestic growth
The slowdown in Indonesia's third quarter growth figure is attributable to a softening investment on Indonesia's front, which we believe the weakness in Rupiah is a part to blame for. In the meantime, government expenditure picked up, compensating for a slowing investment activity. Private consumption expenditure, which is the main thrust of Indonesia's growth engine, registered a growth figure of 5.04% year on year, which is 10 basis points lower than the previous quarter.
From a sectorial point of view, Manufacturing, Construction and the other sectors all accelerated in third quarter 2018, with exception to Agriculture, Utilities, Transport and Business Activities.
While inflation condition is still conducive for domestic consumption at this juncture, we are looking at more upside risk to inflation going into 2019. Against a backdrop of higher global oil prices, being a net importer of oil, we expect the rise in energy cost to feed into Indonesia's consumer products and services (see Figure 2). Coupled with a weaker Rupiah, consumers' purchasing power may potentially weaken in quarters ahead.
FIGURE 2: We see more upside risks to inflation going into 2019.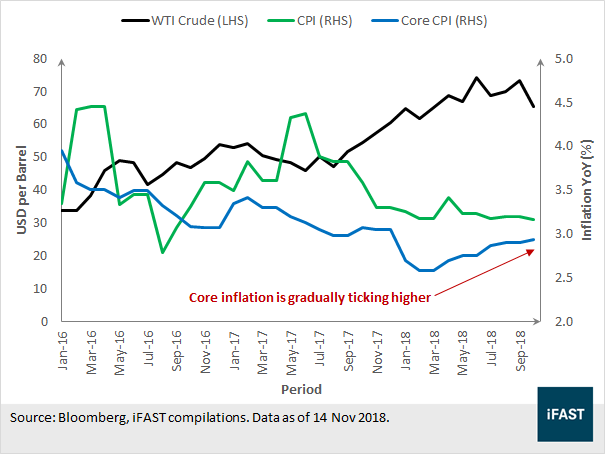 However, it is not all doom and gloom for Indonesia. If history is any guide, the Indonesian government tends to frontload policy stimulus post-election. This could boost fiscal spending which could spur economic and business activities, which could help improve corporate profits and earnings. Also, we expect the government to resume its consumer-friendly policies such as petrol and electricity tariffs to give more disposable income back to its people. With that, we think there could be positive growth surprises lying in quarters ahead.
Bank Indonesia Acting As A Pillar of Stability
Since our previous update the central bank has maintained its proactive stance in light of recent turbulence in emerging currencies. The central bank has also utilised its foreign reserve to defend the Rupiah, with foreign exchange reserves falling from its peak value of 131.98 billion to 115.2 billion over the course of 9 months (see Figure 3).
FIGURE 3: Bank Indonesia has helped cushion the downward force in Rupiah.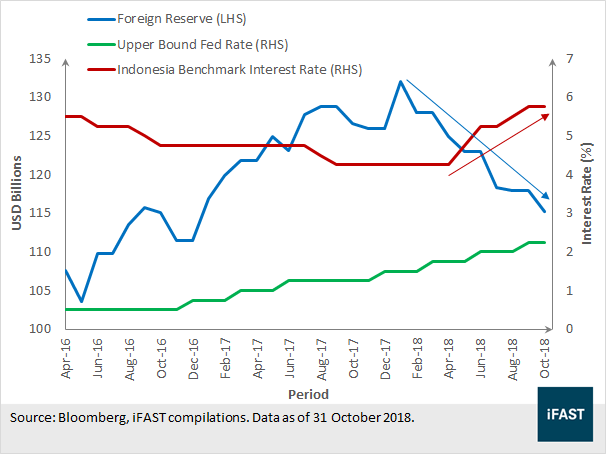 According to the import statistics as of September 2018, Indonesia's foreign reserve is sufficient to service 7.6 months' worth of imports, which is acceptable compared to that of Thailand's 10.8 and Malaysia's 6.3 figures.
Having raised its benchmark interest rates already five times this year, BI has also introduced foreign-exchange swap hedging instruments and the new overnight interbank benchmark rate. To help businesses reduce hedging costs, the central bank has also injected record volume of Rupiah to the market. These measures are aimed to boost liquidity in Indonesia's domestic banking system.
While the Rupiah is unlikely to return back to its peak in 2017, these measures have nevertheless helped ease downward pressures on the currency. On the monetary front, investors may draw some comfort from BI's proactive stance and effort in anchoring Rupiah's stability. The central bank has been maneuvering its tools without choking off too much growth momentum from Indonesia's economic front.
Cheap valuations offering investors long-term growth opportunities
Being the most populated country in ASEAN, investors may have already known of its long-term structural growth story: a rising middle class, urbanisation across rural areas and reduction of red tapes to encourage investments. However, with all the trade noise and negative sentiment bestowing upon emerging countries with twin-deficits, Indonesia is now a lot cheaper compared to its peers such as Thailand and Malaysia. That makes Indonesia standout for investors who are on the hunt for capital growth opportunities within ASEAN.
FIGURE 4: Valuations are looking attractive for Indonesia.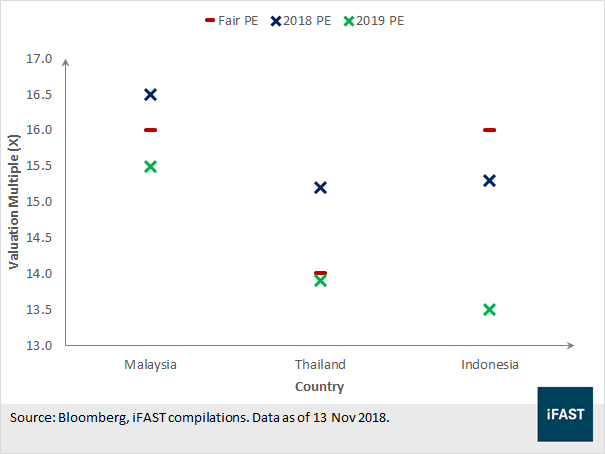 As of 12 November 2018, the Jakarta Composite Index (JCI) is trading at a PE of 15.2X and 13.3X for FY18 and FY19 respectively. Comparing these figures against our fair PE of 16.0X, this translates to an upside potential of more than 20% by end-2019, where earnings are expected to drive most of the returns.
Investors to brace for volatility lying ahead
Historically, Indonesian equities have exhibited higher volatility compared to its ASEAN peers (see Figure 5). We believe this may be attributable to its high foreign ownership of stocks, which is about 40% based on a report by DBS Bank. This is in stark contrast compared its regional peers such as Malaysia's 25%.
FIGURE 5: High foreign stocks ownership leads to volatile asset prices.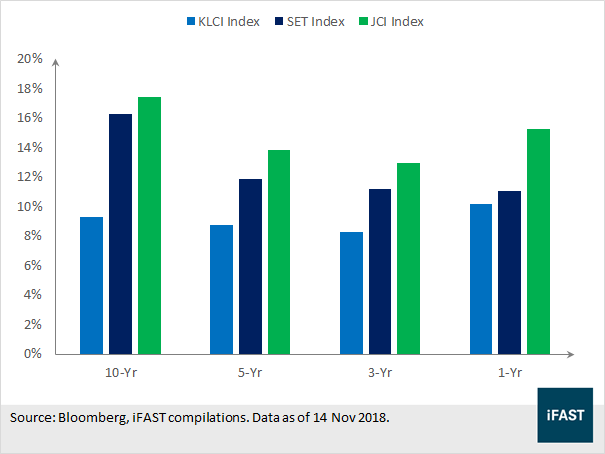 Moving forward, we do expect US-Sino trade issues continue to linger and dominates movement of asset prices. Additionally, uncertainties from Brexit and a slowing Chinese economy are sitting tight on investors' radar as well. In this environment where Fed rate hikes are still in the cards, we think Indonesian equities are likely to suffer in greater magnitude of volatility compared to its ASEAN peers.
Conclusion
All in all, we are upbeat on Indonesia's economic prospects, and hence maintaining a star rating of 3.5 Stars (Attractive) to it. For investors that share the same view with us, they could ride on the exciting growth opportunities via CIMB-Principal ASEAN Total Return Fund, where the fund offers close to 20% Indonesian equity exposure.