The JCI Index has achieved multiple all-time highs, and Indonesia has recently received a sovereign credit upgrade by S&P;

S&P upgrade should continue to boost foreign investments into the economy, expected fall in yields should reduce finance costs for businesses;

Gubernatorial elections dampened consumer spending and private investment, but conditions may be better moving forward;

Tax amnesty program a success, bureaucracy reforms started to bear fruits, more tax administration enhancement in the cards;

We see noises from radical Islamic politics hear-says, not a threat to long-term growth;

Robust earnings growth, valuations nearing fair level but remain attractive.
Shortly after the release of its 1Q2017 GDP figures, which came in at 5.01% year-on-year, Indonesia has finally saw its long-term sovereign credit rating being raised by Standard and Poor's (S&P), from "BB+" to "BBB-". While market participants have been buying on the speculation that S&P will upgrade the country to investment grade this year, we opined that the equity market's performance was attributable to the changes in Indonesia due to the government reforms and delicate job on monetary and currency exchange measures, that can be evidenced from the economic data. The equity market rally continues as the upgrade materializes. Having achieved multiple all-time highs into 2017, perhaps it is time for us to take a look back at the Indonesia's on-going development, and conduct a review on the Star Rating for Indonesia's equity market.
FIGURE 1: Indonesia equities performance since previous star rating upgrade.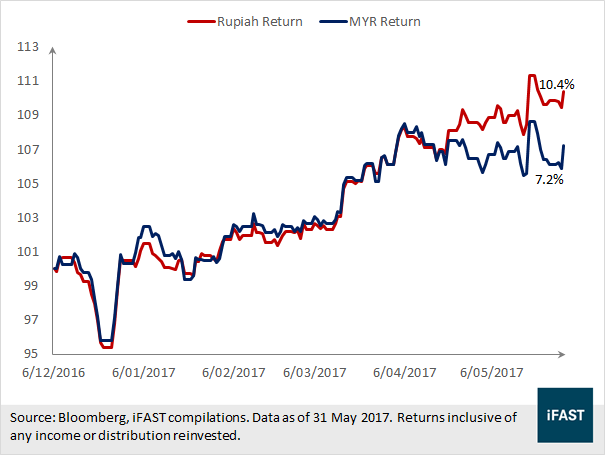 FIGURE 2: Foreign funds plough into Indonesia equities.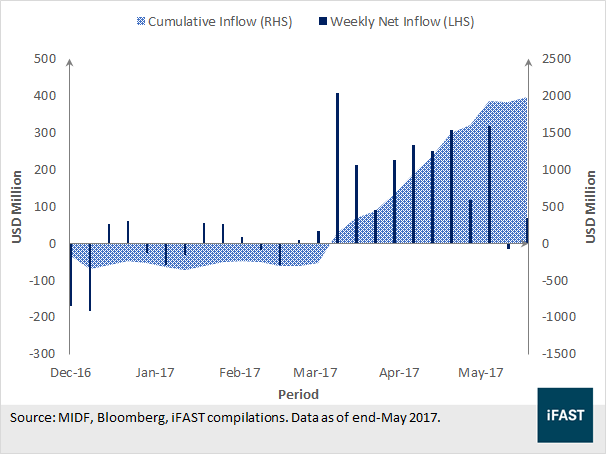 S&P Upgrade to Drive Foreign Investment
The upgrade will now bring Indonesia towards a full investment grade rank, following Moody's and Fitch's upgrades back in 2012 and 2011 respectively. As noted from S&P, the upgrade was founded on the decent prospects of Indonesia's government fiscal position, as portrayed by its fiscal deficit of less than its targeted -3.0% over the past few years. The government has introduced numerous measures, which includes the removal of gas and electricity subsidies, streamlining of fiscal structure to better optimize its allocation of budget and the expansion of the nation's tax base via tax amnesty program. These efforts have allowed the government to increase its pockets of revenue to accommodate the much-needed infrastructure spending and urbanization development of the economy.
FIGURE 3: Indonesia's fiscal deficit.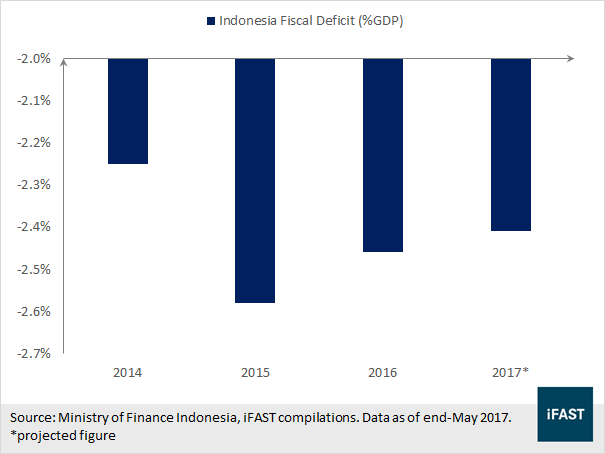 With the full investment grade rank, we foresee more foreign direct investments flowing into Indonesia. Historically, investment rating upgrades have driven foreign investments into an economy. Previously, India, also one of the largest emerging economies within Asia, have also witnessed foreign inflows into its equity and government bond segment as it achieved full investment grade rank back in 2011 (see Figure 4 and Figure 5).
FIGURE 4: Foreign inflows to bonds as India achieved full investment grade rank.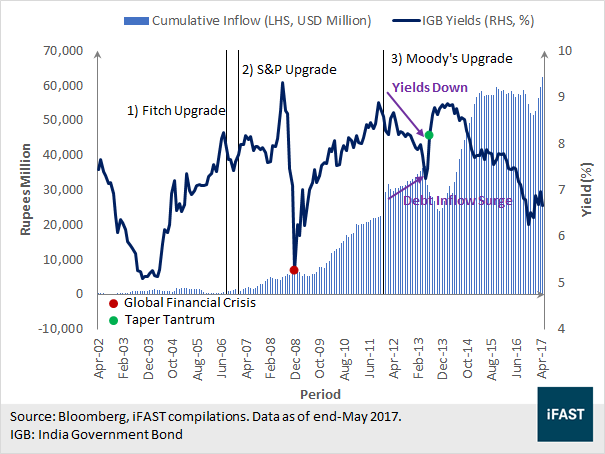 FIGURE 5: Foreign inflows to equities as India achieved full investment grade rank.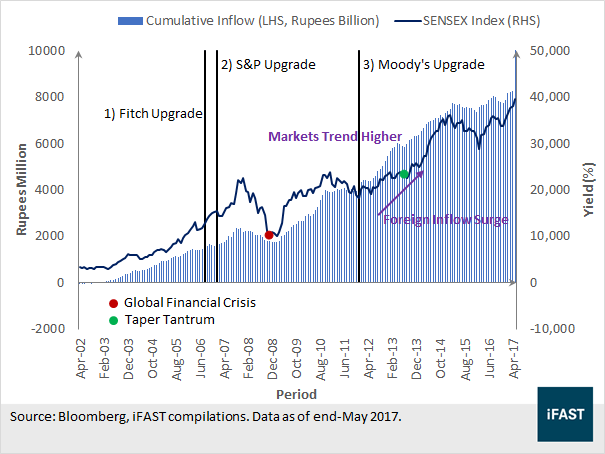 As portrayed in Figure 4, foreign fund inflows have also contributed to the fall in India's government bond yields over the next two years. Though a similar trend continues after Taper Tantrum, the latter's yield movement is partially contributed by the rate cut cycle by Reserve Bank of India. Should the similar situation happen to Indonesia Government Bond segment, we foresee a spillover effect towards the corporate bond segments as well, driving down yields and bringing down the overall financing cost for businesses, which may cultivate a decent business environment and improve earnings for the corporate world. Also, foreign direct investments will likely be able to reduce the fiscal burden of infrastructure and urbanization spending on the government.
Domestic and Government Consumption to Underpin Growth Moving Forward
Indonesia's 1Q2017 GDP figure came in at 5.01% year-on-year, stronger than previous' 4.94%, though consensus estimated a slightly higher value of 5.10%. In expenditure terms, domestic consumption remains a dominant growth driver, though moderated slightly amid heightened political tensions during the Jakarta gubernatorial election. The moderation in domestic spending was offset by higher growth contribution coming from government consumption, as the government disburses budget for infrastructure spending (see Figure 6). On the external front, exports have contributed positively after delivering months of double-digit exports growth on the back of higher oil price and stronger global aggregate demand, particularly for rubber-related products as well as mineral fuel and animal oils. Sector wise, Manufacturing and Agriculture have lifted economic growth, as the country saw increased external demand for manufactured goods, and Agriculture has benefitted from a better weather condition post El Nino (see Figure 7).
FIGURE 6: Indonesia's GDP growth figures.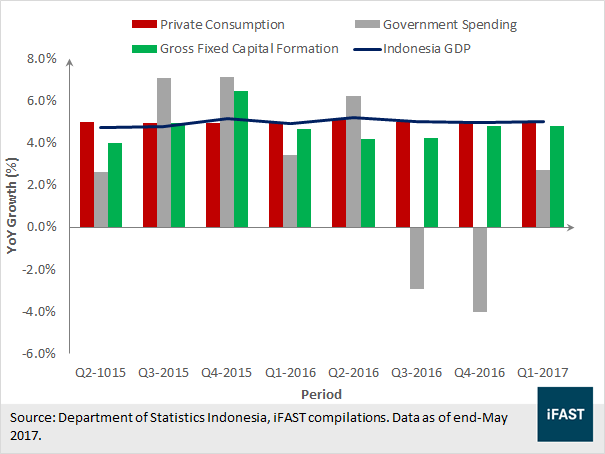 FIGURE 7: Sector attribution to GDP growth by percentage points.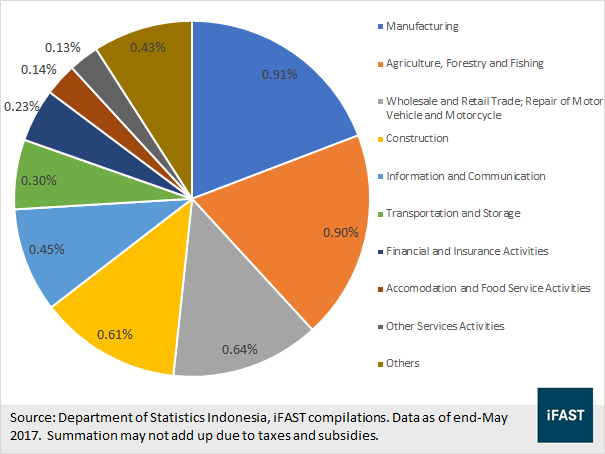 Following the end of gubernatorial election, we expect political tensions to ease as the calendar drifts towards the second half of 2017. Spending and investment appetite on the domestic front are expected to ameliorate, underpinned by moderate inflation and better consumer confidence (see Figure 9). The rollout of various infrastructure projects and developments will also propel Indonesia's economy forward in the coming quarters. On the external front, having posted months of strong double-digit exports and imports growth rates, we expect growth figures to moderate in the following months as the low-base effect from oil price subsides. However, external demand for manufactured and processed materials should continue to support external trades; which will also be a positive for the manufacturing sector (see Figure 8).
FIGURE 8: Manufacturing activities remain expansionary on the back of robust aggregate demand.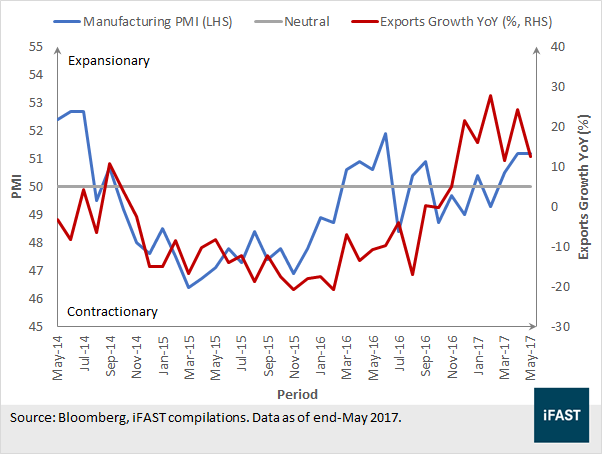 FIGURE 9: Moderate inflation to bode well for consumer spending.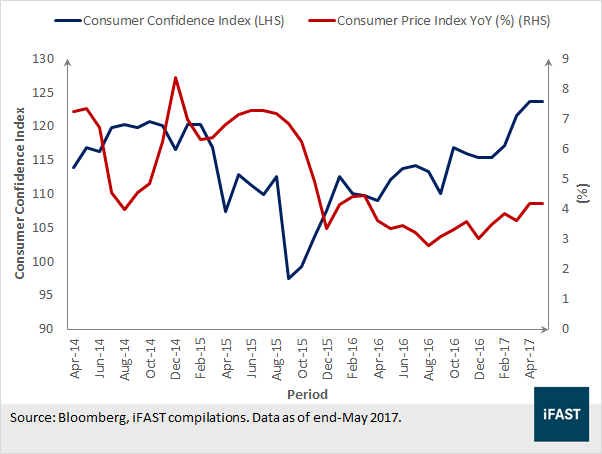 Government to Resume Efforts in Tax Reforms
Indonesia, like many other emerging economies, has endured the commodity down-cycle and many volatile chapters over the recent years. Despite that, the economy has managed to preserve its growth momentum, and at the same time undergoes a series of structural reforms and budget cuts to strengthen its fiscal stance.
In our previous Star Rating Upgrade article, we have highlighted that the Indonesia is in the midst of running its tax amnesty program, which aims to bring in extra revenue by providing a low tax rate to those individuals who declare any untaxed wealth before March 2017. On-going bureaucracy reforms were also crucial to help reduce corruption and enhance ease of doing business for both local and foreign entities (see Table 2). Overall, the tax amnesty program is deemed as a huge success, bringing more than US$367 billion worth of assets into light (see Table 1 and Figure 10).
Table 1: Tax amnesty statistics.

Amount Collected (IDR Trillion)
Achievement
State Income
165
135
81.8%
Declaration of Funds
4000
4738
122.1%
Repatriation of Funds
1000
147
14.7%

Source: Ministry of Finance Indonesia, iFAST compilations. Data as of 30 May 2017
FIGURE 10: Breakdown of declared assets under tax amnesty program.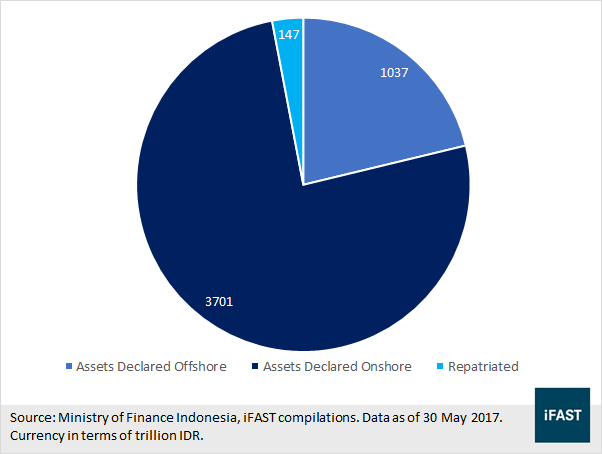 Table 2: Ease of Doing Business ranking.

2016
Singapore
1
2
Malaysia
22
23
Thailand
46
46
Vietnam
91
82
Indonesia
106
91
Philippines
99
99

Source: World Bank, iFAST compilations.
Although the tax amnesty program has generally achieved commendable results, tax authorities sees further room for improvement, particularly on the repatriation of offshore assets. In near future, it is expected that the government will continue to rollout tax-related reforms to better enhance its tax collection efficiency, based on announcement from the Ministry of Finance. We foresee the implementation of measures to discover and monitor tax evaders who did not take part in the amnesty scheme, plus tax administration enhancements to lower compliance costs.
Islamic Extremist Daunting Political Stability? Not A Worry
The Jakarta gubernatorial election has been held in April. The current ruling party's Basuki "Ahok" Tjahaja Purnama has conceded to his rival, Anies Baswedan, who is the former education minister of Indonesia. Ahok's loss may be partially attributed to the allegations that he insulted the Koran. These have led to growing concerns over the increasing influence of radical Islam on the political landscape of Indonesia.
However, to our findings, there is little factual support to the aforementioned saying. Prior to Baswedan's position as an education minister, he was the research director at Indonesian Institute. He is also well known for his initiation of Indonesia Mengajar ('Indonesia Teaches'), where the program sends young Indonesian to remote areas of the country to teach. During his tenure as education minister, he did not participate in any political Islamic groups nor religious-based movements. Following his recent gubernatorial victory, he has also denied the implementation of Islamic Shariah Law in Jakarta. With that, we reject the saying of "a hard-line Islamist government is rising in the Indonesian capital".
Nonetheless, Anies Baswedan has mentioned that he will work closely with the existing President Jokowi Widodo. It is also cited that he will remain focused on improving public education, and at the same time providing financial-aids to low-income groups. We believe a change in governor is unlikely to stall the on-going reforms of the Indonesian government, despite the fact that Anies Baswedan is a member of the opposition party.
Strong Earnings Growth, Compelling Valuation
We have shifted the fair PE ratio of Indonesia's equity market from 14.0X to 16.0X back in December 2016. Since then, the Indonesia equity market, as represented by JCI Index, has climbed by 7.2% in MYR terms (10.4% in local currency terms, as of end-May 2017), with its PE valuations trading slightly over its fair level, as global equities cheered on decent macroeconomic data and better-than-expected earnings results. Year-to-date, analysts are generally positive on the earnings prospects of the listed companies in Indonesia. Year-to-date, earnings for the JCI Index has been revised upwards by 2.4% and 3.8% for 2017 and 2018 respectively.
Table 3: Sector attribution in percentage points to earnings revision of JCI Index.

2018 (%)
Energy
0.9
1.1
Real Estate
0.6
0.6
Financials
0.6
0.9
Industrials
0.5
0.4
Consumer Staple
0.4
1.0
Consumer Discretionary
0.4
0.7
Health Care
0.0
0.2
Information Technology
0.0
0.0
Utilities
-0.1
0.0
Telecommunication Services
-0.2
0.0
Materials
-0.6
-1.0
Total
2.4
3.8

Source: Bloomberg, iFAST Compilations. Data as of 30 May 2017. Sector Attribution = Sector Weightage * Sector Earnings Revision
By breaking down the earnings adjustments by sectors, we note that Energy, Real Estate and Financials have contributed considerably towards the year-to-date upward earnings revisions. For Energy companies, it is understandable that higher commodity prices and corporates' budget consolidation efforts together have resulted in a more optimistic earnings projection. For Financials, banks' profitability is expected to improve on lower NPLs and credit losses, based on a study conducted by PwC. As most of the concerns around NPL are in relation to corporate and SME lending, bankers are generally more bullish on consumer lending, with the segment expected to provide support to their Net Interest Margins (NIM). Real Estate players, on the other hand, are poised to benefit from the infrastructure projects and housing development programs launched by the government. Going forward, the recovery of domestic consumption should also support consumer-related sectors.
As of 30th May 2017, the JCI Index was trading at a PE ratio of 15.9X, which is near its fair PE value of 16.0X. Considering longer-term earnings growth, 2018 and 2019's valuations are still sitting at a discount. Taking into account of dividend yields, these figures translate to an annualized expected return of 9.1% by end-2019.
Table 4: Valuation metrics for JCI Index.

2018
2019
PE Ratio
15.9X
13.7X
13.1X
Earnings Growth
17.9%
16.6%
4.2%
Dividend
2.1%
2.4%
2.6%

Source: Bloomberg, iFAST compilations. Data as of 30 May 2017.
CONCLUSION
The story on Indonesia has not changed. The recent upgrade by S&P has affirmed the economic strength of the most populated nation in ASEAN. At this stage, infrastructure spending and domestic consumption will continue to support growth of the Indonesia economy. Structural reforms will remain to be relevant in leading Indonesia towards a more mature growth phase gradually over the long run, and foreign investments will resume its inflow as the macro framework of the economy fortifies. The government's fiscal consolidation efforts will also put Indonesia in a more resilient position, making it less prone to external vulnerabilities. Though the market has surged quite a fair bit on a year-to-date basis, the nation's valuation remains fair, and given the aforementioned reasons, we have decided to maintain the nations' star ratings at 3.0 star (Attractive).
For investors who share the same view with us, they could consider gaining access to Indonesia's equity market through ASEAN funds available on our platform.