Over the past 4 months, investors who have invested in the Indonesian equity market have gone through a bumpy ride with the February global selloff and the heightened uncertainty on international trade amid US-China sabre-rattling over trade terms. While some investors thought that the Indonesian market may take a breather after the selloff, a stronger dollar and climbing US 10-year treasury yield have once again triggered market decline and further dampened investor sentiment within Indonesian equities space.
Indonesian equity market performance was subdued over the month ended 30 April 2018, with the JCI index dipping about -3.1% (in local currency terms), clocking a negative return of -5.0% on a year-to-date basis to a level unseen since October 2017 (see Figure 1).
FIGURE 1: YTD Performance of JCI Index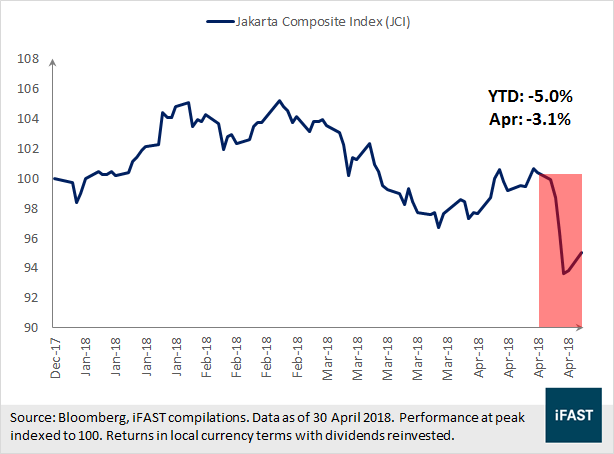 Foreign Fund Stampede
FIGURE 2: Indonesia Sees Highest Capital Outflow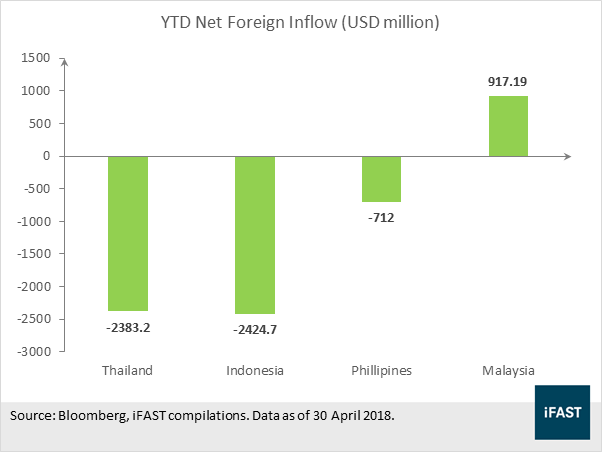 As the foreign holdings of Indonesian equities and bonds are high (about 40% of the total), Indonesian assets are usually hit harder than its ASEAN counterparts when times of global uncertainties emerge. Figure 2 shows that Indonesia saw the most foreign capital outflow in ASEAN region at about USD -2.4 billion on a year-to-date basis.
The US dollar began to take the centre stage on the back of a rise in the US 10-year treasury yield to a level that has never been seen since 2014. This rise to 3% is caused by concerns over higher inflation expectation within US. Rising US inflation would mean that the Federal Reserve may step up its pace in raising interest rate in 2018, faster than the market's initial expectation.
(Speaking of 3% US 10-year treasury yields, do we see a recession coming? Read our thoughts here!
This has made investors jittery amid concerns on the global economic growth, thus turning into the risk-off mode. In the risk off mode, investors tend to buy more US dollar and reduce their holdings in riskier assets, in this case, emerging markets assets. Therefore, this causes foreign investors to pull out their funds from emerging market assets, including Indonesian assets (see Figure 3).
The Indonesian Rupiah had been under pressure amid a massive outflow of foreign capital. A weak Rupiah is usually unfavourable for Indonesian equity market because it reduces the total return for foreign investors (refer to Figure 4).
FIGURE 3: Investors are Spooked by the 3% US 10-year Treasury Yield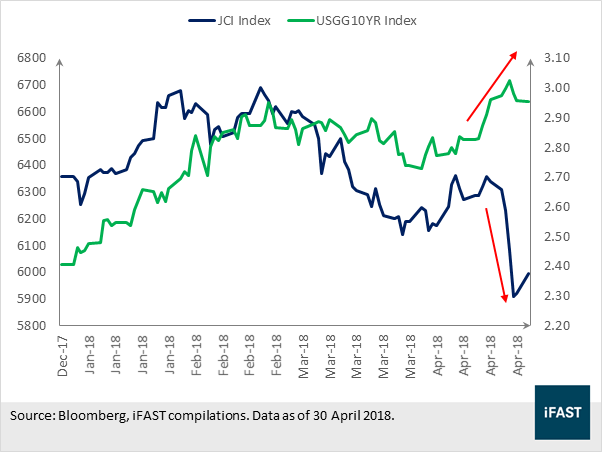 FIGURE 4: The Depreciating Rupiah is Unfavourable for Indonesian Equities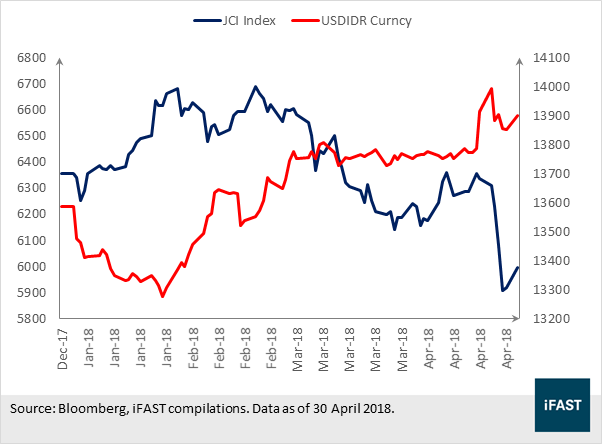 Concerns on Benchmark Interest Rate
Apart from external factors, we think the recent lackluster performance of Indonesian equities can also be attributed to the concerns on its own benchmark interest rate. Considering downward pressures on the Indonesian Rupiah caused by recent capital outflow, there is rising expectation that Bank Indonesia will raise its benchmark interest rate in the upcoming policy meeting scheduled in May in order to protect the currency.
Indonesia's benchmark interest rate is at 4.25% at this juncture. Although a higher benchmark interest rate should provide a cushion to the falling Rupiah, it will also bring pressure for Indonesian equities because higher interest rate tends to cloud corporates' future outlook.
However, in its ad-hoc press conference held by the central bank last week, Bank Indonesia Governor Martowardojo emphasized that the fundamentals of the Indonesian economy remain strong with inflation lies comfortably within the central bank's target range, accelerating economic growth and firm financial system stability.
He also hinted that raising the benchmark interest rate is likely to be the last option the central bank wants to use to maintain Rupiah's value. This has somehow appeased the anxiety and instill confidence among investors on the outlook of Indonesian equity market.
What Should Investors Do?
From a valuation standpoint, the JCI Index is trading at PE ratios of 15.0X and 13.4X based on estimated earnings for 2018 and 2019 respectively, below to its estimated fair PE ratio of 16.0X (as of 30 April 2018) (see Figure 5).
We maintain our conviction in the positive view for Indonesian economic growth moving forward. Investors should stay focus on its improving fundamentals when assessing the equity market's future prospects. Given that global economic growth is widely expected to remain robust, the recent correction has brought valuations to a more attractive level and provides long-term investors an attractive entry point.
FIGURE 5: Trading at Discount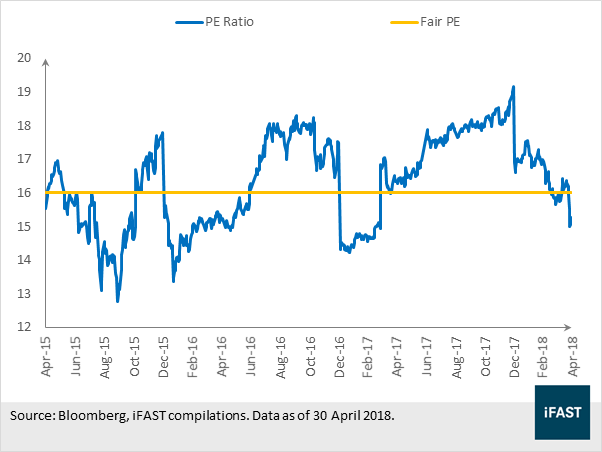 What are the risk? Like Thailand and Malaysia, foreign fund flow is the key driver for the rise in the Indonesian market. Conversely, the key risk to be considered is the reversal of the foreign fund flows into Indonesia, especially when US Federal Reserve is expected to raise its interest rate more aggressively than the market has expected. By then, we would see an exodus of foreign fund from Indonesia, hence causing a potential correction in the equity market.
Stay Tuned!
We have outlined the key factors that caused the lackluster performance of Indonesian equity market. We will take a closer look on Indonesia's GDP figures and what investors can take away in our up-coming write up on Indonesia, stay with us!